Kane 11 Socks Reviews and Alternatives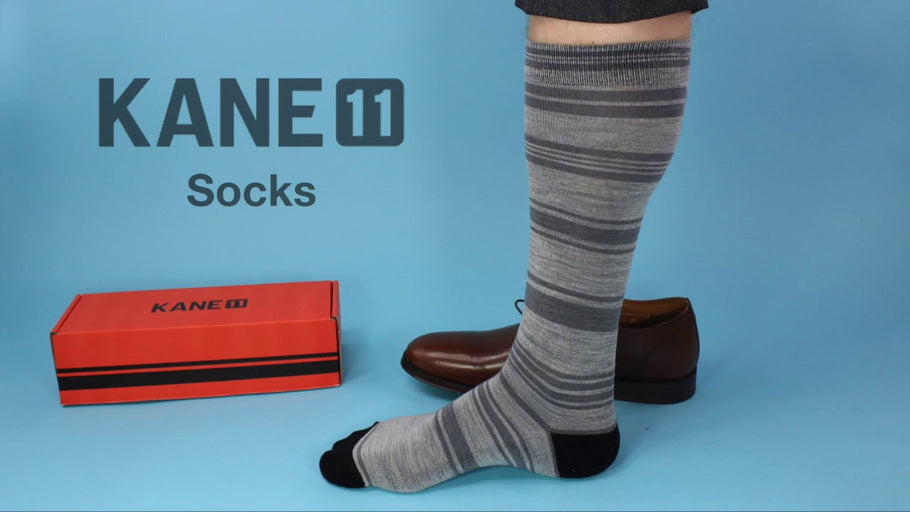 For people who need their socks to offer a specific fit, it can be difficult to grapple with the confusing logic behind sock sizes. To ease the confusion and provide extreme comfort and convenience in wear, a USA-based Company, Kane 11 came into existence.
This company manufactures socks of the highest quality possible, with natural yarns that align with environmental standards. The company prioritizes customers' convenience, sells its products online, and accepts all mean league forms of payments. 
Kane 11 Product Features
Kane 11 sets itself apart as a revolutionary brand, different from the generic ones the masses are accustomed to. They provide well-fitting socks and lots more.
The manufacturer noted how people would struggle to find a perfect-fitting pair of socks. If shoes come in all sizes, why do socks only come in small, medium, and large? Often people would find a pair that fit the heel well but be constricting around the toes and likewise. 
Kame 11 is perhaps the first socks brand that offers seven sock sizes for women and 11 for men, catering to each shoe size. The secret of this brand is how they understand different ways of measuring afoot. The rule includes:
Diameter
Leg circumference
Sock height
Heel pocket
Foot circumference
Toe box
Toe to heel length
A remarkable team of textile experts, engineers, and factory partners are constantly delivering optimal quality to provide the final product. As the customer, you receive a culmination of the highest quality of socks and pocket-friendly prices. 
Reviews
You will find a variety of styles with this brand, from size seven to eleven. They have ankle socks, calf-length socks, and even some specific models with merino wool to allow snowboarding and skiing. The prices vary, primarily depending on the amount of wool a particular product incorporates.
Men's Variety
The No-show Laylo comes in casual, formal dress and snowboard/ski style. Their prices range from $10.50 a pair to $2.50.  You can find men's socks in elegant colors such as navy blue, gray, and black. The simplicity combined with elegance makes the socks suitable for any outfit and occasion. 
However, those who like to have some fun and sassiness to go with their outfits can find various in the Soxy socks category. From crazy designs to excellent manufacturing, you will find all of it with Kane's products. 
Female Variety
Talking about female socks variety by this manufacturer will please you to note that although most of the features are similar to men's socks collection, their more variety in patterns and colors for the females. 
Again, the prices depend largely on the amount of wool that went into a particular pair. You can expect to pay from $10.50 to $25.50 for a pair of Kane 11's socks. In every piece, you get an incredible blend of Merino wool, spandex for an element of stretchiness, and some nylon. 
The female category's sportier socks offer more strategic mesh paneling that allows extra breathability and freshness for your feet. For instance, the Meadow pair features reinforced toe and heel construction that makes rigorous activities easy for you. 
Bestsellers
The Sebring dress socks for men are among the bestsellers by the brand. The socks sit at mid-calf and feature merino wool. You can find them in multiple solid colors and opt to buy in pairs or packs of four and eight. 
The other bestseller is the Harry ankle socks, for a sportier and less formal option. This product features ventilating mesh panels that keep your feet fresh with more breathability and additional comfort with heel cushioning. The incredible durability is just another bonus. 
If you love the kind of versatility Kane 11 offers but want to try out brands with similar options, here are a few you might like to try.
Alternatives
If you're looking for an alternative to Kane 11, here are our top recommendations.
Merge4
Merge4 is a sock company that empowers musicians, athletes, and artists through their production. In addition to providing high-quality and extremely comfortable socks, they ensure that their products harm no human beings, animals, and the environment overall. 
If you're looking for advanced sustainability, durability with maximum comfort, you'd love the products this company offers. 
Bombas
This brand offers premium quality socks. With their extensive experience in R&D, the sock company rigorously tests each of their product for durability, comfort, and quality. You will find a wide variety of products here, and each comes with improved techniques and innovation. 
You will find the honeycomb structure and handling a refreshing change from the uncomfortable, traditional pairs of socks. The brand focuses on improved materials in the production process and high-level engineering to guarantee each Bombas sock pair's utmost comfort and excellent performance. 
Sockgeek
Sockgeek offers plenty of options so you can choose what best aligns with your needs. From low cut running socks, trait running socks, tab running socks, crew length running socks to others, there is something to suit each need and style. 
They have incredible features, so you can find a pair that caters to your specific sock needs. There is hardly a sock type that does not exist in the brand's collection. From high compression to low compression, maximum cushioning to soft cushioning, blister resistant to natural fiber socks – they have it all. 
Stance Socks
Stance socks are those who prefer a loud living; with more than ten designs to offer in their categories, you will love the uniqueness and supreme quality this brand offers. If you're tired of wearing plain white, blue, black, and grey socks, consider this brand's ideal option for taking your sock-game several notches higher.
They offer a great variety in stripes, geometric and floral categories. Stance caters to all sock's needs, so if you're enthralled with their quality but prefer a softer, modest pair, then you can opt for something from their neutral-toned collection. 
This brand is particularly useful for rockstars, artists, athletes, and entrepreneurs who spend most of their days on their feet. The company incorporates the Infiknit technology that prevents the socks from tearing ripping. 
Feel360 technology is just one of the many options why purchasing socks from this brand is a good idea. 
Feetures
Feetures are for the truly athletic. They have tailor-designed varieties that specifically cater to the rigorous lifestyles of athletes. You can find socks in a range of heights with this brand, most featuring a cushion spectrum that runs from ultra-light to the max cushion level. 
However, those who are not athletes can find some great pairs of socks here too. They have a line of socks for the everyday wearers, featuring a support system that the brand describes as targeted compression. 
With this system, their products offer heightened comfort and a comfortable bracing in the legs and feet' tender areas. 
Final Thoughts
Kane 11 socks are for those who love pairs. They fit them like a second skin, without restricting or blocking the circulation. This brand offers socks that cater to the feet sizes, just like our shoe pairs do. In addition to Kane 11, you can find some other competitive and high-quality brands that offer Kane 11 socks alternatives, without any compromise on quality, material, and comfort. Here's to some happy sock-shopping!