Why do my legs feel heavy when I walk?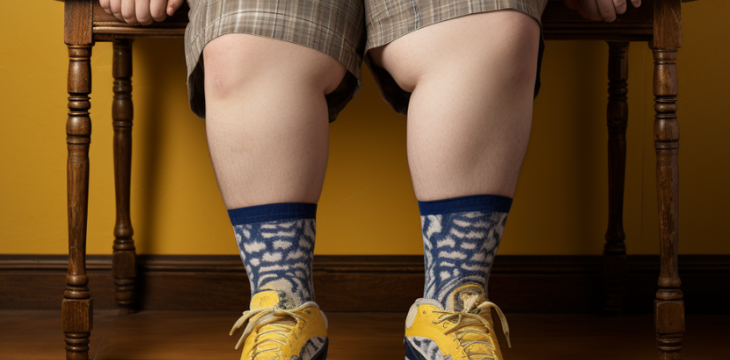 For people living with diabetes, the simple act of walking can sometimes become a challenging experience due to the sensation of heavy legs. Heavy legs are not just an inconvenience; they can also serve as a potential red flag for more severe health complications. In this article, we'll explore why individuals with diabetes might experience heavy legs when walking and provide practical strategies to manage and alleviate this discomfort.
Diabetes and Its Impact on Leg Health
The influence of diabetes on leg health is far-reaching, as chronic high blood sugar levels can lead to several complications that affect the nerves and blood vessels in the lower extremities. These complications are significant contributors to the heavy legs sensation experienced by people with diabetes.
The Role of Neuropathy in Heavy Legs
One of the common culprits behind heavy legs in individuals with diabetes is neuropathy. Diabetic neuropathy is a condition that involves damage to the nerves throughout the body, leading to weakness, numbness, and discomfort in the legs. This nerve damage can cause heavy legs, making it crucial for those with diabetes to address it effectively through measures like blood sugar management.
Vascular Issues and Their Impact on Leg Discomfort in Diabetes
Another noteworthy concern is vascular problems, notably Peripheral Artery Disease (PAD), which can restrict blood flow to the legs. This reduced blood flow can result in heavy legs and cramping, further complicating the act of walking for individuals with diabetes. To mitigate this issue, lifestyle adjustments and medical interventions are paramount for improving circulation and alleviating leg discomfort.
Proactive Leg Care for Diabetics
Proactive leg care is the cornerstone of ensuring a higher quality of life for individuals with diabetes. This approach involves several key elements:
Regular Check-ups

: Scheduling regular check-ups with a healthcare professional is a crucial step. It allows them to detect early signs of nerve damage, poor circulation, or other leg-related issues while providing advice on managing leg health and preventing complications.

Proper Foot Care

: Daily foot inspections are essential for people with diabetes. This practice helps identify cuts, blisters, or other potential problems. Wearing comfortable, well-fitting shoes is also vital to safeguard against complications.

Managing Blood Sugar Levels

:

Keeping blood sugar levels well-regulated

is a critical factor in preventing nerve damage and other complications leading to leg issues.
Understanding Neuropathy and Its Impact on Leg Health
Diabetic neuropathy is a common diabetic complication responsible for leg weakness and heaviness. This condition occurs due to the damage inflicted on nerves that control muscle movement and sensation in the legs. This damage often accumulates over time due to consistently high blood sugar levels.
The symptoms of neuropathy can vary widely from person to person. While some might only experience mild symptoms like numbness and tingling, others might endure more severe issues like muscle weakness, pain, and cramping.
Strategies for Managing Neuropathic Leg Symptoms
Managing neuropathic leg symptoms is essential to regain comfort and mobility. Here are a few strategies:
Control Blood Sugar Levels

: Well-managed blood sugar levels are crucial in preventing further nerve damage and slowing down the progression of neuropathy.

Medications

: Many medications are available to treat neuropathic pain, which can significantly ease leg discomfort.

Physical Therapy

: Physical therapy helps strengthen muscles and improve balance, which can be particularly beneficial for managing leg-related symptoms.

Lifestyle Changes

: Lifestyle adjustments like quitting smoking, adopting a healthy diet, and

engaging in regular exercise

can further alleviate leg issues.
Vascular Issues and Their Contribution to Heavy Legs in Diabetes
Peripheral artery disease (PAD) is a condition that narrows or blocks the arteries in the legs, leading to reduced blood flow and subsequent muscle weakness and pain. High blood sugar levels, a common consequence of diabetes, can accelerate plaque development in blood vessels. Over time, this buildup can restrict blood flow to the legs, resulting in PAD.
The Prevalence of PAD in Diabetics
PAD is more common in people with diabetes than in the general population, affecting up to 30% of those with diabetes. Risk factors for developing PAD include age, smoking, and comorbidities such as high blood pressure and high cholesterol.
Tips for Improving Circulation and Easing Heavy Legs in Diabetes
Here are strategies to improve circulation and alleviate the discomfort of heavy legs:
Control Blood Sugar Levels

: Well-regulated blood sugar levels can prevent further damage to blood vessels and promote improved circulation.

Regular Exercise

: Engaging in physical activity enhances circulation and strengthens leg muscles. Aim for at least 30 minutes of moderate-intensity exercise most days of the week.

Maintain a Healthy Weight

: Excess weight can stress the heart and circulatory system, so that weight management can alleviate leg heaviness.

Quit Smoking

: Smoking damages blood vessels and reduces circulation. Kicking the habit can boost circulation and reduce the risk of PAD.

Elevate Your Legs

: Raising your legs above heart level can enhance circulation.

Wear Compression Socks

: Compression socks help improve circulation and reduce leg swelling.
Managing Blood Sugar Levels
Blood sugar management is a cornerstone of improving leg health for people with diabetes. Well-maintained blood sugar levels help prevent nerve damage and vascular issues, which contribute to heavy legs.
Tips for Managing Blood Sugar Levels
Adherence to Medications

: Diabetes medications prescribed by healthcare professionals should be taken as directed to lower blood sugar levels and reduce the risk of complications.

Healthy Diet

: A balanced diet with ample fruits, vegetables, and whole grains is crucial. Additionally, limiting saturated and trans fats, cholesterol, and sodium is essential for blood sugar control.

Regular Exercise

: Regular physical activity enhances blood sugar control and lowers the risk of complications.

Regular Monitoring

: Consistently monitoring blood sugar levels helps identify issues early and allows for timely adjustments in the management plan.
The Role of Exercise in Diabetes Management
Regular exercise is a crucial component of managing diabetes and improving leg health. Exercise helps lower blood sugar levels, strengthen muscles, and promote better circulation. When considering an exercise routine, it's important to begin slowly and gradually increase the intensity and duration of workouts. Choose exercises that are safe and appropriate for your fitness level.
Use of Physical Therapy and Targeted Exercises for Diabetic Leg Health
For those with diabetes experiencing leg pain, weakness, or cramping, physical therapy can provide substantial benefits. Physical therapists design personalized exercise programs that improve muscle strength, flexibility, and balance.
Medications and Their Impact on Leg Symptoms in Diabetes
Certain diabetes medications can affect leg sensations. For example, metformin, a common diabetes medication, may cause numbness and tingling in the legs. If you suspect medication-related leg symptoms, it's crucial to have a conversation with your healthcare provider. They can prescribe alternative medications or adjust dosages to minimize these side effects.
Common Medications with Leg-Related Side Effects
Several medications may cause leg-related side effects, including metformin, statins, diuretics (water pills), beta-blockers, and some chemotherapy medications.
Addressing Medication-Related Leg Heaviness with Healthcare Providers
If you experience leg heaviness as a side effect of your medication, discussing it with your healthcare provider is essential. They can explore alternatives, adjust dosages, and suggest other strategies to manage leg symptoms, such as exercise, leg elevation, and compression socks.
Obesity, Diabetes, and Their Impact on Leg Health
Obesity is frequently associated with diabetes, as it increases the likelihood of developing high blood sugar levels, insulin resistance, and other diabetes-related issues. Obesity is also a contributor to leg problems in diabetes, as the excess weight places additional stress on the heart and circulatory system.
Weight Management: A Key Strategy for Improved Leg Health in Diabetes
Weight management is pivotal in enhancing leg health for individuals with diabetes. Shedding excess weight can lead to better blood sugar control, a lower risk of developing PAD and other complications, and improved leg symptoms.
Strategies for Weight Control Tailored to Individuals with Diabetes
Individuals with diabetes should collaborate with their healthcare provider or a registered dietitian to devise a personalized weight management plan. Several approaches can be considered, and the most suitable one depends on individual needs and preferences.
Strategies for Weight Control Tailored to Individuals with Diabetes Include:
Setting Realistic Goals

: Aim for a gradual weight loss of 1-2 pounds weekly.

Finding a Support System

: Seek support from family and friends, and consider joining a support group or an online forum for people with diabetes.

Making Gradual Changes

: Slowly introduce changes to diet and exercise routines, as attempting too much too quickly can lead to frustration and burnout.

Monitoring Progress

: Maintain a food diary and track weight regularly, adjusting the plan as needed.
Diabetic Foot Care Practices
Foot care is paramount for preventing complications like foot ulcers and infections in diabetic individuals. Daily foot inspections help identify cuts, blisters, and other potential problems. Equally crucial is wearing comfortable shoes that fit well.
The Role of Foot Ulcers and Infections in Leg-Related Problems
Foot ulcers open sores on the feet, are a common complication of diabetes. These ulcers can become infected, leading to severe problems like amputations. They are more frequent in individuals with diabetes due to nerve damage and poor circulation, which can diminish sensation in the feet and hinder wound healing.
Recommendations for Diabetic Foot Care Practices
Daily Foot Inspections

: Examine your feet daily for cuts, blisters, and other indications of potential issues.

Regular Foot Washing

: Clean your feet daily with warm (not hot) water and mild soap, and ensure thorough drying, especially between the toes.

Moisturizing Your Feet

: Apply moisturizer to your feet, avoiding the areas between the toes.

Proper Footwear

: Choose comfortable, well-fitting shoes to safeguard against complications.

Avoiding Barefoot Walking

: Steer clear of walking barefoot, as it leaves the feet vulnerable to injuries.

Regular Doctor Check-ups

: Schedule regular foot check-ups with your healthcare provider to detect problems early.
Conclusion
Heavy legs while walking are a prevalent complaint among individuals with diabetes. While it can be an annoyance, it should also be viewed as a potential indicator of more severe health issues. By taking proactive steps to manage diabetes, maintain their leg health, and prevent complications, individuals with diabetes can lower their risk of developing severe problems that can compromise their overall well-being.
In summary, the key steps include:
Blood sugar management
Regular exercise
Weight control
Quitting smoking
Leg elevation and compression socks
Daily foot inspections
Regular check-ups with healthcare professionals
If you are grappling with heavy legs or other leg problems, consult your healthcare provider to identify the root cause of your symptoms and formulate a personalized treatment plan. It's your first step toward improving comfort and quality of life.