How tight should compression socks be?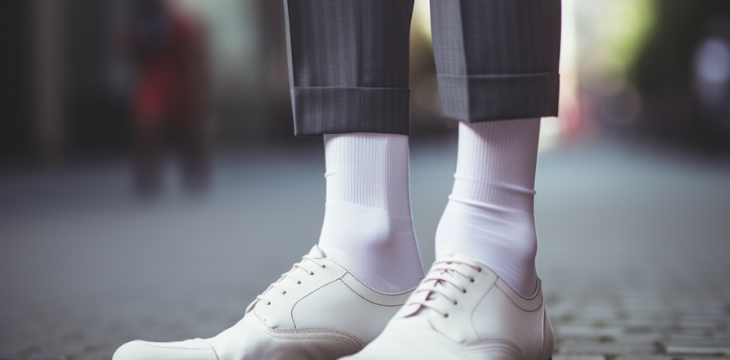 I. Introduction 
Definition of Compression Socks
Compression socks are specialized garments designed to provide controlled pressure on the legs and feet, aiding in various health and wellness aspects. These socks are a valuable tool for enhancing circulation and managing multiple health conditions. 
Importance of Proper Fit
Achieving the right fit is crucial when it comes to compression socks. The effectiveness of these garments depends on the tightness and proper fit, which ensures they function as intended. Wearing the correct fit helps in promoting better circulation and overall well-being.
In this article, we aim to delve into the importance of finding the ideal tightness for compression socks, considering various factors such as medical conditions, compression levels, sizing, and personal comfort. This comprehensive guide will assist individuals in making informed decisions about compression sock tightness.
II. Benefits of Compression Socks
Improved Circulation
Compression socks offer a significant advantage by enhancing blood circulation. They gently exert pressure on the legs, assisting in the efficient return of blood to the heart. Improved circulation can alleviate various health concerns.
Reducing Swelling and Edema
One of the critical benefits of compression socks is their effectiveness in reducing swelling, particularly in the ankles and legs, which is often associated with conditions like edema. By applying controlled pressure, these socks help manage fluid retention.
Managing Varicose Veins 
Compression socks are a welcome relief for individuals grappling with varicose veins. By providing consistent pressure, they reduce discomfort and prevent the condition from worsening, enhancing overall leg health.
Enhancing Athletic Performance
Athletes recognize the potential of compression socks in expediting post-exercise recovery, reducing muscle fatigue, and ultimately enhancing their athletic performance. These socks have made their way into sports and fitness for good reasons.
III. Factors Affecting Compression Sock Tightness
Medical Condition and Prescription

- The tightness of compression socks is closely tied to an individual's medical condition and the guidance provided by a healthcare professional. Doctors may prescribe specific tightness levels based on a patient's medical history and needs.
Sock Compression Levels

- Compression socks come in various compression levels measured in millimeters of mercury (mmHg). The right level depends on specific needs, and consulting a healthcare provider is crucial for the selection process.
Sizing and Measurement

- Accurate sizing is imperative to ensure the socks fit snugly but comfortably. Socks that are too tight or loose may not provide the desired benefits. Proper measurements play a pivotal role in determining the correct size.
Personal Comfort and Preference

- Balancing the medical necessity of a certain tightness level with personal comfort and preference is a delicate act. It's essential to find the right compromise that promotes well-being while ensuring the socks feel comfortable.
IV. Finding the Right Compression Level
Understanding Compression Levels (mmHg)
Familiarizing yourself with different mmHg levels is crucial to understanding what each offers. Lower mmHg provides milder compression, while higher mmHg indicates more substantial pressure. Knowing this can help you make an informed choice tailored to your requirements.
Matching Compression Level to Your Needs
Consulting a medical professional is essential to determine the suitable pressure level for your unique situation. For instance, individuals with more severe circulatory problems may require higher compression levels, while those with mild concerns can opt for lower compression.
Medical Guidance for Specific Conditions
Reaching out to your healthcare provider is crucial because they can recommend the ideal pressure for your needs. Medical guidance ensures that your compression socks align with your health goals and address any underlying conditions effectively.
Balancing Comfort and Effectiveness
Striking a balance between therapeutic effectiveness and personal comfort is critical. It's not only about the numbers; it's also about how the socks make you feel. Ensuring that you're comfortable with the level of tightness while still enjoying the therapeutic benefits is the ultimate goal.
V. Selecting the Right Size
Measuring Your Legs Correctly:

Proper measurements are the foundation of selecting the correct size. Follow the guidelines for measuring the circumference of your ankle, calf, and thigh to determine the most accurate size. Accurate sizing is essential to ensure the optimal fit.
Importance of Accurate Sizing:

Choosing the correct size is paramount, as socks that are either too tight or too loose may not deliver the intended benefits. Ill-fitting socks can restrict circulation or fail to provide the necessary compression for your specific needs.
Sizing Charts and Guidelines:

Refer to the sizing charts provided by manufacturers or consult a healthcare professional for guidance on selecting the correct size. Following manufacturer guidelines ensures that your socks fit perfectly.
Trying Different Brands and Styles:

Different brands and styles may offer varying fits, so don't hesitate to experiment and discover what works best for you. Personal preference plays a role in finding the perfect size, and you may find certain brands more comfortable than others.
VI. Putting On Compression Socks
Proper Donning Techniques

: Learning to put on compression socks is vital for maximum effectiveness. This includes sitting or lying down, elevating your legs, and gently pulling the socks on from the toes, ensuring the fabric remains smooth.
Avoiding Wrinkles and Folds

: As you put on the socks, prevent bunching or folding of the fabric. A smooth application ensures the compression is evenly distributed across the leg, promoting the desired results.
Ensuring Even Compression Distribution

: Starting at the toes and working your way up, you confirm that the compression is evenly distributed. This even pressure application is essential for maximizing the therapeutic effects of the socks.
Checking for Correct Fit After Wearing

: After wearing the socks, assess the fit to ensure they remain comfortable and practical. Ensuring the socks are still snug but not overly tight or constrictive is essential.
VII. Signs of Incorrect Fit
Too Tight

- Signs of overly tight compression socks may include discomfort, pain, skin irritation, or numbness. Recognizing these signs allows for timely adjustment.
Too Loose

- Loose socks might not provide the intended compression and may even slip down. This can result in a lack of therapeutic benefit. Identifying these signs is crucial for addressing fit issues.
When you run into problems, don't hesitate to consult your healthcare provider for guidance. Addressing fit issues promptly ensures you get the most out of your compression socks.
VIII. Maintenance and Replacement
Caring for Compression Socks
Following the care instructions provided by the manufacturer is essential for maintaining the quality and effectiveness of your compression socks. This typically includes washing them in cold water and allowing them to air dry. Proper care prolongs the lifespan of your socks, ensuring they continue to provide the necessary compression benefits.
Regular Assessment of Fit
Periodically checking your socks is essential to ensure they fit correctly and provide the desired compression level. As compression socks age, they may lose elasticity, impacting their effectiveness. Regular assessments help you gauge when adjustments are needed.
Knowing When to Replace Them
Compression socks, like any garment, have a finite lifespan. They typically last for 6 to 12 months, depending on factors such as wear frequency and maintenance. Recognizing when it's time to replace them is vital to ensure they continue delivering the expected compression benefits.
IX. Conclusion
Achieving the correct tightness in compression socks is vital to maximize their benefits. Whether using them for medical purposes or enhancing athletic performance, the right fit ensures optimal results.
Balancing the therapeutic effectiveness of compression socks with personal comfort contributes to better circulation and overall well-being. Adequately fitted compression socks can alleviate symptoms, prevent complications, and improve the quality of life for many individuals.
When uncertain about the right fit or experiencing discomfort, don't hesitate to consult with a healthcare provider. They can offer personalized guidance, recommend suitable compression levels, and help address any concerns related to your compression socks.
In summary, finding the perfect tightness for compression socks involves understanding the key factors influencing fit, accurately sizing the socks, and ensuring they are donned correctly. It's not just about numbers but also how you feel while wearing them. The ultimate goal is to strike a balance between effective compression and personal comfort, which, in turn, promotes better circulation and enhances your overall well-being. Remember that when in doubt about fit, your healthcare provider is your best resource for guidance and recommendations.