Ice Cream for Diabetics: Enjoying the Sweet Treat Responsibly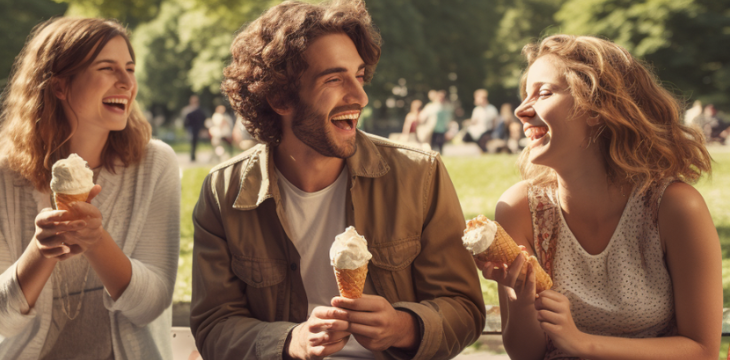 Introduction
Who doesn't love the creamy, sweet goodness of ice cream? It's a treat that appeals to people of all ages. But for those with diabetes, managing sugar intake is vital to keeping blood glucose levels in check. In this article, we will explore the connection between diabetes and sugar, address whether eating ice cream can trigger diabetes, discuss whether people with diabetes can savor this frozen delight, suggest diabetic-friendly alternatives, and provide tips for preventing diabetes related to sugar consumption. Plus, we'll answer frequently asked questions to give you a well-rounded understanding of the topic.
Diabetes and Sugar: Understanding the Link
Diabetes is a chronic condition that affects the body's ability to regulate glucose, the primary energy source for our cells. There are two main types of diabetes:
Type 1 diabetes is an autoimmune condition where the body doesn't produce insulin, the hormone responsible for

regulating blood sugar

.

Type 2 diabetes: This form is typically linked to insulin resistance, where the body doesn't use or produce enough of it effectively. It's often associated with lifestyle factors like an unhealthy diet and lack of exercise.
Here's how sugar consumption is linked to diabetes:
Blood Sugar Control:

Foods and drinks high in sugar

can cause quick spikes in blood sugar levels. For those whose bodies struggle to manage these spikes, it can lead to Type 2 diabetes or worsen the condition in those already diagnosed.

Insulin Resistance: Overindulging in sugar can lead to insulin resistance, making your body's cells less responsive to insulin. This can eventually progress to Type 2 diabetes.
Weight Gain: Sugary treats, like ice cream, can contribute to weight gain, a risk factor for Type 2 diabetes.
Can Ice Cream Trigger Diabetes?
The short answer is no; ice cream doesn't directly cause diabetes. However, a diet high in sugar and other refined carbohydrates can increase the risk of developing Type 2 diabetes, especially for individuals with a family history or other risk factors. Maintaining a balanced and nutritious diet to reduce this risk is critical.
Can Diabetics Enjoy Ice Cream?
People with diabetes can indulge in ice cream, but it should be done thoughtfully and in moderation. Here are some guidelines to follow:
Portion Control: Smaller servings are the way to go. Enjoy a small helping of ice cream, preferably a sugar-free or low-sugar variety, as part of a balanced meal or snack.
Sugar Content: Opt for ice cream labeled "sugar-free" or "no sugar added." These are usually sweetened with sugar substitutes like stevia or sugar alcohol.
Timing: To help slow the absorption of sugar and reduce blood sugar spikes, enjoy ice cream as part of a meal or snack that includes high-fiber foods like fruits and nuts.
Monitoring: Regularly check your blood sugar levels to understand how

different foods

, including ice cream, affect your body. Adjust your diet accordingly.
Diabetic-Friendly Alternatives
For those with diabetes looking for a sweet treat without the sugar, there are some delicious alternatives to consider:
Sugar-Free Ice Cream: Many brands offer sugar-free or no sugar added ice cream options, usually sweetened with sugar substitutes.
Frozen Yogurt: Opt for plain, non-fat, or low-fat frozen yogurt, and add your choice of fruit for natural sweetness.
Homemade Frozen Delights: Create your own diabetic-friendly frozen desserts using natural sweeteners like stevia or erythritol.
Fruit Sorbet: Fruit-based sorbets are typically lower in sugar than traditional ice cream and provide a refreshing and healthier option.
Frequently Asked Questions
What's ice cream's Glycemic Index (GI), and does it matter for people with diabetes?
The GI measures how quickly a food raises blood sugar levels. Regular ice cream typically has a high GI due to its sugar content. People with diabetes should choose lower GI options or consume smaller portions to manage blood sugar levels.
Are there any specific flavors or brands of ice cream that are better for people with diabetes?
Some brands offer diabetic-friendly ice cream options with reduced sugar or sugar substitutes. Choosing flavors that are not overly sweet and checking labels for sugar content is a good practice.
Is it safe for people with diabetes to consume artificial sweeteners in ice cream?
Artificial sweeteners, such as aspartame, stevia, and erythritol, are generally considered safe for people with diabetes when consumed within recommended daily limits. People with diabetes may choose ice cream sweetened with these alternatives.
How can I control my sugar cravings as a diabetic without ice cream?
Cravings can be managed by eating smaller, more frequent meals, increasing fiber intake, staying hydrated, and choosing healthier snacks like fruit or yogurt. Additionally, managing stress and having a support system can help reduce emotional eating.
Can ice cream affect my medication for diabetes?
Consuming ice cream in moderation may affect blood sugar levels, but it should not directly interfere with diabetes medications. However, you must consult a healthcare provider about managing medication dosages if you consume sugary foods frequently.
Is there a best time of day for people with diabetes to eat ice cream?
Consuming ice cream with a meal or snack is often recommended earlier in the day. This allows for more time for the body to process the sugar, reducing the risk of nighttime blood sugar spikes.
How can I manage my blood sugar levels after eating ice cream?
After indulging in ice cream, consider walking or engaging in physical activity to help your body process the sugar. Also, monitor your blood sugar levels to track the impact of the treatment on your body.
What are the risks of overindulging in ice cream for people with diabetes?
Overindulging in high-sugar ice cream can lead to rapid spikes in blood sugar levels and may contribute to weight gain, insulin resistance, and increased diabetes-related complications over time. Moderation is key.
Are there any specific ice cream toppings better for people with diabetes?
Opt for diabetic-friendly toppings like fresh berries, nuts, or a drizzle of dark chocolate (in moderation). These options can add flavor and texture without excessive sugar.
Can type 1 diabetics enjoy ice cream in the same way as type 2 diabetics?
While type 1 and type 2 diabetes have different causes, both types should be cautious with sugar intake. Type 1 diabetics may need to adjust their insulin doses to accommodate occasional indulgences.
Remember that the dietary recommendations for diabetes can vary among individuals, and people with diabetes need to consult with a healthcare provider or registered dietitian for personalized guidance on managing their condition while still enjoying occasional treats like ice cream.