Why Choose Sigvaris Compression Stockings?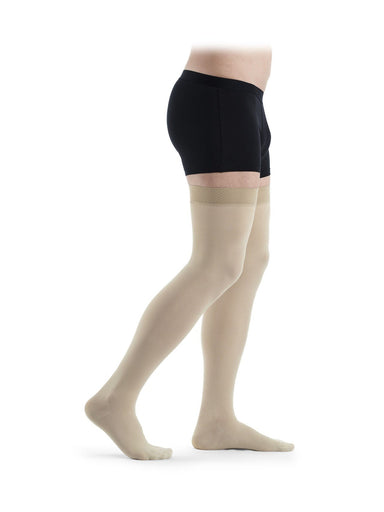 Welcome to our ultimate guide about the finest Sigvaris compression stockings! You've found the perfect spot if you're searching for top-notch compression stockings to address medical concerns or enhance your leg health. In this detailed blog post, we'll explore the world of compression stockings, uncover the advantages of opting for Sigvaris products, and equip you with all the details needed to make a well-informed choice.
Deciphering Compression Stockings
Compression stockings, also called compression socks or support hoses, are specially designed garments that gently apply pressure to your legs. Crafted from elastic materials, these stockings enhance blood circulation, reduce swelling, and support your leg muscles and veins. They come in various compression levels, lengths, styles, and materials to cater to diverse needs and preferences.
The mechanics behind compression stockings involve graduated pressure, where the pressure is highest at the ankle and gradually diminishes as it ascends the leg. This design facilitates the upward movement of blood toward the heart, averting blood accumulation and enhancing venous return. By improving circulation, compression stockings effectively alleviate symptoms associated with medical conditions such as deep vein thrombosis (DVT), varicose veins, edema (swelling), and lymphedema.
Reasons to Opt for Sigvaris Compression Stockings
In the realm of compression stockings, Sigvaris is a reputable and distinguished brand renowned for its dedication to quality, innovation, and efficacy. With a rich history dating back to 1864, Sigvaris has consistently pioneered advanced compression therapy solutions. Their unwavering commitment to excellence has established them as a global leader in compression stockings.
Sigvaris offers extensive compression stockings customized to meet diverse requirements and preferences. Whether you need compression stockings for medical purposes or to enhance your leg health, Sigvaris boasts a product tailored for you. From performance-oriented sports compression socks to diabetic care compression socks, stylish compression stockings, and selections designed specifically for pregnancy, Sigvaris presents a comprehensive array to cater to many needs.
Factors to Ponder When Selecting Your Ideal Sigvaris Compression Stockings
Choosing suitable compression stockings ensures optimum comfort, effectiveness, and fit. Several factors come into play when pinpointing the ideal Sigvaris compression stockings to suit your needs. Determining the appropriate compression level based on your medical condition and the healthcare professional's guidance is imperative. Compression levels usually span from mild (15-20 mmHg) to moderate (20-30 mmHg), firm (30-40 mmHg), and extra firm (40-50 mmHg).
Alongside compression level, securing the correct size and length is critical for a snug fit. Sigvaris offers a spectrum of sizes to accommodate varying leg measurements. It's vital to consult the brand's sizing chart and accurately measure your legs to ensure a comfortable and efficient fit. Length options encompass knee-high, thigh-high, and pantyhose styles, each catering to specific needs.
Material composition and comfort attributes also hold significance. Sigvaris compression stockings are available in a range of materials, such as nylon, spandex, and microfiber, each offering distinct levels of breathability, durability, and moisture-wicking properties. Features like reinforced toes, broad top bands, and cushioned soles enhance comfort and longevity.
Lastly, the realm of style and design empowers you to pick compression stockings that resonate with your personal flair and lifestyle. Sigvaris boasts an extensive palette of colors, patterns, and finishes, ensuring that you can find compression stockings that offer therapeutic benefits and make a style statement.
In the forthcoming sections of this blog post, we'll delve into specific Sigvaris compression stockings catering to diverse needs, encompassing sports performance, essential medical requirements, diabetic care, and fashionable alternatives. We'll also address frequently asked questions and equip you with all the insights needed to confidently choose the best Sigvaris compression stockings. Let's embark on this journey together and explore the world of Sigvaris compression stockings!
Diving Deeper into Compression Stockings
Compression stockings are pivotal in nurturing leg health and managing various medical conditions. To truly grasp the advantages of Sigvaris compression stockings, it's crucial to comprehend their mechanics and the spectrum of conditions they effectively address.
Defining the Role of Compression Stockings
Compression stockings, often recognized as compression socks or support hose, are specialized garments designed to exert pressure on the legs, ankles, and feet. These garments are typically crafted from elastic materials that apply graduated compression, wherein the pressure is highest at the ankles and gradually decreases as it ascends the leg.
The core objective of compression stockings is to enhance blood circulation in the legs. By employing this gentle pressure, compression stockings aid in compressing the veins and leg tissues. This compression supports the blood vessels in functioning more effectively and facilitates the return of blood to the heart. This process holds particular significance for individuals with compromised circulation due to medical conditions or extended periods of inactivity.
Unraveling the Mechanism of Compression Stockings
Compression stockings operate on the foundation of graduated compression. The pressure exerted by these stockings amplifies blood flow from the lower extremities back to the heart. The most significant force is applied at the ankle, furnishing essential support to the nearby veins and muscles. As the stockings ascend the leg, the pressure gradually decreases, contributing to the smooth circulation of blood.
The compression enacted by these stockings plays a pivotal role in diminishing the diameter of the veins, consequently boosting the blood flow velocity. This enhanced blood flow aids in averting blood accumulation in the lower legs and mitigates the risk of conditions such as deep vein thrombosis (DVT), varicose veins, and edema.
Furthermore, compression stockings play a role in facilitating the movement of lymphatic fluid. The lymphatic system, accountable for eliminating waste products and toxins from tissues, relies on muscle contractions to circulate lymph fluid. Compression stockings stimulate these contractions, thereby aiding in the efficient elimination of waste products and mitigating swelling.
A Spectrum of Medical Conditions Benefiting from Compression Stockings
Compression stockings hold the potential to offer significant relief and support for a range of medical conditions. Here are some common conditions that stand to gain from the utilization of compression stockings:
Deep Vein Thrombosis (DVT)
Deep vein thrombosis occurs when a blood clot forms within deep veins, often in the legs. This condition can have profound implications, necessitating medical attention. Compression stockings intervene by exerting pressure on the veins, thwarting blood accumulation, and diminishing the risk of clot formation. They are often recommended for individuals with a history of DVT or those at high risk due to surgery, extended bed rest, or lengthy travel.
Varicose Veins
Varicose veins manifest as enlarged, contorted veins that frequently emerge in the legs and feet. These veins can cause discomfort and aesthetic concerns. Compression stockings provide external support to the veins, augmenting efficiency and alleviating symptoms like swelling, pain, and heaviness. They can also impede the progression of varicose veins and deter the formation of new ones.
Edema (Swelling)
Edema is abnormal fluid accumulation in bodily tissues, frequently resulting in swelling. This condition can arise from various factors, including pregnancy, injury, surgery, or specific medical conditions. Compression stockings aid in enhancing circulation, curtailing fluid retention, and mitigating swelling in the legs and feet.
Lymphedema
Lymphedema entails the accumulation of lymphatic fluid in tissues, often resulting from lymph node damage or removal. Compression stockings play a pivotal role in managing lymphedema by applying pressure to affected regions, stimulating the drainage of lymphatic fluid, and reducing swelling.
It's imperative to note that while compression stockings can offer relief for these conditions, their usage should be guided by a healthcare professional who can determine the appropriate compression level and recommended duration of wear based on individual requirements.
Exploring Alternatives: Diabetic Sock Club's Compression Stockings
Another noteworthy alternative worth considering in the realm of compression stockings is the range offered by Diabetic Sock Club. For individuals seeking compression stockings that cater specifically to diabetic care, Diabetic Sock Club presents a comprehensive selection that blends therapeutic benefits with specialized features.
Diabetes often comes with unique foot and leg challenges, so choosing compression stockings is crucial. Diabetic Sock Club's compression stockings are designed with the diabetic community in mind, addressing the needs and concerns that can arise. These stockings are engineered to provide the advantages of compression therapy and the extra care required for maintaining diabetic foot health.
What sets Diabetic Sock Club's compression stockings apart is their meticulous attention to detail in crafting products that prioritize comfort, circulation enhancement, and safeguarding against potential foot complications. These stockings are woven from materials that ensure breathability, moisture-wicking properties, and a gentle yet effective compression level. With a focus on preventing skin irritation and promoting healthy blood flow, Diabetic Sock Club's compression stockings are a valuable option for those managing diabetes-related leg and foot concerns.
Just like with any compression stockings, it's essential to consult a healthcare professional to determine the right compression level and style that aligns with your needs. Diabetic Sock Club's compression stockings offer a tailored solution for individuals seeking both diabetic care and the benefits of compression therapy, enhancing the array of choices available to those on a journey to better leg health.