The Science Behind Compression Stockings: How They Keep Your Legs Happy and Healthy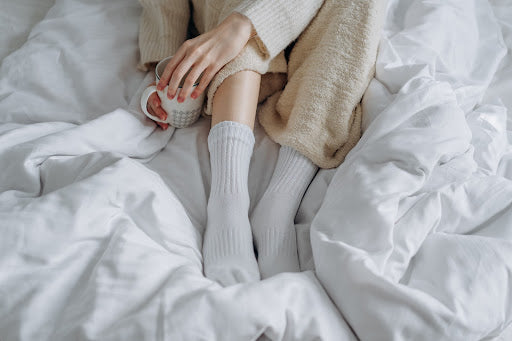 Compression stockings have been gaining popularity, especially among those who spend long hours on their feet or deal with certain medical conditions. These specially designed stockings work by applying pressure to your legs, promoting better blood circulation, and relieving various symptoms. But how do they work, and why are they so effective? This article examines the science behind compression stockings to understand their benefits.
Understanding the Circulatory System
Before we delve into the mechanics of compression stockings, let's first grasp the basics of the circulatory system. Our bodies rely on an intricate network of blood vessels, including arteries, veins, and capillaries, to transport oxygen-rich blood from the heart to all body parts and then return deoxygenated blood to the heart. This continuous circulation ensures that our vital organs get the nutrients and oxygen they need to function at their best.
However, certain factors can disrupt the smooth flow of blood, leading to various circulatory issues. These factors may include prolonged periods of sitting or standing, pregnancy, obesity, aging, or medical conditions like deep vein thrombosis (DVT) or varicose veins. And this is where compression stockings come in to save the day.
How Compression Stockings Work
Also known as support stockings or compression socks, these garments are specially designed to apply varying pressure levels to your legs and feet. Made from elastic materials, they fit snugly around your legs and exert graduated pressure from the ankle to the upper portion. The force is most vital at the ankle and gradually decreases as it moves up your leg.
By using this graduated compression, compression stockings work in several ways to improve blood circulation:
Squeezing the Veins:

The primary function of compression stockings is to press your leg veins, enhancing blood flow efficiency. The compression narrows the diameter of the veins, reducing their capacity to hold excessive blood. This, in turn, boosts the blood flow velocity, pushing the blood back toward the heart and preventing pooling in your lower extremities.

Assisting Venous Valves:

Veins have one-way valves that prevent blood from flowing backward. Unfortunately, these valves can weaken or damage over time, leading to venous insufficiency. Compression stockings provide external support to these valves, helping them function more effectively by reducing the diameter of the veins and preventing blood from stagnating.

Reducing Fluid Accumulation:

Compression stockings also play a role in preventing fluid accumulation in your legs. When blood pools in your lower extremities, it can lead to swelling, known as edema. The pressure from compression stockings prevents fluid from leaking out of the blood vessels and into the surrounding tissues, reducing swelling and discomfort.

Stimulating Muscle Pumping Action:

Your calf muscles act as a pump, helping to propel blood back toward your heart. Compression stockings support your calf muscles, allowing them to contract and relax more efficiently. This stimulation enhances the muscle pumping action, aiding blood movement against gravity.
The Benefits of Compression Stockings
Now that we've covered the science behind compression stockings let's explore why they are highly regarded for their effectiveness:
Enhanced Circulation:

By improving blood flow and preventing blood pooling,

compression stockings

can alleviate symptoms associated with poor circulation, such as leg pain, heaviness, and fatigue. Enhanced circulation also reduces the risk of developing blood clots, especially for individuals at higher risk, such as those who have undergone surgery or have a history of DVT.

Reduced Swelling:

Compression stockings effectively minimize swelling in your legs, ankles, and feet by preventing fluid accumulation. This makes them particularly beneficial for individuals who spend long hours on their feet or suffer from conditions like lymphedema or chronic venous insufficiency.

Preventive Measure:

Compression stockings

can be a preventative measure for individuals at risk of circulatory issues or those with a family history of varicose veins or DVT. Wearing compression stockings during long flights or extended periods of sitting can help maintain proper blood flow and reduce the risk of developing clots.

Improved Athletic Performance and Recovery:

Compression stockings aren't limited to medical applications alone. Athletes often use compression garments to enhance performance and speed up recovery. The graduated pressure provided by these stockings helps improve oxygen delivery to the muscles, reduces muscle vibration, and facilitates the removal of metabolic waste. This can reduce muscle fatigue, improve endurance, and faster recovery after intense physical activity.
Conclusion

Compression stockings have gained recognition for improving blood circulation and alleviating symptoms associated with poor circulation. Applying graduated pressure to the legs, these stockings help squeeze the veins, support venous valves, reduce fluid accumulation, and stimulate muscle pumping. The result is enhanced circulation, reduced swelling, and improved overall leg comfort. Whether seeking relief from leg pain or looking to optimize your athletic performance, compression stockings offer a scientifically-backed solution worth considering.