Compression Stockings: Your Complete Guide to Keeping Varicose Veins at Bay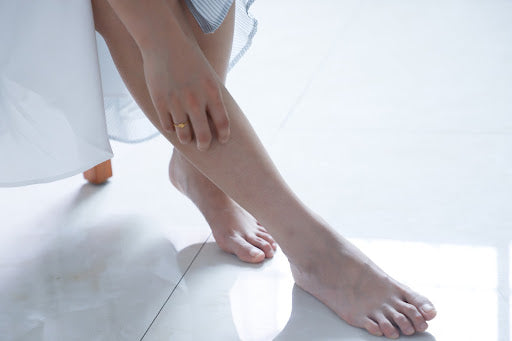 Varicose veins can be a real bother, especially as we get older. These enlarged, twisted veins look unsightly and can cause discomfort and swelling. Luckily, there are proactive measures you can take to prevent varicose veins from developing or getting worse, and one of the most effective tools in your arsenal is compression stockings.
So, what exactly are compression stockings? Also known as compression socks or support stockings, these specially designed garments apply gentle pressure to your legs. They're made from elastic materials that offer graduated compression, meaning the pressure is highest at your ankle and gradually decreases as it moves up your leg. This intelligent design improves blood flow and stops blood pooling in your lower extremities.
But how do compression stockings prevent varicose veins? Well, varicose veins occur when the valves in your veins become weak or damaged, causing blood to flow backward and collect in the veins. This pooling of blood results in those bulging and twisted veins we all want to avoid. Compression stockings work their magic by applying pressure to your legs, which helps improve blood circulation and prevents blood from pooling.
Here's how it works: when you wear compression stockings, the gentle pressure compresses the walls of your veins, making your valves function more efficiently. This compression helps push the blood back toward your heart, reducing the stress on your veins and stopping varicose veins from forming or worsening.
Who should consider wearing compression stockings? They can benefit a wide range of people, including those with a family history of varicose veins or venous insufficiency, individuals who spend long hours standing or sitting (hello, healthcare professionals, office workers, and frequent travelers!)pregnant women dealing with hormonal changes and increased blood volume, folks with a sedentary lifestyle or lack of regular physical activity, and those recovering from surgery or an injury that affects their mobility.
While compression stockings can provide relief and help prevent varicose veins, they might not be suitable for everyone. It's always best to consult with a healthcare professional to determine if compression stockings are the right fit for you.
Now, let's talk about the different types of compression stockings. There are two main categories to choose from:
Gradient Compression Stockings: These stockings offer the highest level of compression at the ankle, gradually decreasing as they move up your leg. Healthcare professionals typically prescribe them to treat more severe venous conditions like deep vein thrombosis (DVT) or chronic venous insufficiency (CVI).

Support Compression Stockings: These stockings provide a lower level of compression throughout the leg and are commonly used for preventive purposes. The best part? You can purchase them over the counter without needing a prescription.
When selecting compression stockings, consider the compression level recommended by your healthcare professional and choose the right size and style for your comfort and needs.
To make the most of your compression stockings and ensure they work effectively, here are some helpful tips:
Wear them consistently: Put on your

compression stockings

regularly as your healthcare professional advice. That might mean wearing them throughout the day or during specific activities that involve extended periods of standing or sitting.

Put them on correctly: Take your time to put on your compression stockings properly. Smooth them out and get rid of any wrinkles. Some people find it easier to put them on in the morning when their legs are less swollen.

Stay active: Regular exercise and physical activity can complement the benefits of compression stockings. Walking, swimming, or cycling can help improve circulation and strengthen the muscles supporting your veins.

Elevate your legs: Whenever you get the chance, raise your legs above heart level. This reduces swelling and eases pressure on your veins. You can prop your legs up on a pillow or use a reclining chair for this purpose.

Keep your legs cool: Heat can worsen varicose vein symptoms. So, avoid hot baths, saunas, or excessive sun exposure. Opt for cool showers and wear loose-fitting, breathable clothing instead.
In conclusion, compression stockings are a fantastic tool for preventing and managing varicose veins. These specially designed garments can relieve discomfort and help prevent further complications by improving blood circulation and reducing pressure on your veins. Talk to your healthcare professional to determine if compression stockings suit you, and take proactive steps toward maintaining healthy and beautiful legs.