Who Makes Loose Top Socks for Thick Ankles?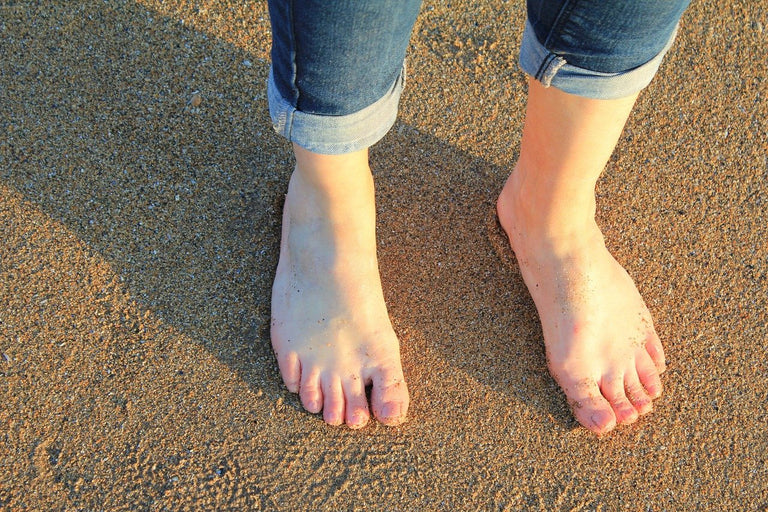 If you have thick ankles, the chances are that regular, tight-fitting socks might be harmful to your feet. You may not necessarily be a diabetic or have a bunion, but continuing the use of ill-fitting socks when you have thick ankles may lead to lasting foot problems for you.
In this article, we are going to discuss the right pairs of socks for thick ankles and which brands to look for.
Diabetes can cause edema or swell in the feet that may cause your ankles to get thick. The risk factors of having a broad ankle are because of obesity or poor blood circulation. Regular or tight-fitting socks are not suggested for those with thick ankles caused by diabetes.

Socks that are too tight around the ankles might be uncomfortable. Tight-fitting socks are not only uncomfortable, but they can also be difficult to put on for persons with thick ankles. Tight socks are not for them.
Why You Need Loose Top Socks
Thick ankles can be very uncomfortable in tight-fitting socks and will surely be difficult to pull on too. But these might not be the only reasons to wear loose top socks. If you wear tight socks regularly, your bunions may turn more painful and swell from the friction against your shoes.
Tight socks have more chances of exerting pressure on the bunion, and being tight-fitting at the ankles can also restrict your blood circulation. Wide ankles and calves generally do not feel comfortable in tight, regular socks because of constricted blood flow.
For these very reasons, you must look for socks that give your ankles sufficient breathing space and easy passage for your blood to circulate. Apart from having thick ankles, if you suffer from bunions and certain other discomforts, you must take extra care to choose your socks.
You should consider the following factors when selecting your pairs:
You may think that a larger pair of socks might be the solution for your thick ankles but, it's not. Buying a larger pair will only cause the sock fabric to bunch around your heel and toes and feel too long. You may not find them constricting, but it will certainly allow for friction that could result in blisters. Therefore, you must only look for socks that have a wide, loose top but otherwise are the perfect size for you.
If you are specifically buying a pair of socks to treat your blisters, then you must also pay attention to the bunions. Socks that could make blisters go away may end up giving you bunions. Therefore, look for anatomically contoured socks. These will have a proper design for your toe box, heel cup, and the in-between ribbing. So with such a pair on, even when you walk, the socks will stay in place. Not opting for contoured socks means you will allow rubbing to occur and make your bunion even more painful.
Find a pair of socks that specify there will be no shrinkage after washing.
What Are Loose Top Diabetic Socks? 
Diabetic socks are made to help diabetics avoid foot injuries, enhance blood flow, and keep their feet dry. The qualities listed below should be present in the best diabetic socks.:
Seamless

- Even the smallest protrusion can have a big impact on a diabetic's foot. Seamed socks can cause blisters or ulcers on the skin, which can be harmful for diabetic feet. The best diabetic socks are seamless and knit with inverse linking, which retains the toe-connecting thread's ends on the outside rather than within the hose. Ulcers can be caused by rubbing and blisters, especially in persons with neuropathy or continuous hyperglycemia (high blood sugar). White soles on diabetic socks are occasionally used to reveal the draining of a wound that isn't evident
Non-constricting

- Diabetic socks should be loose-fitting, non-constricting, and have a good stretch design. They should, in fact, be so adaptable that you hardly notice them.
Padding

- Extra padding and cushioning in sensitive areas helps to prevent damage while also improving comfort. During exercises, the areas at the bottom of the sock, around the toes, and at the heel of the foot are generally subjected to the most shock forces and hence require extra protection.
Warmth

- As a result of diabetes, blood vessels in the foot may narrow, limiting circulation.
White Sole

- For those with reduced sensation, a white sole is required since it helps alert wearers to a draining wound. A white sole will show stains from infections, open cuts, and sores that require quick attention.
Moisture-wicking

- Many socks are now created with special yarns infused with revolutionary technologies to aid in the preservation of a healthy foot.
Antimicrobial

- Antimicrobial technology is used in good diabetic socks to keep the foot healthy by preventing bacteria and fungus from forming in the moisture-prone areas. Germs and fungus are also eradicated, which eliminates undesirable odors in your feet. To inhibit the growth of bacteria and fungi, some socks are made using copper or silver-infused yarn, which has been shown to have antifungal properties. Copper-infused socks may also aid to prevent reinfection of athlete's foot after multiple wears. These socks are also anti-odor.
Soft yarns

- Diabetic socks are usually constructed of finely textured materials that are relatively soft on the skin. Some diabetic socks are made of fine-textured fabrics like bamboo and wool, which have inherent antibacterial qualities and are less prone to irritate the skin.
Top 10 Loose Top Socks for You
Diabetic Sock Club Ultra-Soft Upper Calf Diabetic Socks
Made in the U.S.A. 95% Acrylic - 5% Lycra. Our Ultra-Soft Upper Calf Diabetic Socks have a loose fitting top that will not bind or restrict circulation and yet the special knit keeps them securely in place. Made with open weave allows the foot to breathe by wicking moisture away from the skin. This is recommended for people suffering from the effects of diabetes, circulatory problems, edema, and neuropathy.
 IOMI Footnurse
This brand's socks have a honeycomb structure on the top of their socks that carefully moulds to the natural contours of your leg. The purpose of this means no nasty constriction rings around the contours of your legs, an important factor when wearing socks to aid diabetes. Their socks are made of 77% Cotton, 19% Polyester, 3% Polyamide, 1% Elastane
PediFix Seamless Oversized Socks
This brand has some raving reviews from customers who have thick and larger ankles and are prone to swelling. The socks are ideal for those wearers who need extra width at the ankles and more breathing room in that area with anti-microbial and seamless properties.
You can find loose top socks for both men and women by this brand in a variety.
The Extra Wide Sock Company
This manufacturer too makes extra-wide socks, especially for those people who have thick ankles and wider calves and feet. Another popular name for this particular brand is "Loose Fit Stay Up" socks. You can choose from a variety of socks from this brand for all your needs.
They provide extra-wide ankle socks for athletics in both calf and ankle-length, in addition to comfort socks and dress socks. Another attractive feature of this brand is that their socks stretch well, which is a bonus for people who have swollen ankles and feet due to poor blood circulation and edema.
However, if you are more prone to blisters, you must take note that their socks are mostly available in cotton that does not wick moisture well.
FootSmart
If you are particularly looking for a pair of wide, loose top socks for fitness walking, check out FootSmart at the stores. They have extra-roomy diabetic socks in acrylic, which is a good material for fitness walking.
The designs also feature a super-stretching capacity of up to 23 inches circumference-wise, so it makes it easier for you to estimate. If your ankles would suffice well with that kind of stretching capacity, then these wide socks will be a great option.
MediPeds
MediPeds offers non-binding top socks from their line of diabetic crew socks. They consist of 2% lycra, 35% Coolmax, 63% polyester. You will find sufficient breathing room in these pair of socks for fat ankles or legs, but the subtle fitting will also ensure the socks don't keep sliding off. With protection against blisters like that, your feet would stay comfortable without the threat of swelling in these pairs of socks.
Debra Weitzner Non-Binding Loose Fit Sock
This manufacturer combines style, comfort, and quality in their line of wide-ankle socks for you. Although it caters to diabetic men and women, you can use these loose top socks for your thick ankle and feet.
The socks are more breathable than the regular pairs and fit comfortably so that you can work through your day without any discomfort. The extra padding in the socks provides extra cushioning for your feet' sensitive area, like the soles. So you not only get more fit and breathability but also protection from blisters and friction.
The best part is that these socks are physician-approved and can even help with circulatory problems from neuropathy, edema, diabetes, etc.
Doc Ortho
Doc Ortho offers diabetic socks with a loose fit that might be perfect for your thick ankles. These socks have a specific design that ensures loose-fitting and non-binding wear for users. This enhances the blood flow, removes constriction threats, and reduces the swelling of ankles and feet.
These socks prioritize a healthy circulation of blood, which is evident in the socks' design and material. They help control moisture and minimize the possibility of infections. You can find these socks in four different sizes for both men and women.
Yacht and Smith
These manufacturers offer a unique product for diabetic and thick-ankle wearers. They offer a loose-fitting gripper bottom pair of non-skidding socks. This means that not only can you buy a pair of socks that will have a loose, non-binding-top but will not have to compromise on the gripping capacity.
These socks feature silicone, non-skid grippers so that you do not slip while walking on smooth surfaces. They come in short crew lengths, so you will not encounter any difficulty in wearing and removing the socks.
The non-bind top also ensures there is a simple space for circulation, a bonus for the edema, diabetic, and neuropathy wearers.
6 Pair Ankle Circulatory Socks Health Support
Consider this product if you suffer from swollen ankles and feet because of extra thickness in those areas or a diabetic or edema patient. These unisex circulation socks are ankle length and also cater to diabetic wearers. You will find these pairs only in white color, but they provide enhanced circulation, along with extra comfort and support.
Your thick ankles will love the optimal flow of circulation with the loose top. The fabrics are also super qualitative and comfortable, with a blend of elastic, nylon, and cotton. The extra cushioning in the heel and toe support your feet and provide relief from pressure.
DO NON-BIND, LOOSE TOP SOCKS SLIP OFF YOUR LEGS?
No, the loose top socks may not have an elastic band to hold them in place, but they do not slide off. The reason is that the extra-wide socks use a blend of spandex, nylon, and cotton generally that evenly divide the fitting around your leg.
So, the wide socks minimize the risk of poor circulation and have a strategic fabric blend that keeps the socks firmly in place. You wear the extra wide socks without fear of friction, rubbing, blisters, and bunions only if you look for the right elements in them.
Final Thoughts
Blisters, infections, and ulcers can all be caused by wearing socks that are too tight. It is possible for your feet to be damaged if your skin is rubbed by the socks you are wearing. Your socks should be snug but not tight on your feet. Regular tight socks lack the unique fabric and structure needed to support your feet's ability to breathe while also preventing bacteria from entering. Tight-fitting socks will not only reduce blood flow, but will also inhibit healthy circulation.
Tight-fitting socks lack a seamless quality, and socks with seams can scrape against your skin, causing blisters or ulcers, so the ideal socks for diabetics are made without them. Developing further infections for not choosing the right socks for you can make your disease worse. 
Loose top socks are essential for people who have thick ankles, wearing tight fitting socks will create further complications. Choose the right socks that will not constrict your feet, seamless, breathable and can help you prevent developing other health conditions.
Where To Get Diabetic Socks
You'd assume diabetic socks had to be purchased from a certain store. However, thanks to advancements in technology, you may now simply "add to cart" these socks on Amazon or other online sites that specialize in diabetic socks, such as Diabetic Sock Club. You may also take a questionnaire to see which style of socks would be ideal for you. However, you should always seek the opinion of your doctors or other medical professionals so that they can better lead you through your journey to recovery.