What do diabetic socks do?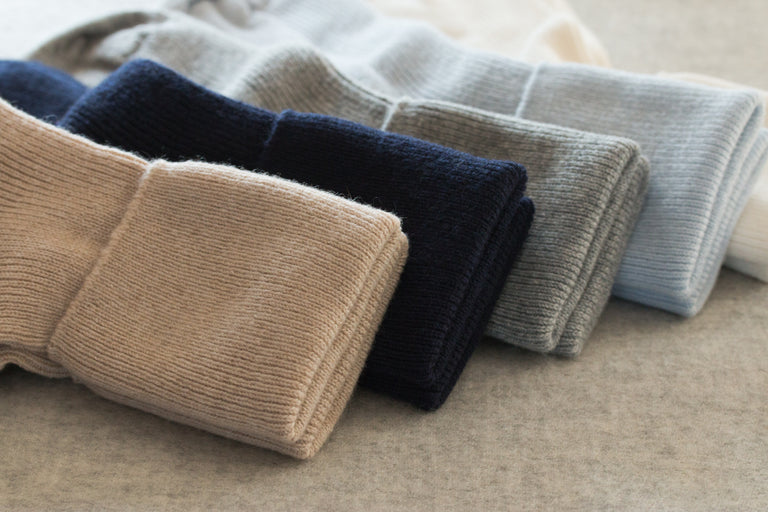 Poorly regulated blood sugar levels might damage your foot's nerves and blood vessels. Diabetic foot care is critical since even a little cut can become a severe condition. Diabetes can damage your nerves, causing you to lose feeling in your feet. Diabetes can also limit blood flow to the feet, making it more challenging to repair an accident or care for a cut. That is why diabetic socks and prescriptions are crucial and necessary for diabetes individuals.
What is the significance of diabetic socks? Diabetic socks can assist in keeping your feet dry, improve circulation, and reduce the risk of damage. Diabetic individuals must take additional care of their feet due to the sensitivity of their feet. It is also critical that you have a diabetic foot checkup at least once a year as a diabetic patient. If you have any of the following symptoms, you may need an evaluation more frequently:
Tingling

Numbness

Pain

Burning sensation

Swelling

Pain and difficulty when walking
It is also essential that you call your healthcare provider right away if you have any of the following symptoms (these symptoms may mean that you have a severe foot condition) :
A blister, cut, or another foot injury does not heal within a few days.

When you touch your foot, it feels warm.

An injury to the foot causes redness.

A callus with dried blood

A dark and foul-smelling wound. This is a symptom of gangrene, which occurs when body tissue dies. Necrosis can lead to amputation of the foot or possibly death if not treated quickly.
Even if you don't have any current foot problems, you should keep your feet clean and dry and wear socks and shoes.
What do diabetic socks do?
These socks aren't like conventional socks; they're made of unique materials like acrylic or synthetic fibers that help keep moisture out. By providing warmth without confinement, diabetic socks help to increase blood flow and protect your feet. It's critical not to constrict the blood vessels in your feet since diabetes creates impaired blood circulation. Diabetic socks also keep your feet dry. It's crucial to keep your feet dry since damp skin tears and breaks down more rapidly than dry, supple skin. You're more prone to develop an infected foot ulcer if the skin of your feet breaks down. Finally, diabetic socks protect the skin from harm by providing a "cushion" in regions that require additional support. Because people with diabetes typically have little sensation in their feet, they are unaware if they have injured their foot by rubbing against the shoe or stepping on a sharp object.
Diabetic socks benefit your feet by increasing blood flow, keeping them dry, giving comfort, protecting them from cuts and other accidents, and preventing fungal infections. Wearing diabetic socks daily helps to prevent injuries and illnesses in your feet. Preventing these conditions is also essential for avoiding amputation of your toes, foot, and legs. Even if you don't have neuropathy, having a couple of pairs of diabetic socks on hand can help prevent limb loss. Wear them when you're physically engaged, on your feet, or traveling.
Diabetic socks are an essential part of foot care and diabetes management because high blood sugar levels can harm the nerve and circulatory systems. Because of diminished sensation in the feet, diabetes patients may be unaware of an injury or postpone treatment due to nerve loss (diabetic neuropathy). Elevated blood sugar levels can also cause circulation issues, making it more difficult for wounds to heal by limiting blood flow to the wounded area. Your immune system may also respond more slowly if your blood sugar levels are high. Injuries don't heal as quickly as they should when your immune system is weak, and infection might set in. The tissue can perish under challenging situations, leading to amputation and death. That is why proper foot care is essential. Diabetic socks that are clean, soft, and non-constrictive should be part of your entire foot care routine.
Are Diabetic socks okay to wear for people without diabetes or who have standard feet?
Although they may look like your regular socks from the outside, they are thoughtfully designed with materials that can help keep diabetic feet safe. You don't even have to have diabetes to benefit from them. So yes, diabetic socks can also be worn by those who have no current foot problems or any that they're aware of. Diabetic socks are a good and healthy choice, unlike other regular socks. If your feet have trouble healing and if it sweats a lot, give you damp feet and foot odor that makes you feel uncomfortable, diabetic socks can help you with all these problems. Diabetic socks keep your feet healthy, comfortable, and more active. 
Benefits of wearing diabetic socks
Those who can benefit from diabetic socks other than people who have diabetes, nerve damage, and peripheral artery disease are people who are experiencing blisters or fungal infection, sweaty or moist feet, change in color of feet, and changes in foot temperature. Some of these are symptoms of a severe health condition. Pregnant women and people who travel by plane can also benefit from wearing diabetic socks. It reduces swelling of the feet and prevents the development of blood. There are numerous advantages to wearing diabetic socks over conventional socks, including:
To prevent ulcers and blisters, cushion your foot from friction.

Breathable and lightweight

Comfort and fit are priorities.

Protect your feet's delicate pressure areas.

Blood is evident on the material if your foot is hurt.

Antibacterial and anti-infectious properties

Removes odors

Reduce the risks of future amputations.
The thing to look for in a diabetic socks
It's critical to have high-quality socks because diabetes can be deadly for some people. A minor cut can have significant repercussions, including nerve damage to the foot. When looking for a nice pair of diabetic socks, look for the following features:
Flat seams or no seams help to avoid blisters.

Bamboo diabetes socks are made of moisture-wicking fabrics.

Material that is stretchy and does not restrict blood flow.

The heel and ball of the foot have extra cushioning.

No bunching or creases, good fit

Material that is not prone to friction
Features of a diabetic socks
Diabetic socks are designed differently than regular socks and are more unique than normal socks. Here are some characteristics of good diabetic socks:
Seamless design -

Diabetic socks are designed to be seamless inside to prevent rubbing on the skin that may irritate the skin and cause sores and foot ulcers.

Non-elastic binding -

Diabetic socks are made without elastic to avoid tightness in the foot, cutting off blood flow to the legs. This function aids folks with poor circulation in preventing problems. 

Moisture-wicking material -

To keep feet dry, diabetic socks comprise moisture-wicking fabric. These socks are lightweight fibers that help wick moisture away from the feet and dissipate sweat. Because excessive moisture can lead to fungal infections, materials like acrylic and wool are better at preventing them than a sock made entirely of cotton.

Antimicrobial -

Antimicrobial yarns, such as copper or silver-infused yarns, are utilized in some diabetic socks. These yarns can help prevent fungus from growing on your feet and manage odors.

Padding -

Antimicrobial yarns, such as copper or silver-infused yarns, are utilized in some diabetic socks. These yarns can help prevent fungus from growing on your feet and manage odors.

Technology -

Some diabetic socks feature technology that detects temperature changes in the foot. Changes can signal the beginning of an ulcer or other foot problems that would otherwise go undiscovered.

Compression socks may be prescribed for diabetic neuropathy patients to help enhance blood flow and reduce edema in the feet and legs.

Wrinkle-free -

Socks with little to no excess fabric are great since they don't wrinkle and cause less friction and pain when worn inside a shoe.

Warmth -

Blood arteries narrow due to diabetes, reducing circulation to the feet. Diabetic socks should contain fibers that keep your feet warm while also aiding in blood circulation.

Soft yarns -

Diabetic socks are frequently made of more delicate texture textiles that are incredibly gentle on the skin. Bamboo fibers are a fantastic solution for reducing skin abrasion and shear stresses.

Length -

Diabetic socks are available in a variety of sizes. Socks range in length from ankle to knee-high. Lower sock lengths are acceptable for everyday wear, but those with circulatory difficulties may require a higher hose.

Protective Interior -

Soft, seam-free linings with no protruding stitching

Stretchable Uppers -

Provide extra protection since they conform to the contours of the unique diabetic foot shape and help ease pressure points.

Orthotic Support -

Anatomical insoles give superior arch support, fit the foot's contours, and relieve strain on the foot's bottom.

Extra-Depth Design -

ensures a comfortable fit without putting strain on the delicate foot. This design also conveniently accepts custom orthotics.

Deep Toe-Box -

The finest diabetic shoes should feature a higher toe area, providing extra room and relieving pressure.

Multiple Widths -

To avoid a non-constricting foot environment, people with diabetes should wear broad-width shoes.

Functional Soles -

Lightweight soles with an ergonomic design increase foot motion and mobility.
Finding and caring for the right pair of diabetic socks
Diabetic socks are available at various places, including pharmacies, major stores, and internet shopping sites. You can also inquire about more options for diabetic socks from your healthcare physician. Diabetic socks are available at various prices, making them an inexpensive option for people with diabetes.
It is strongly advised that you wear a new pair of diabetic socks every day. This will keep your feet clean and dry while also allowing you to check for any fresh draining wounds that require treatment. If properly cared for, diabetic socks can last up to six months of frequent use. Chlorine bleach and fabric softeners are not suggested because they are strong chemicals that will impair the life of the socks. Always wash your socks in a mesh laundry bag and air dry them or dry them on a low setting in the dryer. Replace your socks at the first indication of wear and remove any pilled fabric. Check your socks regularly for any holes or rips and dispose of them when this occurs.
Ten tips to avoid complications when you have diabetes
Diabetes is a dangerous condition. It takes a 24-hour commitment to stick to your diabetes treatment plan. However, your efforts are commendable. Diabetes management can help you avoid significant, even life-threatening consequences.
Here are ten tips to take an active role in your diabetes care and enjoy a healthier future.
Commit to managing your diabetes - Find out everything you can about diabetes. Make healthy food and exercise a regular part of your day. Keep your weight in check. Monitor your blood sugar levels and follow your doctor's advice for blood sugar management.
Don't smoke - Smoking raises the risk of type 2 diabetes and its complications, such as decreased blood flow, poor blood sugar control, heart disease, stroke, eye disease (which can lead to blindness), nerve damage, renal disease, and premature death.
Keep your blood pressure and cholesterol under control - High cholesterol is also a cause for concern because the harm caused by it is generally worse and quicker when you have diabetes. When these factors come together, they can cause a heart attack, stroke, or other life-threatening complications.
Schedule regular physicals and eye exams - In addition to your yearly physical and regular eye exams, schedule two to four diabetes checkups every year.
Keep your vaccines up to date - Diabetes increases your risk of getting certain illnesses. Routine vaccines can help prevent them.
Take care of your teeth - Gum infections are a risk with diabetes. Brush your teeth with a fluoride toothpaste at least twice a day, floss once a day, and have your teeth examined at least twice a year.
Consider a daily aspirin - To help minimize your risk of heart attack and stroke, your doctor may recommend taking a low-dose aspirin every day.
If you drink alcohol, do so responsibly - If you must drink, do it in moderation, no more than one drink per day for women and two drinks per day for males.
Take stress seriously - If you're stressed, it's easy to neglect your usual diabetes care routine. To manage your stress, set limits. Prioritize your tasks. Learn relaxation techniques.