What Are The Best Short Top Diabetic Socks?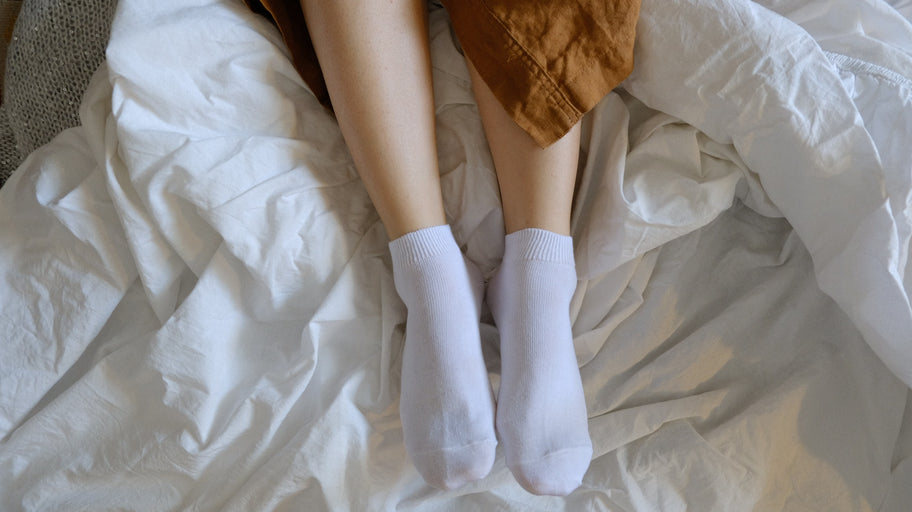 Diabetes makes a person more vulnerable to infections, injuries, and other problems. Diabetic patients need to keep firm control of their blood sugar levels and arm themselves with medical equipment.
Diabetic patients must have certain medical supplies, such as a glucose test strip, a monitor for blood glucose levels, syringes, lancets, and loose top socks. With diabetes, it is all too common for patients to develop feet sensitivity, what we commonly refer to as diabetic neuropathy.
In this condition, patients lose sensation in their feet, largely in part due to nerve damage. Hence, they may not notice if they faced an injury, active bleeding, or infection due to a lack of feeling in the feet and soles. Since the risk of injury is high, it is important to wear protective socks that keep their feet safe and protect them from injuries and infections.
Diabetic socks protect sensitive diabetic feet and enhance blood flow to keep the feet healthy and strong. All diabetic patients don't need to wear diabetic socks because many do not develop acute foot conditions in the disease. However, patients may still use them for extra comfort during their daily activities.
Best Short Top Diabetic Socks
Dr. Scholl's Diabetic Socks- Crew Length
Dr. Scholl offers premium diabetic and circulatory casual crew socks. The socks are a blend of spandex, polyester, and other fibers to ensure you find maximum comfort during long wears too. These socks have a pull-on closure, a non-binding top, and are super soft.
The technological incorporation for free flow moisture management ensures the feet remain dry and safe from developing ulcers and infection. The socks also feature odor-resistant properties, in addition to a design that offers the best fit.
The premium materials will protect your tender skin and not cause any friction against the fabric, even during long hours of use.
Hugh Ugoli offers loose ankle-length diabetic socks. They have a non-binding top and seamless toes due to the hand-linked seams. The socks feature a combination of bamboo, elastane, and polyamide. The reinforcement in the heel and toe ensures a wide stretch and high durability in the socks.
Due to the soft and stretchy elastic, the wide ankle maximizes blood flow and increases the comfort level, no matter how strenuous your day might be. With the non-binding and loose tops, the socks ensure that your feet remain safe against infection, blistering, and foot pressure.
These socks are an ideal option for diabetic patients and people suffering from circulatory problems and neuropathy. The socks have a large extending capacity due to the micromesh. The breathing hole also enhances comfort level by discharging sweat faster and offering more breathability for the feet.
You can find these socks in ankle-length, with a combination of eighty percent combed cotton and elastane twenty percent. Yomandamor's diabetic socks are the ideal accessory for autumn, summer, and spring and provide maximum comfort for sensitive diabetic feet.
The seamless toes take away the burdensome bulky toe feature that is harmful to your tender feet. Instead, you can ensure your feet remain safe from blistering, foot pressure, and infection with these socks. Even if you do not have diabetes or do not have any foot sensitivities, you can still use these socks for extra comfort and durability during their rigorous daily routine.
These socks offer you more breathability and sweat-wicking properties due to the micromesh weaving. With the extra-wide calf and non-binding loose tops, you can boost the blood circulation and in your legs and feet. These socks are true friends of diabetic patients.
Physicians Approved Diabetic Socks
If you suffer diabetic complications, circulatory issues, neuropathy, or edema, consider using the Physicians Approved pairs of diabetic socks. These come with a blend of cotton, polyester, and elastane and are extremely comfortable.
The socks are non-binding at the top but fit comfortably enough to stay put. The socks feel cushion-like soft, and sturdy on your feet but do not restrict circulation. These pairs also do not unravel no matter how many times you run them through your washing machine.
With the seamless toes, your tender skin remains safe against abrasions and blisters.
EMEM Apparel Diabetic Socks
If you are looking for soft and comfortable diabetic socks for your sensitive feet, consider crew cotton socks by EMEM Apparel. They are super breathable and extra comfortable owing to the blend of cotton, polyester, and spandex in their making.
These socks are super comfortable for the feet and look classy with their fine design and structure. You can find these socks in various colors and sizes to go with all your formal and dressy outfits.
The non-binding with the cotton blend boost your blood flow and keep your feet healthy and strong all day. The loose-fitting not only enhances circulation but also eliminates irritation. The seamless toes with hand linking reduce abrasion and keep your sensitive feet safe against blisters, ulcers, and infections that may arise otherwise.
Creswell diabetic socks are not just comfortable; they also slip on easily over swollen and aching diabetic feet. With these socks, you get minimal compression, and your blood flow gets an active boost. The non-binding tops ensure your feet don't suffocate or bruise, while the enhanced circulation helps your feet feel alive and strong all day.
These are helpful support for those who suffer from neuropathy, diabetes, edema circulatory problems.
Doctor's Choice Diabetic Crew Socks
Doctor's Choice diabetic socks provide a cushioned, comfortable, and soft feeling for the sensitive diabetic feet. The full cushioning helps protect feet from blisters, and the padded protection helps keep ulcers away.
The diabetic feet are always vulnerable to dangerous infections that could arise from moisture accumulation. With these socks, you can help protect your feet from moisture because the synthetic fibers have excellent moisture wick properties.
The premium quality material helps regulate the temperature and keep the feet warm to help with better circulation. The socks have a soft and stretchable construction, which helps patients pull on socks easily over their often swollen and sore feet. With the loose-fitting, you can protect your legs from constriction and reduce the possibility of ring formation.
The socks feature seamless toes so that there is no bunching or possibility of abrasion, thereby providing blister-free safety. With these socks, you can help protect your feet from injuries from diabetic neuropathy or other conditions.
Diabetic Socks - Who Should Use Them
Not all diabetic patients have to use diabetic socks necessarily. These are essential only for those patients who suffer from the following conditions:
The decrease in pedal pulses (we measure these behind our inner ankle and the top of our foot)
Variations in the temperature and color of the feet
Changes in sensation
Nerve damage
Frequent foot injuries resulting from friction rubs and others.
While we believe it is imperative for people with the above problems to trade their normal socks for diabetic socks, we also think anyone can find these useful. As we advance in age, we tend to tire more quickly from rigorous physical activities or staying on our feet for too long.
Even people who diabetes but no foot complications can consider switching to diabetic socks for their daily routine. The additional comfort, breathability, moisture-wicking properties, and loose-fitting give our blood more room for circulation. Thus, our feet feel active, fresh, and stronger even during long hours of work.
Suppose you feel temperature changes are a recurring problem for your tender feet, or you notice irritation spots, redness, swelling, and similar conditions more frequently on your feet. In that case, you will surely benefit from diabetic socks. However, if you suffer from none of the symptoms and conditions we mentioned, even if you have diabetes, then you may continue wearing the regular socks.
It is beneficial for every person to refrain from the constricting, lumpy, and suffocating regular socks. Even those in good health may cause complications for their feet in the long run from the continued use of bulky seams and uncomfortable socks.
For pregnant women, and especially those who have gestational diabetes, diabetic socks are extremely helpful. These socks provide maximum comfort for their swollen feet and are so breathable and lightweight that wearing them all day feels like a breeze.
These socks also help keep the feet warm and reduce the chances of deep vein thrombosis (DVT) and blood clot formation.
Final Thoughts
Diabetic socks are highly beneficial for people who have diabetic neuropathy, edema, or circulatory problems. The non-binding tops, loose-fitting and seamless toes create space for active circulation while protecting the feet from harmful and often fatal injuries. Even during long hours of travel, these socks are the ideal companions to ensure maximum comfort and protection.