The 13 Best Orthopedic Socks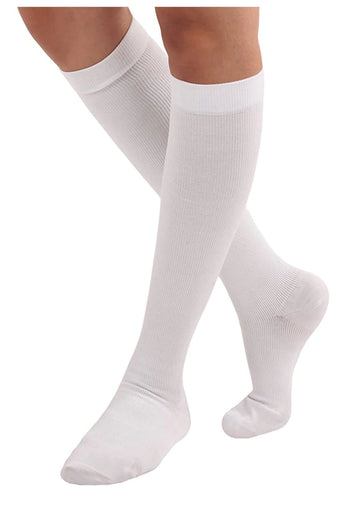 The term "orthopedic" refers to the treatment or prevention of skeletal abnormalities, diseases, injuries, and accompanying structures, including tendons and ligaments. By exerting light or moderate pressure on your limbs, orthotic socks provide support and comfort to your legs and feet. It would improve blood flow from the lower extremities to the heart. 
Orthopedic socks can help reduce swelling in the feet, ankles, calves and the associated pain and suffering. Orthopedic socks are available in various styles, sizes, and lengths. There's something for everyone, from ankle-high athletic socks to thigh-high compression stockings. Other types of orthopedic support, such as orthopedic shoes, are available. 
Individuals with a foot or toe deformity, a problematic or severe foot injury, exceptionally comprehensive bunions, an open sore, or a neurological illness affecting the feet can benefit from orthotic socks.
The 13 Best Orthopedic Socks
It would be best if you found the right compression socks for you. The socks will cater to your needs and alleviate the symptoms you have to feel protected and comfortable throughout the day. You wear compression socks or orthopedic socks to make your condition better. That is why having many options you can choose from to help you know which one will be the best socks that can fit you is essential. We help you do the top 12 best orthopedic socks you can consider buying for yourself! 
Diabetic Sock Club's Compression Stockings

- These

compression stockings

from the Diabetic Sock Club are ultra-soft and cozy with moisture-wicking properties that keep you from having blisters. They won't irritate your skin because they are soft. Use compression socks that just go until your calf is good for preventing blisters and bad odor. These compression socks are ultra-soft and comfy, with moisture-wicking characteristics, and made from premium grade fabrics in the United States.
Bombas Women and Men's Merino Wool Compression Socks (15-20mmHg) - The company's daily mission is to make a difference, give comfort, durability, perfection, and guarantee happiness and satisfaction to their customers. For every clothing item you purchase, a clothing item of the same kind is donated to those experiencing homelessness; they have already donated 50 million items to more than 3,500 community organizations to date! Isn't that amazing? You get to help while buying a sock that won't let you down. Bombas women's and men's merino wool compression socks are combined 15-20mmHg of compression (a snug, not-too-tight level) with a naturally soft, temperature-regulating merino wool blend to make functionally cozy socks that soothe cranky legs in any season—though they're particularly lovely for chilly winter walks, unexpected layovers, and long sleigh rides. The 15-20mmHg compression is perfect for relieving aching and swelling legs with the circulation benefits of compression. Perfect for traveling, sports recovery, pregnancy, and more. Their socks also have a "Honeycomb Arch Support System" that cradles the arch of your foot, like a firm but comfortable hug around your midfoot. 
Sockwell Women and men's Plantar Cush Crew | Plantar Relief Socks - The company Sockwell reinvented the therapeutic sock by spinning innovative technology with modern styling for a lifestyle look. This company offers socks for different conditions, including graduated compression, plantar fasciitis relief, bunion relief, relaxed fit/diabetic-friendly, sports compression, and everyday essential comfort socks. Both men's and women's plantar relief and plantar ease compression socks are for supporting plantar fasciitis. Both socks have a turn-welt top where the top of the sock is tucked down inside the sock. Extra elastic at the top of the sock to assist keep the sock up and a clean, finished appearance to the top of the sock are two advantages of a turn-welt top. Both socks include Accu fit technology, which employs electrical impulses to stimulate thousands of tiny muscle contractions over the course of a 30-minute session. Sockwell also uses bamboo rayon and merino wool that has natural moisture-wicking abilities, and is also antimicrobial. Both socks include compression for improved blood flow and a seamless toe closure to reduce skin irritation.
Lily Trotters EliteSport - Black Compression socks - Lily trotters offer an array of designs to suit a variety of personal styles. They produce beautiful high-quality compression socks that bring the benefits of wearing compression socks to all women. Everyone looking for more protection built into their socks, these socks are great for you. Enhanced features with added support to shins, Achilles, arches, and calves and reinforcements where you need them most. These socks can help maintain youthful-looking legs and healthy veins, increase athletic performances, be free from discomfort while traveling, energize legs while standing for long periods of time and alleviate swollen legs and feet while pregnant. 
Conrad Knee-High Compression Socks - Comrad's compression socks also contain silver ions, but why Silver ions? Silver ions can make compression socks feel cooler, increasing compliance and leading to edema prevention and a decrease in wound recurrence. These socks can increase circulation, improve leg and foot comfort, provide relief from pain, aches, and fatigue, and reduce soreness, swelling, and inflammation. For increased circulatory health, it can help prevent varicose veins, help prevent DVT and blood clots, and lastly, it can give relief from the discomfort associated with minor/moderate edema, CVI, and venous conditions.
Blitzu PERFORMANCE™ Compression Socks - These innovative socks combine compression fabric with kinesiology arch support that helps reduce leg pain and increase blood flow. These socks have stabilizing compression on the calf, help to relieve shin splints, and prevent cramping. Perfect for running, CrossFit, soccer, basketball, sports, hiking, and more. The graduated compression of 20-30mmHg with performance cushioning can help prevent injuries and provide extra comfort and relief. You don't need to worry about having sweaty feet because these socks are anti-odor and have breathable mesh zones to make your feet feel dry and fresh. It is also made with anti-blister construction and a seamless toe.
Injinji Ultra Compression OTC - Toe socks may feel and appear odd, but wait till you try Injinji's compression socks! This is the sock for lengthy races and high-mileage training days, combining effective progressive compression to minimize tiredness with our proprietary toe sock independence, blister prevention, and balance. The seamless five-toe design minimizes skin-on-skin contact, which can lead to blisters. The compression starts at the ankle and goes up the leg to assist circulation and help enhance blood flow. This design will keep your toes in the correct position for improved circulation. Nylon fibers enhance durability and softness, the cuff remains up, and reflective strips boost visibility in low light. 
Dr. Scholl's Women's Graduated Compression Knee High Socks and Men's Work Compression Over The Calf - Dr. Scholl's compression socks are good for people who have arthritis. People with arthritis suffer from painful joints that swell, which leads to discomfort. Dr. Scholl's women's graduated compression socks and men's work compression socks both have arch support that reduces fatigue in the feet and legs. Both of these socks also have an extra cushion in the heel and toe to give extra comfort and protection. The lightweight construction of these socks ensures all-day ease and has an ultra-smooth toe seam that ensures unmatched comfort. Both socks also have moisture management and odor control to keep feet clean & dry.
Physix gear sport compression socks - These compression socks from the company physix gear will surely alleviate swelling in your feet! These socks are great for nurses, athletes, men and women, running, shin splints, flight travel, and maternity pregnancy. How can these socks help to swell? Pregnancy, poor circulation, temperature fluctuations, and fatigue are only a few of the reasons your feet and ankles may swell. Pressure socks gently squeeze the legs, helping fluids to reabsorb and blood to flow more easily. These compression socks also decrease the diameter of veins, increase the amount of blood flow, keep the blood moving and avoid fluid from pooling in the legs that can cause other nerve problems such as varicose veins. If you suffer from swelling during and after a long airplane, car ride, or a long shift on the job, these socks may help you. Physix gear is loved by many, and it will surely provide you with the most comfort while helping to lessen the swelling in your feet. It has a comfortable material with careful construction, no stitches in places where they'll rub or rip together. Stay put Cuffs Soothing feeling at the bottom and sides of foot with no pinching seen with lesser quality socks without ankle support.
TXG Classic Series Compression Socks - TXG is a Taiwan manufactured company. They want to give people the socks that they specifically need and deserve. Their designs are made to maximize your performance and create the best efficiency socks by mixing cutting-edge advancement with an eager understanding of what creates an excellent efficiency sock. Each product is carefully tested, giving the most excellent, strong, and efficient socks! TXG Classic Series compression socks are designed to deliver all of the health benefits of compression socks but are comfortable enough to be worn daily. If you are trying to find compression socks that you can use daily without feeling irritated, these socks are for you! The TXG Classic series is offered in three degrees of gradient compression and is constructed of very soft and durable micro-nylon (10-15mmHg, 15-20mmHg, and 20-30mmHg). People who stand or sit for long periods of time, walkers or joggers, pregnant women, travelers, and drivers with varicose veins and swollen legs, would benefit from these socks. 
PRO Compression Marathon, Black on Black - Their socks have two stabilizing zones in addition to progressive compression, so they stay snug and don't budge when you walk. Unlike many other socks on the market, PRO designs also provide comfortable, supportive arch compression. But our products aren't just tight and technical. A proprietary moisture-wicking, poly-nylon fabric makes our gear soft, comfortable, and easy to pull on and off. Plus, for increased comfort and ease, our socks have a large toe box, cushioned padding underfoot, and smooth yarn down the sole. Their Marathon black-on-black sock is their most popular, and it will help you recover faster and feel better sooner. They also have a variety of compression settings to pick from, including a 25-35mmHg compression level.
Zensah Tech+ Compression Socks - Zensah's goal is to give the best and high-quality products alongside reducing the impact on the planet and increasing positive impact by helping & supporting environments, conscious production methods, and the community. They are starting to transition their best sellers to be more environmentally friendly and use recycled materials and fibers that use less water, energy, and waste. Zensah Tech+ Compression socks are made in Italy that feature an innovative design, ultra-comfortable fit, and superior performance. Their graduated compression enhances blood circulation and oxygen flow for increased athletic performance and stamina while also adding comfort for everyday wear. Aches, pains, and edema are also reduced. Ideal for tourists and individuals who spend their days on their feet. Silver is embedded into these socks for anti-odor characteristics, making them even more unique. These socks are also breathable, moisture-wicking, and temperature-regulating, with actual graded compression.
Go2 Compression Socks Unisex | High Compression - These compression socks from the company Go2 are designed with your tired legs in mind. Reenergize your legs by wearing compression socks to increase blood circulation for better performance and faster recovery. These compression socks are good for both men and women. Experience a swift recovery from a long flight or an intense workout. Go2 compression socks provide significant relief for aching legs, calves, ankles, and feet and allow you to manage your edema or DVT in comfort and style. Silver-infused nylon fabric that fights odor, bacteria, and moisture. When it's chilly outside, these compression socks keep your legs warm, and when it's hot outside, they keep your legs cool.