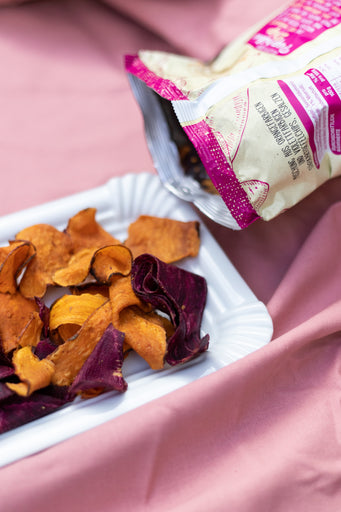 Can diabetics eat chips? Spare a few minutes and read on to know the answer.
Diabetics have certain food restrictions for what they can eat and what they cannot. 
So, if you are facing difficulty in managing your blood sugar level and diet, eating potato chips or fries can increase the risk of getting type-2 diabetes. The amount of calories, starch, and sodium in chips, crackers, and pretzels will do no good to your blood sugar. This will further lead you to more complex heart diseases and obesity. So, do you need to avoid chips?
Potatoes in any form, whether they are baked, fried, boiled, mashed, or steamed, are among the most popular foods worldwide. These are rich in B vitamins and potassium, albeit their skin contains fiber.
Diabetics should have a limited intake of potatoes or avoid potatoes. 
Nonetheless, diabetics can eat potatoes in many forms, but they should know the importance of how it can affect their blood sugar level. 
Do Potatoes Affect Blood Sugar Levels?
Potatoes are a high source of carbs, which increases blood sugar level like any other carb-containing food. Your body breaks down the carbs into sugar that runs in your bloodstream. The spike in blood sugar levels will immediately activate the hormone insulin in your blood to help carry sugar in your cells. This is a process for a healthy person, having no diabetes. 
This process does not happen with diabetics. The sugar remains in circulation for a longer period giving rise to high levels of sugar. So eating high to carb foods can be dangerous for diabetics. This may lead to kidney diseases, nerve damage, amputation, loss of vision, and heart failure.
Hence, diabetics should lower their carbs intake, ranging from a low of 20-50 grams to 100-150 grams daily.
Carb Count of Potatoes 
The carb content in potatoes will depend on the cooking methods. For example, the carb count in 75-80 grams (1/2 cup) of potatoes can vary depending on its preparation method.
Diced raw potatoes have 11.8 grams of carbs
Boiled potatoes have15.7 grams of carbs
Baked potatoes contain 13.1 grams of carbs
Deep fried potato fries provide 36.5 grams of carbs
The carb count of microwaved potatoes is 18.2 grams
Oven-baked fries have 17.8 grams of carbs
Potatoes can weigh around 170 (an average small potato) to 370 grams (a large potato), and their carb content will vary from a low of 30 to 65 grams of carbs. So you may eat double the amount of carbs mentioned above in a single meal.
Potatoes Glycemic Index (GI)
GI is about how much a food raises the blood sugar level in comparison with a control. A low GI food will be good for diabetics for managing blood sugar levels. 
Foods with a GI greater than 65-70 are classified as high GI; it means they increase sugar levels more quickly than foods with low GI (less than 55). Interestingly, potatoes have a medium to high GI value of 20. It's important to note that GI alone doesn't contribute to high blood sugar levels. 
For this reason, you can use glycemic load (GL), as it also takes into account the cooking method or portion size of a meal. To measure the GL, multiply the GI by the number of carbs in a portion and divide it by 100. A GL with a value less than 10 is low, and a GL value greater than 20 is high. A low GI diet generally aims at keeping the daily GL under 100.
GI and GL depend on the cooking method and the variety of potatoes you are eating. Like 1 cup (150 gm) of potato serving may be low, medium, or high GL, depending on its variety.
Choose varieties like Carisma and Nicola to slow down the rising blood sugar levels as they have low GL.
White, Desiree (boiled), potato crisp, quick mashed potatoes have medium GL.
Desiree (mashed) and French fries have high GL.
Reducing GI and GL of Potato
This depends on the cooking method, as cooking tends to change the structure and starch value. Hence, it affects how fast they can get absorbed into the bloodstream.
The longer you cook a potato, the higher the GI. Similarly, the more you boil or bake a potato, the greater the GI. That said, if you let the potatoes cool down before consumption, it will increase their resistant starch, which is a less digestible carb. This will help reduce the GI by 25%.
Hence, potato salad is better than French fries or baked potatoes for diabetics. Another method for reducing the GI and GL is by leaving the skin on for fiber. You can add vinegar or lemon juice, as this will slow the digestion of the carbs, thus reducing the risk for high blood sugar levels.
A low GI and GL diet will benefit diabetics. You can consult a food nutritionist for the best advice.
Other Risks of Eating Potatoes
Although it may sound safe for diabetics to eat potatoes in different forms, the key factor is the quantity and type of potatoes you eat.
They not only increase the risk of getting type-2 diabetes but consuming potatoes may also have negative effects on people with diabetic conditions.
Some studies have concluded that for every three servings of boiled, baked, or mashed potatoes per week, there was a 4% spike in the risk of type-2 diabetes. The risk increased to 19% when it comes to French fries.
Potatoes or their chips contain other fats that can increase the blood sugar level, blood pressure, and lower HDL (the good one) cholesterol, resulting in obesity and heart diseases. This is dangerous for people having diabetes.
You should consider that type-2 diabetics should manage their weight to maintain their blood sugar and reduce health-related complications. Therefore, it's better to avoid French fries, chips, and other forms of potato.
Alternatives to Potatoes
Other than potatoes, you can opt for some healthy foods which will give you high fiber, low carbs, and low GI and GL.
Carrots and Parsnips 
Both have less than 10 grams of carbs, making them low GI and GL food. It's best to consume these veggies in boiled or baked form.
Cauliflower
It's a delicious, low-carb alternative to potato, whether boiled, roasted, or steamed. 
Pumpkin and Squash
The low carb content and low to medium GI, and very low GL make them the perfect food for diabetics. 
Taro
This root is very low in carbs and a GL value of only 4, which makes it perfect for baking. You can cut it into thin pieces and add oil for a healthy alternative to potato chips.
Sweet potato
Sweet potatoes have a low GI and a fluctuating GL value between medium to high levels. They are a great source of vitamin A.
Legumes and Lentils
Most of the foods in this category have high carbs but very low GL; plus, they are fiber-rich. You can consume them carefully with adequate servings as these tend to shoot sugar levels.
Therefore, avoid high carb foods and go for non-starchy greens like broccoli, cauliflower, green beans, tomatoes, cabbage, Brussels sprouts, lettuce, cucumbers, leafy greens, etc.
Chips and Snacks for Diabetics
Quest Nutrition Sour Cream & Onion Protein Chips 
These chips are low carb, gluten-free, potato-free baked chips. Their main ingredients are onion and sour cream. You will get 20g Protein, 3g Net Carbs, 1g Sugars, 2g Dietary Fiber, 130 Calories, and 4g Fat.
Diabeticfriendly Chocolate Covered Potato Chip
These are sugar-free chocolate-coated potato chips. A 12 oz serving size contains 1 g of dietary fibers and Zero Trans fats. The carbs are low at 4 g net.
Garden Veggie Chips
These are salty, wavy chips made of potato flour, potato starch, tomato paste, spinach powder, and other veggies. These are good for consumption with 30% lesser fats than other potato chips – No Trans Fats, non-preservatives, and non-GMO ingredients, gluten-free chips.
White Truffle Potato Chips 
These chips have thinly sliced Agria potatoes, sunflower oil, fleur de sel, and sea salt from Ibiza, a premium product 1.59oz (45g) each (pack 3).
The flavor of white truffle makes them a favorite snack for diabetics and non-diabetics. This product contains 100% sea salt of high quality. The premium and high-quality potatoes make them an exquisite delicacy for diabetics. 
Conclusion
We all like potatoes, whether baked, cooked, fried, or even mashed. However, high carb content is not good for a diabetic. You can opt for varieties that have low to medium GL. You just need to go for the right quantity intake and cooking method that suits your condition.
You can find delicious crispy potato-free chips for diabetics online. Make sure to check the ingredients list before making a purchase.