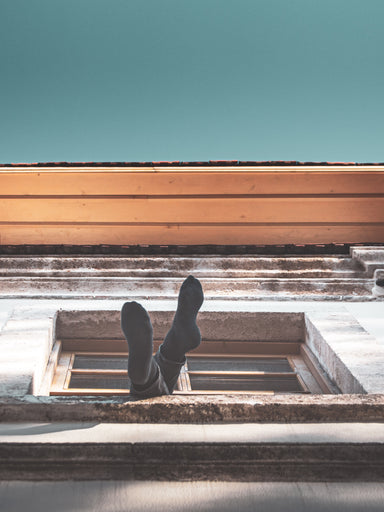 As the name suggests, seamless socks are without a seam inside. It's not common to find socks without a seam due to the process they are knitted on machines. A devised machine may get you seamless socks, or hand-knit socks are without a seam. Machine-knitted socks with a suppressed or barely-there seam are commonly available.
Seamless socks are comfortable; mostly, they come from cotton fabrics for their natural and inherent breathability feature. They even come from Merino wool. These fabrics are not itchy; they are soft and keep your feet dry. 
These seamless socks also come from a mixture of other materials, including natural fibers for soothing the irritating skin and blisters, and help you keep your feet stay dry during the day. These are great for diabetic patients to wear all day long with no problem.
These socks for diabetic patients come in a wide range of materials, some with padding as well for extra cushioning around heels and toes areas. Some have add-ons like soft elastic bands on top to prevent them from slipping down.
Seamless socks are also available in a great range of colors and styles like casual ankle-high to knee-high socks, covering all intermediary designs and styles to suit your choice. 
Now, certain sock manufacturers consult doctors to prepare the right socks for diabetic patients for everyday activities, social gatherings, sporting activities, etc. 
Remember, people with diabetes can develop diseases like neuropathy, vascular disease, and infections, especially in the lower limb covering feet and legs.
So these seamless socks for diabetics help them in lowering the pressure on hot spots, as seamless diabetic socks are non-restrictive, closely fit, and ease the pressure. It also helps soothes skin contact or friction with the sock's material. These diabetic seamless socks help keep the moisture to a minimum, thus reducing the risk of infection, blisters, and fungus.
Varieties
Diabetic socks come in a large variety with stretchable tops, cotton material, and non-cotton materials with anti-microbial features. In contrast, compression type and plain non-binding socks come with the idea to ensure proper blood circulation.
Extra-wide or more elastic socks are best for patients having excessive edema. 
Diabetic socks are made with an aim to protect your feet and reducing cuts, blisters, infection, poor blood circulation, dampness, moister, and amputation. These types and sock varieties are treated with fabric fibers with an anti-microbial, which will last long during a socks life.
We will share the five best seamless socks for people with diabetes.
Wool Boot Calf-high Cushion Socks
These socks are typically made from a mix of lycra, nylon, and 64% of Merino wool. 
These are very comfortable, seamless socks offering great stretch and softness. Plus, they are ideal for diabetics who are hiking enthusiasts. These are also a go-to option for daily wear. 
Seamless socks will prevent blisters, staying-up all day long. What's more, these socks come with cushioning to add a layer of extra comfort for your feet. It's great for both men and women with diabetic conditions.
They are great if you are looking for no-slip, bunching at the ankle, and no blisters socks. These are quick-to-dry socks after machine wash. 
Wool Hiking Long Socks
Yet another option when it comes to seamless socks for hiking lovers! These socks contain 50% Merino wool, and lyrca will give plenty of stretch-ability and won't slip down. This blend of fabric will make it more moisture-wicking, quick-dry, and odor-resistant seamless socks. Merino wool hiking socks are good for athletes and mountaineers. 
Besides 50% Merino wool, these socks comprise 34% Acrylic, 14% Nylon, plus 2% Spandex. All these make them good socks for hunting, snow fun, etc. In addition, you can go hiking, camping, trekking, mountaineering, etc., wearing these.
These are moisture-wicking with smooth toe construction and cozy room for arch compression because of reinforced cushion and pads running from toe to heel area. You will observe ventilation mesh that eliminates sweat. 
The Best Ankle Socks 
These socks have a high percentage of combed cotton, 88% precisely, 11% polyester, and 1% of spandex. The mix of these fibers provides the best moisture-controlling features and stretching comfort without pressuring your feet.
The socks have cushioning in all the rights areas to provide maximum comfort to your feet. They are moisture-wicking socks with extra padding for absorbing shock impacts.
Furthermore, these low-cut socks offer great air permeability that keeps your feet dry for as long you keep these socks on.
They are designed for good arch support getting no hollow feeling in the shoes while you are running, jogging, or walking. These are no-slip socks and good for many activities.
Knee-High Seamless Cotton Socks
These are very good seamless socks for those patients with diabetes who love knee-high cotton socks for comfort and best functionality. These socks usually have a percentage of cotton as high as 80%, making them softer. At the same time, add-ons fabrics like spandex and polyamide offer durability and elasticity to keep them compressing the feet or leg.
These socks feature snug-cuffs that prevent them from sliding down.
The best Socks for Sweaty Feet
Such socks for diabetics are made of a mixture of eco-friendly bamboo fibers. Bamboo has the natural ability to eliminate odor, and this keeps your feet moisture-free during the day. 
Bamboo socks, in fact, are much better than other socks, including cotton socks. 
If you have a tendency for great profusion, these seamless socks will be great for you to control moisture, odor, and the formation of fungus. Not to mention, bamboo fiber will not irritate your skin.
You should observe that bamboo fibers are durable and have odor-fighting properties. These are slightly thin socks, making them the best pick for regular wear at home as well as for social gatherings. These socks are not good for vigorous physical exertion like jogging or cycling, etc.
These socks have usual reinforced flat seamless toes and heels.
Specifics for Seamless Socks
There are other general features about seamless socks for diabetic patients.
You should check the material, yarn, padded soles within, and anti-microbial features before selecting a pair for yourself.
Length
Remember that diabetic socks come in all lengths, from a no-show to ankle-high to crew length to knee-high socks for both men and women. All lengths will depict different specialties and serve different purposes, from dry feet to improved blood circulation.
Padded Soles
These socks come with extra cushioning and paddings that may eventually help you prevent foot injuries, cuts, wounds, etc. 
These pads and cushions mostly come from thick fabrics, gel, or silicone materials, all sewn in. 
You should go for socks that can match the type of activities you love to go for. For example, you can opt for socks with extra padding in the heel section if you have a job where you stand most of the time. 
If you love to play football or tennis, then choose socks with padding in the toe area.
Technology-driven Socks
Thanks to modern technology, some diabetic seamless socks come with an embedded sensor that tracks your feet's temperature to alert you about the formation of an ulcer or blister. 
These socks have a coin-sized battery on the socks' exteriors around the ankle area. 
Moisture-Wicking Material
You should opt for moisture-wicking socks that will pull dampness and moisture away from the feet, allowing sweat to evaporate. This will lower the risk of getting fungus or fungal infection and prevent bad odor development. Acrylic fiber socks are best for moisture-wicking. 
Your dry feet will protect you from blisters and other diabetic-related foot issues. 
Seamless
Normally, diabetic socks come without seams along the toe and heel for minimizing skin rubbing with socks material. This feature in socks reduces the risk of developing blisters, ulcers, etc.
What's more, these are ideal for diabetic patients suffering from neuropathy or chronic hyperglycemia (high blood sugar). 
Such diabetic socks also come in white soles to reveal a wound draining.
Yarns – Soft Fabric
Mostly, diabetic socks come from fine-textured fabrics like bamboo and wool. Both these fibers have natural anti-microbial features; it means they don't rub against the skin. 
Certain diabetic socks are made of blister-guard yarn for reducing blister-causing friction.
Non-Elasticity
Diabetic socks are non-constricting, so they don't obstruct or slow down blood circulation. Look for specific socks suiting your conditions.
Anti-microbial Treatment and Properties
These socks will help prevent the formation or growth of bacteria and fungus. Some socks are made from copper or silver-infused yarns as they anti-fungal characteristics. These socks are good for athletes and for other physical activities, offering odor-resistance.
Conclusion
So, diabetic socks are great for minimizing the risk of bacteria and improving blood circulation. This keeps your feet dry and fresh throughout the day. 
There are varieties, materials, a mix of fabrics, and features like cushioning and padding that make these socks best for diabetics. The blend of natural fibers like wool, bamboo, etc., will give you the best solution to diabetic-related foot problems.