Reverse Neuropathy in 7 Days: A Comprehensive Guide to Nerve Regeneration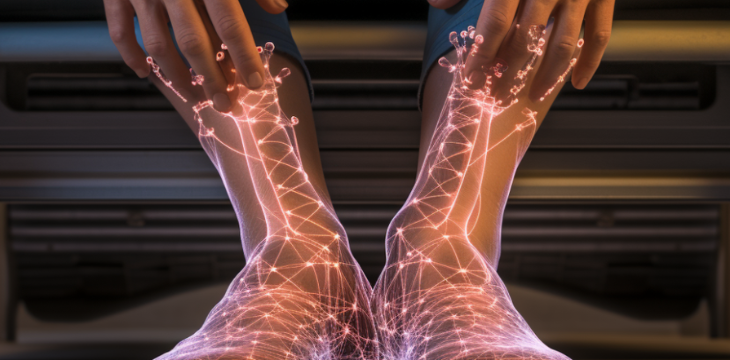 What is Neuropathy?
Neuropathy is a condition that affects the peripheral nerves, which play a critical role in transmitting signals between your brain, spinal cord, and the rest of your body. These nerves control various functions, including movement, sensation, and automatic processes.
There are different types of neuropathy, each with unique symptoms and causes. The most common form is peripheral neuropathy, which impacts the nerves outside your brain and spinal cord. This can lead to numbness, tingling, pain, and weakness, typically felt in your hands and feet.
Neuropathy can result from various factors. High blood sugar levels in diabetes can harm the nerves over time, making diabetes a leading cause of peripheral neuropathy. Other common causes include autoimmune disorders, vitamin deficiencies, infections, injuries, exposure to toxins, and certain medications.
The impact of neuropathy on your life can be significant. Symptoms can range from mild discomfort to severe pain, affecting your ability to move, coordinate, and sense things properly. In advanced cases, neuropathy can lead to complications like foot ulcers, infections, and difficulties with everyday tasks.
Traditionally, the treatment of neuropathy focused on relieving symptoms and slowing its progression. Medications such as pain relievers, antidepressants, and anticonvulsants were often prescribed to manage pain and improve nerve function. However, these treatments typically provided only temporary relief and sometimes had side effects.
Recently, there has been growing interest in exploring ways to reverse neuropathy and stimulate nerve regeneration. The idea of changing neuropathy in just seven days has gained attention, offering hope to those suffering from this condition. While complete reversal within such a short timeframe may not be possible for everyone, significant symptom improvement, and nerve healing can be achieved by taking a comprehensive and targeted approach.
In the following sections, we will delve deeper into reversing neuropathy within seven days. We'll explore various strategies, including dietary adjustments, exercise, alternative therapies, lifestyle changes, and short-term relief options. Our aim is to provide you with a holistic approach that empowers you with the tools and knowledge to support nerve regeneration and enhance your overall well-being.
Understanding the 7-day Timeframe
Reversing neuropathy within seven days may initially sound ambitious or unrealistic. However, it's essential to grasp the significance of this specific duration and manage your expectations accordingly. While completely reversing neuropathy in a week may not be attainable for everyone, the focus of this timeframe is to kickstart the nerve regeneration process and provide tangible results within a short period.
The 7-day duration matters because it allows you to experience noticeable improvements and gain motivation to continue your journey toward reversing neuropathy. It catalyzes lifestyle changes, dietary adjustments, and treatment approaches that can positively impact nerve health and function.
It's crucial to acknowledge that the effectiveness of reversing neuropathy within seven days can vary due to several factors. The severity of your neuropathy, underlying causes, your overall health, and your commitment to the prescribed strategies all play a role in determining your progress within this timeframe. While some people may experience significant symptom relief, others may notice more subtle changes. Regardless, any progress made in these 7 days is a step in the right direction toward nerve regeneration.
As you embark on this 7-day program to reverse neuropathy, you must approach it with realistic expectations. While complete reversal might not be achieved in this timeframe, the primary goal is to jumpstart the healing process and relieve symptoms. Adopting a comprehensive approach that addresses various aspects of neuropathy can optimize your chances of experiencing noticeable improvements within the 7-day.
In the sections that follow, we will explore different elements of the 7-day program in detail, including dietary modifications, exercise, alternative therapies, lifestyle changes, and short-term relief options. By combining these strategies, you can create an environment that supports nerve regeneration and significantly alleviates your neuropathy symptoms within the given timeframe.
Comprehensive Approach to Reversing Neuropathy in 7 Days
A comprehensive approach is necessary to reverse neuropathy within a 7-day timeframe. This approach involves addressing various aspects of your lifestyle, diet, exercise, alternative therapies, and short-term relief options. By integrating these strategies, you can create an environment that supports nerve regeneration and maximizes your potential for symptom relief.
Dietary Modifications and Nutrition
One of the core pillars of reversing neuropathy is maintaining proper nutrition and implementing dietary adjustments. A balanced diet is vital in providing the essential nutrients for nerve health and regeneration. Key nutrients known to support nerve function include B vitamins (such as B1, B6, and B12), alpha-lipoic acid, omega-3 fatty acids, and antioxidants.
Including foods rich in these nutrients in your daily diet can significantly contribute to nerve regeneration. Leafy green vegetables, whole grains, lean proteins, nuts, seeds, and fatty fish are excellent sources of these essential nutrients. Additionally, anti-inflammatory foods like turmeric, ginger, and berries can further aid healing.
To optimize your dietary approach within the 7-day program, consider following a meal plan specifically designed to support neuropathy reversal. Such a meal plan should incorporate various nutrient-dense foods, emphasizing the recommended nutrients while minimizing processed foods, refined sugars, and unhealthy fats. Delicious and nourishing recipes can make your journey more enjoyable and sustainable.
Exercise and Physical Therapy
Physical activity and targeted exercises can significantly improve neuropathy symptoms and promote nerve regeneration. Exercise enhances blood flow, oxygen delivery, and nutrient supply to the nerves, which aids in their repair and regeneration. It also helps manage your weight, control blood sugar levels, and reduce inflammation – all of which contribute to nerve health.
When creating an exercise routine for neuropathy reversal within the 7-day program, consider a combination of aerobic exercises, strength training, and flexibility exercises. Aerobic activities like walking, swimming, or cycling improve cardiovascular health and circulation. Strength training exercises, whether using your body weight or resistance tools, strengthen the muscles around your nerves and support their function. Flexibility exercises, such as yoga or stretching routines, enhance range of motion and alleviate muscle tension.
Start your exercise regimen gradually and consult a healthcare professional or physical therapist for safety and personalized guidance. By incorporating regular exercise into your 7-day program, you can experience improved mobility, reduced pain, and enhanced nerve function.
Alternative Therapies and Treatments
In addition to conventional medical approaches, alternative therapies have gained recognition for their potential benefits in managing neuropathy symptoms and promoting nerve regeneration. Within the 7-day program, you can explore various alternative treatments, including acupuncture, massage, herbal remedies, and mind-body practices.
Acupuncture, an ancient practice rooted in traditional Chinese medicine, involves inserting fine needles at specific points in your body to stimulate nerve function and facilitate healing. Studies have shown that acupuncture can provide pain relief and improve neuropathy symptoms. Similarly, massage therapy enhances circulation, reduces muscle tension, and eases pain associated with neuropathy.
Herbal remedies such as capsaicin cream (derived from chili peppers) or evening primrose oil have demonstrated promise in managing neuropathy symptoms. These natural remedies possess anti-inflammatory and analgesic properties that relieve and support nerve regeneration.
Mind-body practices, including meditation, deep breathing exercises, and relaxation techniques, help manage stress and diminish pain perception. Chronic stress can exacerbate neuropathy symptoms and hinder the healing process. Incorporating these practices into the 7-day program can contribute to overall well-being and support nerve regeneration.
As you consider alternative therapies and treatments, seek guidance from qualified practitioners and ensure they complement the other strategies within the comprehensive approach to neuropathy reversal.
Lifestyle Modifications for Neuropathy Reversal
Lifestyle factors significantly influence neuropathy symptoms and the overall health of your nervous system. Implementing several lifestyle modifications within the 7-day program can support nerve regeneration and alleviate your neuropathy symptoms.
Stress management techniques are crucial in reversing neuropathy because chronic stress can worsen symptoms and impede healing. Techniques such as deep breathing exercises, meditation, yoga, and engaging in enjoyable hobbies or activities help reduce stress and promote relaxation. Prioritizing self-care and cultivating a supportive environment also contribute to overall well-being and facilitate healing.
Quality sleep is vital for nerve regeneration and overall health. Restorative sleep allows your body to repair damaged tissues, including nerves. Establishing a regular sleep schedule, adopting a soothing bedtime routine, and optimizing sleep hygiene practices can significantly enhance sleep quality and promote nerve regeneration.
Other lifestyle factors, such as maintaining a healthy weight, abstaining from smoking and excessive alcohol consumption, and managing chronic conditions like diabetes or high blood pressure, also influence neuropathy reversal. These factors can impact nerve health and overall well-being. You can create an environment that fosters optimal nerve function and regeneration by making mindful choices and adopting healthy habits.
Medications and Supplements for Quick Relief
While the primary focus of the 7-day program is on long-term nerve regeneration, obtaining short-term relief from neuropathy symptoms is essential. Medications and supplements can offer immediate relief and enhance your comfort during reversal.
The short-term use of medications, such as pain relievers or anti-inflammatory drugs, can help alleviate neuropathy symptoms. However, it's crucial to use these medications under the guidance of a healthcare professional and be aware of potential side effects or contraindications.
Over-the-counter and prescription supplements can also provide short-term relief and support nerve health. Supplements like alpha-lipoic acid, B vitamins, magnesium, and acetyl-L-carnitine have shown promise in reducing neuropathy symptoms. Please consult a healthcare professional before starting any supplements to ensure they are suitable and safe for your needs.
Remember that while medications and supplements offer temporary relief, they are not long-term solutions. The primary focus of the 7-day program is to address the root causes and create an environment that naturally supports nerve regeneration.
Adopting a comprehensive approach that includes dietary modifications, exercise, alternative therapies, lifestyle modifications, and short-term relief options can create an optimal environment for reversing neuropathy within the 7-day timeframe. Each component of the approach contributes to nerve health and regeneration, improving symptoms and overall well-being.
Tracking Progress and Measuring Success
When embarking on a journey to reverse neuropathy within a 7-day, tracking your progress and measuring your success is crucial. Monitoring improvements not only provide valuable feedback but also serves as a source of motivation and encouragement throughout the process. By establishing baseline measurements, setting achievable goals, and implementing daily tracking methods, you can gain insight into the effectiveness of your neuropathy reversal efforts.
Establishing Baseline Measurements and Symptoms
Before you start the 7-day program, it's essential to establish baseline measurements and document your current symptoms. This serves as a reference point to assess your progress and evaluate the effectiveness of your implemented strategies. Baseline measurements may include factors such as your pain levels, sensation, muscle strength, and overall functional abilities. Quantifying these variables allows you to track changes and improvements over time objectively.
In addition to physical measurements, pay close attention to your symptoms and document the specific issues you're experiencing. This may involve describing the quality and intensity of your pain, noting the frequency of numbness or tingling, and identifying any triggers or factors that alleviate your symptoms. Keeping track of these details provides a comprehensive overview of your neuropathy and enables a more accurate assessment of your progress during the 7-day program.
Daily Tracking Methods to Monitor Improvements
During the 7-day program, adopting daily tracking methods helps you stay accountable and closely monitor your progress. There are various ways to track your improvement, and choosing strategies that align with your preferences and goals is essential. Here are some effective tracking methods to consider:
Pain and Symptom Diary

: Maintain a daily pain and symptom diary to record any changes or fluctuations in your neuropathy symptoms. Document your pain levels, the duration and frequency of your symptoms, and any triggers or factors that alleviate or worsen your discomfort. Consistently recording these details can reveal patterns and provide insights into the effectiveness of your strategies.

Functional Assessments

: Conduct periodic practical assessments to monitor your daily activities and functionality improvements. This might involve measuring your ability to perform specific tasks, such as walking a certain distance, gripping objects, or maintaining balance. By establishing baseline measurements and reassessing periodically, you can track your progress and identify areas where you've improved.

Self-Reflection and Journaling

: Dedicate time to self-reflection and journaling as a valuable tool for tracking your progress. Regularly document your thoughts, emotions, and observations to understand your neuropathy experience better. This practice allows you to reflect on any changes you've noticed, identify patterns or triggers, and celebrate small victories.

Photographic Evidence

: For visible symptoms, like skin changes or physical alterations in the affected areas, taking photographs before and during the 7-day program can provide visual evidence of your improvements. Comparing these images side by side can serve as a powerful motivator and a tangible reminder of the progress you've made.

Regular Check-ins with Healthcare Professionals

: Seek guidance and support from healthcare professionals throughout the 7-day program. Regular check-ins with professionals who specialize in neuropathy or nerve regeneration offer valuable insights, advice, and objective assessments of your progress. They can help interpret the data you've collected and make adjustments to your treatment plan if necessary.
By consistently implementing these tracking methods, you can monitor your progress and clearly understand the effectiveness of the strategies you've employed. It's essential to remember that progress may only sometimes follow a linear path, and there may be fluctuations or plateaus along the way. Nevertheless, by tracking and measuring your success, you can stay motivated and make informed decisions about the next steps in your journey to reverse neuropathy.
Tracking progress and measuring success isn't solely about significant improvements; it's also about recognizing subtle changes and celebrating small victories within the 7-day timeframe. Acknowledging progress, no matter how modest fosters a sense of accomplishment and reinforces your commitment to the neuropathy reversal process.