Jobst Compression Stockings Reviewed 2023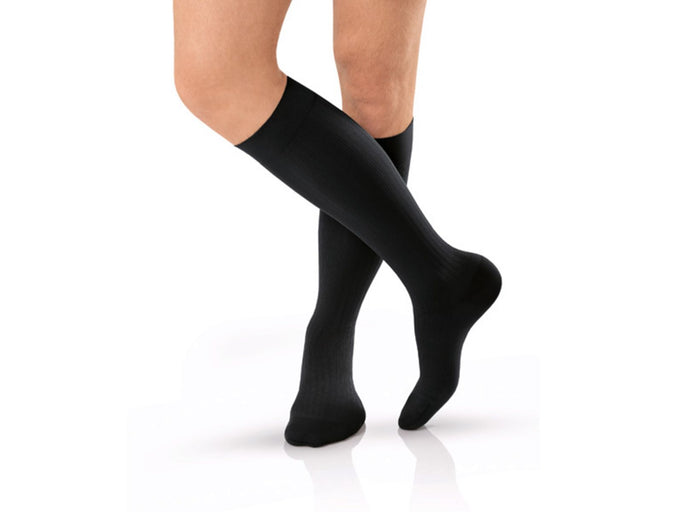 Compression stockings are worn around the leg and squeeze the limb. Compression stockings are specialized undergarments used to stop the progression of venous issues such as edema, thrombosis, and phlebitis. These stockings are tightest at the ankles and gradually loosen up as they move toward the knees and thighs. Distended veins may consequently have smaller diameters, faster blood flow, and better valves.
Compression stockings are usually worn by people with varicose veins, deep vein thrombosis (DVT), circulation problems, and diabetic patients suffering from neuropathy to aid their discomfort. Wearing these has been part of their daily routine because it brought several benefits to their condition, most notably by promoting blood flow. 
There are several economically priced compression stockings, including the Jobst Compression Stockings. 
Jobst is known for having a deep commitment to offering compression therapy options that enable you to confidently lead the life you want, without compromise, regardless of your lymphatic or venous condition.
With their years of expertise, knowledge, and insight, they create products that support these variances and fit your lifestyle, offering you the comfort, support, and peace of mind you deserve when wearing compression.
Here is a quick review of their compression stockings.
Fit 
If you experience tired and achy legs, varicose veins, or blood circulation problems, the goal should be to keep you comfortable, keep the blood flowing and prevent a clot that can lead to swelling, discolored skin, and other issues. 
Jobst offers a wide selection of high-quality and attractive medical compression stockings. The gradient compression of these compression stockings is appropriate for the abovementioned problems. They have compression classes from 1 to 4. 
Ankle pressure from Compression Class 1 (mild compression) is 15-20 mmHg. This is fantastic for everyday use, travel, and athletics. They aid in enhancing circulation without being overly restrictive. On the other hand, their Class 2 stockings have medium compression of 20–30 mmHg and are suitable for daily wear, medical rehabilitation, and managing mild symptoms of varicose and spider veins. Perfect for patients who want extra assistance. For critical cases, such as blood clots (DVT), extreme swelling (edema), and severe varicose veins, their 30–40 mmHg under Class 3 stockings are advised. Additional Class 4 for robust containment is available. Its layered design offers stability and a strong grasp while also aiding in bridging skin creases.
Material
Their selection of stockings is manufactured using cutting-edge materials and is customized to meet your demands. Jobst offers a wide range of items, including opaque and sheer fabric compression stockings.
Because they are comfortable to wear and sturdy enough to give your legs enough compression, opaque fabric is perfect for both men and women. Also, they last longer than sheer materials do. Its elegant opacity subtly conceals imperfections, and its successful moisture control and ease of use enhance all-day comfort.
Nevertheless, sheer fabrics are lightweight, translucent, stylish, and simple to match various outfits. Yet, occasionally they snag and don't contain swelling as well. Its satin-touch yarn, which is fine and breathable, offers excellent sheerness. 
Jobst has a vast selection of medical compression stockings, garments, and support stockings that will meet your demands in addition to what is mentioned.
Fashion 
In terms of fashion factor, they come in male, female, and unisex sizes and come in a variety of cuts, such as knee-high, thigh-high, and even waist-high. Color-wise, they provide more options than conventional black or white, including natural, caramel, honey, espresso, navy, cherry red, wild berry, and cranberry.
The color and appearance of Jobst stockings maintain a striking look while managing vascular disorders.
User Reviews
On Amazon, customers gave the JOBST UltraSheer Compression Stockings a 5 out of 5. The majority of consumers were quite happy with their experience overall. User Debbie commented, "I suffer from pain in my legs and back of my knees along with severe back pain, and I work walking and standing most of the day. My legs and back hurt so bad by the end of the day I am miserable. I purchased these in hopes of some relief, any relief, and by the end of the day, I actually didn't want to remove them. My legs felt so much better after one day of wearing these. I'm hoping they hold up because I can't afford to buy a lot of them, but honestly, they are worth the price for the relief they provided me. I had no issues with them rolling down, which shocked me because I do have large thighs. They helped me so much. When I laid down for bed, I was actually able to rest and not have to take a ton of pain relievers. I am thankful I bought these.". 
Online reviews for JOBST Opaque Knee-High Compression Stocking are favorable, with an average rating of 4.5 out of 5. A consumer evaluated, "These socks are absolutely perfect! They are costly but worth every penny. They last much longer than any other socks I have bought and are so COMFORTABLE to wear each and every day."
In contrast, the JOBST Relief Knee High 20-30 mmHg Compression Socks from Jobst garnered an average rating of 4.3 out of 5 stars on Amazon. Some consumers claimed that these socks occasionally fell on their legs and did not hold up very well.
Yet, a 4.0 to 4.5 stars rating indicates that although there may be better selections, these are generally excellent and deserve inclusion in your options.
Cost
On Amazon, JOBST Opaque Knee High Stockings are $40, and JOBST UltraSheer Compression Stockings are $24. Their other compression stockings, which should have been mentioned, cost between $20 and $45.
Where to buy
Their products are available on their website (https://www.jobst.com), Amazon, Walmart, and Target.
Care Recommendations
Because they can be machine or hand washed, these stockings are simple to maintain. But, when washing in a machine, put them in a mesh laundry bag to protect them during the wash cycle. Moreover, use warm water and mild soap or gentle detergent when washing them.
One of the best compression stockings in the market are Diabetic Sock Club's Compression Stockings. These compression stockings from the Diabetic Sock Club are ultra-soft and cozy with moisture-wicking properties that will keep you from having blisters. They won't irritate your skin because they are soft. Use compression socks that go until your calf is good for preventing blisters and bad odor. These compression socks are ultra-soft and comfy, with moisture-wicking characteristics, and are made in the United States from premium grade fabrics.