Best compression stockings for diabetics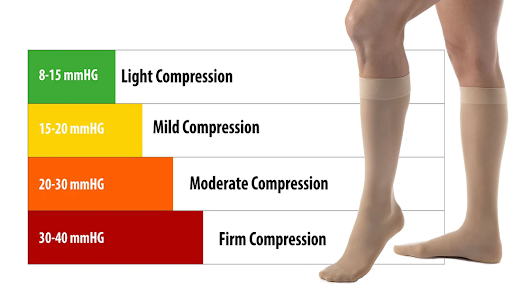 Diabetes is one of the world's most common yet most life-threatening diseases. Diabetes has serious health consequences, including damage to vital organs. Our body, through digestion, breaks down the food we eat into beneficial compounds; one of these is glucose or our blood sugar. The blood carries glucose to the different cells in our body. However, excessive glucose in blood impairs the kidneys, heart, blood vessels, eyes, feet, and nerves. Over time, these high blood glucose levels can cause these vessels to narrow, lose elasticity, and eventually become clogged. 
Kidneys are one of the major organs that will be affected if there is damage in blood vessels causing impurities to accumulate in the body. Without enough blood, the kidneys will have difficulty filtering and removing wastes and excess water to produce urine. As high glucose damages the blood vessels, the heart will also be affected significantly by the nerves controlling it. There will be an impeding blood flow, which may increase the risk of heart disease. A reduced supply of blood and oxygen can increase your risk of high blood pressure, which increases the force of blood through your arteries and can damage the artery walls. Diabetes can also harm your eyes. Excessive glucose levels can cause the tiny blood vessels that supply your retina to become clogged. Damaged blood vessels can cause fluid leakage and swelling.
Diabetes affects not only your significant organs such as the heart and kidneys but also your external body parts, particularly your feet. It is common for people with diabetes to suffer from foot problems. They can develop over time due to high blood sugar damaging the nerves and blood vessels in the feet. As a result, problems with blood vessels that cause poor circulation in people with diabetes can lead to various health issues. It is critical to constantly monitor your blood sugar levels because poor circulation can lead to increased risks of severe foot damage. After all, wounds heal slowly, and injuries are more likely to become infected or develop a foot ulcer.
Symptoms of poor circulation in the feet
The body transports blood, oxygen, and nutrients to cells around the body through the circulatory system. A person may develop reduced circulation if blood vessels in an area close, harden, or narrow. Common symptoms of poor circulation include:
Dry or cracked skin 

Cold feet or hands

Numb feet or hands

Hair loss on your feet or legs

A pale blue color to the skin of your legs (applies to lighter-skinned people)

Brittle toenails

Slow healing of wounds or sores (especially problematic in people with diabetes). See your doctor

Erectile dysfunction
Why is it the feet?
For diabetic people, the foot is a window to their health. Nerve damage is typical in people with diabetes; this is known as peripheral neuropathy, and it commonly affects the feet and other extremities.
The pancreas produces insulin, but with diabetes, the body does not have enough of it. Insulin is an essential hormone that aids in converting sugar from food into energy. When the body does not produce enough insulin, sugar becomes more challenging to enter cells and have energy. Excess sugar accumulates in the blood.
The excess glucose in the blood disrupts blood circulation throughout the entire body. The lining of the nerves deteriorates when there is no proper circulation. This usually happens in the feet because the body must pump blood to the tips of our toes and then return that blood to the heart. 
Numerous issues might result from damaged foot nerves:
Being unable to feel any cuts or sores on your skin.

Longer healing time for wounds causing possible infection.

A lack of balance puts one at risk for falls and injuries.

High risk of amputation for those with additional complications.
Getting the proper fit
Aside from physical activities, a healthy diet, and medications, you can also consider using items that will aid the effects of diabetes on your feet. This is how you can find compression stockings very beneficial for your feet!
Compression stockings are usually worn by people with varicose veins, deep vein thrombosis (DVT), circulation problems, and diabetic patients suffering from neuropathy to aid their discomfort. Wearing these has been part of their daily routine because it brought several benefits to their condition, most notably by promoting blood flow. 
There are several economically priced compression stockings but inappropriately and do not thoroughly measure your leg. You can see the small, medium, and large labels, but the amount of compression they provide is unknown. Some materials used for compression stockings may also irritate the skin, so it is vital to seek compression stockings considering the sizing, durability, quality of material, and amount of compression. 
Depending on your situation, you can require a stronger or milder compression. Your doctor offers suggestions and determines the ideal fit for your legs. Your health needs will also determine the sort of compression stockings that are recommended for you.
Why do doctors prescribe compression stockings?
Energize your legs. As approved by physicians, compression stockings improve blood flow by therapeutic compression. Oxygen is carried by the blood and deposited to where it is needed, as one of the requirements for your muscles to make energy. Hence, improve energy levels in the body, particularly in the legs and feet. Compression stockings help the body circulate blood more effectively and increase energy throughout the day.  
Relieve the immensity and achiness. If you are a person experiencing any health condition that affects the feet, applying a gentle squeeze on the feet helps reduce the feeling of achy, swollen, and heavy in the legs and feet. Compression stockings help you to move your legs, calves, ankle, and feet at ease again.  
Lessen swelling and fluid retention. Medically, excess fluid that causes swelling in the tissues of your body is referred to as edema. Poor circulation leads to fluid leaking from the veins into the muscles. Doctors prescribe professionally fitted socks/ stockings since various severity of the edema entails multiple levels of compression to treat it. 
Support muscle recovery. Compression socks or stockings do not just aid athletes in performing their activities but also diabetes patients. As it enhances the blood flow, it reduces the stress in their muscles and helps the legs recover quicker from the discomfort that the disease may bring.  
Better sleep quality. With diabetes, patients typically suffer from neuropathy or the tingling, burning, and numbness feeling in the feet. These symptoms make it harder for you to sleep at night. Studies have shown that wearing compression stocking up until night significantly reduces sleep apnea and symptoms of restless leg syndrome. Compression stockings will help you sleep better at night by giving you a cozy feeling and reducing the symptoms of diabetic neuropathy for a good night's sleep. It is still best to consult your health care provider about the risks and benefits or if you should wear one. 
Features of compression stockings you should look for 
Moisture-wicking. People with diabetes are experiencing nerve damage on their feet, which affects their body's ability to control foot moisture. Using moisture-wicking stockings aid in keeping your feet dry, as a damp environment can result in an infection on your skin.
Breathable. Along with the moisture-wicking properties of the stockings, breathable fabrics will assist keep your feet dry.
Seamless. Stockings or socks with seams can become bulky and rub against your skin which causes blisters or ulcers, which is why most compression stockings for people with diabetes are made without them.
Well-fitted. A lot of diabetic socks fit the foot and leg comfortably. As a result, injuries from the loose fabric rubbing against the skin are avoided.
Padded. Padding in the sock does not just cushion the foot but also protects the feet against too much pressure and injury.
Warm. Blood arteries may narrow due to diabetes, reducing circulation to the foot—warm footwear fabrics enhance blood circulation.
Best compression stockings for diabetics
Diabetic Sock Club's Compression Stockings
These compression stockings from the Diabetic Sock Club are ultra-soft and cozy with moisture-wicking properties that will keep you from having blisters. They won't irritate your skin because they are soft. Use compression socks that just go until your calf is good for preventing blisters and bad odor. These compression socks are ultra-soft and comfy, with moisture-wicking characteristics, and are made in the United States from premium grade fabrics.
Dr. Scholl's
They provide a variety of cuts for their socks and stockings, including ankle, crew, and thigh lengths. Dr. Scholl's items, which are excellent for people with diabetes, include a pull-on closure and a soft-stretch, non-binding top to ensure that circulation won't be restricted. Additionally, Dr. Scholl's footwear features a cushioned bottom to aid sensitive feet and free flow management technology to help keep feet dry. Walmart, Target, and Amazon offer these stockings and socks.
Dr. Segal's
This brand has a lot of diabetic socks options for men and women. Their products are available on their website at Dr. Segal's, Amazon, and Walmart. Their socks have a flat-felled seam that prevents rubbing that might result in blisters or foot ulcers and a top band that does not restrict movement. All socks employ a moisture-wicking fabric and have Terry cushioned footbeds for additional padding in delicate areas. Additionally, the most functional and fashionable diabetic socks are included in this line. They also have various other fun patterns and designs in addition to the classic black and white.
OrthoFeet
Though they also have a loose, non-constrictive fit and seam-free design to ensure a user's circulation is not cut off just like other brands, their main feature is the soft Terry padding and bamboo fibers to provide an extra soft fabric that helps keep feet dry. You can buy their items at OrthoFeet's website and on Amazon.
MediPeds
Amazon, Walmart, and Ped's websites all offer MediPeds. Their compression stockings and socks include a non-binding top and a cushioned bottom to support the feet, but what distinguishes this brand from others is its use of Lycra spandex to prevent slipping while wearing and CoolMax technology to keep feet dry. CoolMax is a unique polyester fiber that is both moisture-wicking and environmentally friendly because it is created entirely from recycled textile waste.
Warrior Alpaca Socks 
Now try these socks if you think alpaca wool is just for the sweater! Warrior Alpaca Socks are made of alpaca wool, extra-wide ribbing, and a unique comfort band that allows for easy stretching to increase blood flow. Their warmth and compression style also helps to stimulate blood flow to ease any pain or numbness in your feet, which perfectly fit diabetic patient and their condition. They are available on Warrior Alpaca's website and on Amazon if you want to buy their products. Their warmth and compression fit the diabetic patient and their condition well. They also aid in increasing blood flow to alleviate any discomfort or numbness in your feet. Amazon and the website of Warrior Alpaca are where you may purchase their goods.
Facool 
The main objective of Facool diabetic socks is to prevent blisters, discomfort, and binding. They combine mesh ventilation with a broad, soft-stretch calf and top to make a lightweight, breathable sock. They also use a hand-linked seamless toe design to avoid the irritation and chafing of yarn that might result from conventional toe seams. Although they don't have a website, Amazon sells them.
Hugh Ugoli
Like Orthofeet, Hugh Ugoli diabetic socks are made of a bamboo fiber fabric that wicks moisture away on warm days yet keeps feet warm on cold days. Their socks also offer a nonbinding top and reinforced toes and heels for further comfort for delicate feet. Available on Amazon and the website of Hugh Ugoli.
TeeHee Socks
This particular brand of diabetic socks, sold at Walmart, Amazon, and TeeHee, employs a specialized Viscose from bamboo yarn to create nonbinding, soft, and smooth socks with less slippage. They provide the standard black and white and a range of brilliant hues, including a neon series. You can avail of their socks and stockings at TeeHee's website, Amazon, and Walmart.
Yomandamor 
Yomandamor Diabetic Socks utilized a hybrid material of 70% bamboo and 30% elastane to create a sock that molds to your foot while remaining stretchy for comfort. These socks also have a seamless toe, a large wide calf, and top fit, and a nonbinding top to reduce irritation and pressure. Like Facool, they do not have a website, but their items are available on Amazon.
These are just a few of the best socks or stockings for diabetics and their conditions. Try any of them to see which works best for you. However, diabetic socks are prescribed by your health care providers, so it is still crucial that you consult them before purchasing. A professional will assist you with the type and amount of compression you should have in your stockings.
Most of the socks featured here received quite similar ratings across multiple categories. If you're looking for other brands with highly rated items, visit the Diabetic Sock Club's website to learn more about their various products.
https://diabeticsockclub.com/pages/reviews