Introduction to Sock Assist Devices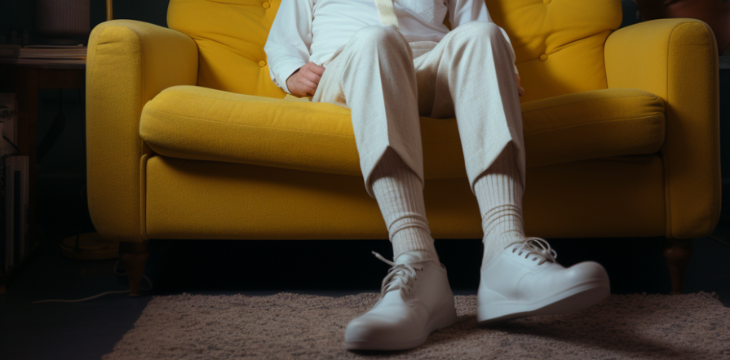 Imagine how frustrating it can be to struggle with a simple task like putting on socks daily. This common struggle affects many people, especially those with limited mobility, seniors, or individuals recovering from surgery. Fortunately, modern innovation has a solution that can restore your independence and make this task more accessible – the sock assist device.
What is a Sock Assist Device?
A sock assist device, or a sock aid or donner, is a specialized tool designed to make putting on socks effortless. It's a simple yet ingenious device that eliminates the need to bend, stretch, or strain to reach your feet. By using a sock assist device, people with limited mobility can regain control over their daily routines and complete tasks that were once challenging.
Why are Sock Assist Devices Important?
Sock assist devices play a crucial role in enhancing the quality of life for various individuals. Whether it's due to aging, arthritis, disability, or post-surgery recovery, these devices offer a practical solution to a common problem. They promote independence, reduce the need for assistance from others, and contribute to individuals' overall well-being.
How do Sock Assist Devices Work?
The mechanism of sock assist devices is relatively straightforward. They typically have a rigid or flexible frame with a cradle or trough to hold the sock. You place the sock onto the cradle, stretch the opening, and position the device over your foot. Pulling on the attached handles or cords, the sock slides effortlessly onto your foot. Sock assist devices are designed to accommodate various sock sizes and types, including dress socks, athletic socks, and compression socks.
Benefits of Using a Sock Assist Device
The advantages of a sock-assist device go beyond the convenience of putting on socks without assistance. Here are some key benefits:
Independence and Dignity
Individuals can maintain independence and perform self-care tasks without relying on others by using a sock assist device. This enhances one's sense of autonomy and preserves their dignity and self-esteem.
Pain and Strain Reduction
For those with limited mobility, bending down to put on socks can cause discomfort, strain on joints, or exacerbate existing conditions such as arthritis. Sock assist devices alleviate these issues by minimizing the need for bending or stretching, providing a more comfortable experience.
Time and Energy Savings
With a sock-assist device, putting on socks becomes quicker and more efficient. Individuals can save time and conserve energy, especially if they must put on multiple pairs of socks throughout the day or have a busy schedule.
Versatility and Adaptability
Sock assist devices are designed to accommodate various foot sizes and sock styles, making them suitable for many individuals. They can be used by people of all ages, from seniors to pregnant women, individuals with disabilities, or those recovering from surgery.
Improved Safety
For individuals with balance or stability issues, using a sock assist device eliminates the risk of falling or losing balance while attempting to put on socks. This promotes a safer environment and reduces the likelihood of accidents.
Common Types of Sock Assist Devices
Sock assist devices come in different types and designs, each catering to specific needs and preferences. Some popular variants include:
Frame-style Devices
Frame-style sock assist devices feature a rigid frame with a cradle or trough to hold the sock. They often come with handles or cords for easy pulling and offer stability during the sock application process.
Flexible and Moldable Devices
Flexible and moldable sock assist devices are made from foam or fabric, allowing users to shape them according to their foot's contour. These devices benefit individuals with sensitive feet or irregular foot shapes.
Compression Sock Aids
Compression sock aids are specialized devices designed to assist in putting on compression socks, which can be challenging due to their tight fit. These devices provide the necessary support and leverage to easily slip on compression socks while maintaining their compression benefits.
Sock Sliders and Slip-On Devices
Sock sliders and slip-on devices are unique alternatives to traditional sock-assist devices. They work by attaching the sock to a slippery surface or sliding mechanism, allowing users to effortlessly slide their foot into the sock without bending or stretching.
Electric Sock Assist Devices
Electric sock assist devices are motorized devices that automate putting on socks. They offer convenience and ease of use, making them ideal for individuals with limited hand dexterity or strength.
In the following sections, we will explore various aspects of sock assist devices in more detail, including how to choose suitable devices, how to use them effectively, their specific applications, and reviews of popular models in the market. So, let's dive deeper into the world of sock-assist devices and discover how they can revolutionize how we put on socks.
Choosing the Right Sock Assist Device
When selecting a sock assist device, it is essential to consider various factors to ensure you find the right tool that suits your specific needs. With the wide range of options available in the market, understanding what to look for can help you make an informed decision. Let's explore the key considerations, features, styles, and budget considerations when choosing a sock assist device.
Considerations Before Purchasing a Sock Assist Device
Before diving into the features and types of sock assist devices, it is vital to consider some essential factors that can influence your buying decision. Here are a few considerations to keep in mind:
Mobility and Strength Requirements
Evaluate your mobility and strength limitations to determine the appropriate sock assist device. Some devices may require more skill or strength, while others are designed to accommodate individuals with limited mobility.
Foot Size and Shape
Consider the size and shape of your feet when selecting a sock-assist device. Ensure that the device can securely hold your foot and accommodate your specific foot shape, whether narrow, wide, or irregular contours.
Sock Compatibility
Check whether the sock assist device is compatible with the types of socks you typically wear. Different devices may have limitations regarding sock thickness, length, or material. Ensure that the device you choose can handle the socks you commonly use.
Ease of Use
Look for a sock assist device that is user-friendly and easy to operate. Consider the device's instructions and whether it aligns with your comfort level and ability to follow the steps. Some devices may have additional features or mechanisms that enhance usability.
Durability and Quality
Invest in a sock assist device that is built to last. Check the materials used in its construction and read reviews or testimonials to gauge the device's durability. Opting for a well-made device will ensure it withstands regular use, providing long-term value for your investment.
Features to Look for in a Sock Assist Device
To make an informed decision, it is crucial to understand the features typically found in sock assist devices. Here are some key features to consider:
Adjustable Frame or Cradle
Look for a sock-assist device that offers adjustability in the frame or cradle. This allows you to customize the fit according to your foot size and shape, ensuring a secure and comfortable experience.
Slip-resistant grippers or Non-Skid Base
A sock-assist device with slip-resistant grippers or a non-skid base provides added stability during the sock application process. This feature ensures the device stays in place, preventing accidents or unnecessary movements.
Ergonomic Handles or Cords
Consider the design of the handles or cords on the sock assist device. Ergonomically designed handles are more comfortable to grip and require less effort during sock application. Some models even come with longer cords for added convenience.
Versatility for Different Sock Types
Choose a sock-assist device that can accommodate various sock types, including dress, athletic, compression, and more. Versatility in sock compatibility ensures you can use the device multiple times.
Hygiene and Easy Cleaning
Opt for a device that is easy to clean and maintain. Removable, machine-washable, or wipeable components make it simpler to keep your sock-assist device in a hygienic condition.
Compact and Portable Design
Consider its portability if you plan to use the device while traveling or on the go. Compact, foldable, or travel-friendly sock assist devices are convenient for maintaining independence and daily routine when away from home.
Specialty Features
Some advanced sock assist devices may have special features such as electric or motorized operation, heating elements for added comfort, or integrated sock organizers. These features may be appealing to users with specific needs or preferences.
Budget Considerations
Sock assist devices are available at various price points, making establishing a budget that aligns with your requirements is essential. Remember that more advanced or specialized features, like motorized operation, can significantly impact the cost. Weigh your budget against the desired features and benefits and explore options in your price range.
Popular Sock Assist Devices
To help you get started on your search for the perfect sock assist device, here are some popular models that have received positive reviews from users:
The DSC Sock Aid Slider Kit is designed for those seeking an efficient and hassle-free way to put on and remove socks. It simplifies sliding your foot into the sock, making it an excellent choice for individuals with mobility limitations or sensitive skin conditions. The kit may include features like easy-off mechanisms or ergonomic handles for added convenience.
Vive Sock Aid
The Vive Sock Aid is a versatile and affordable option with a flexible design that accommodates a variety of sock types. It is easy to use and clean, making it a user-friendly choice for those seeking an uncomplicated sock-assist solution.
Jobar Long Reach Comfort Handle Sock Aid
The Jobar Long Reach Comfort Handle Sock Aid is an excellent choice for individuals with limited mobility. Its long handles minimize the need to bend, and the cradle is designed to hold socks securely. The device is praised for its durability and effectiveness.
BeasyTrans EasyGlide Long Sock Aid
For those seeking an alternative design, the BeasyTrans EasyGlide Long Sock Aid is a sliding sock assist device that allows users to slide their foot into the sock easily. This model is beneficial for individuals with sensitive feet or skin conditions.
Sock Horse Easy On Easy Off Sock Aid Kit
The Sock Horse Easy On Easy Off, Sock Aid Kit is unique in that it comes with both a sock aid and a shoehorn. This comprehensive kit simplifies putting on socks and shoes for individuals who need assistance with both tasks.
Remember that choosing a sock-assist device should align with your unique needs and preferences. To find the best fit, consider the earlier factors and read user reviews to gauge real-world satisfaction.
Using Your Sock Assist Device
Once you have selected the suitable sock-assist device for your needs, learning how to use it effectively is essential. Here's a step-by-step guide on how to use a typical frame-style sock assist device:
Prepare Your Sock

: Lay your sock flat with the top band (cuff) open and the toe pointing away.

Set Up the Sock Assist Device

: Ensure the frame or cradle of the device is open and ready to receive the sock. Check that the grips or slip-resistant pads are in place.

Insert the Sock

: Place the sock over the device's cradle, ensuring the heel of the sock lines up with the heel of the device and the top band hangs over the top.

Position the Device

: Position the sock assist device on the floor with the sock draped over it, ensuring the cradle is open and accessible.

Step into the Sock

: Sit on a chair or the edge of your bed and slide your foot into the sock assist device, ensuring your toes reach the bottom of the sock. Use the handles or cords to pull the sock up over your foot gently.

Adjust the Sock

: Once the sock is over your foot, adjust it by gently pulling up on the handles or cords, ensuring it sits comfortably without wrinkles or bunching.

Remove the Device

: Carefully remove the sock assist device from your foot, leaving the sock in place.

Final Adjustments

: Adjust the sock to ensure it is properly aligned and comfortable on your foot.
Putting on your socks without bending or stretching successfully would be best. Repeat the process for the other foot if necessary.
Some individuals may find using a long-handled shoe horn helpful after using a sock-assist device to put on shoes quickly. Remember that practice makes perfect, and regularly using your sock assist device will make the process smoother.
Applications of Sock Assist Devices
Sock assist devices can be beneficial in various situations and for multiple individuals. Here are some typical applications for these devices:
Elderly Individuals

: Seniors who experience mobility challenges or joint stiffness can regain independence by putting on socks without assistance.

People with Disabilities

: Individuals with physical disabilities or limited dexterity due to conditions like cerebral palsy, muscular dystrophy, or multiple sclerosis can use sock-assist devices to maintain self-care routines.

Post-Surgery or Injury Recovery

: Individuals recovering from lower limb surgeries, hip replacements, or leg injuries can avoid putting unnecessary strain on the surgical site using a sock assist device.

Pregnant Women

: As pregnancy progresses, bending down can become challenging. Sock assist devices offer pregnant women a practical solution to wear socks comfortably.

Caregivers

: Caregivers can use sock assist devices to help those they care for more quickly and efficiently, reducing the physical demands of caregiving.

Athletes

: Individuals involved in sports or athletic activities who frequently wear compression socks can use specialized compression sock aids for easy and practical application.

People living with Arthritis

: People with arthritis can experience pain and discomfort while bending down. Sock assist devices can help reduce strain and provide relief.
Remember that sock assist devices are not limited to the abovementioned applications; they can benefit anyone looking to simplify putting on socks. Whether you have occasional difficulties or need a daily solution, these devices offer a practical and efficient way to maintain your routine.
Sock Assist Devices – Restoring Independence and Convenience
Sock assist devices are a testament to human ingenuity and innovation, providing a practical and accessible solution to a daily task many take for granted. These devices empower individuals with mobility challenges, disabilities, or temporary limitations, allowing them to maintain independence and dignity in dressing and self-care routines.
When selecting a sock assist device, prioritize your needs and preferences, considering design, adjustability, ergonomics, versatility, hygiene, and budget. Review user reviews and recommendations to ensure your chosen device fits your requirements well.
With the right sock assist device, you can put on socks quickly, comfortably, and confidently, allowing you to focus on the more critical aspects of your day.