How Do You Wash and Care for Compression Stockings?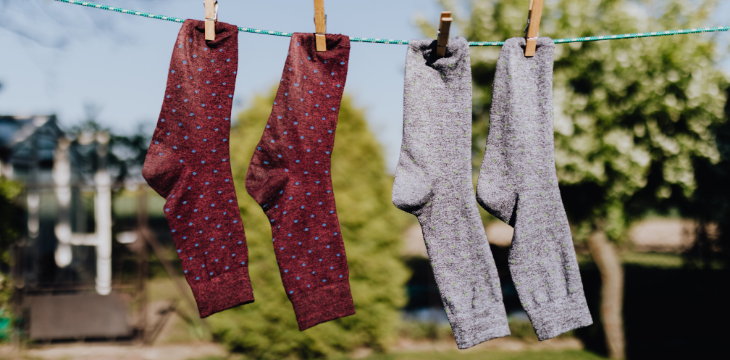 Introduction
If you rely on compression stockings for leg comfort, medical reasons, or athletic performance, you're likely aware of the incredible benefits they bring. These specially designed garments work wonders in improving blood circulation, reducing swelling, and easing various leg-related issues. But to keep these magical stockings in tip-top shape, you've got to show them some love through proper care and maintenance. In this guide, we'll embark on a journey through the world of compression stockings, ensuring you understand their various types and purposes, the importance of following manufacturer-specific care instructions, and the choice between hand washing and machine washing. We'll also delve into selecting the suitable detergent, managing water temperature, and protecting those all-important elastic fibers.
Let's get started by understanding what compression stockings are all about and why you need to treat them with care.
Understanding Compression Stockings
Compression stockings, or compression socks, are your trusted companions for promoting better blood flow in your legs. They work by exerting gentle pressure, strongest at the ankle and gradually decreasing as they move up your leg. These super socks are not just for superheroes; they offer a range of benefits, from managing medical conditions like varicose veins to providing comfort during long days on your feet. Athletes love them, too, as they can help reduce muscle soreness and boost recovery. And if you're expecting a little one, maternity compression stockings can save the day by preventing swollen legs and varicose veins.
Now that you're well-acquainted with these leg superheroes, it's time to understand why you should read and follow those little care instructions on the packaging.
Manufacturer's Care Instructions
So, you've got your fancy pair of compression stockings, and you're excited to wear them. But before you dive in, remember to check the care instructions. These guidelines are like the secret map to ensuring your stockings stay fantastic. They're specific to your brand and type, and they are your golden ticket to preserving the stockings' integrity.
Why do these instructions matter? Well, every brand has its unique materials, construction, and specifications. By following the manufacturer's guidance, you're giving your stockings the royal treatment they deserve. Remember, these instructions are there for a reason, so complete them.
How do you find these golden care instructions? Look at the packaging. There's usually a label, tag, or a handy pamphlet. And when you see them, read them carefully. Pay special attention to water temperature, detergent choices, and any other tips they might throw in. If you're ever in doubt, contact the manufacturer's customer service or check their website for more guidance.
Let's discuss something that might require you to roll up your sleeves - hand washing vs. machine washing.
Hand Washing vs. Machine Washing
We're all about options, and when it comes to cleaning your compression stockings, you've got two main choices: hand washing and machine washing. Let's break down the pros and cons of each to help you make the right call.
Hand washing is like a soothing spa day for your stockings. It's gentle, and it lets you pamper your garments with the care they deserve. With hand washing:
You can control the pressure and friction you apply, reducing the risk of damage.

The gentle touch preserves the elasticity of the stockings, ensuring they keep giving you that cozy hug.

Stubborn stains? No problem. You can target specific areas with a little extra TLC.

However, hand washing can be a tad time-consuming. And if you have a bustling schedule or physical limitations, it might not be your top choice. It's a chore, and you need to be thorough with rinsing to make sure there's no detergent left behind.
On the other hand, machine washing is like the express laundry service. It's convenient, but you've got to play by some rules:
Use a mesh laundry bag or a pillowcase to protect your stockings from excessive agitation.

Select the gentle cycle or delicate setting on your washing machine to minimize stress.

Stick to cold or lukewarm water – hot water is a no-no.

Machine washing can save you time, but you have to make sure you follow the manufacturer's guidelines to the letter. You must watch out for fastening Velcro straps and not overloading the machine. And don't forget to inspect your stockings after every wash for signs of wear and tear.
Now, let's talk about the star of the show - the detergent.
Selecting the Right Detergent
The detergent choice is a big deal when caring for your compression stockings. Choosing the suitable detergent can help preserve those elastic fibers and maintain the stockings' quality. Here's what to consider:
Mild, non-bleach detergents are your best pals. They're gentle on your delicate stockings and won't use harsh chemicals that could ruin the elastic fibers.

No fabric softeners, bleach, or scented products, please. These can lead to residue buildup, weakening the elasticity and causing potential skin irritations.

You may find some brands offering specialized detergents explicitly designed for compression stockings. While these are a safe choice, make sure they align with your stockings' care instructions.
Now, let's talk about water temperature and why you should keep things cool.
Temperature Matters
The water temperature you use to wash your compression stockings is crucial. Using the proper water temperature can prevent any adverse effects on the fabric.
Cold water is your best buddy. It's gentle and won't harm the elastic fibers, preserving their elasticity.

Lukewarm water, a bit warmer than cold but not hot, is also safe and helps dissolve detergent while keeping the fabric intact.

Hot water, however, can wreak havoc on your

compression stockings

. It weakens the elastic fibers and can make your stockings lose their superhero powers.

Most manufacturers recommend cold or lukewarm water for washing your compression stockings, and there's a good reason. Cold water helps preserve elasticity, prevents shrinkage, and dissolves detergent effectively.
Now, let's chat about protecting the most critical part of your stockings - the elastic fibers.
Protecting Elastic Fibers
Elastic fibers are the unsung heroes of your compression stockings. They're responsible for that perfect snug fit and pressure. Here's how you can protect them:
Gentle cycles and delicate settings are your best friends when using a washing machine. They minimize physical stress on your stockings, ensuring the elastic fibers stay strong.

Hand washers, don't fret. You can also protect elastic fibers with a gentle touch and attention to detail. Avoid vigorous rubbing or squeezing – remember, delicate is the game's name.
To prevent damage during washing, follow these simple tips:
Handle with care, whether you're hand washing or using a machine. Avoid unnecessary stretching, pulling, or twisting.

Avoid excessive detergent use – just follow the recommended amount and make sure it's completely dissolved.

After each wash, give your stockings a once-over for signs of wear and tear. Loose threads or stretched areas? Keep an eye out for these signs.

When it's drying time, lay your compression stockings flat on a clean, dry towel. Don't hang them by the top band – that can stretch them out. And, oh, keep them away from direct sunlight or heat sources.
So, now you know how to handle and wash your compression stockings with love. But there's more to it – you've got to be careful even when you're not wearing them.
Handling and Storage
Your job isn't done once your stockings are off. How you handle and store them can also affect their longevity.
Handle carefully – avoid sharp objects, long nails, or rough surfaces that could snag your stockings.

Pay extra attention to the upper bands, which are more vulnerable to stretching. Don't roll or fold the top bands, affecting their grip.

Store your stockings in a clean, dry place. Keep them away from sharp or abrasive objects.

If you plan to travel, use a pouch designed for hose to protect your stockings during transit. If you invest in a dedicated compression stocking storage device or hosiery organizer, your stockings will love you for it.
Now, let's talk about the power of rotation and why it's your stockings' best friend.
Importance of Rotation
Rotating your stockings might sound like a chore, but it's a superhero move to extend their lifespan. By wearing different pairs on different days, you achieve three fantastic things:
Even wear and tear: No overuse of a single pair means even wear, preventing one specific area from wearing out faster.

Maintained compression: Rotating your stockings helps ensure they maintain consistent pressure levels.

Extended lifespan: Fewer washes and less stress on each pair add to a longer life for your stockings.

To make rotation work for you, invest in multiple pairs. How many you need depends on your daily wear and washing frequency. Consider marking and dating each pair to keep track of their individual lifespans, and create a rotation schedule to ensure you're consistently wearing different pairs.
Start with your new pairs and rotate daily or weekly, depending on the number you own. Regularly inspect your stockings for signs of wear and tear. And remember, when it's time to replace a pair, don't hesitate to do so.
Now, let's talk about recognizing when to say goodbye to your beloved compression stockings.
Knowing When to Replace
Your compression stockings have a mission: to provide comfort and support. But, like all heroes, they have a finite lifespan. How do you know when it's time to replace them? Watch out for these signs:
Loss of elasticity: If they no longer offer that snug feeling, it's time to part ways.

Visible wear and tear: Stretched-out fabric, holes, runs, or fraying are telltale signs that it's time to let go.

Reduced comfort: If they're causing discomfort or irritation, it's time for a fresh start.

Slippage: If your stockings can't stay in place, the elastic fibers might be too tired.

The typical lifespan of compression stockings can vary based on quality, frequency of use, and proper care. On average, they last anywhere from 3 to 6 months.
And remember, if you're ever in doubt, consult a healthcare professional or your prescribing physician to assess whether it's time for a replacement or a change in compression level.
Conclusion
In conclusion, caring for your compression stockings is an act of love and self-care. With the proper washing, handling, and rotation practices, you can ensure they stay practical, comfortable, and by your side for a long time. So, remember to give them the TLC they deserve, and they'll keep being your leg's best friend.
Thank you for taking the time to learn about the essential steps for washing and caring for your compression stockings. Your dedication to their maintenance will ensure that they continue to serve you well in the long run, allowing you to enjoy the benefits they offer for an extended period.