Do Compression Socks Help with Knee Pain?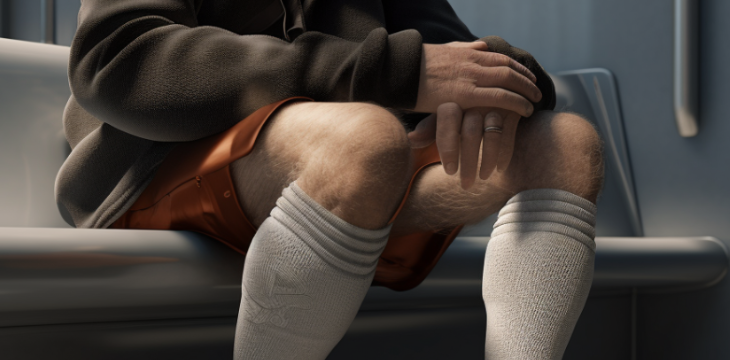 Knee pain is a common issue affecting people of all ages and backgrounds. Whether stemming from injuries, arthritis, or overuse, finding effective ways to manage knee pain is a priority for many individuals. Compression socks have gained attention as a potential solution, offering a non-invasive and accessible approach to alleviating discomfort. In this comprehensive guide, we will explore the relationship between compression socks and knee pain, the mechanisms behind their potential benefits, and important considerations when incorporating them into a knee pain management plan.
Understanding Knee Pain
Causes of Knee Pain
Knee pain can arise from various factors, including:
Injuries:

Injuries

, sprains, ligaments, and fractures can lead to knee pain.

Arthritis: Conditions such as osteoarthritis and rheumatoid arthritis can cause inflammation and pain in the knee joints.

Overuse: Activities that involve repetitive motion or excessive strain on the knee, such as running or jumping, can lead to overuse injuries and pain.

Meniscus Tears: Injuries to the meniscus, the cartilage in the knee, can result in pain and limited mobility.

Tendonitis: Inflammation of the tendons around the knee can cause pain, especially during movement.
Symptoms of Knee Pain
Symptoms of knee pain can vary based on the underlying cause but often include:
Pain or Discomfort: Persistent or intermittent pain in or around the knee.

Swelling: Inflammation and swelling in the knee joint.

Stiffness: Difficulty moving the knee with a feeling of stiffness.

Weakness: Reduced strength and stability in the affected knee.
The Role of Compression Socks
Understanding Compression Socks
Compression socks are specialized garments designed to apply pressure to the legs, typically decreasing from the ankle upward. They are commonly used to enhance blood circulation, reduce swelling, and support the lower extremities. Compression socks' primary mechanism is applying graduated pressure, promoting blood return to the heart.
Mechanisms of Compression Socks
Improved Blood Circulation:

Compression socks exert pressure on the blood vessels

, facilitating better blood circulation. This can be particularly beneficial for individuals with conditions that affect blood flow, such as venous insufficiency.

Reduced Swelling: The compression provided by the socks helps prevent fluid accumulation in the legs, reducing swelling. This is relevant for conditions where swelling may exacerbate knee pain.

Support for Muscles and Joints: Compression socks offer external support to the muscles and joints, promoting stability and potentially reducing strain on the knee. This support can be valuable for individuals with weakened or injured knees.

Enhanced Proprioception: Proprioception is the body's ability to sense its position in space. Compression socks contribute to improved proprioception, aiding in better joint awareness and potentially reducing the risk of injury.
The Potential Benefits of Compression Socks for Knee Pain
1. Improved Circulation:
Compression socks are designed to enhance blood circulation in the legs. Improved blood flow may contribute to better oxygenation and nutrient delivery to the knee joint, potentially aiding recovery.
2. Reduced Swelling:
Swelling in the knee joint can contribute to pain and discomfort. Compression socks help minimize swelling by preventing fluid buildup in the surrounding tissues.
3. Support for Weak or Injured Knees:
Individuals with weakened or injured knees may benefit from the external support of compression socks. The compression can help stabilize the knee joint and reduce strain during movement.
4. Pain Relief:
The gentle pressure applied by compression socks may create a massaging effect, potentially relieving pain. This can be particularly beneficial for individuals experiencing chronic or acute knee pain.
5. Enhanced Comfort During Activity:
Athletes commonly use compression socks to enhance performance and reduce muscle fatigue. Similarly, individuals with knee pain may find that compression socks provide enhanced comfort and support during daily activities or exercise.
6. Potential Proprioceptive Benefits:
Compression socks may improve proprioception, helping individuals maintain better control and awareness of their knee joint. This can be valuable for preventing inadvertent movements that may exacerbate knee pain.
Considerations When Using Compression Socks for Knee Pain
1. Consultation with Healthcare Professionals:
Before incorporating compression socks into a knee pain management plan, it's essential to consult with healthcare professionals. They can assess the specific condition causing knee pain, guide the appropriateness of compression socks, and offer personalized recommendations.
2. Correct Sizing and Fit:
Proper sizing and fit are crucial for the effectiveness and comfort of compression socks. Ill-fitting socks may not provide the intended benefits and exacerbate discomfort. Consultation with a healthcare professional or a fitting specialist can ensure the correct size and fit.
3. Graduated Compression:
Choose compression socks with graduated compression, meaning the pressure is highest at the ankle and gradually decreases as it moves up the leg. This design supports optimal blood circulation and minimizes the risk of constricting blood vessels.
4. Consistent Wear:
Consistency is critical when using compression socks for knee pain. Follow the recommended guidelines for wearing the socks consistently to experience their potential benefits. Inconsistent use may limit the effectiveness of the compression therapy.
5. Monitoring for Changes:
Regularly monitor for any changes in symptoms or discomfort. If adverse reactions or symptoms persist or worsen, consult healthcare professionals for further evaluation.
6. Combination with Other Therapies:
Compression socks can be part of a comprehensive approach to managing knee pain. Combining their use with other therapies, such as physical therapy, stretching exercises, and pain management strategies, may provide a more holistic approach to symptom relief.
7. Adjustment Based on Comfort:
Individuals may find varying levels of compression comfortable. Some may prefer a higher compression level for more support, while others may find a lower level more suitable. Listening to the body and adjusting the compression level is essential.
Popular Compression Socks for Knee Pain
1. Physix Gear Sport Compression Socks:
These socks offer graduated compression and are designed for athletes and individuals with active lifestyles. They are known for their durability and comfort.
2. SB SOX Compression Socks:
SB SOX Compression Socks provide targeted compression with a stylish design. They are praised for their effectiveness in reducing swelling and improving circulation.
3. Copper Compression Recovery Knee Sleeve:
Made with copper-infused fabric, this knee sleeve offers compression and support. It is popular among individuals seeking additional relief for knee pain.
4. Zensah Tech+ Compression Socks:
Zensah Tech+ Compression Socks are crafted with a blend of materials for targeted compression. They are known for their durability and ability to provide support during various activities.
5. Blitzu Compression Knee Brace:
This knee brace provides compression and support for individuals with knee pain. It is designed to be comfortable during various activities.
6.Diabetic Sock Club's Over-the-Calf Compression Stockings:
The Diabetic Sock Club's Over-the-Calf Compression Socks are a top-notch choice. This product offers a blend of style, comfort, and therapeutic benefits that cater to men and women seeking relief from leg symptoms.
Conclusion
While compression socks are not a one-size-fits-all solution for knee pain, they may offer valuable support and relief for individuals with various knee conditions. The decision to use compression socks as part of a knee pain management plan should be made in consultation with healthcare professionals, considering the specific nature of the knee pain and individual needs.
Understanding the potential benefits and considerations of using compression socks for knee pain empowers individuals to make informed choices in managing and alleviating knee discomfort. By combining compression therapy with a holistic approach to knee pain management, individuals can take proactive steps toward improved comfort and overall well-being.