Do Compression Socks Help with Blood Pressure?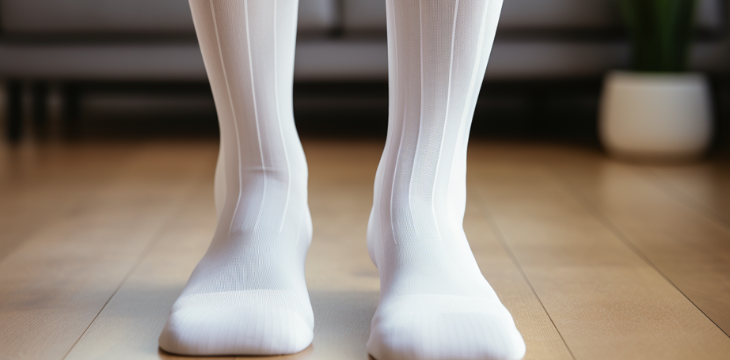 Blood pressure management is critical to cardiovascular health, and various lifestyle interventions are often recommended to support optimal blood flow. Among these interventions, the use of compression socks has gained attention for its potential impact on blood pressure regulation. In this comprehensive exploration, we will explore the science behind blood pressure, how compression socks work, and whether they offer benefits in managing blood pressure.
Understanding Blood Pressure
Before we delve into the potential role of compression socks, it's essential to have a foundational understanding of blood pressure.
What is Blood Pressure?
Blood pressure is the force exerted by the blood against the walls of the arteries as the heart pumps it around the body. It is expressed as two values: systolic pressure (when the heart beats) over diastolic pressure (when the heart is at rest between beats). Blood pressure is measured in millimeters of mercury (mmHg), and a regular blood pressure reading is generally around 120/80 mmHg.
Importance of Blood Pressure Regulation
Maintaining optimal blood pressure is crucial for overall health. High blood pressure, or hypertension, can strain the heart, damage blood vessels, and contribute to various cardiovascular conditions, including heart attacks and strokes. Conversely, low blood pressure can lead to insufficient blood flow to vital organs, causing dizziness and fainting.
How Do Compression Socks Work?
Compression socks are specialized garments designed to apply pressure to the legs, typically decreasing from the ankle upward. They are often made from elastic materials like nylon or spandex and are available in various compression levels, ranging from mild to extra firm. The fundamental idea behind compression socks is to provide graduated pressure on the legs to support blood circulation and address issues related to venous insufficiency.
Mechanism of Compression
Promoting Blood Flow: Compression socks stimulate blood flow in the legs. The pressure applied is most significant at the ankle and gradually decreases as it moves up the leg. This design helps push blood back towards the heart, combating the effects of gravity.

Reducing Blood Pooling: The graduated compression in the socks helps prevent blood from pooling in the veins, especially in the lower extremities. This is particularly relevant for individuals who may experience venous insufficiency, a condition where the veins have difficulty returning blood to the heart.

Supporting Veins: Compression socks provide external support to the veins, helping them maintain their shape and function more effectively. This support is essential for individuals with weakened or damaged veins.

Minimizing Swelling: Swelling in the legs, often caused by fluid retention, can be alleviated by

compression socks

. The pressure they exert assists in moving excess fluid out of the legs and into the lymphatic system for drainage.
The Potential Relationship Between Compression Socks and Blood Pressure
Given the mechanism of compression socks in promoting circulation and reducing venous insufficiency, there is interest in exploring their potential impact on blood pressure. Here are critical considerations regarding the relationship between compression socks and blood pressure:
1. Venous Return and Blood Pressure:
Improved Circulation: Compression socks are designed to enhance venous return, which refers to the blood flow back to the heart. Compression socks may contribute to better blood pressure regulation by facilitating this process.
2. Impact on Orthostatic Hypotension:
Orthostatic Hypotension: Orthostatic hypotension is a condition where blood pressure drops significantly when standing up from a sitting or lying position. Compression socks may mitigate this drop by supporting blood flow and reducing blood pooling in the lower extremities.
3. Potential Effect on Arterial Blood Pressure:
Limited Evidence: While some evidence supports the use of compression garments in improving certain aspects of cardiovascular function, the direct impact of compression socks on arterial blood pressure needs to be established. Research in this area is still evolving.
4. Individual Variability:
Personalized Response: The response to compression socks can vary among individuals. Factors such as overall health, cardiovascular conditions, and specific blood pressure mechanisms will contribute to individual variability.
Existing Research and Studies
Research on the direct impact of compression socks on blood pressure is ongoing, and the available studies provide valuable insights into the potential benefits. However, it's important to note that the field is still evolving, and more extensive research is needed to draw definitive conclusions.
1. Studies on Venous Insufficiency:
Positive Outcomes: Some studies have shown positive outcomes with using compression stockings in managing venous insufficiency, a condition closely related to blood circulation in the legs. Improved venous function can indirectly influence blood pressure.
2. Orthostatic Hypotension Research:
Supportive Evidence: Research on compression garments, including socks, has demonstrated supporting evidence in mitigating the effects of orthostatic hypotension. By promoting venous return, compression socks may contribute to stabilizing blood pressure when changing body positions.
3. Limited Studies on Arterial Blood Pressure:
Need for Further Research: While some evidence supports the positive effects of compression garments on specific cardiovascular parameters, studies explicitly examining the impact on arterial blood pressure are limited. More research is necessary to establish a more transparent relationship.
Considerations for Using Compression Socks for Blood Pressure Management
If you're considering using compression socks as part of your blood pressure management strategy, it's essential to keep several critical considerations in mind:
1. Consultation with Healthcare Professionals:
Individualized Guidance: Consult with healthcare professionals, including your primary care physician or a cardiovascular specialist, to determine the appropriateness of compression socks for your case. They can provide individualized guidance based on your health status and underlying conditions.
2. Compression Level and Fit:
Appropriate Selection: Compression socks are available in various compression levels. The appropriate level depends on your specific needs and health status. A healthcare professional can help you select the right compression level and ensure a proper fit.
3. Consistent Use and Care:
Adherence to Guidelines: To experience potential benefits, it's crucial to wear compression socks consistently as recommended by healthcare professionals. Follow the proper wearing and care guidelines, including washing and maintenance, to optimize their effectiveness.
4. Comprehensive Approach:
Holistic Blood Pressure Management: While compression socks may offer potential benefits, they should be considered as part of a comprehensive approach to blood pressure management. This approach may include lifestyle modifications, dietary changes, and, when necessary, medication as prescribed by healthcare professionals.
5. Monitoring and Adjustments:
Regular Check-ups: Regularly monitor your blood pressure and overall health. If you observe changes or have concerns, consult with your healthcare team. They can make adjustments to your management plan as needed.
Conclusion
The relationship between compression socks and blood pressure is a topic of interest, with potential benefits suggested by their impact on venous return and related cardiovascular parameters. While research is ongoing, the current evidence supports using compression socks in managing conditions such as venous insufficiency and orthostatic hypotension, which can indirectly contribute to better blood pressure regulation.
Consult healthcare professionals for personalized guidance if you're considering incorporating compression socks into your blood pressure management plan. They can assess your health status, recommend the appropriate compression level, and ensure that compression socks align with your overall cardiovascular health goals.
Remember that compression socks should be viewed as one component of a holistic approach to blood pressure management, and their use should be consistent with the guidance of your healthcare team.