Compression Socks for Flying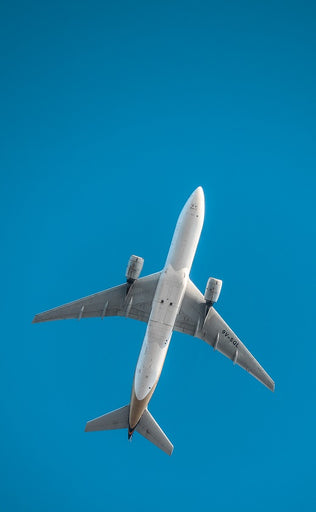 Can people with diabetes benefit from wearing compression socks while flying?
One of the hottest new travel tips is to wear compression socks while you fly. Are the benefits of wearing compression socks while flying truly that great? Can people with diabetes wear compression socks while they fly? These questions are tough to find the answers to, but we believe we've managed to track them down.
Remember to ask your health care provider if wearing socks while flying is right for you. Certain medical conditions and issues can make wearing compression socks during flight inadvisable. Your doctor will work with you to find the solutions that work to keep your feet healthy and comfortable.
One of the main reasons that health officials have begun to recommend that people with diabetes start wearing compression socks during airplane flights because they help combat deep vein thrombosis (DVT) blood clots. Your risk for developing DVT blood clots goes way up because you're sitting stationary for long periods on an airplane. Individuals with diabetics are at an exceptionally high risk of developing these types of blood clots during a long flight.
Another reason to wear compression socks while you fly is for your comfort. Nobody enjoys sitting in a cramped airplane for hours at a time, and your feet are no exception to the discomfort. A high-quality pair of compression socks can help reduce the aching and pain many people with diabetes have in their feet that are only made worse by flying.
If you've ever flown before and landed with aching, swollen feet and ankles, you should consider wearing compression socks during your next long flight.
Tips For Diabetics Who Fly
Taking precautions for your health can help ease your worries about flying with diabetes. In addition to compression socks designed to help keep your blood flowing to your feet, there are several other ways to keep your feet healthy while you travel. In addition to the following tips, be sure to keep in mind that you should do your best to eat healthily and stay hydrated as you fly. (We're not gonna count the drinks down by the beach! ;) )
Say no to any salty in-flight snacks that may make you retain extra water.

Give yourself as much legroom as possible, and move your feet throughout the flight.

Take a short walk periodically throughout long flights. Make sure you flex your toes, ankles, and calves as you walk to get the blood flowing through every part of your feet.

Do your best to avoid sitting in one position for too long. 

Wear comfortable clothing that breathes, including high-quality compression socks.
Compression Socks Can Make Flying More Comfortable
Wearing compression socks while you fly has been proven to help lower your risk for developing deep vein thrombosis (DVT) blood clots. You should talk to your doctor or health care provider before taking off on your flight to ensure that there aren't any reasons for you to avoid wearing compression socks on a plane. Wearing compression socks during flight, when combined with proactive movement and taking care of your overall health, can help lower your risk of severe complications while you travel.