Can I use diabetic socks as hiking boot socks?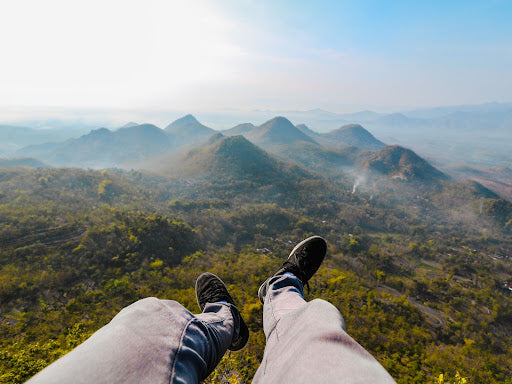 The advantages of diabetic socks over ordinary socks are numerous. This is particularly true for diabetic patients, who benefit from wearing diabetic socks because they are lightweight, breathable, and prevent blisters from forming by cushioning the feet from friction. They also provide mild compression for improved blood circulation. If you enjoy being active or going on hikes but have been told by your healthcare advisor that you have diabetes and are wondering if you can use diabetic socks as hiking boot socks, don't worry. There are diabetic socks developed specifically for hiking! 
Diabetic people should wear their diabetic socks every day, while they can be worn sometimes. There are diabetic socks explicitly designed for hikers and adventure seekers. Yes! Outdoor-friendly diabetic socks were created specifically for hiking. These diabetic socks are made to provide comfort while you are out on the trail. When a diabetic patient is trying to get fit and healthy, diabetes shouldn't hinder what they want to do. You may be surprised to learn that hiking can be a healthy substitute for other forms of exercise if you have diabetes. This is an enjoyable and exciting method to stay healthy and lose weight.
Most athletes and physically active people adore diabetic socks, remarkably seamless, moisture-wicking, and cushioned diabetic socks. With these sports socks, you might discover that you feel minor discomfort and get fewer blisters than in your "normal" athletic socks. Not everyone with diabetes needs diabetic socks, but those who do can benefit from them. People with: Sweaty or damp feet can benefit from wearing diabetes socks instead of ordinary socks. The following is a list of diabetic socks that are recommended to use while hiking:
Diabetic Sock Club Cotton Diabetic Ankle Socks

- Made in the U.S.A. 95% Acrylic - 5% Lycra. Our Ultra-Soft Upper Calf Diabetic Socks have a loose fitting top that will not bind or restrict circulation and yet the special knit keeps them securely in place. Made with open weave allows the foot to breathe by wicking moisture away from the skin. This is recommended for people suffering from the effects of diabetes, circulatory problems, edema, and neuropathy.
Diabetic Sock Club Men's Cotton Diabetic Crew Socks

- Because of their excellent quality and material, these diabetic socks have gotten many positive evaluations. These diabetic socks are loose-fitting, non-binding, and have a wide top with additional stretch for comfort. They have been authorized by doctors. It is made up of 80% cotton, 15% polyester, and 5% lycra. Comfort is also provided by a comfortable toe seam and protective, padded soles. You might want to look into the fantastic hemp cream for pain and aches associated with neuropathy that the diabetic sock club sells.
EcoSox Diabetic Non-Binding Bamboo Hiking/Outdoor Socks

- You can be confident that using these diabetic socks will keep you comfortable while hiking. They are the ideal foot care option for people with diabetes, edema, or neuropathy. The stay-up non-binding tops have a comfortable, easy-on fit that doesn't restrict blood flow and has just the appropriate amount of tension to keep them on your leg. Additionally, it is built from materials that naturally wick away moisture and keep your legs dry and free of blisters.
Thorlos Hiking Maximum Cushion Crew

- XK - These diabetic socks are strong enough to endure these trips while keeping your feet comfy while hiking or backpacking! The THOR•LON® fibers used in its construction provide improved softness, resilience, durability, and moisture-wicking for drier, more comfortable feet. For a better fit, more support, and less stress on the feet for a more comfortable hike, it has a cushioned instep and arch. Additionally, a ventilation panel is there for improved moisture management and breathability.
Gold Toe Crew Sock -

It is among the options that fits your feet the best. The crew socks are a great option because they come in extended and different sizes. Your toes' little gold accents give your shoes a beautiful appearance. These stocks come in various sizes, up to 16. The socks also eliminate all moisture and stop discomfort between your toes.
Anonymous Ism Patchwork Crew -

Among the best options for crew socks with a unique pattern! It looks remarkable because of the striking multicolor patchwork design. In cold weather, casual footwear in a variety of lovely hues is the ideal option. The patchwork crew is made of sturdy materials including cotton, acrylic, and others and comes in a variety of colors. The best materials are used to make the premium crew socks. They offer the utmost coziness and warmth.
Extra-Wide Athletic Crew (Mid-Calf) -

The crew socks help you get rid of uncomfortable, tightly fitting socks because they are designed specifically for broader feet and calves. Excellent flexibility is a key feature of well-designed crew socks, stretching to 25 inches in the calf. The socks are non-binding and perfect for a variety of foot conditions, such as edema, or any ailment that is connected, such as swollen feet, ankles, and claves. 91 percent Cotton, 7 percent Nylon, and 2% Spandex make up the sturdy material. 
Heatuff 12 Pairs Crew Extra Heavy Cushion Socks -

The crew socks are made of a premium material that includes 80% recycled cotton, 12% polyester, 3% nylon, and 5% spandex. The socks can be machine washed and are made of premium recycled cotton, which is good for your feet, offers the highest level of comfort, and promotes environmental sustainability. Wearing socks when walking helps relieve foot arch fatigue and protect them. Your feet stay dry and comfy while being cushioned to the fullest extent. It is non-slip because of the elastic cuff rub. Exceptional quality and high durability are both made possible by reinforced heels and toes.