Best non-elastic socks for men & women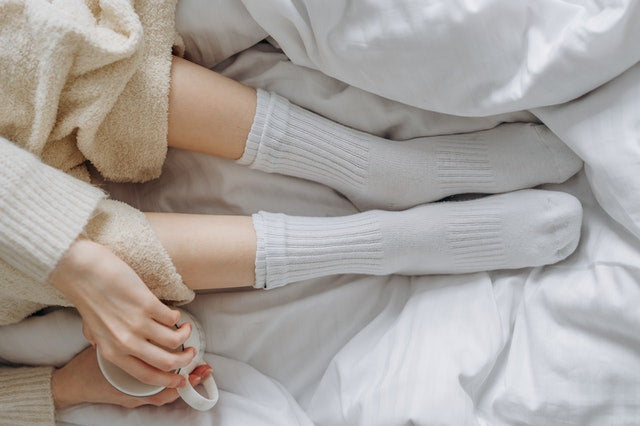 Non-binding socks, also called diabetic socks, are made without the elastic band at the top to promote proper blood circulation and prevent blood from clotting in the legs, feet, and ankles. Without the elastic bands at the top, these socks won't constrict your feet and create marks on your legs. 
We are familiar with and used to traditional socks with elastic band tops. Still, these types of socks can be dangerous, especially for diabetic patients at risk of foot problems like neuropathy, edema, and varicose veins. Physicians recommend that diabetic patients use socks without elastic bands at the top so that they won't feel tight around the calves and compromise the patient's blood circulation. 
Non-binding socks help blood circulation by avoiding pressure on the leg and reducing constriction, which will allow the patient's blood to flow more accessible throughout the body. Proper circulation helps prevent diabetic foot problems and promotes healing if they develop. 
Why do most diabetic or non-binding socks are made with white fabric? 
Diabetic patients who suffer from neuropathy often lose sensations in their feet to the point that they won't even notice if they have blisters or wounds. White yarn increases blood marks awareness and helps detect injuries early enough to prevent further complications. With the white fabric diabetic socks, you can also quickly the wounds or blisters in your feet. 
How do non-binding socks stay up? 
Non-binding socks are usually made out of nylon, spandex, or cotton blend that evenly gives the tightness around your legs and support that keeps the sock in place and prevents it from falling down your legs. Non-binding socks are also a close fit, which prevents any excess fabric from rubbing up against your skin that may irritate or cause blisters in your skin. 
Best non-elastic socks for men and women
If you are a diabetic patient who still wants to move freely without overthinking if your feet get injured, dirty or sweaty, you may wish to use diabetic socks to keep you comfortable and protected. Knowing what socks would offer you the best qualities and benefits is essential. Here are the best brands that provide non-elastic top socks. 
FOR BOTH MEN AND WOMEN
Orthofeet Biosoft Diabetic Socks with Padded Sole - Orthofeet is USA's most recommended orthotic footwear for diabetes and neuropathy patients. These are the most protective socks you can get, with their padded soles and a loose-fit super-stretch top that stays up while allowing maximum blood flow. These socks have bamboo fibers blended with graphene, which makes these socks very soft and makes them anti-bacterial, and anti-odor. These socks also have a patented Dryplex moisture-wicking system that makes sure that your feet stay dry and healthy throughout the day. 
Apex Copper Cloud Diabetic Crew Socks with Arch Support - These diabetic crew socks are created with 27% copper yarn, which has moisture-wicking and anti-bacterial properties to keep the patient's feet feeling dry and clean. The non-binding top of the socks helps promote better circulation,, and the seamless interior helps preventn of ulcers and blisters. These socks have light arch support and extra padded heels and forefoot. 
Fool Merino Wool Cushion Sole Diabetic Socks - These socks are made with 40% high-quality Merino Wool. Merino Wool is a tremendous temperature-regulating material, making these socks suitable for all seasons. These socks will keep you warm on cold days and will keep your feet feeling cool and dry on hot days. These socks have a ventilated mesh that provides optimum breathability. Merino Wool is very soft and hypoallergenic, ideal for sensitive skins. The toe seam is hand-linked and non-irritating. You will feel comfortable with their relaxed fit and non-binding top to promote proper blood flow. 
TeeHee Socks Unisex Diabetic Bamboo Crew White - These socks firmly stay in place, and even in the most intense physical activities, it does not constrict your feet. These socks are made with viscose bamboo yarn with extraordinary moisture-wicking properties that will keep your feet dry even if you're a person who sweats a lot. Plus, Bamboo fibers are naturally anti-bacterial and odor-controlling with additional gentle arch support and a padded sole. It will keep your feet protected and will give you comfort. 
Debra Weitzner Diabetic Socks - These socks are built for comfort with moisture-wicking polyester, soothing Aloe, and anti-microbial protection to reduce itching and irritation from long-term use. Even though they are loose-fitting socks, they won't slip off or lose their form throughout the day when you use them. No binding and no floppy fabric sliding down around your ankles. 
Extra-wide Sock Company Medical Cotton Crew Socks - These socks are specially made for patients with swollen feet, or if you just want an extra-wide top hose, you will love these cotton crew socks that are affordable of good quality. These socks stretch up to 25 inches at the calf. They are easy to put on and off, and they do not sag. These socks are designed to be worn outside to protect sensitive skin from irritations and blisters. These socks are treated with microban, an anti-microbial technology that prevents the growth of odor-causing bacteria. 
FOR MEN
Diabetic Sock Club Men's Cotton Diabetic Crew Socks

- These diabetic socks have received a lot of good reviews because of their top-notch quality and material. These diabetic socks are physician approved and have a wide top with extra stretch for comfort, loose-fitting, and a non-binding top. It's 80% cotton, 15% polyester, and 5% Lycra. A smooth toe seam and cushioned soles for protection also provide comfort. The diabetic sock club also offers an excellent hemp cream for neuropathy aches and nerve pain that you might want to check out.
Thorlo's Men's Diabetic Moderate Cushion Crew Socks - Thorlo's diabetic socks are made with Thorlon yarn that is very soft on the skin and has incredible moisture-wicking and friction-reduction properties. The top is non-binding to help promote blood circulation. Thorlo's is one of the very few diabetic socks that offer specific form fittings for men with sizes up to 15. 
Yomandamor Wide Stretch CoolMax Diabetic Ankle Socks - Yomandamor offers products with outstanding quality and durability that are affordable. These ankle socks are made with a premium quality blend of 40% bamboo fibers, 40% Coolmax, and 20% Elastane. Coolmax is a fabric created from polyester fabrics and designed to improve breathability. It absorbs fluid and dries very quickly, making the socks great with moisture-wicking abilities. 
Dr. Seagal's Non-binding & Seamless Cotton Diabetic Socks - Dr. Seagal's diabetic socks are non-binding with a vast stretch top band with a seamless interior and extra cushioned footbeds for protection. These diabetic socks are made with a breathable cotton blend and treated against bacterial and fungal growth. They offer free shipping and a 30-days return policy. 
Silky Toes Men's Diabetic Dress Socks - These socks are great for work because of their design. These socks are non-binding with a non-constricting cuff to promote blood circulation. The best thing about these socks is that they seem to hold up all day long. Most diabetic socks tend to slip off because of their loose-fit design. These socks have great moisture-wicking and temperature regulating properties. Their seamless construction reduces friction to your skin and risks of development of blisters. 
Hugh Ugoli Loose & Thin Diabetic Bamboo Socks for Men - These thin socks are perfect for summer because of the bamboo fibers that these socks contain. They will keep your feet dry and relaxed through the heat. The bamboo material is highly moisture-wicking and breathable. Plus, it's exceptionally soft and naturally anti-bacterial, anti-odor, and anti-fungus. These socks contain 80% bamboo fiber, and it's about the highest content of bamboo fibers you can find in a stocking. 
FOR WOMEN
Women's Cotton Diabetic Crew Socks - These diabetic crew socks are recommended by physicians and approved for their therapeutic benefits and made from 80% cotton, 15% polyester blending with 5% Lycra that keeps your feet cool dry and which perfectly hugs your feet so that it won't keep from slipping off your feet. It's made with a comprehensive, non-binding top with extra stretch to provide ultimate comfort. 
Hugh Ugoli Loose & Thin Women's Diabetic Ankle Socks - Hugh Ugoli's diabetic socks are a best-seller in the women's diabetic sock category. These socks are made with 80% premium quality bamboo fibers. Its high bamboo fiber content makes the socks highly moisture-wicking, incredibly soft, naturally anti-bacterial, temperature-regulating, and hypoallergenic. They have a non-binding top that helps to promote proper blood flow circulation. The heels and toes of the socks are also reconstructed. 
Dr. Seagal's Pretty Colourful Cotton Diabetic Socks - These socks are made with a breathable blend of 80% cotton livened up with Polyester, Rubber, and Spandex. They contain anti-microbial and anti-bacterial treatment. These socks have a non-binding design and extra cushioning on the footbed for extra comfort and protection. Dr. Seagal's is also one of the companies that offer colorful and stylish socks. 
Yomandamor Bamboo Diabetic Socks Non-binding top & Breathable Mesh - Yomandamor offers good quality and durable socks. These ankle socks contain 80% of the bamboo blend with cotton with anti-bacterial and anti-odor properties. Yomandamor is one of the diabetic socks that offer the highest content of bamboo fibers which are good material for diabetic socks. Their socks have an engineered knit-in mesh on top for more breathability. They come with all essentials for diabetics: seamless toe, non-binding top, reinforced heels and toes, and extra cushioning through the entire sole area. 
Warrior Alpaca Extra Wide Alpaca Wool Diabetic Socks - These socks are great because they give the best warmth, comfort, and softness combination for cold weather. They are made with Alpaca wool, the softest and warmest of all the fleeces, and Alpaca wool is naturally moisture-wicking and hypoallergenic. These socks are specially made for cold days and people with broad or swollen feet. The extra gusseted ribs make an extra-wide stretchy top that does not cut off your circulation. 
Orthofeet Biosoft No-show Diabetic Socks for Women - Orthofeet offers women's best No-show Diabetic socks. These low-cut socks put no pressure point at all! You will enjoy the top-notch and high-quality material of these diabetic socks. These socks are an entirely seam-free interior, a powerful moisture-wicking anti-bacterial system, extra padding, and unsurpassed comfort. 
Why do diabetic socks need to be non-elastic? 
With non-elastic band tops, it means that there will be no pinching or leaving of marks around your legs. Elastic band top socks can constrict diabetic patients' legs, feet, and ankles. Non-elastic full band socks also reduce irritation ideal for diabetic patients who suffer from swollen feet. If the patient also suffers from swollen feet, the patient needs a hose that can stretch. 
What to look for in a diabetic sock
Comfort - Diabetic socks should be seamless and will fit your legs just right. Make sure your socks and shoes do not fit tightly or rub against your skin. They can cause friction. Especially if the feeling in your feet is reduced, the pressure can cause sores or inflammation, resulting in opened wounds or blisters. Conflict in your feet can leave you vulnerable to injuries. 
Fit - Make sure that your socks don't constrict your feet, so it's best to avoid any socks that will put too much pressure or compression. Ensure that your socks are non-binding and non-constricting so that your blood can still flow properly. 
Material - Your socks should be made with high-quality materials to give you the best benefits. Materials like Merino Wool and Bamboo fibers are suitable for diabetic socks because they have good moisture-wicking and antimicrobial properties.