Best Medical Compression Stockings for Men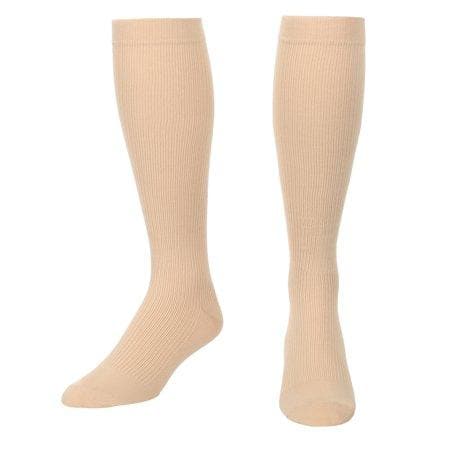 Compression therapy works to squeeze blood vessels and tissue, attempting to prevent the fluids from building up and producing pain and edema. Maintaining fluid circulation lessens achiness, edema, and weariness in the legs. Compression therapy enhances people's quality of life by increasing endurance and resilience while lowering inflammation and pain.
Medical compression stockings - sometimes referred to as pressure stockings - are not like your conventional stockings. Circumferential pressure is provided by compression stockings from the foot up the ankles and calf to the knee. The lymphatic vessels and blood flow are supported by this pressure, which enhances circulation. Many types of socks have graded compression, meaning the pressure is heavier at the foot and gradually decreases as it progresses up the ankle and onto the calf. This increasing pressure helps fluids travel against gravity from the lower extremity back to the torso. The force also lessens swelling and edema by preventing fluid buildup in the lower limbs. Therapeutic pressure encourages long workdays, prolonged periods of standing, travel, and exercise.
Compression stockings for medicinal use: how do they help?
Suffering from different foot diseases caused by an underlying condition can undoubtedly be aided with medical compression stockings. Your doctor might advise you to wear compression stockings for:
Increasing blood flow to the legs
These stockings apply pressure on your legs, improving your blood vessels' function. Blood can flow easily because the arteries carrying oxygen-rich blood to your muscles can relax. Enhanced veins force blood back toward your heart.
Preventing blood from accumulating in the veins of the legs
Blood is more easily propelled upward against gravity with the right amount and consistent pressure provided by compression stockings, increasing blood flow back to the heart and effectively through the body.
Improving lymphatic drainage
The lymph veins can move the trapped lymph fluid more quickly because of the pressure. The muscles are forced to perform against an additional force by the compression garment or bandages. This helps the fluid to drain out of the affected location.
Lessening of legs and ankles swelling
These stockings are intended to exert pressure on your lower legs to maintain blood flow, lessen discomfort, and reduce swelling. If you have edema, poor circulation causes fluid to flow from your veins into your muscles, creating a bulge. Compression stockings can assist support your veins. Different levels of compression may be ordered by your doctor, depending on the severity of your edema.
Managing orthostatic hypotension, or low blood pressure after a period of sitting
Compression stockings enhance blood flow to the legs and reduce vein diameter by applying pressure to the legs. Dizziness, lightheadedness, and fainting may be lessened with these.
Preventing leg deep vein thrombosis
Your ankles are typically subjected to the most pressure from these stockings; as it goes up your leg, the pressure decreases, which forces blood higher. This therapeutic compression can reduce discomfort, blood clots, and swelling.
Preventing venous ulcers 
Your leg's venous pressure is decreased with the use of compression stockings. Lowering this pressure will allow the ulcer to heal. The tight bandages also help lessen ulcer pain.
Minimizing varicose veins-related pain
Compression stockings essentially aid in lessening edema and blood clots in your legs. When this occurs, pain is reduced, and blood flows typically, which is very helpful if you have pain from swollen veins.
Reversing venous hypertension 
Even though they cannot cure the condition of venous insufficiency, medical compression stockings help reduce the symptoms of venous disorders, such as weariness, soreness, and swelling of the legs.
Best Medical Compression Stockings for Men
Diabetic Sock Club's Compression Stockings
These compression stockings from the Diabetic Sock Club are ultra-soft and cozy with moisture-wicking properties that will keep you from having blisters. They won't irritate your skin because they are soft. Use compression socks that go until your calf is good for preventing blisters and bad odor. These compression socks are ultra-soft and comfy, with moisture-wicking characteristics, and are made in the United States from premium grade fabrics.
Jobst for Men Thigh High Ribbed Compression Stockings 
It keeps feet cooler and drier for a more extended period thanks to nylon blend material for dry-release technology that wicks away moisture six times faster than regular nylon. These stockings' strengthened heels increase their longevity and reduce friction, making them resistant to abrasion. The silicone dot border on the Jobst for Men Thigh High Ribbed Compression Stockings helps hold the garment up and in place while maintaining your style and providing effective compression.
They do make the ideal medical compression ribbed thigh-high stockings for dressy outfits! Due to its 15-20 mmHg, gradient compression will ease your suffering from minor varicose veins and spider veins, as well as your tired, hurting legs and minor edema/lymphedema. It will also help avoid Deep Vein Thrombosis (DVT), orthostatic hypotension, and postural hypotension. 
Dr. Comfort Shape to Fit Cotton Casual Trouser Socks
The blend of cotton and Lycra stretch material used in Dr. Comfort socks offers moderate pressure and ultra-soft, comforting support. The supple cotton material is breathable and provides Fresh Weave Odor Control for a more comfortable and extended wear duration. The distinctive Dr. Comfort wide non-binding support band is also on these socks.
The leg blood circulation is improved by the supporting soft-seam construction and 10-15 mmHg progressive compression, which reduces cramping, aching, and soreness. These medical knee highs combine comfort with health advantages to support leg circulation for illnesses including varicose veins, venous thrombosis, diabetes, and spider veins.
TRUFORM Men's Dress Knee High Socks
These stylish, rib-knit knee-high socks are designed to match modern business-casual attire. They come in four sizes and many hues: tan, navy, brown, and black. They are comprised of 93% nylon and 7% spandex. Due to its soft, non-compressive, stay-up top, which retains flexibility while providing a snug fit, this stocking stays in place all day long without restricting the leg. The stocking's knit-in, clearly defined, reinforced heel pocket adds durability and makes it simple to position the hose on the foot and leg for a secure, comfortable fit. They have the elegant appearance of formal dress socks and are ideal for professional wear thanks to their contemporary ribbed design and trendy color selections.
The Truform Men's Dress Knee High Socks with 8-15 mmHg Support Socks are suggested to ease tired, achy legs and avoid varicose veins. They are also indicated to minimize moderate leg swelling. They are beneficial to wear when standing or sitting still for an extended time. To promote overall leg health and leave legs and feet feeling terrific, these compression socks gently deliver mild progressive therapeutic compression in the 8–15mmHg range.
Sigvaris 860 Select Comfort Series Unisex Knee-High Compression Socks - 862C OPEN TOE 20-30 mmHg
The stretchable fabric is used in the production of Sigvaris 860 Select Comfort Series Unisex Knee-High Compression Socks - 862C OPEN TOE 20-30 to better adapt to various body shapes. Additionally, these socks are comprised of robust spandex fabric wrapped in supple nylon thread. Sigvaris 860 Compression Knee-High Stockings, Unisex, 862C Socks with a compression range of 20–30 mmHg are made specifically for those who struggle to put on and take off their socks. Crispa and black are the available colors.
This product offers a silky feel and adapts to the shape of the leg. For improved ventilation and less stress on the toe, the stocking design has an open toe. In order to avoid moderate to severe edema and varicose veins, the product provides 20 to 30 mmHg. This range of compression may treat severe lymphedema and mild swelling. They are simpler to put on and take off at this pressure than other stockings.
Medi Mediven for Men Class 1 Compression Stockings
The Medi Mediven for Men Class 1 Compression Stockings is compression socks from Medi, one of the UK's leading compression stockings manufacturers. They have a manly design and appearance since they are made to fit guys. They're designed to be as classy and stylish as possible while providing the compression you require. Clima Comfort, a feature of these stockings, lessens sweaty feet and prevents the skin from drying out. Clima Fresh maintains the socks clean and fresh by its ability to stop fungi and germs from growing. Double heel reinforcement makes the Medi Mediven for Men Class 1 Black Compression Stockings even more comfortable. By letting your toes feel free and easing pressure on your forefoot, the innovative soft elastic knitting technique contributes to your comfort.
They provide 18–21 mmHg of gentle compression. These are appropriate for chronic venous insufficiency, stage I: with a tendency for mild to moderate edema; inflammatory venous diseases (superficial thrombophlebitis, varicophlebitis) with a preference for mild to moderate edema; primary and secondary varicosis with a tendency for mild edema; stage II: atrophie blanche; dermatosclerosis with a tendency for mild to moderate edema.
DSC Men's Over the Calf Compression Stocking Socks
In addition to the brands mentioned above, you can also check out our line of stockings, DSC Men's Over The Calf Compression Stocking Socks, which will undoubtedly ease your suffering from foot and leg problems!
DSC gives you these stockings if you're looking for a simple yet elegant style! They come in black, white, navy, brown, gray, and tan, so you may pick a color that matches your clothing. These stockings will undoubtedly apply your specified pressure, which is concentrated more on your ankles and feet and reduces as it rises upward. These are manufactured from fabrics of the highest caliber; they are ultra-soft, warm, and can wick away perspiration. These qualities can aid in preventing the growth of unpleasant odors brought on by moisture, which can cause serious foot issues, including blisters.
People with diabetes frequently have varicose, spider veins, and weary, achy feet and legs. All of these conditions have an impact on daily activities and life quality. DSC Men's over-the-calf compression stockings are specially made to relieve people without diabetes who have fatigued, hurting feet and legs.
How long do compression stockings need to be used for circulation improvement?
Your GP or nurse will measure your legs to determine the size of stockings you require, and they'll make sure the socks are a proper fit. Wearing them on one leg or both legs may be necessary.
Compression stockings should be worn during the day and removed before going to bed. Put them on again first thing in the morning.
If you're wearing stockings on both legs, you should receive at least two pairs of stockings. This implies that you can wear one stocking (or pair) while washing and drying the other.
You may need to wear compression stockings for several years or, in some situations, the remainder of your life if you have a condition that impairs your circulation.
Tips on wearing compression stockings
Dr. Takahashi from Primary Care Internal Medicine, Mayo Clinic, has provided these recommendations.
Ensure your skin is dry for best results, especially after using lotion. Stockings are more challenging to put on when moist. For stability, it could be easier to put on the stocking while seated in a chair. Once the hose is on, ensure there is no bunching or wrinkling, especially around the ankles, and that the seams go straight up the leg. The stocking's top should not be folded down.
Wearing socks, slippers, or shoes over your compression stockings will help prevent damage, and you should take care not to snag them with your fingernails, toenails, or jewelry. It should probably be changed if there is a tear or run. A stocking replacement may also be necessary if they start to bunch up, wrinkle, slide down, or stretch over time.
Be careful to wear the stockings as directed, whether that means putting them on as soon as possible in the morning or continuing to wear them through the night. Your legs may expand if you neglect to wear them, making it challenging or impossible to put the stockings back on.
Finally, it's crucial to regularly inspect your legs while wearing compression stockings for any areas of skin irritation, redness, or other color or skin changes.
If your problem lasts more than a few days or if you are experiencing trouble wearing the stockings, it is always good to speak with your doctor to consider additional choices.