Best Large Socks For Men & Women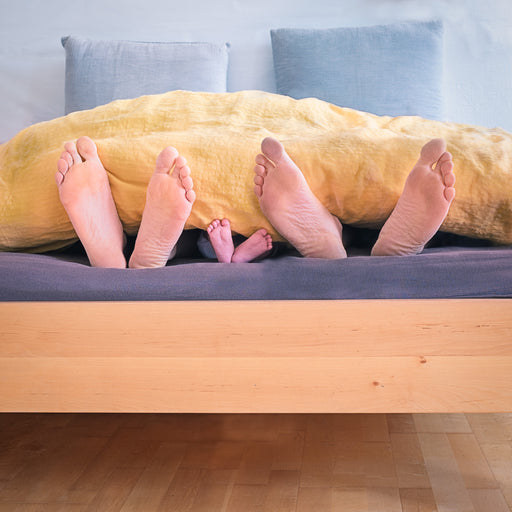 Socks are unfortunately not a one size fits all type of clothing, especially for people with larger feet. Whether you have naturally large feet, or you are experiencing swelling, edema, and any other kind of medical condition, such as diabetes, then you would know how a great pair of socks can make or break your day.
Why do you need large socks?
Tight-fitting socks can be exceedingly painful for large feet, and they will almost certainly be challenging to put on. However, these aren't the only benefits of wearing loose-top socks. Bunions may get more painful and swollen due to friction against your shoes if you wear tight socks frequently.
Tight socks are more likely to strain the bunion, and being too tight around the ankles can also limit blood flow. Because of the restricted blood flow, friendly, ordinary socks are uncomfortable for wide ankles and calves.
For these reasons, you should opt for socks that provide your ankles with some breathing room and allow your blood to flow freely. Aside from having thick ankles, if you have bunions or other discomforts, you should choose your socks with caution.
Who else needs large wide socks?
People who have diabetes tend to experience what is known as Diabetic Neuropathy. Diabetic neuropathy is thought to be caused by uncontrolled blood sugar levels. The nerves are harmed as a result of the damage, which makes it difficult for them to convey messages to the brain. The walls of the small blood vessels known as capillaries are also damaged by high blood sugar levels, causing them to weaken. The tubes that transport oxygen and nutrients throughout the body are known as capillaries. That's why it's so simple for people with diabetes to lose track of their hands or, more commonly, their legs and feet.
Open wounds, ulcers, cuts, and blisters on the legs and feet can easily go unnoticed in people with diabetes.
What are the best socks for People with Large Feet?
Regular socks that are not made for people with large feet tend to be:
Have seems that irritate your toes
Made from Nylon, Spandex, etc
Reduces blood circulation in your legs
Are quite difficult to put on
Diabetic socks are designed to protect diabetics' feet from injury, improve blood flow, and dry them. The qualities stated below should be present in the finest diabetic socks.
Seamless

- Even the most minor protrusion can significantly impact a diabetic's foot. Seamed socks can cause blisters or ulcers on the skin, harmful for diabetic feet.
Non-constricting

- Diabetic socks should be loose-fitting, non-constricting, and have a good stretch design. They should be so adaptable that you hardly notice them.
Padding

- Extra padding and cushioning in sensitive areas help to prevent damage while also improving comfort.
Warmth

- As a result of diabetes, blood vessels in the foot may narrow, limiting circulation.
White Sole

- A white sole is required for people with limited sensation because it helps alert wearers to a draining wound. Infections, open cuts, and sores that require immediate attention will appear on a white sole.
Moisture-wicking

- Many socks are now created with unique yarns infused with revolutionary technologies to aid in the preservation of a healthy foot.
Antimicrobial

- Antimicrobial technology is used in good diabetic socks to keep the foot healthy by preventing bacteria and fungus from forming in moisture-prone areas. Germs and fungus are also eradicated, eliminating undesirable odors in your feet.
Soft yarns

- Diabetic socks are often made from finely textured materials that are soothing on the skin. Some diabetic socks are made of fine-textured fabrics such as bamboo and wool, which are naturally antimicrobial and less likely to irritate the skin.
5 Best Large Socks For Men & Women
Diabetic Sock Club Ultra-Soft Upper Calf Diabetic Socks
The Diabetic Sock Club Ultra-Soft Upper Calf Diabetic Socks made in the United States of America from 95% acrylic and 5% lycra. Our Ultra-Soft Upper Calf Diabetic Socks have a loose-fitting top that won't bend or impede circulation, yet the particular fabric will keep them in place. By wicking moisture away from the skin, the open weave helps the foot breathe. This is indicated for patients who have diabetes, circulatory difficulties, edema, or neuropathy.
 IOMI Footnurse
The tops of this brand's socks contain a honeycomb construction that gently adapts to the natural contours of your leg. This means no ugly constriction rings around the curves of your legs, which is an important feature to consider when wearing diabetic socks. Their socks are constructed of 77 percent Cotton, 19 percent Polyester, 3 percent Polyamide, 1 percent Elastane.
PediFix Seamless Oversized Socks
Customers with thick, thicker ankles who are prone to swelling have given this brand rave reviews. With antimicrobial and seamless characteristics, the socks are great for those who require extra breadth at the ankles and more breathing room in that area.
You may discover loose top socks for both men and women by this brand in a range.
The Extra Wide Sock Company
This manufacturer, too, makes extra-wide socks, specifically for those folks who have thick ankles and broader calves and feet. "Loose Fit Stay Up" socks are another popular name for this kind. This business offers a wide selection of socks to suit your needs.
They provide extra-wide sports ankle socks in both calf and ankle lengths and comfort and dress socks. Another appealing aspect of this brand is that their socks stretch nicely, which is beneficial for persons who suffer from swollen ankles and feet due to poor blood circulation or edema.
FootSmart
If you are specifically seeking a pair of broad, loose-top socks for fitness walking, check out FootSmart at the stores. They feature extra-roomy diabetic socks in acrylic, which is a suitable material for fitness walking.
The designs also have a super-stretching capacity of up to 23 inches circumference-wise, making it easy for you to estimate. If your ankles can handle that much stretching, these broad socks are a terrific choice.
Conclusion
Instead of buying a bunch of socks and trying them all out to see which will work best for your needs, it would be best to check with your doctors and medical professionals so that they can provide proper advice. But of course, don't be intimidated by buying your first pair. These particular socks are not that hard to find. Thanks to advancements in technology, you may now "add to cart" these socks on Amazon or other online sites that specialize in diabetic socks, such as Diabetic Sock Club. You may even fill out a quiz to see which type of socks would suit you the best.
You can also check out our blog "
Who Makes Loose Top Socks for Thick Ankles?
", to find more options that are surefire to help your feet.