Made in the U.S.A. 95% Acrylic - 5% Lycra
Our Ultra-Soft Diabetic Socks are among the softest socks on the market today.
Loose fitting top will not bind or restrict circulation and yet the special knit keeps them securely in place.
Open weave allows the foot to breathe by wicking moisture away from the skin.
Recommended for people suffering from the effects of diabetes, circulatory problems, edema, and neuropathy.
The socks have an open weave, which enables easy foot breathability. It wicks moisture, which keeps feet dry and protected.
Due to its insulating qualities, ultra-soft upper calf socks remain cool in heat and warm during the cold.

Wearing suitable diabetic socks plays a significant part in protecting your feet. The unique features of diabetic socks are not present in regular socks; hence, our socks prevent additional problems while keeping your feet healthy and comfortable.
Customer Reviews
Write a Review
Ask a Question
Filter Reviews:
socks
Husband
feet
legs
pair
quality
calves
ones
purchase
problem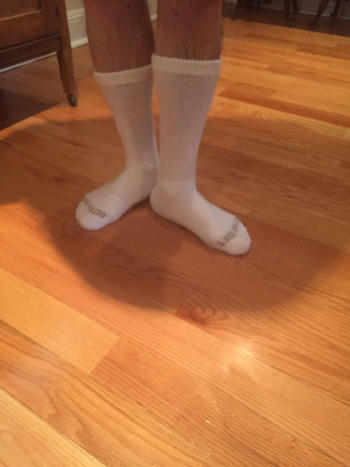 01/19/2021
I recommend this product
Great socks for diabetics!
Absolutely wonderful! My wife bought them for me. I fell in love with her all over again!
Anonymous

United States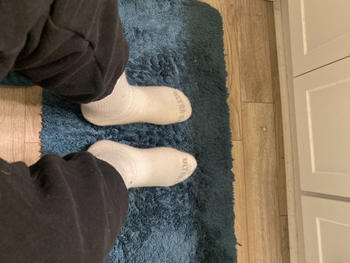 01/03/2021
I recommend this product
Softest socks on the planet
When I put my first pair on and walked in my boots, I was surprised as to how soft and comfortable they were. So satisfied with them that I ordered another four pairs, before I even put my second pair on. Great product, This will be my voice for comfort and durability from now on!
Anonymous

United States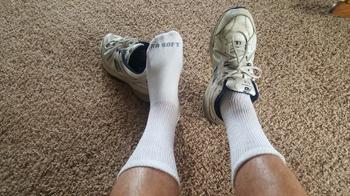 09/02/2020
I recommend this product
Tender feet
Great socks ,very soft and light stretch. I look forward to putting them on each morning. They help with neuropathy pain.
Fred S.

United States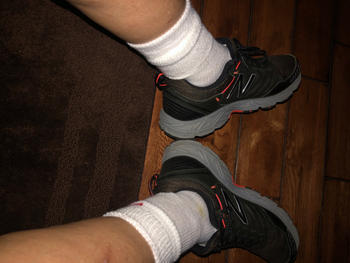 07/16/2020
I recommend this product
Great socks
The socks fit great, they don't cut off circulation. They aren't to tight as my feet swell, these are the best socks I've ever had.
ROBERT M.

United States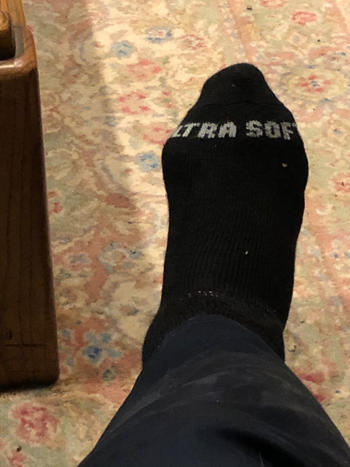 03/06/2020
I recommend this product
Very comfortable and extremely soft
I have been wearing these socks for over a week and they are fantastic. Soft, yet supportive. They get the job done. I would give them 5 stars if they were a little longer. I wear a 16 and could use another inch in length.
Anonymous

United States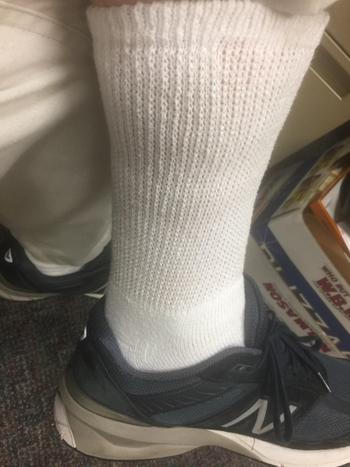 11/08/2019
I recommend this product
I love my Diabetic sockc
They are great. No more deep lines in my legs. Very comfortable
JO
John O.

United States
04/13/2021
Deceptive practices.
I did not order the item. You made a charge on my credit card using the information I previously used to order. I was not aware of any continued arrange for future orders. You practice is deceptive. I am a disabled US Veteran and cannot afford continued purchases. I hope others see through your scheme.
04/07/2021
Ultra Soft socks
Excellent I would suggest that you use a less adhesive wrapping when shipping Ultra Soft as the wrapping adheres so strongly it tends to pull threads loose from socks .
Toby I.

United States
04/06/2021
Fantastic
FantasticFantastic
Anonymous

United States
04/05/2021
Husband's diabetic socks
Excellent product. These are the softest socks he has tried that lasted all day.they did not run anywhere.
Anonymous

United States
04/04/2021
Men ultra soft upper calf diabetic socks
Love them very soft to my feet
Anonymous

United States
04/02/2021
Beware of being forced into repeated orders.
Poor. I placed a one-time order. I deliberately avoided signing up for repeated orders. But this company sent me a second order. Very irritating.
Anonymous

United States
04/02/2021
Extra Soft Socks
Great!!! Just wish I could get them in ankle length size.
Jesse S.

United States
04/02/2021
The best, fluffiest stockings ever!
My wife had leg wounds and were wrapped up. Could not find stockings to fit. She ordered your stockings for me but ended up using them for herself. She is so delighted. They stretch over the wrappings and they work well under braces. Thank you for a great product.
Anonymous

United States
04/02/2021
Super socks finally found the right ones and come in the longer length - very soft also
Anonymous

United States
04/01/2021
Great socks
Best diabetic socks that i have found. Will buy again
Anonymous

United States
03/24/2021
Ultra soft socks
The socks are excellent and as advertised. The major complaint is the ridiculous sticky packaging that tears the sock when the band is removed. I tore the material on three socks shortening their lifespan!
Dennis E.

United States
03/23/2021
The best and softest diabetic socks
Hi, I've been frustrated over the years while searching for comfortable, soft , non-binding diabetic socks. I plan to order more "ultra soft" socks because my feet love them too! Regards, Dr. D.
Frank D.

United States
03/09/2021
Love 'em. Slight problem but Ashlee was wonderful. She deserves a raise. 8-)
Judge H.

United States
03/07/2021
Great socks even if you're not diabetic!
My late husband was a diabetic & wore & loved these socks, I always made sure he had enough! Well after wearing his a couple of times, I loved them as well & now I'm buying them!!
Regina F.

United States