Why should diabetics not wear black socks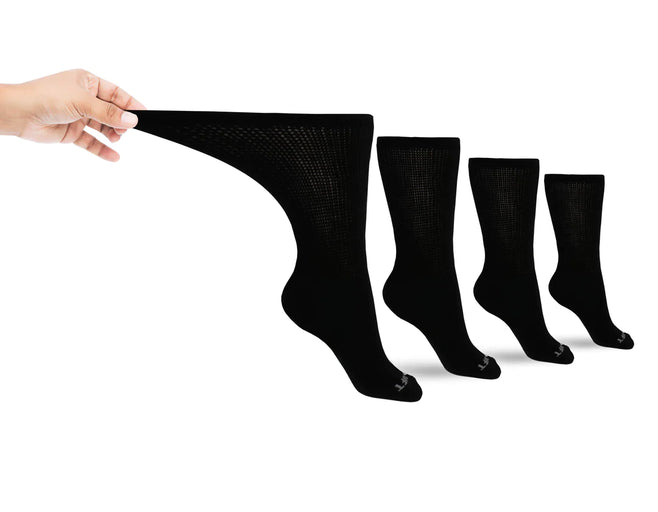 If you have diabetes, you have a lot to take care of, including monitoring your blood sugar, preparing healthy meals, planning time for exercise, taking medications, and attending doctor's appointments. Your feet could be the last thing on your mind after all that. But one of the best ways to avoid foot issues is routine care.
How can diabetes affect your feet?
In the same way, diabetes can damage the blood vessels in your eyes, scalp, and stomach and seriously harm your fingers, toes, and entire foot. Diabetes patients should expect occasional high blood sugar levels, but persistently elevated blood sugar levels will permanently damage your body's blood vessels and nerves.
According to the Centers for Disease Control and Prevention, about half of all people with diabetes have nerve damage of some form. Any region of your body might suffer from nerve damage, but the feet and legs are the most frequently impacted.
Your ability to feel your toes and the rest of your foot decreases as the blood vessels and nerves in your feet become more severely damaged. With that, it's possible to get hurt without feeling it, which could cause an infection. A further threat is posed, and the more likely it is that you will need to have your entire leg amputated to preserve your life.
There is, of course, always a method to prevent these occurrences, so it's essential to practice proper foot care, such as choosing appropriate socks, which is crucial in preventing possible injuries and complications.
Why should people with diabetes not wear black socks?
It might be simple for even the slightest cuts or blisters to go unnoticed until they have grown infected if you have neuropathy in your toes and feet. There are two popular theories about why people with diabetes shouldn't wear black socks.
First, earlier methods for dyeing socks used harsh chemicals and dyes to produce the color that would last the longest. Wearers ran the risk of these harmful chemicals. In some instances, the colors would leak out of the fabric and irritate the open wounds severely.
Second, darkening their socks where sores open is frequently how persons with diabetes realize they have poor circulation. Dark socks make it harder to detect foot ulcers right away.
While this may sound obvious, wearing white or light-colored socks may be the only thing that alerts you to a foot issue in time to avoid potentially dangerous complications.
However, this unwritten rule that people with diabetes shouldn't wear dark socks is no longer relevant nowadays, as the method for coloring socks has changed significantly over the past few decades, causing little to no irritation. Wearing light-colored socks is a good idea to see blood or discharge from cuts on your feet, but this benefit is nowhere close to the benefits of wearing diabetic socks. 
Wearing them every day is far more critical than color or design. This is if you constantly take good care of your feet. Wearing black socks makes you more likely to check your feet thoroughly each night. Additionally, it makes you much more accountable for daily foot cleaning and inspection.
What is considered the best diabetic socks?
Choosing the best socks is not based on color; diabetic socks should at least contain the following features:
A cotton or wool blend is the best fabric to allow the feet to breathe and prevent sweat buildup. While many doctors advise wearing cotton or cotton/wool blend socks, some contend that acrylic socks are preferable due to their ability to wick moisture away from the feet. A typical issue that encourages germs to enter sores and spread infection is constant wetness on the feet.

The

tops should be loose

. Additionally, people with diabetes require socks that do not bind the feet to be cozier. Blood can flow freely thanks to this. Good-fitting socks should not be too tight at the cuff.

Flat seams

on the inside toe area are essential to prevent chafing, blisters, and irritation.

Vertical pressure on the feet is reduced, and cushioned soles offer further comfort. This may lessen the chance of developing ulcers.
Along with this selection criteria, there are additional advantages of diabetic socks to consider than only their color.
How do diabetic socks help?
Keep your feet dry to prevent fungal and bacterial infections.
Diabetes patients should avoid wet environments since those factors encourage the growth of bacteria. Maintain the dryness of your feet and the capacity of your feet to heal minor wounds or blisters with the aid of diabetic socks' moisture-wicking qualities.  
Relieve the burden associated with neuropathic swelling and pain
It is more important to ensure those affected areas get enough blood the more severe your neuropathy is. To keep blood vessels and nerves healthy, fresh blood is what provides oxygen to them. They enhance blood flow to promote healing and warmth to lessen your neuropathy pain. Keeping your feet warm may be more difficult if your blood flow is impaired. You may avoid that relaxing experience of freezing toes in the winter by wearing socks that are made to enhance circulation and prevent restriction.
Extra padding seamlessly helps avoid cuts and blisters.
The seam's material is wrinkle-free and helps to limit rubbing and irritation. Most diabetic socks also have additional cushioning in critical places where blisters frequently develop, such as on your heels and the balls of each foot, to prevent painful rubbing on the tips of your toes.
While there may be disagreements on the best color, people with diabetes can safely wear black socks. More important is to wear diabetic socks regularly to get the benefits. Color is just part of someone's preference that doesn't necessarily contribute to its advantages. Diabetic socks provide the most satisfactory foot protection and blood flow stimulation for people with diabetes. So, choose the color you want to wear and purchase some high-quality diabetic socks!
Visit
https://diabeticsockclub.com/products/mens-ultra-soft-upper-calf-diabetic-socks-4-pair
to see our selection of the best black diabetic socks. These socks feature high-quality soft material and non-binding tops that are ideal for people with circulation problems, neuropathy, swollen and sensitive feet, and excessive profusion.