Why Diabetics Should Wear White Socks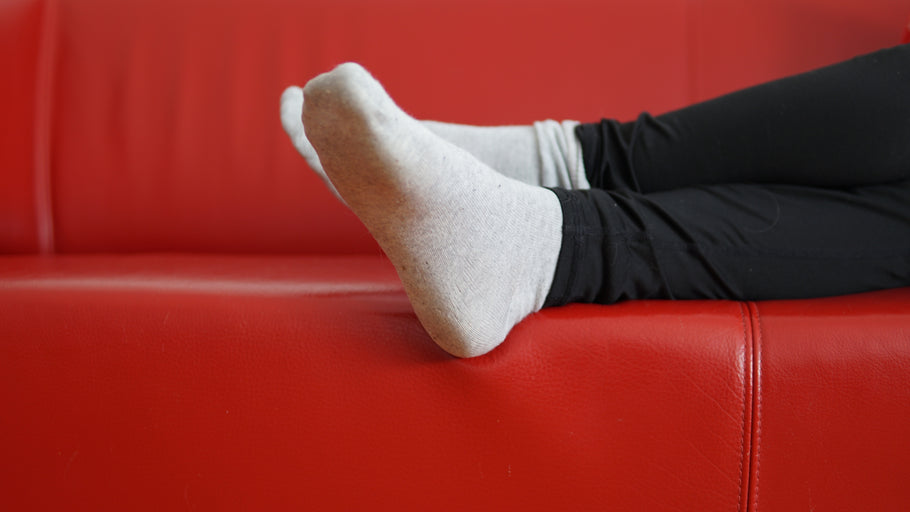 Diabetics often suffer from a variety of foot related issues. Many of these issues are often easily missed, which can lead to further complications. Diabetic foot care should be taken seriously. Wearing white socks is a great preventative step that you can take for the health of your feet.
Diabetics often have reduced sensitivity in their feet. Because of this, it's harder than the average person for a diabetic to notice when things go wrong with their feet. This includes serious issues such as cuts, bruises, or scrapes that could lead to serious further injury or infection if left unattended.
Serious Diabetic Foot Issues
Diabetes can lead to serious issues in your feet. This is because low blood sugar levels over time can lead to nerve damage in the feet. Other issues than can arise in the feet due to diabetes include reduced sensitivity, tingles or sharp pain, and coldness in the feet.
Diabetics are at a higher risk of infection due to the loss of sensitivity in your feet. If you don't know you have a bad cut or ulcer on the bottom of your foot, you won't know to take care of it. Wearing white diabetic socks can help diabetics identify potential infection risks earlier.
Because of the way that low blood sugar affects your nervous system, it's important to wear special diabetic socks to help promote proper blood circulation in your legs. Proper blood circulation is essential for your health. Good blood flow is also important to help heal cuts and scrapes.
Why Diabetics Should Wear White Socks
It boils down to the fact that white socks make it so much easier to take care of your feet. Your feet suddenly start sweating more than usual? You'll notice faster in white socks. Scrape your foot getting out of the bathtub? You'll be able to see the injury much faster in white socks.
Because taking care of your feet is critical for patients with diabetes, it's important to be vigilante. You want to catch any potential injuries or abnormalities as fast as possible. Getting treatment quickly can help prevent diabetes from doing further damage to your feet.
Your doctor tells you to spend most of your time wearing socks for a reason. Protecting your feet is necessary when you have diabetic nerve damage, neuropathy, or any sort of issue with your feet. We spend most of our time on our feet, so it's naturally important to take care of them.
Diabetes can do a number on the way your feet feel. Investing in a quality pair of diabetic socks for everyday use (as well as a quality pair of compression socks to fight edema) is recommended. The support, comfort, and moisture wicking abilities of a quality pair of diabetic socks is exactly what your feet need to be just a little healthier.