Where to purchase diabetic socks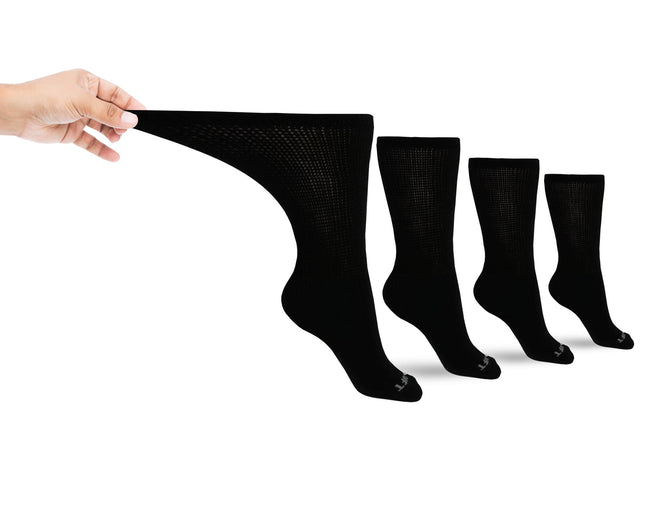 Diabetes is a chronic condition that has become more prevalent in recent years. According to studies, the number of patients worldwide is expected to double by 2025. A significant portion of the world's population has diabetes, a disorder known to elevate blood sugar levels.
Due to the complications brought on by diabetes, the patient loses sensitivity, and at the same time, injuries are also harder to heal. The feet can tell diabetes warning signs, including numbness, redness, swelling, or non-healing wounds. Furthermore, due to unnoticed frequent trauma to the skin surface of the foot during a walk, these individuals with diabetes mellitus and peripheral neuropathy are at significant risk for skin breakdown and consequent lower extremity amputation. 
Diabetes patients must take extra precautions with their feet, using the proper socks. New raw materials with antibacterial activity, regeneration activity, temperature management, and other properties are among the solutions for socks that can help lower the risks of complications caused by the condition, particularly in the leg area. 
Where to purchase diabetic socks
Well-known US online stores like eBay, Amazon, Target, and Walmart sell diabetic socks. However, if you're looking for stores that specialize in selling medical socks, especially diabetic socks, the following websites are ones to check out:
The Diabetic Sock Club has been creating daily-use socks for people with diabetes for ten years. They recognized that individuals with diabetes required more, even in a society where socks were available for "normal" feet. They satisfy the craving for something special they possess.
One of the objectives of the Diabetic Sock Club, which strives to modify how people with diabetes manage their feet fundamentally, is to make foot care easy, affordable, and hassle-free.
For DSC, a significant foot issue might develop at the worst possible time, leaving you constantly concerned about your feet. However, you may begin taking care of your feet from the ground up by ordering a pair of quality, seamless, non-binding, comfortable diabetic cotton socks. These socks will be delivered whenever you need them.
Dave Higgins began this business in 2008 and has now turned it into a "Three-Generation" business with the help of his son Josh and grandson DK. With the help of Dave's unique Compression Zone Technology, the FS6 Performance Foot Sleeve lifted and stretched the plantar fascia to treat the signs and symptoms of Plantar Fasciitis.
In 2018, they released their first pair of socks, the Plantar Fasciitis Sock, and expanded it into a Socks with a Purpose line that focuses on particular ailments. These socks assist consumers in conquering illnesses, including bunions, Achilles tendonitis, circulation issues, and diabetes, among others.
You may be confident that OrthoSleeve products, created in collaboration with podiatrists, athletes, and regular people, are made using quality, ultra-soft nylon treated with silver-ion anti-microbial, anti-odor technology on top-shelf machines.
Dr. Segal's was created in 2012 by a surgeon with more than 25 years of experience treating patients with vein disease as a stylish replacement for plain, clinical-looking products.
Dr. Segal first identified this market gap by consulting patients about their requirements and concerns regarding the styles and compression legwear available. He could not blame them for not putting on the unattractive, white, unpleasant nylons.
Dr. Segal's most current pair of socks with benefits, diabetic socks, were released in 2019. These fashionable diabetic socks mix medical technology with stylish components to create eye-catching colors and patterns that are not only on-trend but also very practical for those with diabetes or other foot sensitivities, 
Southern California-based TeeHeeSocks was established in 2002. The diabetes socks produced by the playful company are the cutest you've ever seen. They come in bright colors and delightful patterns for both adults and children.
Their socks are designed to help with dry skin, leg weariness, edema, and diabetes-related problems. They are made using materials and have comfort features that lessen pressure on the legs and aching feet. These are made with bamboo viscose. Reviewers adore the cheery colors, silky fabric, and non-binding cuff.
Their bamboo socks are excellent for everyone, thanks to the carefully chosen yarns. TeeHeeSocks are a fantastic option for diabetic socks since they have a non-binding top for breathability and a snug fit with enhanced circulation.
Orthofeet, Inc. was established in 1984 by Ron Bar and his brother Michael Bar. When Ron Bar was an adolescent reserve soldier participating in Israel's Yom Kippur War in 1973, a missile damaged his tank and caused him to lose his leg.
Orthofeet was created as a result of this disaster. Ron quickly understood that the traditional method for casting a patient's foot required a lot of time and was incorrect. After getting his degree in biomedical engineering, he developed insoles, foot orthotics, and footwear that would make more sense for his condition and individuals with mobility issues. Ron's brother Michael joined him and added his expertise in mechanical engineering.
In 2000, Orthofeet used its expertise in creating orthotics and foot biomechanics to introduce a line of orthopedic comfort shoes. To give you the best amount of comfort and protection for your feet, they developed several types of socks, such as diabetic socks, fusing the most modern developments in footwear technology with therapeutic detailing.
Medipeds has been re-imagining and constructing the future of responsible garment manufacturing from the very beginning. They set high standards at each process stage, from garbage reduction and reuse to guaranteeing that workers have acceptable workspaces where they can excel.
Their unyielding dedication to moral, social, and environmental excellence guarantees that everything they produce is produced with the utmost respect for the things that matter most—people and the environment.
Peds offers socks designed to provide comfort wherever you go, including the highest-quality diabetic socks constructed with premium fabrics and cutting-edge technologies to reduce your pain and suffering brought on by diabetes.
Since 2015, Debra Weitzner has worked to provide you with high-quality fashion accessories. Their company is committed to giving you a satisfying shopping experience.
Known for giving you the most fantastic shopping experience imaginable, they'll guarantee your order's happiness. For you to receive your things promptly and beautifully, their in-house warehouse crew will pack your order precisely and with the utmost care.
For persons with diabetes, edema, and neuropathy brought on by circulation issues, diabetic socks are strongly advised. The use of diabetic socks is essential for better health and the avoidance of several problems. The Debra Weitzner diabetic socks will improve blood circulation because of their loose fit top and seamless construction, letting your blood flow freely.