What's special about gold toe socks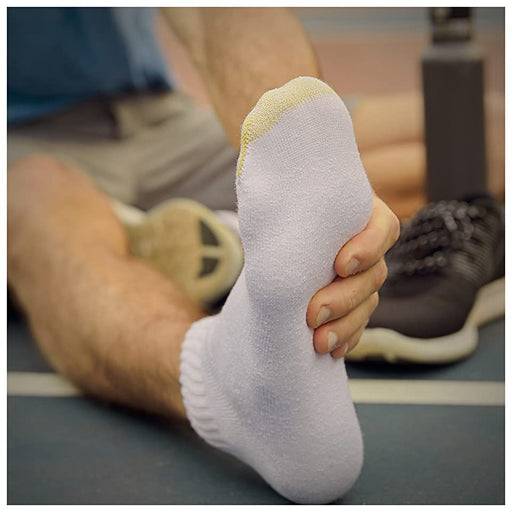 Socks are something you may always have a problem with because of certain foot conditions. You are an athlete or need a good pair of socks for work. There are many different types and brands, and you may not know which one to get. Some socks you tried may have problems when you wear them in the long run, like having holes and your socks wearing out quickly. Your socks must be durable, comfortable, and safe to wear, especially if you need socks that will alleviate your foot condition. 
Let us introduce you to the Gold Toe Socks, these socks were even featured in an article of GQ. GQ has described these socks as "luxurious without being delicate, and just so darn comfortable." They are not just pretty socks, but they are very comfortable and durable. This article will tackle more about gold toe socks and why they are so special.
What's good about gold toe socks?
Gold toe socks are very durable and will outlast anything else out there. They are comfortable, and their thick sides stay up without restricting the feet and preventing proper blood flow. The cotton fabric is also lovely, and it will surely make your feet feel comfortable. The material also keeps your feet warm and dry. The company GOLDTOE® specializes in making socks with golden toes. The developers of the Gold toe socks wrapped a gold-colored thread around the linen to make this unprecedented technology more identifiable, and the GOLDTOE® brand was born. Gold Toe's knit-in gold toe is a registered trademark and signifies Gold Toe quality, comfort, and fit. Gold toe has been giving quality socks since 1934. The company GOLDTOE provides sock wearers with fashionable, comfortable socks with good moisture-wicking properties. 
The expertise to knit high-quality socks with innovative comfort and lasting durability. Gold toe socks are made out of only the finest yarns and are carefully reinforced at the heel and toe for more extended and more comfortable wear. Gold Toe's toe seams are specially flattened for a smooth fit in shoes. Heels are well-rounded for gentle support and a comfortable fit. Each pair of gold-toe socks are made with pride by skilled craftsmen and then carefully inspected to offer the customer the finest possible quality. Gold toe socks have AquaFx, exclusive Aquafresh nylon to create climate control for your feet. The AquaFx line combines cotton comfort with Aquafresh nylon which wicks moisture away from your foot. Sweaty feet and overheating are much less likely to happen while wearing these socks. The gold toe socks ensure maximum comfort and each sock features reinforced construction and the legendary Gold Toe for extra durability.
Gold toe socks also offer mild compression, firm compression, and non-binding socks for men and women. The soft and athletic compression socks can be used for people experiencing certain nerve conditions that need to be treated with compression-like edema or spider veins. Compression socks can also be used for athletes, pregnant women, and people who need to work or stand at their office for long hours. Non-binding socks are helpful for diabetic people; non-binding means no constriction. This can help the blood to properly flow through their legs without hurting them while wearing socks to keep their feet protected. The gold toe also features extended socks for people with more extended feet. These socks are a bit longer and more extensive than their regular socks. These can be used for tall people who have a hard time finding the perfect socks because other brands don't offer extended socks! Their women's socks also have a narrower toe box specifically designed for a women's foot. Both their men's and women's socks have designs that specifically help both genders! It's amazing how many styles and types of socks they have to offer. Gold toe socks have a lot of different styles and types of socks, but all of these socks are also very durable. They are known for their socks' durability, and they always don't let people down.
Different socks for men and women from Gold Toe
Here are the different socks from Gold toe for various occasions that can help protect your feet in different ways. 
For men:
For athletic activities

, they were designed for discerning men who care about how they dress and men's ultra tec quarter socks. These socks are made with soft, comfortable combed cotton and dacron hydrotec fibers for moisture control, keeping your feet cool, dry, and comfortable. These socks also have a comfort cushion bottom and a reinforced toe for extra comfort and protection. These socks are made out of 78% Cotton | 13% Nylon, 8% Polyester, and 1% Spandex of Ornamentation.
When you are wearing your fall boot

, they've upgraded their classic style socks to feature ultra-soft yarns, combed cotton, and a fun nep design to create your go-to socks of the season, men's soft nep rib crew. These socks have the iconic gold toe reinforced Gold Toe, so you know they're built to last, and spandex for a perfect fit. These socks have reprieve yarn that is made out of recycled plastic bottles. These socks are made out of 55% Polyester, 42% Cotton, 2% Nylon and 1% Spandex.
For casual attire

- Rock that no sock look while keeping your shoes fresh and feet protected with these men's oxford invisible. These socks are crafted with AquaFX Moisture Control technology and a non-slip silicone heel grip for abrasion protection and all-day comfort. Silhouette covers the top of your foot. These socks are 87% Polyester, 11% Nylon and 2% Spandex.
For formal attire or dressing up, their

gold toe men's canterbury cotton crew are made of mercerized cotton lisle and stretch nylon for durable wear. Lightweight, crew length. The Kingsize is designed with extra length in the foot and leg. Proportioned to fit the big and tall customer. These socks are made out of 62% Mercerized Cotton, 37% Nylon, and 1% Spandex.
Novelty socks

- Designed with contemporary styling and superb quality for discerning men who care about how they dress. The men's tortoise dress sock makes your feet feel fresh 24/7 and has odor control. It also has a long-lasting reinforced heel and Gold Toe. These socks are made out of 40% Rayon, 30% Acrylic, 26% Nylon, 3% Spandex, and 1% Polyester.
Wellness socks (compression and non-binding socks) - The men's firm compression over the calf are made of nylon and lycra. Graduated ribbing helps maintain circulation and helps prevent varicose veins. Has a reinforced and non-restrictive heel and toe. These socks are 90% Nylon and 10% Lycra Spandex. The men's non-binding rayon crew socks have a hand-linked toe seam to give more comfortability to the wearer and a reinforced toe to lessen discomfort and contact to the skin that can cause blisters. It also has a fresh care moisture control that will keep your feet dry and fresh 24/7. Both of these socks have the iconic gold toe, which is why you don't need to worry if it'll wear out easily; these socks are surely durable and made to last longer than ordinary socks. 
For women
For athletic activities

- The women's ultra tec quarter socks are perfect for athletic or active women. The Wicking fabric pulls moisture away from the skin and features a ideal treatment for multiple wearings on longer trips. Built-in sun protection keeps you from feeling the burn. It also has a full cushion foot for added comfort. These socks are made out of 77% Cotton, 15% Stretch Nylon, 7% Polyester, and 1% Spandex.
Boot and knee-high socks

- The gold-toe women's boyfriend slouch socks are soft and cozy for those cooler days. These socks are knit with their softest marled yarns to provide a relaxed, comfortable fit. These socks can be worn straight or slouched, making them ideal for any boot length! They are made out of 70% Cotton, 20% Acrylic, 8% Nylon and 2% Spandex.
The women's ultra-soft liners is made with the softest yarn blend and spandex for casual attire. Ultra Soft Liners are a fan favorite because of their super soft and stretchy construction. Featuring a deep Y-Heel for stay-put comfort, they're also thin enough to be worn with your favorite sneakers or fall boots. This sock's liner silhouette hits below the ankle and is spandex for the perfect fit! These socks are 88% Polyester, 10% Nylon and 2% Spandex. If you are a woman who likes wearing doll shoes or flat shoes, the women's ballerina invisible socks are perfect for you! These socks are perfect for those tiny flats and have a non-slip gel heel. These socks are 62% Polyester, 35% Cotton, and 3% Spandex.
For formal attire or dressing up, the

women's lace padded invisible socks are perfect for formal attire! Its design will surely make you adore it more! It has a padded comfort zone for extra comfort, and it's a protection for your feet and shoes but with an invisible fit. If you want a more simple design, check out their women's nylon padded invisible socks. 
Fashion socks

- Add a pop of color to your wardrobe with these women's Americana tie-dye liner socks! Knit with their softest yarn blend and spandex. THANKS TO THEIR SUPER SOFT AND STRETCHY CONSTRUCTION, these GOLDTOE Americana Tie Dye Liners are a fan favorite,. Knit with our softest yarn blend and spandex. THANKS TO THEIR SUPER SOFT AND STRETCHY CONSTRUCTION, these GOLDTOE Americana Tie Dye Liners are a fan favorite,. These socks are made out of 75% Rayon, 19% Nylon, 4% Polyester, and 2% Spandex. 
Wellness socks

(compression and non-binding socks) - Goldtone women's micro flat compression knee-high socks are designed to gently compress your legs to help recharge your muscles and promote circulation for an all-day refreshed feeling. Featuring graduated compression, spandex for a perfect fit, and a beautiful tapestry design, they're great for women on the go or simply relaxing. Their compression socks also come with different levels of compression and cute designs! Women's nonbinding ribbed short crew socks are carefully constructed for their diabetes-friendly socks to deliver lasting comfort and wellness for your feet and legs. With Non-binding comfort top and reinforced heel and toe. Aquafx moisture control that keeps you cool, dry, and comfortable. 
They have different lengths of socks, also invisible socks, which are socks that can't be seen when you wear your shoe. Ankle socks, quarter socks, crew socks, and over-the-calf socks. You don't need to worry if you are a tall person because Gold toe offers an extended sock meant for tall and big wearers. They also have knee-high socks for women that want to pair their comfortable socks with their boots.
GOLDTOE also offers socks for kids of both genders. Want a durable, soft, and comfortable sock for your kid? Try checking out gold toe's website. They have socks for athletic kids and even just for casual/dress attire. They are great for kids because whatever movements the kid does or energetic the kid gets during an activity, Gold toe socks will surely provide comfort and durability. Their socks for kids also come with great designs and fun colors that your children will love. 
GOLDTOE also offers environmentally friendly socks made out of recycled materials with good quality. GOLDTOE proved how durable their socks are. The golden toes represent the durability and long-lasting use of the socks. You can buy their socks at Amazon when you check their socks on their website. The particular socks you choose will lead you to the Amazon website, where you can buy the socks. GOLDTOE has been giving wearers the best quality socks for 80 years. You can also check Emily Benzing's review about the gold toe socks and how great they are. She and her boyfriend loved the socks very much and had fun wearing them.
Diabetic patients have more foot difficulties than those who do not have the illness. The feet of a diabetic patient is more fragile. Diabetic patients should have their feet evaluated regularly since damaged blood vessels in their legs and feet can disrupt blood circulation, create edema, and increase infection risk, among other diabetes consequences.

Compression stockings from Diabetic Sock Club are ultra-soft and comfy, with moisture-wicking characteristics that prevent blisters. Because they are gentle, they will not bother your skin. Blisters and odors can be avoided by wearing compression socks that only go up to your calf. These compression socks are ultra-soft and comfortable, with moisture-wicking properties, and are created in the United States from premium-grade textiles.