The top best soft top diabetic socks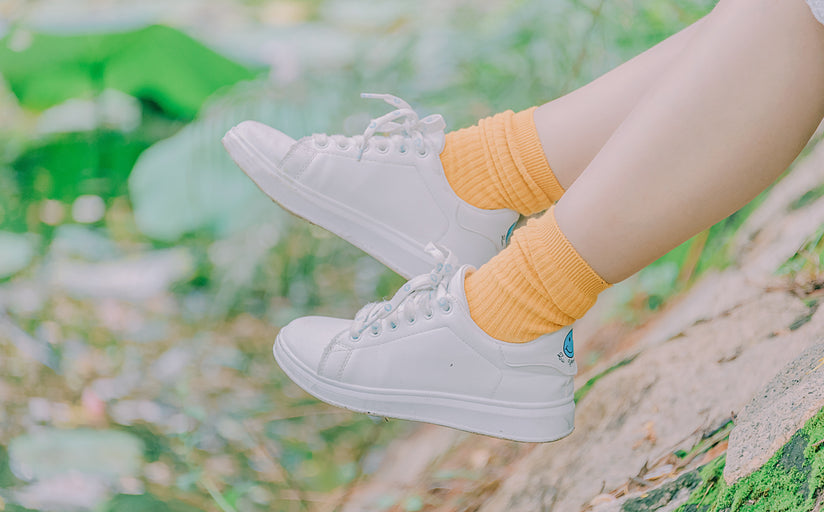 If you have diabetes, you are undoubtedly aware of how important it is to check the sugar levels in your blood. But are you aware that you should also look out for your feet?
Our feet are complex and functional, making up a twentieth of the body's muscles, more than a fifth of the joints, and a quarter of the bones. The feet are considered to be the foundation of the body. Each little articulation plays a crucial part in building a solid foundation that makes it easier to meet many of the recurrent physical demands of daily living. Our feet are required for walking, running, jumping, driving, and dancing. It's common knowledge that our feet endure significant stress as we move through life on them.
Your feet and diabetes 
Since diabetes can cause raised blood glucose, diabetes can have a significant impact on foot health. Blood sugar levels that are too high can impair foot circulation and harm the feeling. The feet may receive less blood as a result of this. Diabetes can damage the feet's nerves as well. This is called diabetic neuropathy leading to loss of feeling in the feet. Minor injuries can go unnoticed by people with diabetes simply because there is no sensation in the feet. 
Diabetic neuropathy could be highly problematic since there are no telltale signs of harm to the foot. As a result, minor injuries often turn into serious foot infections. People suffering from diabetic neuropathy to the point where they don't have any feeling in their feet won't feel a sharp rock inside their shoe, for example. Diabetic neuropathy is a severe condition that, in extreme cases, can lead to amputation. People who suffer from this should consult their podiatrist. 
Diabetic socks and who can wear them
People with diabetes often wear diabetic socks designed to aid with the complications that diabetes might cause for their feet. Patients who have diabetes are often the ones who use this type of sock the most frequently.
But even people who don't currently have any foot issues (or at least none that they are aware of) can wear diabetic socks. The majority of socks merely hurt feet. Everyone should wear diabetic socks since they are helpful for their feet. Do your feet snooze frequently? Do your feet have a hard time recovering? Do your feet often sweat, leaving you with wet feet and an unflattering foot odor? You wouldn't believe it, but diabetic socks can help with these issues. In addition to making you happier and more active, they maintain your feet healthy. Treat your feet well with diabetic socks because they endure daily.
Best soft top diabetic socks
Diabetic Sock Club Ultra-Soft Upper Calf Diabetic Socks
These socks' softness, coziness, and extreme stretch have been widely praised. Diabetic Sock Club Ultra-Soft Upper Calf Diabetic Socks' seamless and non-constrictive design of diabetic socks prevents them from leaving imprints on your calves after use. Its anti-microbial qualities also aid in preventing foot infections and reducing odor.
The moisture-wicking qualities of these socks, which guarantee comfort and breathability, increase their popularity. They unquestionably ease pain and suffering in the feet. Imagine the practicality of these socks, which offer protection and blister-free comfort thanks to their soft fabric. Try it to see why it's one of the best diabetic sock solutions on the market!
Doc Ortho Ultra Soft Diabetic Socks
The luxuriously soft Doc Ortho UltraSoft Crew Length Diabetic Socks have been developed to be non-binding and loose fitting to avoid constricting the legs and feet. In order to prevent the restriction of circulation, special care and gentle compression are taken during the manufacturing process.
The composition of these socks, which is 95% acrylic and 5% Spandex, contributes to their lightweight and breathable composition. The Doc Ortho Diabetic Socks are intended to help regulate moisture, lowering the risk of infection. Thus, the Doc Ortho Diabetic Socks claimed these would undoubtedly be the best diabetic socks you have ever had.
Debra Weitzner Diabetic Socks
You shouldn't have to wear dowdy crew socks made for medical use just because you need to wear diabetic socks. These stylish, comfortable, and high-quality diabetic socks are available. Men's and women's Debra Weitzner Diabetic Socks are soft, well-fitting, and made with moisture-wicking polyester, soothing aloe, and anti-microbial protection to prevent itching and irritation over time. The socks won't sag even though the top has a loose fit. It is comfortable to wear all day long because of the incredibly soft and breathable material. Your comfort is our top priority!
These are made to perform at their best. Doctors have approved and highly recommend these excellent diabetic ankle socks for persons with diabetes, edema, and neuropathy brought on by circulatory issues. Your blood will be able to flow freely thanks to its loose fit and non-binding top, which will improve blood circulation.
Yomandamor Cotton Crew Diabetic/Dress Socks 
For the best fit, two soft materials, Yomandamor Cotton Crew Diabetic/Dress Socks, are created with combed cotton (80%) and 20% elastane. These socks breathe well and effectively drain sweat thanks to the micromesh weave. Its loose, non-binding fit won't impede blood flow.
Its seamless toe eliminates bulky toe seams and lowers the risk of infection, foot pressure, and blistering, so you don't have to worry about damage or injury. They also feature strengthened heels and toes and additional cushioning throughout the sole for enhanced comfort and protection. Even though these socks are non-binding and loose fitting, blood flow won't be restricted; they won't slip off and will stay in place during the day's activities!
Dr. Scholl's Diabetes & Circulator Socks
These ultra-soft Diabetic and Circulatory Health Socks from Dr. Scholl's are specially designed for people with diabetes or circulatory issues. The white crew socks have a smooth toe seam, a cushioned sole for enhanced comfort, and an anti-microbial, moisture-wicking construction to keep your feet dry and odor-free. These features help to minimize irritation on your sensitive or inflamed skin.
The non-binding top promotes blood flow, and the delicate fit is ideal for people who cannot wear socks that are too tight. You'll appreciate how simple it is to put them on and how comfy they are while you go about your day. Most of these qualities are due to its incredibly delicate, soft nature!
IOMI Footnurse Diabetic Socks 
The variety offered by IOMI Footnurse Diabetic Socks includes several specialty health and well-being socks made to help your feet. An important consideration while wearing socks to help with diabetes is that these socks have an extra wide, non-binding honeycomb top that delicately molds to the natural contours of your leg.
One of the comfiest, softest diabetic socks, they offer comfortable natural support to keep your feet dry and fresh all day. They have smooth toe seams and cushion your foot. The symptoms of edema, lymphoedema, fluid retention, and other illnesses linked to swollen feet and ankles, in addition to diabetes, can be managed with these socks.
Cottonique Diabetic Socks 
Cottonique Diabetic Socks are perfect for people with diabetes since their non-elastic loose top part minimizes pressure points and muscle stiffness in your legs while enhancing blood circulation. Who said soft-top socks couldn't be fashionable? - Pick from various styles, including patterns like floral print, flowers, hearts, stripes, and more!
Taking off these socks won't leave any marks on your leg from being overly tight. They are constructed of GOTS-certified organic cotton that is 100% chemical-free, ideally fitted, and offers enough covering and protection for those who have skin allergies and sensitivities. These lovely, organic cotton socks will pamper your feet and help you to practice good foot hygiene.
SoftPath Diabetic Sock
These socks are one of the highest quality socks available in the market. These have been specially created to satisfy their customers' comfort and protection needs. The American-made SoftPath Socks use non-binding stitching to encourage blood flow to your feet, and their padded soles give a layer of comfort and protection with each stride. 
They are made with 80% Acrylic, 10% Elastic, 5% Lycra, and 5% Nylon for 100% comfort, making them soft, light, and comfy. These socks don't dig into your leg, stay up on your calf, and won't stop your circulation. Since they are made simple to put on and take off, they won't be constrictive when they're in place. To effectively manage diabetes, taking care of your feet is essential. SoftPath Socks can assist!
Mega Jumble Diabetic Sock
These socks also include a honeycomb top that softly conforms to the natural shape of your leg, so they won't leave any constricting rings behind and will keep your feet comfortable all day long. Because it is non-elastic, restriction and pressure hotspots are avoided due to using this material. Cotton and other natural fibers used in the construction of the fabric provide natural softness and drain away moisture, ensuring that your feet will feel clean and dry for the day.
The top of these socks has a textured surface that provides a light grip, which may be helpful in the treatment of diabetic neuropathy and varicose veins.
Pembrook Diabetic Ankle Socks 
Because Pembrook diabetic socks for men and women are easy to maintain, you can be sure that they will endure the wear and tear of daily life. These lightweight, non-binding socks have a loose top around the ankles to help with poor blood circulation, yet they remain up and don't bunch up around your shoes or slip down around your heel. Both women and men may quickly put these diabetic socks on over swollen feet and feel smooth and comfortable against the skin. The innovative yarn combination from Pembrook resists odors, so you always smell as wonderful as you appear.
They offer a soft, breathable mesh top to keep your feet dry and comfy while reducing ankle and foot edema. Due to this, they make excellent neuropathy and edema socks and diabetic socks for both sexes. Customers wearing Pembrook diabetic socks can ensure they will have the best performance and durability possible.
Falari diabetic and circulatory socks
Since they are constructed of 90% Cotton, 7% Polyester, and 3% Elastane, these socks guarantee softness while serving their protective purpose. Falari Diabetic Socks are made with a non-binding top and a loose fit to prevent blood flow restriction on your foot.
Additionally, these socks offer the right cushioning to protect against injuries while maintaining comfort. They are advised for those with neuropathy, diabetes, edema, and circulatory issues. Its mesh fabric helps to minimize odors. These socks are one of your alternatives for soft, high-quality diabetic socks.
How to Care for your Socks
Even with good diabetic socks, you will eventually need to replace them. However, properly caring for them will help extend their useful life. Here are some general tips to get the most from your socks:
Flip socks inside out before washing

Wash socks in cold water

Use a mild detergent to avoid damaging the sock fibers

Low tumble dry or hang dry is the best way to preserve the stretch of the socks

Trim your toenails to prevent putting holes in socks

Avoid using bleach on white socks and wash darker socks with like colors

Do not use an iron or excess heat; other, the socks may become damaged
A diabetic foot can lead to health complications. Fortunately, diabetic socks can help by offering support, preventing irritation, and increasing blood flow to the legs. Some different colors and styles are suitable for anyone. The unique materials used keep your feet dry. Just be sure to take care of the socks and wear them daily.
Socks intended for people with diabetes are constructed to protect the feet and lessen the likelihood of foot complications such as blisters, ulcers, and infections. They include a design that is seamless and extra padding, in addition to features that wick away sweat.
Remember, choosing what's ideal for you comes with a prescription for getting the most out of your socks. If you have diabetes, you should try using diabetic socks, managing your blood sugar, and leading a healthy lifestyle to see what happens!