The Best Sports Socks For Diabetics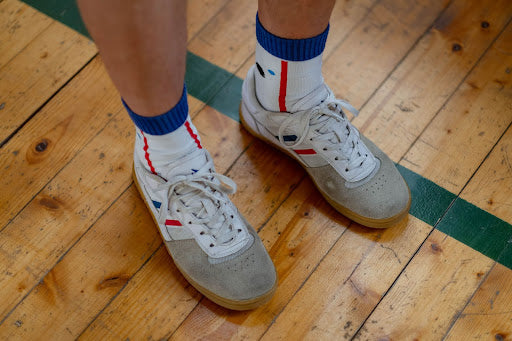 Socks may seem just an article of everyday clothing that can be worn for any occasion, even when we play sports. When it comes to sports, however, they sometimes receive the lowest attention compared to trainers, shoes, sports clothing, or other sports accessories. But this is false! They go beyond your other fancy-looking athletic gear. Regardless of the sport you play, socks play an essential role in your performance through exercises or training sessions. You're significantly harming your routine if you don't consider using and choosing the right sports socks.
A select few sports, like swimming, do not count the use of socks as part of their game attire. Meanwhile, sports like basketball, football, running, hiking, soccer, trail running, and cricket include these as part of their athletes' uniforms. Most dancing and cheerleading squads have adopted socks as a part of their outfit.
Sports socks as an integral component of your sportswear
When playing sports, wearing regular socks may not be sufficient. The given nature and demand of the sport call for more robust foot protection—thus, sports socks were made. 
Sports socks give you the stability and protection you need to perform at your peak level while lowering the risk of injury. Without them, everything would be off balance, from agility and flexibility to accuracy and comfort.
The benefits of sports socks you must know.
Even if you might believe they are "just" socks, let us assure you that wearing a decent pair of sports socks has several advantages. Socks offer benefits beyond just completing a look. Some explanations for why socks are crucial to athletes are listed below.
Sports socks provide extra padding and add comfort to your feet to protect them from pressure and impact

.
An athlete's feet may suffer from commonplace factors like pressure and impact. Your feet will be better equipped to survive those conditions if you wear some warm, fuzzy socks. Socks aid in shock absorption for dancers and cheerleaders who tumble and jump. Sports such as soccer have a significant effect on the players' feet. The longer the period a player plays, the more it is needed to wear sports socks to protect the feet. Sports socks with extra padding that provides comfort also increase your endurance throughout the exercise.
They protect your feet from chafing, blisters, and calluses. 
Without socks, your feet may slide about in your shoes while jogging, leading to blisters. They may cause a great deal of discomfort and anguish. Put on some cozy socks that prevent your feet from moving. The ideal choice if you want to lessen friction is worn-in sports socks. Socks ensure a tight fit in your shoes and help prevent fungus infections.
Sport socks keep you grounded and stable

.
Wearing sports socks provides stability that helps enhance athletic performance. Furthermore, it should go without saying that having a solid foundation equates to safety, which is of the utmost importance.
These socks increase muscle endurance

.
The right pair of compression socks will enhance your muscle stamina. You can endure long workouts wearing them. It wards off tiredness and promotes comfort. They assist you in managing muscle discomfort that comes on gradually.
Sport socks facilitate quick muscle waste clearance

.
Compression socks aid in the removal of waste from tired muscles. The blood flow to the area is hampered when lactic acid accumulates. The correct socks promote circulation, eliminate lactic acid, and lessen discomfort. They might aid you in raising your field performance.
They prevent venous blood from pooling.
If you sit for extended periods, blood may pool in the veins of your feet or legs. Fatigue, swelling legs, or a venous clot are the consequences. Wearing the appropriate socks will lower your chance of venous blood clots. They encourage your heart to get blood again.
Sport socks speed up muscle recovery

.
An injury might occur at any time if you enjoy sports. The appropriate compression socks might speed up your recovery. Wearing one might help you lessen muscle soreness and damage. They encourage your muscles to recuperate quickly. You can diminish post-exercise discomfort by wearing them during endurance runs and sprinting.
They work well for travel

.
When we travel, we pack most essentials like tops, pants, and a good pair of socks. You may have to sit still for an extended period causing a blood clot to form. Choose those with stretchy materials and a tight fit to aid you with your blood circulation.
Sport socks make warmer feet

.
Socks' most evident advantage is their ability to keep their feet warm. Cold feet are a result of poor blood circulation. This is a typical issue for athletes, particularly when they have injuries that prevent them from getting enough oxygen. Your blood will return to the heart for oxygen if you wear the proper socks.
Sport socks prevent foot odor

.
The right pair of socks will guard your feet from unpleasant odor. Bacteria cause foot odor in a moist environment such as your feet or shoes. Athletes can avoid foul odors by wearing fresh socks every day. The socks of athletes who sweat a lot should be changed frequently. There are available padded socks that provide you with extra material to absorb moisture. Although nylon may be comfortable, it is not absorbent. Cotton and wool are still the best materials for socks. 
Features to look for in sports socks
The qualities you need will depend on the season and the activity you're engaging in. When playing football in the dog days of summer, you should search for socks that can handle a combination of wear and tear while also absorbing sweat and drying quickly. Thick, wool-based material will keep your feet warm and dry if you're snowshoeing in icy conditions.
When looking for sports socks, have the following in mind:
Support and cushioning: Check for padding on the sock's front and heel. This might soften, absorb impact, and shield your feet from blisters. Make sure your shoes aren't too tight because padding takes up more room.
Compression: Compression gear gently presses your skin to promote circulation, enhance blood flow, and provide more oxygen to your muscles. Compression socks are commonly preferred by athletes who train and frequently compete to speed recuperation. Compression gear is often used by athletes who feel it improves performance, enhances blood flow and oxygen supply, lessens shock and stress on the muscles, and minimizes soft tissue injuries like shin splints.
Moisture wicking: Materials such as wool, acrylic, and polyester blends will aid in keeping your feet dry. Socks made of sweat-wicking material offer excellent breathability and comfort to enable you to endure intensive activity for longer.
Odor control: Socks with moisture-wicking properties that keep your feet dry are related to how socks control the odor. Odor-producing bacteria won't have as much chance to grow if the fabric can dry fast.
Temperature: You should generally wear warm, dry socks if you plan to engage in winter activities.
Durability: As sports need a lot of movement, it's important that your sports socks be strong enough to handle repeated, demanding motion.
Slippage and bunching: This may be caused by improper sizing, so check that the fabric is sufficiently snug in the right places, such as the toe area, to assist in keeping the sock in place.
Choosing the ideal fit
Socks are built to accompany these athletic activities, like certain types of shoes developed for walking, running, and hiking. Wearing improper socks can result in blisters or the dreaded athlete's foot, which is brought on by excessive perspiration and nail or foot fungus. The proper socks offer additional support outside the shoes and can prevent injuries. Depending on the kind of exercise and its level of intensity, you should shop for the best sports socks. You should become familiar with the various sock lengths and cuts before choosing.
Low-cut socks, no-show socks, ankle socks: These are short socks that fall at, just above, or below the ankle. Precisely as it is named, no-show socks are sometimes invisible within the shoe. Runners and athletes who play sports with less fabric are advantageous to wear lower socks.
Crew socks: Crew socks are medium-sized socks that typically reach a few inches below the calf and extend a few inches past the ankle. There are also shorter variations, frequently known as mini-crew socks. Crew socks are a practical sock size that players may use for various athletic activities in the gym and on the field.
Mid-calf socks: Trouser socks or mid-calf socks are lengthier socks that either sit at the top of the calf or extend halfway up the calf. Any activity where warmth or a little extra coverage is desired frequently involves them.
Over-the-calf socks or knee-high socks: Knee-highs typically end just below the knee. Outdoor activities that involve a lot of exposure to the elements or that call for lower leg protection sometimes involve knee-high socks.
Over-the-knee socks: As these athletic socks are the longest among the lengths and cuts, they provide the maximum length and coverage, reaching up to the thigh. Over-the-knee socks provide additional support for knee pads or other types of protective padding. 
Top long sports socks you can consider
Suppose the nature of your activity necessitates maximum leg protection, covering, and support not only to your feet but also to your knee and thigh. In that case, you may consider wearing over-the-calf socks, knee-high socks, or over-the-knee socks.
Cover Knee High Cotton Multi-Sport Tube Socks
These socks were designed to keep you active. Delivers you a sturdy design made of 82% Cotton, 3% Rubber, 7% Nylon, and 8% Spandex for comfort, stability, and premium athletic sport knee socks ideal for your activities. Sporty people can wear the Couver Knee High Cotton Multi-Sport Tube Socks for any sport you can think of, including baseball, football, softball, basketball, and volleyball. Wear these athletic knee-high socks to show your team spirit, or use them to complete your outfit. When you take the field wearing these sporty knee-high socks, their breathable qualities keep your feet dry so you may play to your highest potential.
Yesbay Football, Hockey, Soccer, Rugby, Long Sports Socks
These socks are ideal for both men and women, and soccer players, in particular, will love them. The premium cotton and spandex used to create the Yesbay Football, Hockey, Soccer, and Rugby Long Sports Socks cushion your feet in the ideal places and offer moisture-wicking properties. As these socks are cozy and breathable, you can stay in the game.
TeeHee Bamboo All Sports Half Cushion Socks with Arch Support
All team sports can benefit from these socks! These socks provide gentle support and a pleasant fit. The cushioned sole and arch support in the TeeHee Bamboo, All Sports Half Cushion Socks with Arch Support aid keeps the sock in place during all activities. Additionally, they are fashioned with premium, moisture-wicking, breathable and durable fabric. TeeHee Bamboo All Sports Half Cushion Socks with Arch Support come in sizes for players of all ages, whether children or adults.
Nike Sportswear Everyday Essential Socks 
These socks are excellent for everyday use and any form of exercise in addition to sports. They are thin, wick away moisture, and provide enough padding to shield the foot. These provide excellent arch support and don't slide down. 60% cotton, 37% polyester, and 3% spandex make up the Nike Sportswear Everyday Essential Socks. These flexible, stretchy shoes with a soft cotton blend structure conform to your foot for a snug fit.
Champro Multi-Sport Athletic Compression Socks
Champro Multi-Sport Athletic Compression Socks are perfect for any sport. These socks have a classic tube design and are made entirely of polyester. The uniform requirements of athletes who play football, baseball, softball, basketball, lacrosse, soccer, and other sports are likewise met by these socks. These socks provide an excellent compression-style fit thanks to their composition of 78% polyester and 22% elastane. Available in a wide range of vibrant hues in addition to the standard colors.
Diabetic Sock Club's Compression Stockings
These compression stockings from the Diabetic Sock Club are ultra-soft and cozy with moisture-wicking properties that will keep you from having blisters. They won't irritate your skin because they are soft. Use compression socks that just go until your calf is good for preventing blisters and bad odor. These compression socks are ultra-soft and comfy, with moisture-wicking characteristics, and are made in the United States from premium grade fabrics.