Should Diabetics Wear Socks to Bed?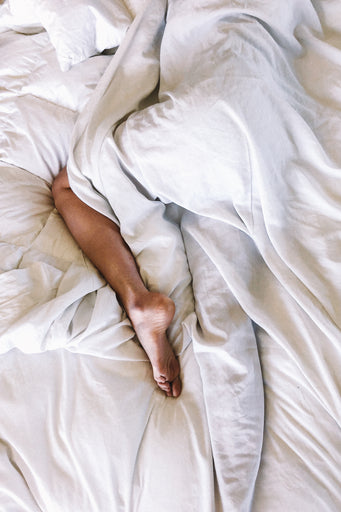 Though it may seem like the smallest matter of personal preference, your choice to wear socks to bed can provide a host of benefits. As a diabetic, you're probably aware of the importance of taking care of your feet thoroughly and regularly. This is a simple step you can take to do so in your sleep!

For one thing, socks help to keep your body temperature stable throughout the night. Keeping your feet warm may help you fall asleep and stay asleep. It is also a sign of proper blood flow to the extremities, which can be tricky to achieve for some diabetics. In addition, those suffering from conditions such as menopause may see a reduction in hot flashes during the night if they wear socks to bed. This is because socks help keep your core temperature consistent throughout the night, eliminating any disruptions caused by vacillating temperatures.

Even if keeping warm isn't an issue for you, wearing socks to bed can play a major role in your foot health. It's important to find a comfortable pair of socks that have the ability to keep your feet cool and clean throughout the night. Sweaty feet are a breeding ground for potential complications such as infections or fungi. A sock made from moisture wicking material is great to wear overnight.

In addition to helping stabilize temperature and keep feet dry, wearing socks to bed can also actually reduce pain caused by other conditions. Those who suffer from some form of diabetic nerve pain or edema may find that wearing socks to bed helps decrease the amount of pain they feel throughout the night. It also protects your feet from any accidental injuries that could occur if you move around a lot as you sleep, or if you have to get up in the middle of the night for any reason.

Compression socks, which are made to reduce leg and foot swelling, cramps, and pain, are not generally recommended for overnight use unless prescribed by your doctor. While they do provide much needed relief from pain and swelling, compression socks are not designed to be worn overnight. Opt instead for a quality pair of diabetic socks with non-binding tops to promote optimal circulation.

Diabetics looking to take extra care of their feet should consider wearing socks to bed. Not only will it further protect their feet and help reduce sensitivity, socks will help regulate your body temperature, allowing for optimal blood flow and helping you to both fall asleep and stay asleep.

Do you wear socks to bed? What positive effects have you noticed? Share in the comments below!