Is coleslaw good for diabetics?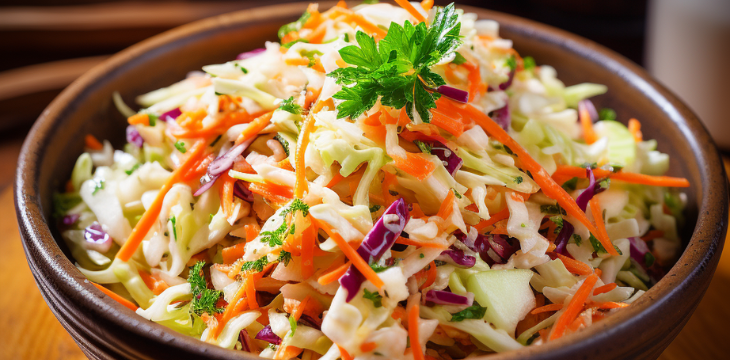 Coleslaw, that classic side dish, is often made with shredded cabbage and carrots, tossed in a creamy mayonnaise-based dressing. But for those living with diabetes, concerns about the dressing's high sugar and fat content can cast a shadow on this culinary favorite. The good news is that coleslaw can actually be a healthy option for folks managing diabetes, provided you make some smart choices. Coleslaw is brimming with fiber, which can help keep blood sugar levels in check. Plus, it's a low-calorie and low-fat choice, ideal for those aiming to shed some pounds or maintain a healthy weight.
Exploring Coleslaw Dressings
When it comes to coleslaw dressings, there's a world of variety out there, each with its own nutritional profile. Some dressings are loaded with sugar and fat, while others are lighter on both.
Let's take a look at the nutritional values of a few popular coleslaw dressings per tablespoon:
| | | | |
| --- | --- | --- | --- |
| Dressing | Calories per tablespoon | Fat per tablespoon | Sugar per tablespoon |
| Mayonnaise-based dressing | 94 | 10 grams | 1 gram |
| Yogurt-based dressing | 30 | 1 gram | 2 grams |
| Vinegar-based dressing | 10 | 0 grams | 1 gram |
As you can see, yogurt-based and vinegar-based dressings are the lighter options, lower in calories, fat, and sugar—making them a better fit for diabetics.
The Benefits of Coleslaw for Diabetics
Coleslaw offers a range of advantages for individuals managing diabetes:
Blood Sugar Regulation: Coleslaw boasts a good amount of fiber, which can slow down the digestion of carbohydrates. This, in turn, helps prevent those troublesome blood sugar spikes after a meal.
Low in Calories and Fat: Coleslaw is a low-calorie, low-fat food, making it a perfect pick for folks with diabetes who are watching their weight.
Rich in Vitamins and Minerals: Coleslaw is a source of essential vitamins and minerals, including vitamin C, vitamin K, and potassium—contributing to overall health and well-being.
Tips for Crafting Diabetes-Friendly Coleslaw
Creating a diabetes-friendly coleslaw is a snap with these pointers:
Choose a Low-Sugar Dressing: Opt for yogurt-based or vinegar-based dressings rather than mayonnaise-based options. Or, if you prefer, whip up your own dressing using yogurt, vinegar, and a dash of spices.
Banish Unhealthy Ingredients: Say no to sugar, honey, or corn syrup in your coleslaw. Likewise, avoid high-fat additions like bacon or cheese.
Add Low-Sugar Vegetables: Enhance your coleslaw's nutrition and filling power by incorporating low-sugar vegetables like carrots, celery, and bell peppers.
Diabetic-Friendly Coleslaw Dressing Recipes
Here are two quick recipes for diabetic-friendly coleslaw dressings:
Yogurt Dressing
Ingredients:
1 cup plain yogurt

2 tablespoons vinegar

1 tablespoon Dijon mustard

Salt and pepper to taste

Instructions:

Combine all ingredients in a bowl and whisk until smooth.

Refrigerate for at least 30 minutes before serving.
Vinegar Dressing
Ingredients:
1/4 cup vinegar

1 tablespoon olive oil

1 teaspoon Dijon mustard

Salt and pepper to taste
Instructions:
Combine all ingredients in a bowl and whisk until smooth.

Refrigerate for at least 30 minutes before serving.
Delicious Coleslaw Variations
Give your coleslaw a twist with these variations:
Crunchy Coleslaw with Carrots and Celery: Add shredded carrots and celery for extra crunch and flavor.
Broccoli Coleslaw: Boost nutrition with shredded broccoli in your coleslaw.
Asian Coleslaw with Ginger and Sesame Oil: Infuse an Asian-inspired taste by adding grated ginger and sesame oil to your dressing.
Mexican Coleslaw with Cilantro and Lime Juice: For a Mexican flair, introduce chopped cilantro and a splash of lime juice to your dressing.
Incorporating Coleslaw into a Healthy Diabetes Meal Plan
To create a balanced and satisfying meal for diabetics:
Pair Coleslaw with Lean Protein and Healthy Fats: Complement your coleslaw with lean protein sources such as grilled chicken, fish, or tofu. Add healthy fats like avocado, nuts, and seeds to make a complete and nutritious meal.
Use Coleslaw as a Side Dish or Main Course: Coleslaw can serve as a delightful side or take the spotlight as the main course. When making it the star, be sure to add extra protein and healthy fats to round out your meal.
Prepare Coleslaw Ahead of Time for Easy Meal Prep: Coleslaw can be prepped in advance and stored in the fridge for up to five days, making it a convenient choice for busy weeknights.
Top Tips for Serving Coleslaw
Here are some handy tips for serving coleslaw:
Chilled or Room Temperature: Coleslaw can be enjoyed either chilled or at room temperature. If you prefer it cold, allow it to come to room temperature for about 30 minutes before serving to maximize the flavors.
Garnish for Flavor and Texture: Elevate your coleslaw by garnishing with fresh herbs like cilantro or parsley, or by adding a sprinkle of almonds or walnuts for extra flavor and texture.
Pair with Complementary Dishes: Combine your coleslaw with other healthy dishes, such as grilled chicken, fish, tofu, and roasted vegetables, for a satisfying and well-rounded meal.
Conclusion
Coleslaw can be a delicious and nutritious choice for individuals living with diabetes, as long as you make a few simple adjustments. Opt for a low-sugar dressing, avoid unhealthy ingredients, and accompany your coleslaw with lean protein and healthy fats. With a little thought and planning, you can easily incorporate coleslaw into a balanced meal plan that supports your diabetes management goals.
Frequently Asked Questions About Coleslaw for Diabetics
Here are some common questions about coleslaw for diabetics:
Q: What are the best vegetables to use in a diabetic-friendly coleslaw?
A: The best vegetables for diabetic-friendly coleslaw are those low in carbohydrates and sugar. Ideal choices include cabbage, carrots, celery, and bell peppers. You can also incorporate other low-sugar vegetables like broccoli, kale, and spinach.
Q: How do I know if a coleslaw dressing is diabetic-friendly?
A: Look for a diabetic-friendly coleslaw dressing that's low in sugar and fat. Avoid dressings with high-sugar ingredients such as mayonnaise, honey, or corn syrup. Alternatively, create your own dressing using yogurt, vinegar, and spices.
Q: How can I ensure that my coleslaw isn't excessively high in carbohydrates?
A: To keep your coleslaw's carbohydrate content in check, avoid high-carb additions like sugar, honey, or corn syrup. You can also adjust the quantity of vegetables in your coleslaw if you're concerned about carbohydrate levels.
Resources for Diabetics
Check out these resources for valuable information on diabetes management:
American Diabetes Association (ADA): Find an abundance of guidance on diabetes management, dietary recommendations, and support. www.diabetes.org 
Centers for Disease Control and Prevention (CDC): The CDC offers important insights into diabetes prevention and management, along with educational materials and guidelines. www.cdc.gov/diabetes 
National Institute of Diabetes and Digestive and Kidney Diseases (NIDDK): Explore comprehensive information on diabetes and related health topics, including resources for a better understanding of the condition. www.niddk.nih.gov/health-information/diabetes 
I hope this article has been helpful in shedding light on the potential of coleslaw in a diabetes-friendly diet. By making simple adjustments and informed choices, coleslaw can be a delicious and nutritious addition to your meals while supporting your diabetes management journey.