Are Grits Good for Diabetics?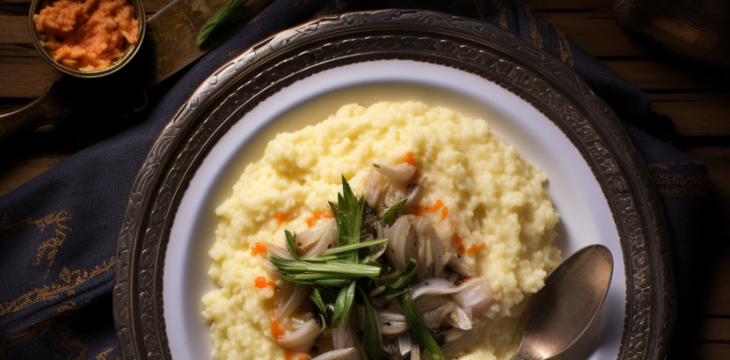 Introduction
Grits, a beloved Southern staple, are made from ground, dried corn. They've found their way onto breakfast and dinner tables across the United States, but for individuals with diabetes, the question arises: are grits a safe and healthy choice? In this article, we will explore the impact of grits on blood sugar levels and provide guidelines on incorporating them into a diabetes-friendly meal plan.
Understanding Grits
Grits are essentially ground corn, processed to varying degrees. Grits can be categorized based on their processing methods, which include milling, grinding, and stone-ground techniques. Whole grain and stone-ground grits are considered more nutritious as they preserve the bran and germ of the corn, which contain essential vitamins, minerals, and fiber. Refined grits, on the other hand, are processed to remove the bran and germ, resulting in a less nutritious product.
Whole grain grits

: These are made from the entire corn kernel, including the bran, germ, and endosperm. This gives them a chewier texture and a more nutty flavor. Whole grain grits are also a good source of fiber, which can help slow digestion and regulate blood sugar levels.
Refined grits

: These grits have been milled to remove the bran and germ, leaving behind only the endosperm. This results in a softer texture and a milder flavor. However, refined grits are also lower in fiber and nutrients than whole-grain grits.
The Role of Carbohydrates in Diabetes
Carbohydrates play a crucial role in diabetes management, as they have the most significant impact on blood sugar levels. Counting carbohydrates and managing their intake is vital for people with diabetes. Grits are primarily a source of carbohydrates and must be carefully considered within the context of a diabetic diet.
The glycemic index (GI) measures how quickly a carbohydrate-containing food raises blood sugar levels. Grits have a moderate GI, typically ranging from 56 to 70, depending on the type and preparation method. This means they can cause a gradual increase in blood sugar levels when consumed.
To mitigate the impact of grits on blood sugar, consider pairing them with protein and fiber-rich foods. For example, adding eggs and vegetables to your grits can help stabilize blood sugar levels by slowing down the absorption of carbohydrates.
The way grits impact blood sugar levels depends on several factors, including:
Type of grits

: As mentioned above, whole grain grits are a healthier choice for individuals with diabetes due to their higher fiber content.

Portion size

: A large serving of grits, even if they are whole grain, can lead to a rapid spike in blood sugar. It is essential for individuals with diabetes to practice portion control when eating grits.

Toppings

: Grits are often served with toppings that can add to their calorie and carbohydrate content, such as butter, cheese, and sugar. 
Individuals with diabetes should avoid these toppings or choose healthier alternatives, such as fresh vegetables and lean protein sources.
Grits in a Diabetic Meal Plan
Grits can be included in a diabetes-friendly meal plan, but they should be part of a balanced diet that aligns with an individual's dietary needs and preferences. Here are some ideas for incorporating grits:
For breakfast, enjoy a serving of whole grain grits with scrambled eggs and sautéed spinach to create a balanced and nutritious meal.
At lunch, prepare a savory bowl of grits with grilled chicken or tofu and a side of roasted vegetables, ensuring a mix of carbohydrates, protein, and fiber.
For dinner, savor grits as a side dish with shrimp and black bean salsa for a well-rounded and satisfying meal.
As a snack, consider grits pudding with berries and nuts, offering a balance of nutrients.
Remember, portion control is essential when incorporating grits into a diabetic meal plan. Monitoring your carbohydrate intake and tracking macronutrients can help you maintain better control over blood sugar levels.
How to Make Grits Healthier for Diabetics
Here are some tips for making grits healthier for people with diabetes:
Choose whole-grain grits over refined grits

. Whole grain grits are a good source of fiber, which can help slow digestion and regulate blood sugar levels.

Practice portion control

. A serving of grits should be about 1/2 cup cooked.

Avoid sugary toppings

. Instead, choose healthier toppings such as fresh vegetables, lean protein sources, and healthy fats.

Pair grits with other nutrient-rich foods

. This can help to balance the carbohydrates in grits and prevent a rapid spike in blood sugar. For example, you could pair grits with eggs and vegetables for breakfast or shrimp and black bean salsa for dinner.
Individual Variations
It's essential to recognize that diabetes management is highly individual. What works for one person may only work for one person. Monitoring blood sugar levels is critical to understanding how grits, or any other food, affect you personally. This data can help you adjust your diet and medication regimen.
Age, activity level, and medication regimen can all influence how grits impact blood sugar levels. Self-monitoring blood sugar levels and recording your body's response to various foods and meals is crucial for tailored diabetes management. For personalized guidance, consider working with a registered dietitian or healthcare provider who can help you create an individualized diabetes management plan.
Consultation with Healthcare Professionals
For individuals with diabetes, it's advisable to consult with a registered dietitian or healthcare provider when making dietary choices. They can provide personalized guidance and help you create a meal plan that aligns with your needs and goals.
Conclusion
In conclusion, the question of whether grits are suitable for diabetics is a nuanced one. Grits can be part of a diabetic diet when approached mindfully. Opting for whole grain grits, practicing portion control, and balancing grits with other nutrients like protein and fiber can help individuals with diabetes enjoy this Southern classic while managing their blood sugar effectively. However, it's essential to remember that what works best for one person may not work for another, and professional guidance is invaluable in managing diabetes through diet. By making informed and individualized food choices, individuals with diabetes can better control their blood sugar and maintain their overall health.