Does the VA (Veteran's Affairs) provide diabetic socks?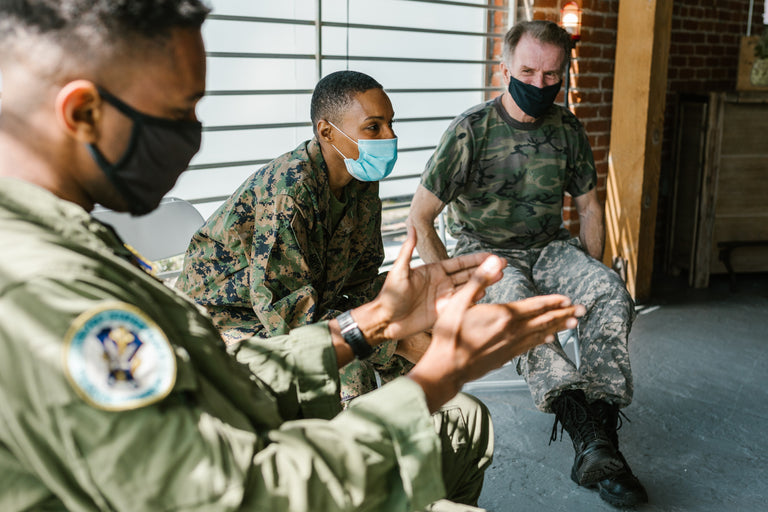 People with diabetes cannot adequately break down the carbohydrates in their diet, increasing blood sugar levels. High blood sugar can cause extensive damage to the body's blood vessels and nerves, resulting in neuropathy and diabetic foot ulcers (DFU), among other consequences.
Multiple chronic problems, including stroke, cardiovascular disease, and amputation-causing disorders, are connected with diabetes. Diabetes raises the risk of dying early, and its complications can harm the quality of life. In addition, the high prevalence of diabetes worldwide has a detrimental economic effect on people, healthcare systems, and countries.
Diabetes among veterans
Diabetes is a prevalent illness among military members and the most significant cause of non-traumatic limb amputations among veterans. Diabetes affects 1 in 4 Veterans, which is more than twice the rate of non-Veterans (1 out of 10 people).
Diabetes is a relatively widespread chronic condition among US adults, and its incidence among US veterans is considerably higher, according to a 2015 study. This high frequency is primarily attributable to the population's high incidence of obesity. Obese people are more susceptible to insulin resistance and beta cell dysfunctions, two leading causes of type 2 diabetes.
In addition, diabetes is mentioned as a "presumptive" diagnosis for in-country Vietnam veterans beginning in 2001. That is, if their foot touched the soil in Vietnam between January 9, 1962, and May 7, 1975. They were later diagnosed with diabetes; it is presumed that Agent Orange played a role, based on the findings of a National Academy of Sciences study that revealed a correlation between diabetes and dioxin exposure that was stronger than anticipated.
Early symptoms of diabetes include fatigue and hunger, frequent urination, increased thirst, visual issues, poor wound healing, weight loss, and yeast infections. In addition, every three to six months, people with diabetes must have their hemoglobin A1c levels tested. A1c measures the average amount of glucose in the blood during the past two to three months. Along with blood pressure and cholesterol control, it is one of the indicators of effective diabetic care.
There are two principal forms of diabetes. Typically, type 1 diabetes is diagnosed in childhood. This form of diabetes results from an autoimmune reaction (the body attacks itself by mistake). This reaction causes the body to produce little or no insulin, necessitating daily insulin injections.
Type 2 diabetes typically affects adults. In this form of diabetes, the pancreas cannot effectively process insulin and maintain normal blood sugar levels. 90 to 95% of persons with diabetes are diagnosed with Type 2 diabetes. More individuals are in danger due to their being overweight or obese. The vast majority of diabetic veterans have type 2 diabetes.  
What is Veteran's Affairs?
Veterans' Affairs (VA) is a field of public policy concerned with government relations with military veteran populations. This organization conducts programs for veterans and their families.
Almost three-quarters of the 25 million living veterans served during a war or an official time of hostility. In addition, approximately 70 million people, or roughly a quarter of the nation's population, are potentially eligible for VA benefits and services as veterans, family members, or survivors of veterans.
Some jurisdictions have a designated government department or agency, such as the Ministry of Veterans Affairs, Department of Veterans Affairs, Department of Veterans Services, or a similar entity that oversees veterans' affairs. These departments serve veterans with a variety of services.
Veterans' medical care, rehabilitation, commemoration, disability payments, and awards are primarily the department's responsibility. The specific services given can vary by jurisdiction but may include the following:
Resolving disputes concerning compensation owed after service

Offers compensation for disability and death

Provides education opportunities and rehabilitative services

Administration of pensions for military veterans

Assistance with housing and home loan guarantees

Assistance obtaining post-service employment

Provision of care for injuries sustained in the line of duty

Arranging for burial in cemeteries designated for veterans

Acquisition of health care, including nursing home, clinic, and medical center services
VA initiatives to Lessen Diabetic Foot Complications
Diabetes affects 25% of US Department of Veterans Affairs (VA) patients. Diabetes is prevalent among US veterans, who account for 9% of the civilian US population.
The VA offers health benefits to 1.45 million diabetic veterans. This number has more than doubled from 2000, demonstrating a dramatic increase over the past decade. This indicates that the VA is responsible for the healthcare of around 6 percent of diabetes patients in the United States, a disproportionate amount. Diabetes affects about 25% of veterans in the VA healthcare system, compared to 8.3% of the general population. The majority of cases are type 2, as previously stated.
While no particular numbers are available, the number of veterans with type 1 is "very low," given that type 1 typically develops at a young age and historically prohibits military participation. The majority of diabetic VA patients are also men. Women comprise approximately 14% of active-duty members but a lesser proportion of the veteran population.
In 2019, the VA cured 75,000 DFUs. Unfortunately, some of these ulcerations resulted in severe infections and tissue death, leaving physicians with no treatment options other than amputation. Diabetes was responsible for more than 80 percent of non-traumatic amputations among veterans.
For the 25% of Veterans with diabetes, diabetic foot ulcers are a significant concern since they can result in other serious health issues or even death.
Veterans covered by VA health care receive frequent examinations with their primary care physician and appointments with specialists (like endocrinologists, nutritionists and dietitians, podiatrists, and mental health providers). In addition, veterans have access to health care services such as home health and senior (elderly) care, as well as medical equipment, prostheses, and medicines.
VA in Helping Veterans Improve Their Health
This Veteran's Affairs has a policy regarding providing therapeutic footwear and in-shoe orthoses based on disease, foot/ankle deformity, and circumstances not covered by illness and deformity.
One of the therapeutic footwear provided by the Veteran's Affairs to qualified Veterans is medically prescribed prosthetic socks. Prosthetic socks are worn over the residual limb as an interface to the prosthesis. These socks are available in various thicknesses and fabrics. They provide cushioning, decrease friction, protect the skin, absorb sweat, and account for the residual limb's daily shrinking and swelling.
Who is eligible for Veterans Prosthetic Socks and Appliances?
To qualify for VA benefits and services, you must meet all of the following criteria:
You are registered with a VA medical center as a patient.

Your discharge status must be other than dishonorable unless a VA Regional Office makes an exception.

You are currently enrolled in VA health care.

You must have a service-related disability, injury, or disease necessitating prosthetic assistance.

Your VA physician has allowed you to receive prosthetic socks.
How to order prosthetic socks from VA?
You can use prosthetic socks using any of the three options listed here. 
Option 1: Order by phone
You can contact their provided number to order. In addition, the department's customer service is available Monday to Friday during office hours. You can communicate with either a representative or an operator.
Option 2: Order online
Online ordering of prosthetic socks requires a Premium DS Logon account logged into eBenefits.
Follow the steps below to place your order after logging into eBenefits.
Click on the eBenefits logo in the upper left corner of the page to go to the site's homepage. This will take you to the website.
Find the Manage Health category. Click on the link labeled Hearing Aid Batteries and Prosthetic Socks. This will take you to a new page.
Find the section titled Select What You Would Like to Order. Click on the item you want. This will take you to a new page.
Fill out the form with the required information. This includes:
Your last name

The last four digits of your Social Security number

Your date of birth
You can also provide your email if you'd like. After submitting the form, you will be redirected to a page where you may get prosthetic socks.
Select the socks you need and submit your order.
Once your order is processed, the department will send a confirmation email to the address they have on file for you. If there are any issues with your order, you'll receive an error message with instructions for how to get help.
Option 3: Order by mail
In this final option, you will order prosthetic socks by completing a Veteran's Request for Prosthetic Socks form.
Typically, the order time will depend on whether or not the desired socks are in stock. You should reorder socks 30 days before you run out. These instructions only relate to prosthetic socks for amputee Veterans.
VA in Aiding Diabetes Management of Veterans
Maximizing diabetes management requires a dedicated healthcare team that provides personalized, proactive, patient-driven healthcare. This empowers, equips, and encourages veterans to assume responsibility for their health and adopt healthy lifestyle habits to reduce the risk of diabetes-related complications.
Does VA cover diabetic socks?
The VA often covers prosthetic socks, but if you need assistance obtaining diabetic compression socks, you can contact your VA health care team.
Diabetic socks are non-restrictive yet close-fitting socks that ease foot and leg discomfort. Due to the risk of harm to the neurological and circulatory systems caused by high blood sugar levels, they are a vital component of foot care and diabetes control. Specially made diabetic socks keep feet dry, reduce the risk of foot damage, and improve blood circulation.
VA's Research for Diabetes Care
Researchers at the VA are investigating innovative tactics and technology, such as group visits, peer counseling, telemedicine, and internet-based education and case management, to improve patient outcomes and increase access to diabetic care.
In addition, VA researchers are attempting to discover improved methods for preventing or treating diabetes, particularly in vulnerable populations such as minorities, the elderly, amputees, spinal cord-injured patients, and those with kidney or heart illness.
Researchers aimed to assess whether strict glucose control in diabetic patients—using medicine and other means to reduce increased blood sugar levels to normal levels in persons without diabetes—would prevent heart attacks, strokes, and cardiovascular disease-related deaths.
Researchers from the VA Diabetes Trial discovered that strict glucose control in older patients (mean age of 60 years, with 52% on insulin therapy) with type 2 diabetes who had previously had their condition poorly controlled did not affect the rates of serious cardiovascular events, such as coronary artery disease. This is when compared to standard glucose control.
Patients who utilized standard glycemic management techniques showed higher albumin levels in their urine than those who did not. (Albumin in the urine is an indication of possible kidney illness.)
Researchers determined that high and extremely low blood sugar levels can be dangerous and that large fluctuations between these ranges can also be harmful.
As a follow-up to VADT, researchers from the Department of Veterans Affairs examined whether the improvements in glucose control made by one of the trial groups led to improved long-term outcomes. They used the VA's electronic records system to gather information on the VADT group for an additional nine years of study.
After nearly ten years of follow-up, the study discovered that patients in the intensive-control group had a decreased incidence of cardiovascular events. Still, their survival rates were comparable to those of the other group.
Researchers found that maintaining optimal glucose management reduced cardiovascular repercussions for diabetic patients after ten years. However, they indicated that for patients to keep this benefit, they must retain healthy blood sugar levels.
In terms of diabetes research, the VA has been at the forefront. Researchers from the Department of Veterans Affairs (VA) across the nation are now looking at novel and cutting-edge approaches to save the lives and limbs of diabetic Veterans.
Diabetes, foot ulcerations, and limb amputations are prevalent health concerns among veterans. This is why Veterans Affairs has spent more than a decade exploring strategies to decrease the burden of diabetes on its veterans and has significantly improved access to preventative care.
Thus, VA provides a comprehensive range of timely and compassionate benefits and services for veterans and their families.