Do Chromium And Vanadium Help Lower Blood Sugar?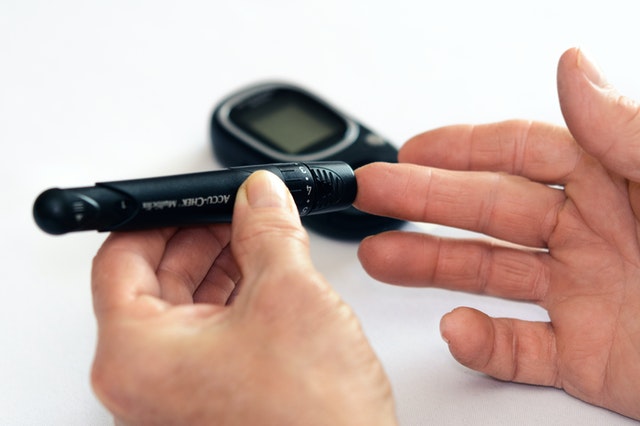 If you're suffering from diabetes, it's important that you're aware of ways to manage your health by using insulin. Many people believe that Chromium and Vanadium can help lower blood sugar levels, so let's see how these substances can help. 
Let's go over the advantages of Chromium and Vanadium, their correct doses, and possible side effects.
What is Chromium?
Chromium helps cells use glucose efficiently, which means that insulin can't work without chromium. Without it, glucose levels can increase. Diabetic patients are likely to face chromium deficiencies. Doctors usually suggest chromium for diabetic patients to lower blood glucose levels, improve glucose tolerance, and decrease insulin resistance. Besides, chromium tends to minimize total cholesterol and triglyceride levels while increasing HDL-cholesterol levels. Food sources containing chromium include meat, fish, and fruit.
Why is Chromium Important?
Studies suggest that chromium is beneficial for people suffering from type 2 diabetes and insulin resistance. However, there is strong evidence that chromium lowers glucose levels and improves insulin sensitivity. 
Chromium supplements can be effective in addressing insufficient cholesterol levels, heart disease risk, psychological disorders, Parkinson's disease, and other medical conditions. Moreover, it is beneficial for building muscle or triggering weight loss. 
Assessing Attention of Chromium in Diabetes
Diabetes or not, the level of chromium in the body is subject to change, so it's never consistent. Therefore, health-focused individuals tend to take it as a supplement for increased vitality and better body functions. Most importantly, chromium forms in the body to increase the effects of insulin and lessen blood glucose levels. 
What is Vanadium?
Vanadium helps the body use carbohydrates by bringing an improvement in how cells work for insulin. Vanadium played a significant role in controlling blood glucose before insulin discovery. Modern studies do not support that vanadium is an essential element in treating diabetes. However, it does affect blood glucose levels positively. Vanadium's food sources incorporate shellfish, mushrooms, dill weed, parsley, unfiltered extra virgin oil, and grain products.
Vanadium incorporates particular elements to minimize blood sugar in patients with type 2 diabetes. Certain diabetes medications work to lower blood sugar. So doctors recommend taking vanadium along with diabetes medication to reduce blood sugar. 
What is Diabetes?
Diabetes is one of the most dominant endocrine disorders. When there is an increase in carbohydrates, proteins, and lipids, it may indicate hyperglycemia, ketonuria, and other metabolic abnormalities.
Besides, diabetic patients face microvascular complications like neuropathy and retinopathy disorders. Diabetes has two different forms due to variations in insulin production. Type 1 diabetes refers to almost no or little insulin production, which destroys the body's immune system. 
What is the Importance of Blood Glucose?
Blood glucose is derived from sugar, and it works as the main source of energy for cells. Every organ in our body needs glucose to function properly. When our blood shows low glucose levels, it indicates a condition known as hypoglycemia. The condition involves symptoms like fatigue, blurred vision, irritation, irregular heartbeats, and diabetes.
Conversely, when blood is higher than the average level, the condition is hyperglycemia. The condition is common in diabetic patients. Elevated blood glucose levels can affect the entire body's functioning. It can induce symptoms like an increase in thirst and increased urination. If blood sugar is excessively high, it causes Ketoacidosis, which can be very harmful.
What Is a Normal Blood Sugar Level?
Blood sugar levels do not remain constant but fluctuate based on the time of day and what you've eaten. In addition, Blood sugar may rise after meals and may fall after some hours as the body processes the sugar. Diabetic patients can suffer from high levels for hours. Insulin, which the pancreas is in charge of producing, keeps the body's blood sugar level stable.
Chromium is a naturally occurring mineral, and many patients with type 1 and type 2 diabetes tend to use it. The minerals are likely to improve how the body metabolizes sugar. Doctors suggest chromium intake along with biotin. Nevertheless, chromium is helpful for both conditions in high and low blood sugar levels.
Chromium and Vanadium in Diabetes Treatment
Chromium and vanadium are effective components of diabetes treatment. Studies suggest that chromium has a beneficial effect on body mass and glucose metabolism. Chromium can also help with weight loss, glycemic control in diabetes, control hypercholesterolemia, and athletic performance. Some shreds of evidence suggest that a Chromium deficiency can develop diabetes. At the same time, Chromium supplements can positively affect insulin sensitivity, blood glucose levels, and glycosylated hemoglobin levels among diabetic patients. Most diabetic patients are likely to suffer from chromium deficiency. So maintaining healthy chromium levels from the get-go can assist in reducing the risk of diabetes, or at the very least, making it manageable. 
One study that analyzed the effects of chromium and vanadium shows that both supplements are promising for type 1 and type 2 diabetes. However, vanadium serves as an insulin-mimetic, and chromium can strengthen insulin sensitivity. Besides, chromium and vanadium compounds are effective at treating symptoms of type 2 diabetes. 
Vanadium has shown promising results for insulin action so far. It has positive effects on glucose tolerance, cholesterol levels, teeth, bones. Vanadium has particular use for treating diabetes as impersonator insulin. While vanadium has other significant benefits, a 100 mg supplement works well to maintain your health. 
Besides, vanadium also comes in the form of vanadyl sulfate. Experts suggest a considerable dose between 23 mg to 100 mg that may be excessively toxic. The element is great to treat particular diseases, including diabetes and others, but bear in mind that you should use it under a doctor's supervision. 
Chromium and Vanadium Dose for Diabetes
Dosage for a vanadium supplement has an essential requirement of about (10 mcg/d). The level of chromium in a supplement offers a safe and adequate intake of about (50 to 200 mcg/d). Chromium may lower fasting blood sugar, insulin levels, and blood fats in people who have type 2 diabetes. The studies suggest that higher doses of chromium are likely to produce more effective results than lower doses. 
Vanadium tends to be safe for adults if they take less than 1.8 mg per day. The higher doses of vanadium may cause frequent side effects, including diarrhea, nausea, abdominal discomfort, and gastric pain. The right amount of chromium to ensure effective results is 100 micrograms per day. However, an excessive dose of chromium can negatively affect insulin sensitivity.
There is evidence for administrations that suggest chromium tends to reverse corticosteroid-induced diabetes. Chromium picolinate comes in the form of chromium and commonly exists in dietary supplements. It may improve the body's response to insulin and lowers blood sugar in diabetic patients. Moreover, it helps minimize hunger, craving, and overeating. The element chromium has the property to minimize with age. However, the best form of chromium to take is chromium picolinate since it absorbs quickly. Chromium is easily available for diabetes patients and is most commonly purchased as an over-the-counter supplement. 
Possible Side Effects of Vanadium
Vanadium may be safe for adults with a mouth intake of approximately 1.8 mg per day. An excessive dosage of a higher amount can be unsafe. The possible side effects include stomach discomfort, nausea, diarrhea, and gastro pain. Moreover, it may cause loss of energy, problems in the nervous system, and kidney damage.
Precautions for Vanadium Use
Pregnancy
Vanadium is safe in food amounts for pregnant women, but vanadium supplements may be harmful during pregnancy conditions.
Vanadium supplements may be unsafe, and a higher amount may also cause harm.
Breast-feeding
Evidence suggests that vanadium tends to be safe in food amounts for breastfeeding women. But there is no significant research to support the use of vanadium in higher amounts for breastfeeding women. So, it is better to consume it in smaller amounts. 
Children
Vanadium may be likely to be safe in children if taken in food rather than supplements. But there is a high risk for children if the dose is excessively high. 
Possible Side Effects of Chromium
Side effects of chromium include headaches, skin irritation, dizziness, mood changes, impaired thinking, nausea, coordination issues, and justice issues. 
High doses may induce serious side effects, including liver or kidney damage, blood disorders, and other related disorders. Chromium is likely to be safe when taken by mouth. 
Precautions for Chromium Use
Pregnancy 
Chromium tends to be safe for pregnant women if they take it orally, but it shouldn't exceed safe limits. 
Breast-feeding
Chromium is safe for breastfeeding women when they take it orally in adequate dosages. 
Children
For children, it tends to be safe if taken in an adequate or lower amount. 
The Bottom Line
Finally, the use of chromium and vanadium is likely to produce more promising results in diabetic patients. Nonetheless, you need to be cautious about its dose and monitor blood sugar levels to prevent extreme side effects.