Diabetic Socks vs. Compression Socks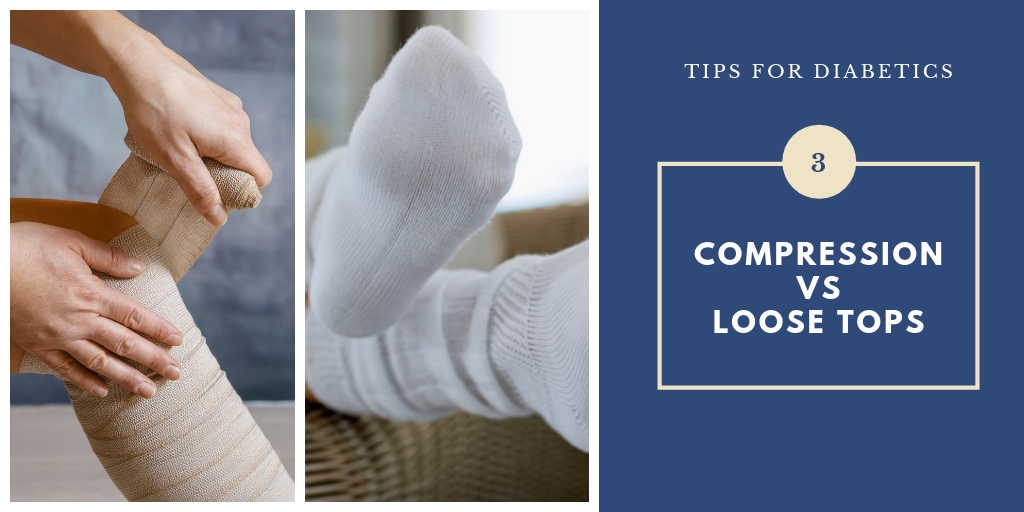 While both diabetic socks and compression socks can provide wonderful benefits to those with diabetic nerve pain in their feet, they each have their own purpose. Often, diabetics find that they prefer one type of sock over the other. Some will find that they enjoy having both around for their different benefits. Since each sock has their own purpose, finding the right type of diabetic sock for your symptoms is key to managing your diabetic foot pain.
Figuring out exactly what you need in a sock is essential to managing your foot health, especially if you lead a sedentary lifestyle. Talk to your doctor if you're unsure about all the tools you can use to help manage your diabetic nerve pain. They will be able to guide you toward the proper care of your feet, including how to keep them clean and what type of socks and shoes you should wear.
Helpful hint: There's no reason to limit yourself to one type of sock! If your symptoms vary based on the day, location, or time, having options to help alleviate diabetic nerve pain symptoms in your feet can be a game changer. You never know when your feet may need a little extra TLC from a good pair of socks after a long day.
Diabetic Cotton Socks
Diabetic cotton socks are a great tool for taking care of your feet with diabetes. Not only do they help manage your pain, they can help prevent future injuries and help you spot potential infections. These socks make a wonderful gift for both diabetics and non diabetics.
Purpose
Diabetic cotton socks are specially crafted to help protect and comfort sensitive feet with diabetic nerve pain. They do this by providing a soft, conforming material that allows the feet to stay dry and protected from potential injury. The warmth and snug fit help promote healthy blood circulation in the legs and feet.
Material
Diabetic socks are often made from a soft cotton. It's very important that the material is breathable, because sweaty feet are a breeding ground for wounds to potentially become infected. Because diabetic nerve pain causes feet to become so sensitive, soft materials are chosen to put comfort first. Care is taken when the socks are constructed to ensure that the material doesn't wrinkle or feature any annoying seams.
Sizes & Styles
Available in a wide variety of lengths, diabetic cotton socks are styled like regular socks. Many diabetics with reduced sensitivity in their feet go with lightly colored styles in order to keep an eye out for potential injuries. Because these socks are designed to fit snugly, they come in many different sizes, including options for wide feet. Picking a sock size that fits correctly is key to unlocking all the benefits that a cotton diabetic sock can offer you.
Benefits
Notable benefits of wearing cotton diabetic socks are that your feet will remain protected from life's everyday hazards while you're also helping improve your blood circulation. Keeping your feet in a clean, dry pair of socks is very essential for diabetics. Another benefit of diabetic socks is that they're designed to reduce wrinkling and irritating seams that happen in normal socks.
Compression Socks
Compression socks are a wonderful way to help manage leg and feet swelling. Diabetics should take care to purchase compression socks that are specially crafted for diabetics. These socks will use a more mild pressure to help alleviate common diabetic nerve pain symptoms.
Purpose
Compression socks use varying degrees of pressure to help alleviate swollen legs and feet as well as promote circulation. Compression socks come in varying levels of pressure sensitivity. Not all compression socks are specially designed for use by diabetics. Those that are feature a more mild pressure that still provides effective relief for swollen feet.
Material
Many compression socks feature copper or silver to help increase the benefits provided by their design. (If you travel, don't worry about this metal setting off detectors in airports, as there shouldn't be enough metal to trip the sensors.) Moisture wicking polyester is usually the main base for compression socks. While not as soft and comfortable as cotton diabetic socks, compression socks are made from material just as durable. It also has the added benefit of helping keep your feet dry to reduce the risk of infection in any wounds.
Sizes & Styles
Compression socks have a distinctive style, though some brands may have socks that look just like regular socks. Finding a more lightly colored set of compression socks may prove difficult. Due to the fit required in order for compression socks to work, they are available in a wide array of sizes and lengths to fit any foot and calf size.
Benefits
Healthy blood circulation is key to helping prevent future risk to your feet and legs as a diabetic, and compression socks are very effective at promoting circulation. Even mild pressure is capable of helping relieve swollen legs and feet. The effect that a high quality pair of compression socks can have on swollen feet is no joke. Pregnant or traveling diabetics should consult their doctor to see if a pair of compression socks would benefit them.
Grab Yourself A New Pair of Sock
s
Regardless of which type of diabetic sock you pick, it's important to keep your feet in a clean pair at all times. The benefits that are offered by diabetic socks are best experienced in a fresh pair of socks with clean feet. Changing your socks throughout the day is key to maintaining proper foot health. A high quality pair of diabetic socks should last through multiple washings.
If you're looking to take the hassle out of buying new socks when your old diabetic socks eventually wear out, consider signing up for our sock club in order to have fresh socks delivered right to your door just when you need them. Wearing diabetic socks is all about keeping your feet comfortable, protected, and healthy. Replacing your old pairs when they wear out is essential to your foot health.