Can I use diabetic socks for hiking?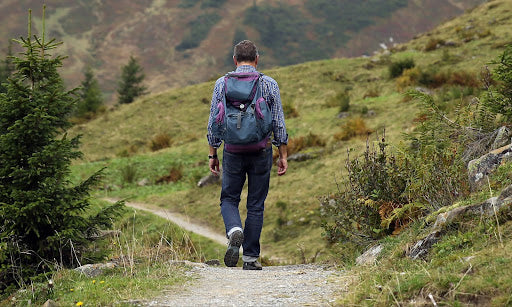 Perhaps the best socks are those made expressly for those with diabetes. However, not everyone with diabetes needs diabetic socks, even if those who do can benefit from them.
Although they may not appear to be much different from "regular" socks from the outside, they have been carefully made with components and characteristics that can protect the feet of people with diabetes. You don't even need diabetes to make use of them.
This is so that the maximum amount of blood may circulate, the risk of foot damage is reduced, and the feet are kept dry. They do not have elastic tops, are higher than the ankle, and are made of fibers that aid in removing moisture from the skin and adding more cushion. You can stay warm at night using socks. Wear socks at night if your feet start to get cold.
As a result, these qualities make these socks appropriate for participating in various sports, including hiking. 
Diabetic socks as hiking socks
With every step up and down a hiking trail, the right socks are vital in keeping your feet comfortable and free from blisters throughout your journey.
It's crucial to take into account the following four factors while selecting the best diabetic hiking socks for your trip:
Length
The proper sock length guards against abrasion from your shoes. Diabetic socks are available in various heights, from those that barely peek out under your shoes to those that almost reach your knees. Examine your shoes to determine the appropriate size. To prevent your skin from rubbing against your footwear directly, you want your socks to be taller the higher the cuffs on your boots or shoes are. Diabetic socks come in various lengths, including no-show, crew, ankle, and knee-high.
Cushioning
The amount of padding has an impact on warmth and comfort. Diabetes-related foot injuries can be prevented by wearing specially cushioned diabetic socks, which makes them perfect for hiking. These socks offer sufficient warmth for use in moderate to cold situations while providing adequate cushioning in the heel and ball of the foot for backpacking and hiking.
Fabric 
One of the best features of diabetic socks is that they are made of different fabric mixes for the best possible comfort and protection. Having a pair of blend socks that strike the appropriate balance of comfort, warmth, durability, and quick drying is crucial when hiking. Due to their availability in wool, polyester, nylon, cotton, spandex, and blends of these materials, diabetic socks are a fantastic hiking socks option.
Fit
Just like regular socks, wearing the proper socks will keep your feet comfy when hiking. Your socks may have wrinkles that irritate and could result in a blister if they are too big. If they are too tiny, pressure points and sock slippage can occur. Diabetic socks are ideal since they are snug-fitting but not too so, allowing for optimal comfort.
Here are some great options for diabetic socks you can wear on your next hike:
Diabetic Sock Club Ultra-Soft Upper Calf Diabetic Socks 
95% acrylic and 5% lycra, made in the USA. The top of DSC's Ultra-Soft Upper Calf Diabetic Socks is loose fitting and won't bind or obstruct circulation, but the unique knit keeps them firmly in place. By wicking moisture from the epidermis, shoes with open weaves allow the foot to breathe. These socks are not just for those experiencing the consequences of diabetes, circulatory issues, edema, and neuropathy but also for those active people.
Diabetic Sock Club Men's Cotton Diabetic Crew Socks 
These diabetic socks have received numerous favorable reviews due to their excellent quality and substance. You can guarantee comfort with their loose-fitting, non-binding diabetic socks have a wide top and extra stretch. The doctors have recommended them. It is 80% cotton, 15% polyester, and 5% lycra in composition. Comfort is further enhanced with a soft toe seam and cushioned, protected soles, which are all excellent reasons to choose these socks for your upcoming hike. 
EcoSox Diabetic Non-Binding Bamboo Hiking/Outdoor Socks 
On the route, these medium-weight diabetic hiking socks offer comfort. For the active person with diabetes, edema (swelling), or neuropathy, they are the ideal foot health solution (nerve pain). The stay-up non-binding tops are made with a soft, loose fit that is easy to put on and doesn't restrict blood flow, and they have just the proper amount of tension to keep them on your leg. They don't bind and promote blood circulation. The smoothly integrated toe seam stitching and knitted heel reinforcement provide durability. To keep feet dry and blister-free, they include moisture-wicking fabrics naturally. To prevent foot fatigue, the footbed has cushioning and arch support.
Norfolk Diabetic, Edema, Walking, Hiking, Soft Socks
These cushioned outdoor socks are carefully made to minimize pressure with a comfortable, easy-fit top and leg and are diabetic and edema friendly. Its supple knit fabric will let legs and feet move and breathe, lowering pressure and preventing moisture buildup while reducing the danger of blisters or sores. Their distinct, non-restrictive design provides improved comfort and support and will also aid in avoiding constriction owing to diabetics' propensity for regular foot swelling. Norfolk Diabetic, Edema, Walking, Hiking Soft Socks highly cushioned terry foot bottom will provide you with the most cushioning and protection on your regular walks. Also, if you need to be on your feet for an extended period, depending on your unique activity needs. These non-restrictive outdoor socks are ideal for anyone who finds regular hiking socks excessively tight and uncomfortable, not only those with diabetes or edema.
Thorlos Hiking Maximum Cushion Crew Socks  
When trekking or backpacking, these diabetic socks keep your feet comfortable and withstand these journeys. With THOR-LON acrylic, Thorlos Hiking Maximum Cushion Crew Socks are made to be more resilient, more comfortable, more durable, and moisture-wicking during strenuous or easy hiking activities. Their socks feature deliberately placed cushioning to lessen foot pain and aches. The Thorlo comfort guarantee ensures that hiking will be as delightful as relaxing at the campsite.