Best Loose Fitting Socks For Men & Women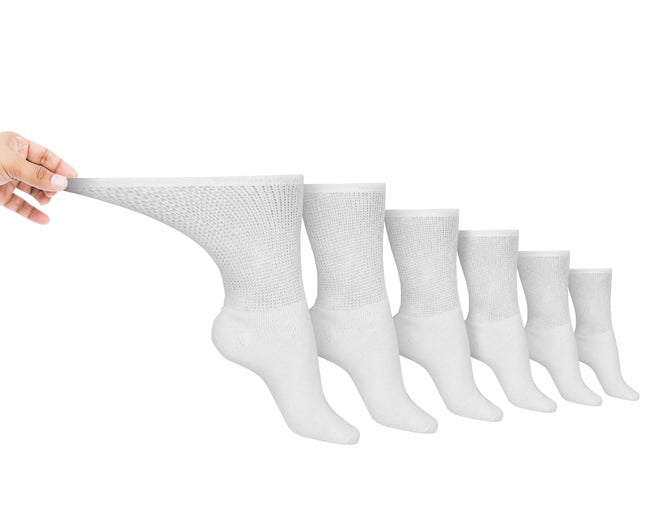 A good pair of diabetic socks will go a long way. It will help you feel comfortable, relieve, reduce conditions from symptoms, and keep your feet dry and protected throughout the day. One important thing to consider if you need a good pair of diabetic socks is that they should be loose-fitting, non constricting, or non-binding. A good pair of diabetic socks should be loose, non constricting, and have a super stretch design to help blood flow throughout your legs. Tight socks can stop or create poor blood circulation in your legs and create complications that may lead to circulatory issues. 
Diabetic socks will help your blood vessels to work better, and your blood flows better throughout your legs when you have diabetes. Diabetic socks have arch support that will help eliminate pain, and it also has a padded or cushioned footbed for extra protection. Diabetic socks will help reduce swelling of the feet, decrease the risk of a foot injury and enhance blood circulation, and they are a key to proper foot care, which is important in managing diabetes.
Best Loose Fitting Socks For Men & Women
Diabetes can lead to poor circulation in several ways. In most cases, high blood glucose (sugar) can be the main reason. Over time if your blood sugar level is not taken care of and managed properly, high blood glucose can cause damage to the lining of your small blood vessels that can interfere with and cause complications in your circulation. That's where diabetic socks come into play, diabetic socks will take care of your legs and promote better and proper blood flow throughout your legs. They will keep your feet warm, protected, and safe during activity and day.
You must know what kind of diabetic socks will best fit you and your condition and what materials are used in your diabetic socks. There are a lot of brands that offer great diabetic socks. This article will help you find the perfect diabetic socks for you! Here are the top 10 best loose-fitting socks for men and women with diabetes.
Diabetic Sock Club Men's Cotton Diabetic Crew Socks

- These diabetic socks have received a lot of good reviews because of their top-notch quality and material. These diabetic socks are physician approved and have a wide top with extra stretch for comfort, loose-fitting, and a non-binding top. It's 80% cotton, 15% polyester, and 5% Lycra. A smooth toe seam and cushioned soles for protection also provide comfort. The diabetic sock club also offers an excellent hemp cream for neuropathy aches and nerve pain that you might want to check out. One review even mentions that, "

These socks are fantastic since my feet are no longer constantly cold. Having them sent on a daily basis is ideal for me because I find that my socks wear out quickly but I continue to use them because I don't have a new pair on hand. It's critical that my feet do not experience any trauma, as we all know that this can be very painful, yet I continue to wear them because I don't have a new pair on hand. It's critical that my feet don't get any injuries, as we all know how difficult it can be to care for them.

"
Sockwell Women and Men's Big Easy | Relaxed Fit Socks - These Diabetic socks from Sockwell are great loose-fitting socks. These are a non-binding relaxed fit and have an ultra-light cushion sole for extra protection and comfort. It also has a seamless toe closure to reduce the development of blisters and ulcers. These socks are made out of 45% Merino Wool, 45% Bamboo Rayon, 13% Stretch Nylon, and 2% Spandex. Merino wool naturally helps wick away moisture while reducing the development of odor-causing bacteria. It has a wider range of benefits that outperform cotton or synthetic fibers. Bamboo rayon is a naturally hypoallergenic and thermoregulating, soft, moisture-wicking, and resistant to odor and bacteria. 
OS1st WP4™+ WIDE WELLNESS PERFORMANCE SOCKS - These socks are from an OS1st. You may have heard of them, or if not, this is a great opportunity for you to know their brand! They design several performance socks for various sports, but they also have specific lines for individuals with diabetes, plantar fasciitis, bunions, and other foot issues. These socks are not only great because of their arch support and cushioned sole, but their socks are made of silver-based antimicrobial fibers and nano bamboo charcoal. The tiny antibacterial particles derived from silver are woven into the fabric of the socks to kill nasty odor-causing bacteria. This technology will help keep your feet dry and fresh. Nano bamboo charcoal is designed to assist with sensitive feet. Applying the ultra-soft fibers to the cushion, toe, and heel will keep the area dry, protected and help blood flow and overall comfort. OS1st Wide Wellness performance socks will surely help you feel relief and comfort! 
Orthosleeve WIDE Wellness Care Socks - Orthosleeve has been around since 2008 and launched its line of socks specially made for people living with certain conditions, including diabetes, in 2018. These socks feature extra room and light compression to improve circulation and are seamless for extra comfort to sensitivity. Orthosleeve's diabetic socks also contain nano-bamboo charcoal that helps moisture absorption, deodorization, and self-charging ability to rejuvenate, allowing for continuous re-use. These socks also have silver-ion technology, have contoured/ultra-soft padding, non-binding, mid-foot/ arch support structure, and a medical-grade compression. These socks target alleviating conditions like diabetes, circulation support, sensitive feet, edema, and neuropathy.
Warrior Alpaca Socks Diabetic Therapeutic Sock Box - The brand Warrior Alpaca Socks uses alpaca fiber, but what is special about it? Alpaca fiber is stronger, softer, far less irritating to the skin, more breathable, and warmer for its weight than wool. Alpaca wool is also a better option for people with allergies, and Alpaca wool is naturally hypoallergenic. Alpaca fiber is also far superior to synthetic materials since it is breathable and wicks moisture away from the body to regulate body temperature no matter the weather. It retains its warmth even when wet, plus it's naturally windproof, odor-resistant, and stain-resistant. This box of socks contains three pairs of socks: terry lined Diabetic socks, standard sock weight Diabetic Socks, and their Second-to-None socks. These socks have a relaxed fit and are naturally antimicrobial with formed toe and heel.
Hugh Ugoli Women's Bamboo Loose Fit Diabetic Crew Socks and Hugh Ugoli Lightweight Men's Diabetic Ankle Socks Bamboo Thin Socks - Hugh Ugoli women's bamboo loose fit diabetic crew socks are specially made with bamboo fiber with micromesh breathing holes let the air in and removes the sweat that makes it moisture wicking and makes your feet feel dry and fresh. These socks are wide and stretchy and non-binding, won't constrict your feet, and have a seamless toe to increase your comfort and reduce the risk of pressure, blisters, and wounds. Hugh Ugoli lightweight men's diabetic ankle socks are thin socks with seamless toes and a non-binding top for less irritation in your feet or legs and better blood circulation. These socks are also made out of bamboo fiber and are breathable. It is made out of 80 % Bamboo, 17 % Polyamide, and 3 % Elastane.
EcoSox Bamboo Quarter Diabetic Socks - Ecosox uses plant-based fibers in creating their socks and particularly uses "viscose" from bamboo. Yarns derived from cellulose such as modal, lyocell, and viscose have a soft and buttery feel and absorb 3-4 times as much moisture as cotton. These quarter-length socks provide comfort, offer protection above the ankle, and are a perfect foot health solution for those who have diabetes, edema, or neuropathy. The stay-up non-binding socks are created with a soft, easy-on, relaxed fit that doesn't constrict the feet and increases blood circulation. These socks have a knitted reinforced heel, smoothly integrated toe seam stitching for durability, Arch support, and cushioned footbed for comfort to fight foot fatigue. EcoSox is an Eco-friendly company. If you want to help the planet and buy diabetic socks that have great quality, try EcoSox diabetic socks.
Dr. Segal's Diabetic Socks (White) - Dr. Segal's was founded in 2012 by a Surgeon with over 25 years of experience treating patients with Vein Disease. Dr. Segal's is a known and loved brand by many people because of its great products. Dr. Segal wants to offer a fashionable alternative to the plain, clinical-looking products currently available in the market. That is why their diabetic socks are not only created in the color white, but their diabetic socks have a wide range of options with different and colorful designs. These diabetic socks are non-binding and seamless for both men and women. Their socks are also extra-wide and stretchy, which allows a comfortable fit that doesn't sag down, bunch up, or restrict circulation. These socks also have antimicrobial and moisture-wicking properties that keep your feet dry and healthy to prevent skin infections and fungal growth and have terry cushioning on the entire footbed that provides extra protection and comfort. A physician designs Dr. Segal's diabetic socks to meet the comfort and health requirements of diabetic and neuropathy patients.
Dr. Scholl's Men and Women's Diabetes & Circulatory Crew Socks - These diabetic socks from Dr. Scholl's are designed for men and women. Dr. Scholl's diabetic socks are powered by TempRite™ technology that adjusts your body's temperature for the utmost comfort. These socks are great for working evenings out on the weekends because of their non-binding construction that will boost and improve your blood circulation throughout the day and night. These socks also have protective cushioning that cradles your foot with every step and will keep your feet protected from injuries. It has a smooth toe that ensures a seamless fit that reduces the risk of the fabric touching your skin and causing irritation. The DS Dry™ wicks moisture for day-long wear, while antimicrobial technology keeps you feeling clean and fresh.
TeeHee Socks Unisex Diabetic Bamboo Crew White Socks - The company TeeheeSocks Southern California was founded in 2002 and has received a lot of great reviews since then. Their main goal is to bring joy and give the softest socks to their customers. That is why teehee socks designs are colorful and bright to bring joy. If you want to spice things up and add colorful socks to your wardrobe to help you feel relieved, Teehee Socks are the best option for you! They have socks that have colorful and bright designs. Their socks also have viscose from the bamboo, non-binding top, soft, and it stays up even during activities. Teehee socks will keep you comfortable during activities and even at work. These socks even have great moisture-wicking properties.
Orthofeet Extra Roomy Socks Black - Orthofeet's extra roomy diabetic socks for men and women feature a non-constrictive, seam-free design, excellent moisture wicking system, and soft cushioning interior. These non-binding socks protect sensitive feet and persons with circulatory problems, diabetes, neuropathy, and edema. It offers maximum blood flow, comfort, and enhancing fit because of its loose, non-binding knit construction with super stretch. DryPlexTM moisture wicking system keeps the feet dry and comfortable, with a seam-free unique inverse linking design that provides a virtually seam-free sock interior, offering the ultimate protection against blisters and irritations. It also has antibacterial and anti-odor properties that inhibit bacteria and control foot odor. Its soft bamboo fibers and a unique brushing process offer an extremely soft sock interior, minimizing friction and providing maximum comfort and protection. 
Some of these brands also offer diabetic shoes like Orthofeet and Dr. Scholl's that you can pair with your socks. You should check all of your options and know what brand or socks will work best with your condition and help alleviate these conditions' symptoms. The best pair of diabetic socks are the socks that will help you with your condition and help you feel comfortable, and diabetic socks should help you improve your blood flow and not constrict it.