Best diabetic socks to wear for neuropathy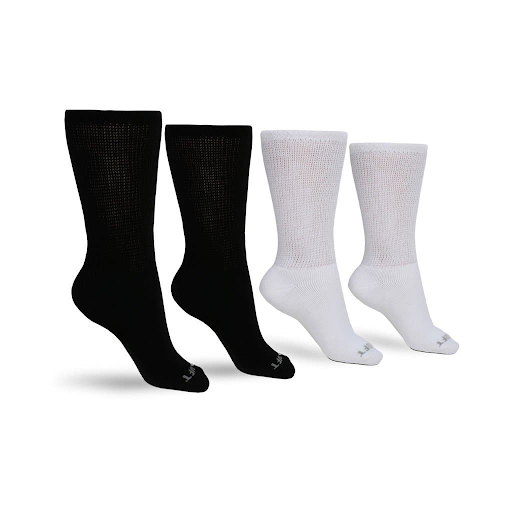 People with diabetes often have problems with their feet; over time, diabetes can lead to peripheral neuropathy. Damage to the peripheral nervous system is what causes peripheral neuropathy. This damage makes it hard for the system to connect and communicate.
Peripheral neuropathy is a complex condition with a wide range of symptoms. This is because damage can happen to any part of the peripheral nervous system, which includes motor nerves, sensory nerves, and the autonomic nervous system. Nerves are often affected in more than one way. Most of the time, symptoms are mild at first, but for some people, they get worse over time.
Some people might experience the following:
Temporary numbness

Tingling

Pricking sensations (paresthesia)

Sensitivity to touch, or muscle weakness
Some people may have more severe symptoms, such as:
Burning pain (especially at night)

Loss of muscle

Paralysis

A problem with an organ or gland
Others may not be able to do the following because of peripheral neuropathy:
Digest food easily

Maintain safe levels of blood pressure

Sweat as usual

Experience normal sexual function

In the worst cases, breathing may be hard, or organs may stop working.
What can happen when you have peripheral neuropathy?
Peripheral neuropathy can have many different effects on a person's quality of life. The results are different for each person, but they can include the following:
pain and discomfort from physical symptoms

Finger numbness and loss of fine motor control, which makes it hard to do everyday things like button up a shirt

Because of numbness, there is a high risk of scalds and cuts. 

Risk of overlooking injuries, which could get worse if they aren't treated right away

Difficulty walking because your feet are numb or hurt, you have trouble keeping your balance, or you can't feel where your feet are on the ground.

High risk of falling because of numb feet, dizziness, difficulty keeping your balance, and trouble knowing where your body is in space

trouble sleeping because of pain

Being unable to drive because your feet are numb and you can't tell where your body is in space

being unable to go back to work or do other activities

Feeling isolated if it is hard to move around.

money issues because of healthcare costs

Feeling that you have lost your independence.
What could happen if I don't get treatment?
Foot pain caused by diabetes is more than just pain; it's a sign that your body needs help. If you don't see a doctor and get treatment for this kind of nerve pain, it could lead to other problems.
Here are some things that can go wrong if nerve pain from diabetes isn't treated:
Dry, cracked skin

: This may not sound like a big deal, but it can make you more likely to get skin infections. If this happens, petroleum jelly or unscented hand creams can help.
Calluses

: These are areas of thickened, less sensitive skin. People with diabetes get calluses more often and faster than people who don't have diabetes. Use a pumice stone every day to help keep them from getting too bad. A provider can cut or shave them down if they get too big. Don't try this at home because you could get an infection.
Ulcers

: These are sores that some people with diabetes get because their blood flow isn't good enough. No matter how small an ulcer is, it must be checked by a doctor. The longer it's been since you've seen one, the more likely it is to get sick. Infected ulcers can spread and lead to the loss of your foot or leg.
Amputations

: If any of the above problems aren't properly managed, they can all get infected. When you have an infection on your skin, it can kill the skin and muscles. Once this happens, there is no way to fix it. The only way to stop the infection from spreading further is to cut off the part that is sick.
What can I do to manage diabetes-related foot neuropathy?
Carefully controlling your blood sugar is the best way to treat neuropathy caused by diabetes. The most important thing to do to stop nerve damage from worsening is to take care of diabetes. You can keep your blood sugar level in check through the following:
Keep track of your blood sugar levels to determine what raises or lowers them.

Follow your healthy meal plan and reduce calories, saturated fat, trans fat, sugar, and salt.

Be more physically active.

Instead of juice or soda, drink water.

Limit alcoholic drinks.

Choose fruit for a sweet snack.

Taking all medications for diabetes as directed.

Talk to your doctor about changing how much insulin you take and what kind of insulin (such as short-acting insulin) to use.
You may also manage diabetes-related neuropathy symptoms with the following:
Medications for pain, such as creams or patches

Other oral medications can reduce pain.
You could also try things to aid you with your diabetes-related neuropathy symptoms, like wearing diabetic socks. 
How to find the best diabetic socks?
So, which compression socks are best for neuropathy? First, you need to know what to look for in a hose chosen to help with its symptoms:
Choose materials that reduce exposure to bacteria and germs

. It is essential to keep your feet clean and covered so that you don't get any infections or ulcers that could lead to gangrene. The most important things to look for in socks are suitable quality materials and a good fit. Look for fabrics that can keep bacteria and fungus from growing, like bamboo charcoal, polyester, nylon, and merino wool. 
Make sure the socks are comfortable

. When trying to avoid the painful effects of neuropathy, there aren't many things worse than having seams that rub or are in the wrong place. Look for a design that fits well and doesn't have any seams. Socks with seams can be painful for people with sensitive feet or cause abrasions that someone with a loss of feeling may not notice.
Find the right fit

. Compression socks are designed to put pressure on your legs, but if you put too much pressure on them, you won't feel any benefit from wearing them. Choose socks with light compression to improve blood flow to your legs and feet and reduce swelling. If your pairs are too tight, blood flow can be cut off. Try on the socks and ensure they fit close enough to stay up all day but not so tight that they hurt or cause bruises.
Seek pairs with cushioned heels to give your feet comfort and support.

Neuropathy can make your feet numb, tingly, and painful, so you might not know how much impact your feet and joints are taking when you walk, run, stand, or do anything else.
Best diabetic socks to wear for neuropathy
People with neuropathy are more likely to get cuts, scrapes, ulcers, and sores that don't heal right. When these get infected, your tissue can die and release toxins into your bloodstream. Wearing the best diabetic socks for peripheral neuropathy is a big part of taking care of the condition.
Diabetic Sock Club's Ultra Soft Socks
Of course, DSC ultra-soft socks are one of the best options if you are a diabetic person experiencing the pain of peripheral neuropathy. These socks help people who may be having trouble with the effects of diabetes, circulatory problems, edema, and neuropathy. Made in the USA and composed of 95% Acrylic and 5% Lycra, these socks are incredibly soft and comfortable without sacrificing function. These socks are among the softest on the market today and have a loose fit at the top so that they won't cut off circulation. The unique knit keeps them in place, though. The open weave of these socks lets the foot breathe and pulls moisture away from the skin. These make them one of the best options!  
Naboso Foot Recovery Socks
With every step you take, the neuro-stimulating texture of these socks acts like a mini-massage for your feet, improving circulation, stimulating nerves, and releasing muscles and fascia. Texture stimulation, like the Naboso sock, has improved foot awareness, balance, and circulation. Along with its sensory features, this pair has compression in the arch to help recover.
Dr. Scholl's Diabetes & Circulatory Socks
These cushioned socks from Dr. Scholl's, a trusted brand for foot care, will keep your feet dry and comfortable. These diabetic socks have a smooth toe seam and a non-binding stay-up comfort top, so they conform to the shape of your legs and don't cut off blood flow. The TempRite™ technology in Dr. Scholl's Diabetes & Circulatory Socks adapts to your body temperature to keep you comfortable. The soft, protective cushioning in these socks adds comfort and support, and the smooth toe seam helps keep things from getting too itchy.
Doc Ortho Casual Comfort Antimicrobial Diabetic 1/4 Crew Socks
Doc Ortho is known for making high-quality orthopedic products, like socks and insoles for people with diabetes, walking boots, and ankle sleeves. The antimicrobial treatment on this brand's diabetic socks keeps bacteria and fungus that cause smells from taking hold. Materials like polyester, nylon, and spandex dry quickly and are flexible, giving this pair a stretchy fit. The padded footbed makes it comfortable to wear all day. These also have mild compression and an adjustable sock ring instead of an elastic top so that they won't stop blood flow.
OS1st WP4+ Wellness Performance Socks
OS1st makes performance socks for several sports, and they also have lines of socks for people with diabetes, plantar fasciitis, bunions, and other foot problems. They have arch support and cushioning at the bottom of the foot and come in regular and wide widths. They are also made of silver-based antimicrobial fibers and nano bamboo charcoal.
OrthoSleeve Diabetic and Neuropathy Non-Binding Wellness Socks
OrthoSleeve has been around since 2008, but its line of socks for people with certain conditions, such as diabetes, didn't come out until 2018. With a seamless design, nano-bamboo charcoal material, medical-grade compression, arch support, contoured padding, and Y-gore stitching that cradles your heels, these neuropathy socks have everything you need.
Doctor's Choice Diabetic Crew Socks
These neuropathy socks from Doctor's Choice are the most comfortable things you can wear, whether you're going for a run or just relaxing at home. Because of the way they are sewn, their toes don't have any seams. This helps prevent cuts and blisters and also allows airflow better. Copper, silver, and zinc fibers make these socks antimicrobial, and aloe gives them a softer, smoother feel. This makes them great for people with sensitive feet.
Bombas Everyday Compression Socks 15-20 mmHg
People love Bombas socks because they are stylish and comfortable, and they don't let them down. Even though they aren't made just for people with diabetes, they have many of the features that experts say are essential. For instance, they offer moderate compression, have a seamless toe, and have an arch support system built right in. They are also made of materials that pull moisture away from the skin, such as polyester, nylon, and spandex.
Debra Weitzner Non-Binding Lose Fit Diabetic Socks
The soles of these Debra Weitzner diabetic socks help keep you from falling at home or physical therapy. They also don't squeeze your ankles and have a loose fit to make them even more comfortable. This pair is made of light cotton and doesn't slip. It lets air flow and is comfortable. If the non-slip feature doesn't appeal to you, Debra Weitzner makes diabetic socks without the grippers that come in ankle- and crew-length styles.
Yomandamor Diabetic Socks With Seamless Toe
The micromesh on these diabetic socks from Yomandamor makes them even more breathable. Also, they are made of bamboo, which fights bacteria, and have a seamless toe to keep sensitive feet from getting irritated. Even though this pair isn't as cushioned as others on our list, reviewers love how it fits more loosely, especially around the ankles and calves. Some people have even taken them hiking.
Dr. Comfort Diabetic 15-20 mmHg Knee-High Support Socks
These Dr. Comfort diabetic socks are great for working out or any other physical activity because they are made of antimicrobial bamboo charcoal fibers and have extra padding. Also, they have graduated compression, which means they fit tighter around the ankles and loosen up as you move up the leg. They also come in different lengths, like ankle, crew, and over-the-calf, and different sizes to fit bigger or swollen feet.
This brief guide list will help you not be overwhelmed by the number of products you can buy online. Many new brands of diabetic socks are coming out, but if you're too lazy to look for them right now, they have been tried and tested and are sure to help you feel better.