10 Home Remedy Treatments for Grierson Gopalan Syndrome (Burning Feet)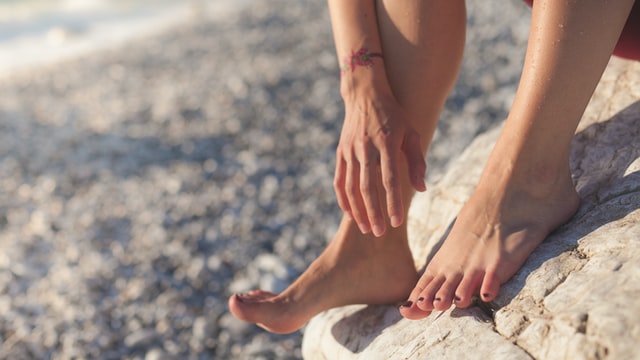 What is Grierson Gopalan syndrome?
Burning feet syndrome, also known as Grierson-Gopalan syndrome, is a collection of overheating and discomfort in the feet. The burning sensation may become more intense at night, with some relief during the day. The signs and symptoms could be minimal or severe. Heat and discomfort can be limited to the soles of the feet, but they can also expand to the tops of the feet, ankles, and lower legs.
Skin disorders and infections can cause burning feet, but when they happen frequently, it's a sign of nerve damage. Your feet may be warm, and you may experience a burning feeling in your legs.
What causes Grierson Gopalan syndrome?
Some of the causes are as follows:
Diabetic Neuropathy. Diabetic neuropathy is a diabetic complication. Years of uncontrolled high blood sugar might lead to the deterioration of your blood vessels and nerves. High blood sugar slows the delivery of information from the neurons. As a result, several parts of the body, including the feet, may suffer alterations in sensation. High blood sugar weakens the blood vessel walls that carry oxygen and nutrients to the nerves.
Nerve damage can occur anywhere on the body. According to the National Institute of Diabetes and Digestive and Kidney Diseases, 60 to 70% of diabetic people experience nerve damage, also known as neuropathy.
Sensory neuropathy of the small fibers (SFSN). Burning sensations in the feet are a symptom of SFSN, a painful neuropathy. Numbness in the feet and soreness in short bursts are some symptoms. When the myelin sheath, which covers and protects nerve fibers, is destroyed, it causes this condition. Diabetes can be a factor, even though the cause is unknown in most cases.
Consuming a lot of booze. A type of nerve injury known as alcoholic neuropathy can develop due to excessive alcohol consumption. 
Charcot-Marie-Tooth disease is a type of cancer (CMT). CMT is the most common type of genetic nerve disease. It affects the nerves in the muscles that control movement. It's a progressive disease, meaning the symptoms get worse with time. Two of the first symptoms are burning or pins and needles in the feet or hands. Other symptoms include clumsiness and muscle atrophy.
Complex regional pain syndrome (CRPS) is chronic pain (CRPS). CRPS is a condition that affects a limb, most typically after an accident or surgery. It is caused by a nerve injury that disrupts brain and spine signals.
Erythromelalgia. Erythromelalgia is a relatively uncommon condition characterized by red, hot, and painful feet with no recognized etiology. The disease's severity varies from person to person.
Nutrition deficiencies. Malnutrition-related burning feet were more common in the past. However, it still occurs in places affected by famine or other disasters. During World War II, an estimated one-third of American POWs in the Pacific suffered from malnutrition-related burning foot syndrome.
Hypothyroidism. An underactive thyroid disrupts the hormone balance in your body. Swelling can occur, putting strain on your nerves. Hypothyroidism causes weariness, weight gain, dry skin, and burning feet.
Viruses and other infectious disorders. Burning feet are one of several signs and symptoms of various illnesses.
The athlete's foot is a condition that affects athletes. An athlete's foot is a fungal infection that affects many athletes. Tinea pedis, sometimes known as athlete's foot, is a fungal infection that affects the toes and hands.
One of the most common symptoms of an athlete's foot is a burning, tingling, or itching sensation between the toes or on the soles of the feet.
Kidney disease is a condition that affects the kidneys. Toxins build up in your blood when your kidneys cease working properly. Swelling and itching of the feet can result as a result of this.
Peripheral artery disease (PAD) is a condition that affects the arteries (PAD). The arteries that provide blood to the legs and feet constrict because of PAD. The symptoms, which include burning feet and legs, are comparable to peripheral neuropathy. Walking or exercising is a common cause of pain.
Tarsal tunnel syndrome is a condition that affects the toes. Tarsal tunnel syndrome is a disorder in which the nerve that connects the ankle to the foot is compressed due to swelling or injury. This can result in foot soreness and burning. The discomfort may spread up the leg.
Exposure to toxins. Peripheral neuropathy symptoms can be caused by long-term exposure to heavy metals and other industrial pollutants. Nerve damage can be caused by several medications used to treat specific illnesses, such as HIV or seizures.
Chemotherapy. Side effects of therapeutic medicines used to eliminate cancer cells include peripheral neuropathy.
As well as the following:
Shoes that are too small or do not fit properly. Shoes or stockings that are too tight might irritate sensitive feet or put pressure on certain foot areas.
Exercise or a physical injury might cause stress.
Allergies. Symptoms may be triggered by materials used to manufacture shoes or socks.
Contact dermatitis is a type of dermatitis that occurs when someone comes. Skin irritation may be caused by dyes or chemical compounds used to tan leather.
Chronic mountain sickness, Gitelman syndrome, Leishmaniasis, multiple sclerosis, psychiatric disorders (psychosomatic), hereditary factors, and unknown causes are among the other possible causes (idiopathic)
What are the common symptoms of Gopalan syndrome?
Heat or burning sensations, tend to get worse at night.

Numbness in the feet or legs is a common ailment.

Pain that is sharp or stabbing

Heaviness in the feet is a common symptom.

Feet aching that is dull

Excessive warmth or redness of the skin

Prickling, tingling, or a "pins and needles" sensation
The standard procedure to cure Grierson Gopalan syndrome
Your doctor will try to discover the underlying cause of the symptoms because no tests can objectively quantify the level of foot pain or burning.
Examination of the body. Your doctor will inquire about your medical history and any physical symptoms you may be experiencing and any drugs you are now taking. He or she will assess your reflexes and look for symptoms of infection, damage, or other issues on your feet.
Tests on the blood. Tests may be ordered to evaluate your blood glucose level or screen for nutritional deficiencies or endocrine abnormalities. Usually, a complete blood count is performed. Serum and urine electrolytes are other lab tests (magnesium, sodium, potassium, vitamin B levels, and chloride).
Tests of nerve function. In the case of suspected nerve injury, electrodiagnostic testing may be ordered.
10 Home Remedy Treatments for Grierson Gopalan syndrome
Wearing proper footwear. When you have diabetes,

diabetic socks

will help your blood vessels operate better, and your blood flows better throughout your legs. Diabetic socks include arch support to help with pain relief and a padded or cushioned footbed for enhanced comfort. Diabetic socks will help reduce foot swelling, reduce the chance of a foot injury, and improve blood circulation, and they are an important part of comprehensive

diabetes foot care

.
Put your feet in cold water or take an ice bath. Soaking the feet in cold water can help ease the symptoms of BFS for a short time. On the other hand, a person with erythromelalgia should avoid this because it may harm their skin.
Rest, ice, compression, and elevation are good options (RICE). RICE can be used to assist in alleviating the symptoms of tarsal tunnel syndrome. Resting the foot, administering ice to the ankle, applying compression, and elevating the foot are options. RICE can help to reduce swelling and inflammation, which in turn can assist in alleviating BFS symptoms.
Epsom salt is a type of magnesium sulfate. Epsom salt is commonly used to treat various ailments, including pain and athlete's foot symptoms.
Apple Cider Vinegar. Apple cider vinegar is effective against bacteria, fungi, and other harmful organisms. It may be beneficial to treat athlete's foot by bathing the feet in warm water and apple cider vinegar foot bath. However, there is no scientific proof to back up this treatment's efficacy.
Supplements containing turmeric. Turmeric contains the chemical curcumin. Curcumin is an anti-inflammatory, antioxidant, and antibacterial compound that could be utilized to treat several skin conditions.
Fish oil is a kind of omega-3, and the anti-inflammatory qualities of fish oil aid in reducing pain and discomfort. Fish oil may be utilized to treat BFS that develops due to diabetes. According to a 2018 study, fish oil can help to slow or even reverse the course of diabetic neuropathy.
Ginger. Ginger oil contains anti-inflammatory properties and may benefit persons suffering from BTS. In a 2014 study, Swedish massage using aromatic ginger oil was more effective than traditional Thai massage at reducing back pain and disability.
Capsaicin or lidocaine. Lidocaine is a local anesthetic. Doctors commonly use lidocaine to numb the skin before performing a blood draw procedure. Capsaicin, found in chili peppers, is a natural pain reliever. According to a 2011 study, capsaicin can help with pain management.
Massage of the feet. Massage stimulates blood flow in a specific area of the body. If you have BFS, you can massage your feet to improve circulation and blood flow to the parts of your body that need it. This could help with the treatment of some of the symptoms of BFS. According to a 2015 study, Thai foot massage helped diabetic neuropathy patients improve their balance, range of motion in their feet, and foot feeling.