What are the Best Socks for Sensitive Feet?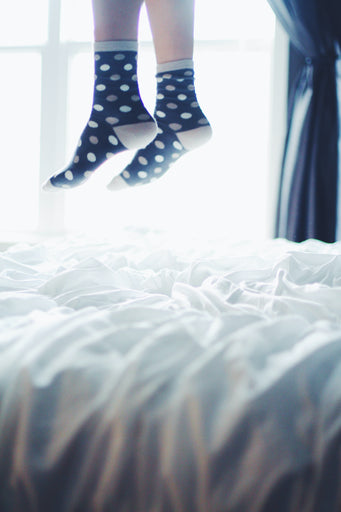 Feet are a very sensitive and complex part of the body, containing about 8,000 nerve endings, which lead to touch and pain responses via the receptors in the feet. These nerve endings are in direct contact with the skin – the primary reason for having sensitive feet.
Besides, you may have feet sensitivity due to various reasons. For instance, you may feel a burning sensation due to nerve damage in the leg, and numbness shows a poor flow of blood. 
You may also experience:
Irritation or itchy
Swelling

 

Fungus
An excessive profusion of sweat due to infection
Inflammation
Malignancy
Other abnormalities or all else due to diabetes
While you may have other medical conditions, diabetes is the most common factor for sensitive feet.
Your feet carry your entire body weight throughout your life. They need rest, massage, and great care.
In this case, diabetic socks are the ultimate choice for sensitive feet for relief. Depending on the sensitivity of your feet, you will find a variety of socks covering your needs.
Moreover, you will find diabetic socks to keep your feet dry and prevent them from fungal or bacterial infections. These socks are seamless, providing maximum comfort. Some of these socks come with extra padding for protecting your feet from cuts and blisters. They also ensure and promote healthy blood circulation.
In addition, these socks have a stretchy cuff and moisture-wicking ability to keep your feet dry. Light color socks will reveal a blood spot or other fluids that may be an indication of injury or infection. These socks will not bunch around your ankles.
Why Diabetic Socks?
Not everyone with diabetes may need these socks, but many diabetics are going for diabetic footwear. Not to mention, diabetic patients are prone to foot injuries and sensitivity either due to poor flow of blood or peripheral neurology. This is a condition that may cause loss of sense or feeling in the feet. It's a serious condition as the patient may walk around with a splinter without feeling it.
If you are diabetic, even a small cut or blister or cracks in the heel can lead to a foot ulcer. It can also affect blood flow, thus making it hard for these wounds to heal. 
So, in order to save your toes, feet, and leg from amputations, diabetic socks become a good option to wear and minimize the worst impact of these conditions. Some experts believe these conditions can eventually lead to limb loss in 80% of cases if not treated timely.
Best Socks for Sensitive Feet
Now that you understand the reasons for feet sensitivity, let's explore what options you have when it comes to finding the best socks for sensitive feet.
DSC's Ultra Soft Socks
These Ultra Soft socks are made in the USA from 95% Acrylic and 5% Lycra materials.
These socks are good for diabetic patients having hot spots and frequent or rapid blister formation. DSC's Ultra Soft socks are good for women and men as they can reduce hot spots and blisters alike.
Its non-binding top provides great comfort for being less-constriction, thus taking comfort to a new level.
The material is thin with extra padding on the bottom and stretchable, which can withstand anything the day throws at you.
You will find these socks are no bunching or blisters. For extra comfort, these socks will pull the moisture away from the skin and keep your feet dry.
Injinji toe-shaped Socks
Injinji is a brand best known for designing unique toe-shaped socks for people with diabetic conditions. These are fascinating and stylish socks to wear, as each toe is isolated from the other, which can help prevent blisters and keep your feet dry.
What's more, these socks come in a variety of sizes, colors, and designs. The varying lengths, from a no-show to knee high socks, make it a more go-to option for people with blood circulatory conditions.
They are the perfect blend of wool, Coolmax, nylon, and lycra plus acrylic. Each pair of socks will have anatomical 5-toe designs for your size. Their superior fiber construction and mesh-design ventilation make them a good choice for patients with poor blood circulation and sweaty feet.
That's not all – these socks will have the least impact on skin friction, thus preventing blisters.
Lululemon Socks
Lululemon keeps coming up with ideas to cater to athletes and sportspeople having some diabetic conditions. 
Their socks are thin and soft; primarily, they are a no-show or hidden socks in the shoes, hard to detect. Hence, these diabetic socks are good for women involved in sporting activities. 
For men, you can find socks from a no-show to half-calf high socks. The interior grip of socks prevents them from slipping down your heels. These are seamless toe construction socks to reduce bulk. 
Lululemon socks are breathable to keep your feet cool and dry throughout the day.
Mostly, these socks have a high percentage of nylon, up to 90%, x-static 6%, and Lycra elastane remaining 4%; all this makes them quick-dry socks.
Smartwool– For All Seasons
Smartwool socks for men and women are PhD-run light elite low-cut socks.
These socks have 52-68% Merino wool that comes from merino sheep. It is super soft and delicate wool that offsets any odor and is suitable for all seasons. The rest of the material comes from nylon and just-there elastane for its elasticity.
Smartwool socks are best when you are wearing a well-fit shoe while supporting the foot arch brace. Diabetics with swelling or sweating complaints and fungus formation will love these socks.
Stance – Sports Socks
Stance socks are famous among athletes and sportspeople. These socks will make you feel like having contours from toe to heels, covering your feet in complete harmony. 
For ultimate comfort, Stance manufactures these socks with about 80+% of combed cotton, 8% polyester, 7% nylon for quick-drying, and 2% other fibers for elasticity.
Non-constriction is what makes a diabetic comfortable, and Stance socks are the best choice for having that relaxing feel. What's more, they are no-bunching, no-slip socks. 
With these socks, you can add cushions on the high-impact points for a smooth walk.
Balega
Balega socks will get you the best moisture-wicking fabric, which is not only lighter but blister-resistant at the same time. All this comes with a mix of natural mohair wool and maintains an odor-free environment for your feet.
They have a contoured fit and heel pockets sewn-in the socks, and the presence of elastane ensures no slippage altogether.
No-show cushioned socks will wick the moisture away from the skin. Its specially constructed reinforced microfiber ventilation lining will keep the feet dry and away from fungus. Plus, its seamless toe box minimizes skin-to-material friction. 
These socks comprise drynamix polyester, nylon, neofil, and elastane. 
Drymax
Its hallmark Drymax technology has two-layered moisture-wicking, well-knit fabric. This will keep the moisture within the first layer, restricting it from traveling to the outer part or the second layer. The company claims this will keep your feet 25 times drier than other socks can.
In addition, the socks are made of a blend of 73% drymax, 11% polyester, 11% nylon, and 5% elastane.
Its flat seamless feature will keep the skin-fabric friction to the minimum. At the same time, the two-layered or double cushioning under the forefoot and toes will absorb any shock impacts. 
Besides, these super dry socks have the best breathability and best arch support that will regulate the flow of blood, keep the feet dry, ensure no-constriction, and the ankle-high socks will never sink down.
The company says it is a thousand-mile blister-free promise, making it one of the best socks for sensitive feet.
What to look for in Socks for Sensitive Feet?
You should consider various factors while choosing diabetic socks, especially for sensitive feet.
Should be flat and Seamless

 

Seamless soft toe
Moisture-wicking capability
Antifungal and antibacterial treatment
Non-constricting
Arch support
Contour and compressions, fitting your feet

 

Cushion and padding to reduce the pressure impacts and hot spots
Bamboo fibers, merino wool, cotton, etc., are the best material
Conclusion
So, whether you are dealing with sensitive feet, blisters, cracked-heels, low blood circulation, swelling in feet, or other infections, you should seek medical help for pain-relief to get comfort. 
You should consult your doctor for the mandatory medication for diabetic conditions and, at the same time, go for the best diabetic socks. The socks will always keep you in a comfort zone.
If the doctor has recommended a gentle massage, you can opt for the right type of socks to keep your feet warm and ensure good blood circulation. Remember, gentle compression can increase the flow of blood and reduce healing time for other infections.
If you have a history of some chronic pains due to diabetes, then go for the best socks suiting your condition. You may witness that these socks are good for more or less all diabetes-related foot problems.
Therefore, opt for the best socks made of soothing fibers that offer breathability for your sensitive feet.