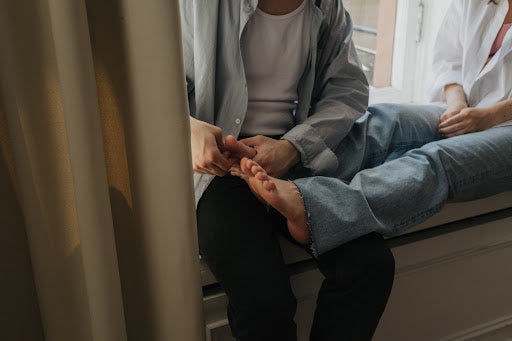 In addition to preventing heart attacks and strokes, controlling diabetes, and maintaining appropriate blood sugar levels can help keep your feet in good condition.
What are diabetic feet?
One of the most devastating effects of diabetes mellitus, diabetic foot disease (DFD), represents a significant global burden for patients and healthcare systems. It includes osseous destruction, ulceration, and infection of a diabetic person's foot. In addition, they are typically accompanied by neuropathy and peripheral arterial disease (PAD), vital factors in this condition.
An estimated 34.2 million people worldwide suffer from the blood sugar condition known as diabetes (10.5 percent of the U.S. population). A critical health concern and often the reason for hospitalization are diabetic foot issues.
Diabetes patients usually experience foot issues. It may eventually occur when high blood sugar levels damage the nerves and blood arteries in the foot. The damage that diabetes does to small blood vessels is the primary cause of most foot issues that people with diabetes experience. Minor vascular damage in the foot results in two significant problems:
First, inadequate blood flow to the nerve damages foot sensation. Due to nerve injury, you may experience tingling and pain in your feet. You risk losing all feeling in your feet if your disease deteriorates. Diabetic neuropathy becomes serious at this point.
A sign that anything is wrong with the body is pain. For example, it can let you know whether your feet have any cuts, sores, or blisters. But a cut or blister cannot be recognized for a long time if you have diabetic neuropathy and lose sensation in your feet. 
Secondly, insufficient blood flow to the skin and the entire foot makes it challenging for wounds to heal. Therefore, diabetes people are less likely to heal wounds properly and are more prone to sustain damage. Infected diabetic feet can result from injuries that don't heal properly because they provide a pathway for bacteria to infiltrate the foot.
Gangrene can develop, therefore, an infection and insufficient blood flow. Consequently, the muscle, skin, and other tissues begin to deteriorate. People with diabetes can require amputation if they have gangrene or a foot ulcer that does not heal after treatment. This procedure involves removing your injured toe, foot, or leg. It might save your life and stop the progress of a severe infection.
What to look out for in diabetic feet?
You can take several steps to keep a foot wound from developing into a severe medical issue. The first step in prevention is to be alert for the warning indications of foot problems and to let your doctor know about them. Diabetic foot problems include the following symptoms:
tingling, needles and pins, or numbness in your toes

loss of feeling in your legs or feet

swelling in your legs or feet

numbness in your toes

blisters on your feet

sores that don't heal

corns or calluses

cracks between your toes

developing bunions or hammertoe

ingrown toenail

changes in the color of your skin on your feet

peeling or cracking on the soles of your feet
Protecting your feet when you have diabetes
There are various actions you can do to maintain your feet healthy. Good foot care for diabetic people includes:
Blood sugar management

. Generally speaking, by maintaining your blood sugar levels as close to your target as possible, you can lower your risk of any complications associated with diabetes. Making suitable dietary and lifestyle adjustments, taking your medications as prescribed, and visiting your doctor frequently are necessary for managing your blood sugar.
Checking your feet regularly. Look for skin breaks, blisters, swelling, or redness all over the surface of both feet, particularly in between and behind the toes, where injury might not be readily apparent. Don't pop blisters or otherwise irritate your feet's skin. Tell your healthcare professional immediately if you detect any changes or issues.
Washing your feet every day. To clean your feet, use lukewarm water and light soap. Dry your feet completely by gently patting them with a clean, absorbent towel, paying close attention to the spaces between your toes. Put some lotion or moisturizing cream on.
Ask your doctor about safe callus and corn removal techniques. Your feet's thick skin may rub and cause

ulcers

. However, removing it incorrectly could harm your skin. Therefore, you should avoid using medicated pads or liquid removers or cutting the skin.
Be cautious when cutting your nails. Avoid cutting your toenails too short or down the sides. Instead, trim them straight across. To stop the toenail from piercing your skin, you can use a nail file to remove any protruding edges.
Choose

socks

and shoes carefully. Change your socks every day, and ensure they are loosely fitting. Avoid using tight socks. Choose shoes with a wide toe box, a snug fit but not too tight, and break new shoes in gradually to avoid blisters.
Steer clear of activities that might harm your feet. Activities that raise the risk of burns or foot injuries should be avoided. These include going barefoot (as you might trip over anything), putting a heating pad or hot water bottle on your feet, and taking a hot bath without first checking the temperature. Before entering the tub or shower, use your elbow to verify the water's temperature.
Keeping the blood flowing in your feet. When you're sitting, raise your feet. During the day, move your wiggle your toes and feet in circles. Additionally, engage in many activities that are easy on your feet, including walking.
Low-impact exercises are an excellent way to ease your feet. While there is no one-size-fits-all approach to diabetes exercise, you should be aware that many fitness courses and aerobics routines involve bouncing, hopping, and leaping, which may be bad for your feet. Instead, research exercises that won't put too much strain on your feet, like walking or swimming together with the appropriate footwear for the activity you select.
Have your feet examined when you visit the doctor. Raise your feet when you're seated. Wiggle your toes and walk around on your feet all day long. Use loose socks instead. Take part in numerous activities that are gentle on your feet as well, such as walking.