The Complete Beginner's Guide to Diabetic Socks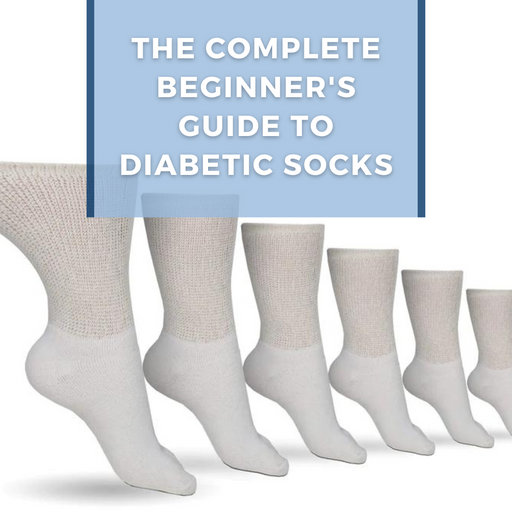 Leg and foot issues are frequent diabetes consequences you may experience if you have the disease. In addition, you are more likely to develop calluses, corns, bunions, blisters, and ulcers if you have diabetes, and high blood sugar implies that these relatively minor modifications and injuries could serve as entry points for infections that could be immobilizing.
To maintain good foot health when you have diabetes, you should check your feet for sores and keep your skin dry. Use these suggestions to lower your risk of infection and safeguard your feet.
Choosing the right socks, particularly diabetic socks, is an integral part of good foot care. However, they are more than just socks because they help improve circulation and prevent severe adverse effects of decreased blood flow.
Your feet and diabetes
The foot is a window into your health for diabetes patients. Diabetes patients face the risk of consequences from excessive blood sugar levels. One such side effect is nerve injury (neuropathy). The most prevalent kind of neuropathy impacts the nerves in the foot. Any region of your body might suffer from nerve damage, but the feet and legs are the most often affected.
Diabetic neuropathy symptoms include:
lost feeling in your feet and toes

intense, sharp nighttime pains in the feet 

tingling or burning sensations in the feet

muscle weakness

foot deformities and ulcers
This occurs most commonly in the feet because the body must pump blood down to the tips of our toes and then return that blood to the heart.
Risk Factors
Although nerve damage can occur in anybody with diabetes, the following variables raise your risk:
Having diabetes for an extended period, especially if your blood sugar is frequently higher than your target levels

Hard to control blood sugar levels

Being overweight

Being older than 40 years

Having high blood pressure

Having high cholesterol
You worry about getting a foot ulcer (a sore or wound) due to nerve damage and poor blood flow, another diabetic effect. This ulcer could become infected and have trouble healing. Your toe, foot, or a portion of your leg may need to be amputated (removed by surgery) if an infection doesn't get better with therapy to stop it from spreading and save your life.
However, there are things you can take to help keep your feet healthy, such as scheduling routine foot checkups, engaging in low-impact workouts, and wearing specialized footwear like diabetic socks.
What are diabetic socks?
Diabetes-related nerve loss (diabetic neuropathy) reduces feeling in the feet, especially the soles, and raises the possibility of injury. Additionally, it might lead a diabetic person to miss signs of damage and put off seeking medical attention.
Diabetic socks are made to prevent foot injuries, keep feet dry, and improve blood flow. The non-restrictive, snug-fitting socks are made to relieve pressure on the foot or leg. They are an essential component of foot care and crucial for managing diabetes due to the risk of nerve and circulatory system damage brought on by high blood sugar levels.
Who Should Wear Diabetic Socks?
Although diabetic socks are not required for all people with diabetes, they can be helpful for those who do and are vital for individuals with diabetes.
Even those at little risk for foot issues might have diabetes. As a result, while all people with diabetes should be conscious of their feet, those with a medium to high risk of developing foot problems should consider wearing diabetic socks. Even those who have never had foot ulcers can develop issues very quickly.
People with diabetes who would primarily benefit from always wearing diabetic socks are those who:
Have you noticed changes in foot color or temperature, irritation, nerve damage, blisters, or fungal infections

Have regularly sweaty or moist feet

Have decreased pedal pulse (a measurement taken at the top of the foot and behind the inner ankle)
Regular socks that are comfortable, non-binding, and fit properly are sufficient for those who don't have foot problems. However, it may be a good idea to wear them during long travel as sitting for extended periods might raise the risk of swelling or blood clots.
What to Consider Before Purchasing Diabetic Socks
There are numerous crucial features that people with diabetes need to look for when purchasing pairs of diabetic socks. Diabetic socks have several features that specifically address the condition's foot problems. In addition, different brands will provide a range of styles, and each type will benefit the user.
The Right Fabric
Although 100% cotton is exceedingly soft, it cannot wick away moisture. Cotton traps moisture and can keep feet damp. Socks made of 100% cotton deteriorate more quickly and are less sturdy. Your toes and feet can quickly become irritated and abraded by wet socks inside your shoes, resulting in blisters, odor, and recurring foot-related issues. Consequently, pure cotton socks may result in friction that irritates the skin or results in blisters or ulcers. 
Some diabetic socks are also created from delicately textured materials with inherent antibacterial qualities, such as wool and bamboo, that won't irritate the skin.
Bamboo is grown naturally, without chemicals, and is incredibly soft, much like richly processed cotton. Both are long-lasting and environmentally friendly. However, to add softness, breathability, and the perfect amount of stretch and recovery, wool is occasionally combined with a small quantity of bamboo rayon and spandex. Lastly, both are naturally thermo-regulating and constantly absorb and evaporate moisture to keep your feet and toes in a breathable, cozy environment.
Moisture-Wicking Material
Consider using socks made of moisture-wicking fabrics since nerve injury can compromise the body's capacity to regulate foot moisture, and a humid environment can promote infection.
By removing moisture from the foot to allow perspiration to evaporate, wicking socks can help diabetes patients maintain dry feet, reducing the risk of fungal infections and odor. Sweaty, wet feet can be an excellent haven for bacteria and fungus that spread disease, which might seriously harm the feet of people with diabetes.
You should wear the proper synthetic blends or socks made of nylon or acrylic blended with 60% less cotton. Some of them are composed entirely of materials other than cotton.
Acrylic fibers are excellent at wicking away moisture and don't hold as much cotton. The same is true of nylon, which draws water from the sock and dries it out quickly.
Healthy feet are maintained by wearing diabetic socks that have been treated with antimicrobial technology to stop the formation of bacteria and fungi in the moist areas of the foot. 
Some socks are constructed with copper- or silver-infused yarn, which has been found to have anti-fungal and antibacterial qualities, to stop the growth of bacteria and fungi. Copper, an esteemed antimicrobial agent, causes a decline in the membrane integrity of microbes. Copper-infused socks may also prevent the athlete's foot from getting infected again after continuous use. Silver, in contrast, is a well-known antibacterial that has been demonstrated to kill bacteria, fungi, and some viruses. In addition, the positively charged silver ions (Ag+) possess an antimicrobial effect.
Many diabetic socks are produced with yarn treated with copper or silver to prevent bacteria and fungal growth and, thus, reduce unwanted odors in your feet.
The fabrics mentioned above are combined with other resilient fibers to produce a more durable product. These materials can provide diabetic patients with high-quality socks.
The Right Design
Seamless socks are the best for diabetic feet because they fit snugly and close to the skin. In addition, since diabetic socks often don't have seams, there's less possibility of them bunching up or wrinkling inside shoes and causing blisters, chafing, or irritation.
The calves of people with diabetes are not squeezed by diabetic socks, which could reduce blood flow. Diabetic socks should have an extremely flexible design and a loose, non-restrictive fit. Stockings with binding tops can block off blood supply to the feet, which can prolong the healing process because there is less blood flow. All required steps must be taken to ensure adequate healing whenever people with diabetes sustain foot injuries. When non-binding top stockings are worn, proper blood circulation is maintained.
Extra cushioning is beyond the comfort it brings and provides significant benefits. Extra padding, which can be created from extra-thick fabric, gel, or silicone cushions that are sewn in, can help prevent foot injuries. The additional padding typically extends around the sock's bottom, the toes, and the foot's heel.  
Look for diabetic socks with extra padding in the heel if you stand for extended periods. Padded diabetic socks should fit the type of activity you engage in. As a result, diabetic socks have padded soles to increase comfort and cushioning for sensitive areas, reducing the risk of harm.
Diabetic socks are available in various lengths, including crew, calf, over-the-knee, anklet, and no-show styles. While other measurements are acceptable for daily usage, the higher size is appropriate for people with circulatory difficulties.
Where to Buy Diabetic Socks
Many popular online retailers, pharmacies, and medical supply shops sell diabetic socks. Although some socks aren't advertised expressly for people with diabetes, they can efficiently satisfy your needs. Fortunately, there are many options available when it comes to buying diabetic socks and some of which are reasonably priced.
Seek loose-fitting, softly padded socks without seams. Unisex styles of diabetic socks are also available. Depending on the material and amount, prices change. You can check out some of our top-rated diabetic socks here: https://diabeticsockclub.com/.
How to take care of your diabetic socks
You should wear a brand-new, clean pair of diabetic socks every day. By doing this, you can keep your feet dry and clean and check to see if you have any new sores that are draining and require treatment.
Most will survive about six months with regular use and good maintenance. The best diabetic socks can be washed in a mesh laundry bag together with your standard load of laundry, preferably on a warm cycle. It is advised not to use fabric softeners and chlorine bleach because these harsh chemicals will reduce the lifespan of the socks. On low heat, you may also dry them. 
Check your socks frequently for wear indicators such as pilling, holes, tears, or loose threads. Use a sweater comb or shaver to get rid of fabric pills. It's essential to throw away socks with rips or holes because they could damage your skin.
What other tips for foot care?
You can also put the following into practice while utilizing diabetic socks:
Check your feet daily for skin or nail changes, including cuts, redness, swelling, ulcers, blisters, corns, and calluses.
Wear shoes that fit well. 
Wash your feet in warm water each day. 
Use a nail file to carefully smooth any jagged edges in your toenails after trimming them straight across.
Select foot-friendly exercises like walking, biking, or swimming.
When should I see my healthcare provider about foot problems?
Call your healthcare provider right away if you have the following:
a cut, blister, or bruise on your foot that does not begin to heal after a few days

any red, warm, or uncomfortable changes to the skin on your foot that could indicate an infection

a callus with dried blood inside of it may be the first indication of a wound beneath the callus

a foot infection that turns black and stinky may be a sign of gangrene
If you require a referral to a podiatrist, ask your healthcare professional. The majority of people with diabetes can avoid serious foot issues. Your best option for preventing foot issues is to take regular care of your feet at home and attend all your doctor's appointments (and stop minor problems from becoming serious ones).
Remember, keeping your blood sugar under control and taking daily care of your feet are the best things you can do to avoid major diabetic foot issues. Always speak with someone right away if you have a foot issue. Call your GP or foot protection team immediately or go to your nearest out-of-hours healthcare service if unavailable.