The 10 Best Seamless Socks of 2022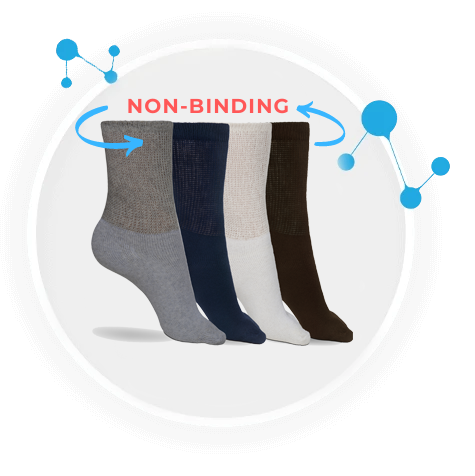 Choosing the right or appropriate socks is often confusing, and it may become more complex if you have diabetes or other medical conditions, which may require you to wear special socks.
Thus, opting for the best and recommended diabetic socks will be your best feet-wear. These socks will act as the first line of defense and help in preventing blisters, fungus, and other infections.
You may be looking for socks that fit you well without causing any discomfort to your feet if you have any medical condition. Such discomfort might be due to their slippage, much tight around the feet and lower leg, and give an itchy rub against the skin during movements. All this can lead to severe and painful scrapes and blister formation. 
If these socks are not letting the profusion out, you will be at the risk of developing fungus, which can lead to complications and, in worst cases, amputation.
We can guide you on selecting the right socks for diabetics and explain their benefits, texture, and fabric for easy wear.
Diabetic Sock Club's Ultra Soft Socks
These Ultra Soft socks are made in the USA from 95% Acrylic and 5% Lycra materials.
These socks are good for diabetic patients having hot spots and frequent or rapid blister formation. DSC's Ultra Soft socks are good for women and men as they can reduce hot spots and blisters alike.
Its non-binding top provides great comfort for being less-constriction, thus taking comfort to a new level.
Plus, its soft, added cushioning will help protect feet from shocks in high-impact areas. Moreover, its special seamless toe will work best in eliminating the pressure points.
Yomandamor- Bamboo Diabetic Ankle Socks with Non-Binding Top and Cushion Sole
These seamless toe socks will eliminate the bulky toe seam, thus reducing the risk of infection, and it will also reduce the foot pressure while landing. Its non-binding loose fit option will keep the socks stay up. At the same time, its top and large wide calf will not constrict the flow of blood.
These diabetic socks are comfortable and contain 80% bamboo blend combed cotton + 20% Elastane; hence, making them soft and fine socks to fit. The bamboo fiber naturally provides antibiosis and absorbs sweat. Furthermore, its reinforced heel and toe areas will give extra comfort and protection for skin friction. These socks have a special knit-in top, which manages their breathability and moisture.
Non-Binding Men's Moisture Wicking Cushion Quarter Bamboo Diabetic Socks
These are high-tech soft-stretch socks for displaying a not-tight and binding impact at all. They are easy to slip on over ankles and leave no marks on legs. These are the go-to option for women with diabetes.
Its seamless toe will surely enhance your daily comfort at the same time keeping your toes and blood flow at par. Its cushioned sole will get great comfort and relaxation for patients with sensitive feet.
MD 6 Moisture wicking socks come from a mix of bamboo (68%), Nylon (26%), polyester (4%), and spandex (only 2%). It is lightweight due to the heavy presence of bamboo and yet gives an easy-compact feeling. It's best for pregnant women and old people who need to sit or stand frequently.
Bamboo's temperature is 2 degrees Celsius less than cotton fabric. This feature makes it ideal wear to keep your feet relatively cool and dry. Its fabric will retain its texture even after multiple washes.
Physicians Approved Crew Ankle Diabetic Socks in Cotton
These socks are in use for their super comfortable feel and better breathability. Its super comfort comes from a high percentage of cotton at 90%, polyester at 7%, and elastane at 3%. 
Another special feature is its well-fit ability because of the right mixing of fabrics.
These crew ankle cotton socks are therapeutic, as they are non-binding socks featuring a loosely knit design. This design provides the best cushioning with a squeezing or constricting impact on your legs and feet.
What's more, these physicians approved socks for diabetics are good for blood circulation and highly-recommended for patients with diabetes-related issues, neuropathy, and edema due to blood circulation problems.
Yomandamor - Bamboo Diabetic Crew Socks with Seamless Toe
These bamboo diabetic crew socks with seamless toe come in a pack of 6 pairs. These socks consist of 70% bamboo and 30% elastane material for ultimate fit and best comfort for your feet. 
Its seamless, non-irritating, and smooth toe seam makes it all-season wear. Thanks to its micromesh and breathing holes, they make the sock breathe and release the sweat perfectly.
These socks come in handy for patients with poor blood circulation. They reduce the risk of infection, foot pressure, and the growth of blisters.
Well Knitting Diabetic Top Crew Socks
These socks are unique as they come with a non-binding cuff without sagging and minimal compress. Hence, they do not restrict the flow of blood. These are usually very loose-knit with a super stretchable feature for maximizing the blood flow. These are ideal socks for great comfort and the right fit.
Well Knitting diabetic top crew socks come with 65% Cool-max-Polyester, 23% Spandex, and 12% Elastane. All this makes them perfect moisture-wicking socks. Its soft fibers and padded feet bottoms will radiate an extremely soft and cozy feeling. It will help eliminate irritation on the skin by reducing friction impact as you walk around.
Furthermore, these are mesh-knit breathable socks with a seamless toe and carry reinforced toe to heel for lasting and longer wear.
Doctor's Choice Women's Diabetic Ankle Socks
These may be the socks you will be looking to wear on all occasions. 
Doctors choice women diabetic ankle socks are fully cushioned and seamless socks. They will protect you against blisters, and their padded protection will prevent you from ulcers.
It deals with moisture and dampness, making it a good wicking synthetic fiber to keep feet warm. This will help in better blood circulation.
Plus, its soft-stretch texture will provide you a relaxed and easy-fitting to pull up and off. Also, its loose-fitting will reduce any accumulation of constriction in your legs.
Its seamless toe is good for no bunching for blister-free safety. It will help avoid usual injuries like cuts, wounds, and scratches associated heavily with numbness and neuropathy.
Ortho-Sleeve WC4 Wellness Socks for Diabetes, Edema, Neuropathy, & Circulation 
These are more like no-show wellness socks and best for patients having conditions related to diabetes, circulation, neuropathy, and edema.
These socks come from specific nano-bamboo charcoal providing durability and perfection to diabetics and people having sensitive feet. These are lightweight and low-cut designed socks for ultimate and best fitting support for healthy feet. 
What's more, Ortho-sleeve WC4 socks are anatomically designed to fit well for your right and left foot, respectively. These socks carry a very special toe-shape and comfortable heel pockets, well-knitted into the sock for a seamless feel. 
Furthermore, they have special built-in contour-pads for maximum comfort thanks to their bamboo charcoal fibers. This will reduce the pressure points as well as you walk.
These are good socks for patients with high swelling, sensitive feet, and numbness. 
In addition, it is a good moisture-wicking fabric that will allow breathability when you move or walk. 
MediPeds Women's Diabetic Socks with Non-Binding Funnel Top
Medipeds women diabetic socks with non-binding funnel top are engineered for diabetic patients dealing with different issues. This will give comfort to patients having dry skin, swelling, and leg fatigue or restlessness.
These socks are manufactured with soft yarns offering comfortable features. This will help reduce foot irritation and pressure on the legs. 
Its non-binding funnel top will give ensure proper blood circulation without dropping the socks down at the same time. It has a cushioned sole for additional foot protection.
Furthermore, its 100% pure cotton fabric makes it an ultimate fit for hugging your feet and eliminating slippage that may develop blisters.
Dr. Scholl's Men's Premium Casual Crew Socks for Diabetics
These socks comprise 95% Polyester, 4% other fibers, and 1% Spandex, and they work best for diabetics having circulatory and other relevant problems. These are soft and mild stretch socks with a non-binding top, making them a perfect buy for diabetics.
It helps keep moisture away for dry feet, and silvadur will keep the socks odorless and fresh throughout the day. It's a premium material for best fit and ultimate comfort.
Its seamless toe-to-heel construction makes it perfect wear for all types of sensitive feet.
Conclusion
So, when you are searching for the right type of socks for you, it's important to go for some high-quality options that are anatomically designed.
For diabetics, it's important to wear socks that will keep the moisture away and have some cushion or padded addition. 
Therefore, you should know your medical condition and choose the right socks as there multiple options to get the best and ultimate comfortable socks for you with various fibers and comfort add-ons just for you.