How do diabetic foot ulcers start?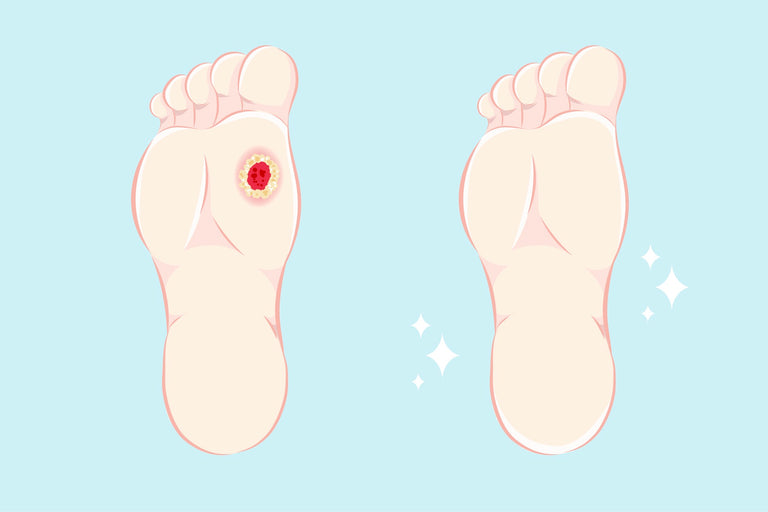 Author:  Dr. Kim Langdon
Overview of Diabetic Foot Ulcers
Diabetic foot sores are responsible for more hospitals stays than any other complication of diabetes [1]. Diabetes is also the leading cause of non-traumatic lower extremity amputations with around 5% of people with diabetes developing foot ulcers. Approximately 1% of people with foot ulcers will require an amputation. Preventing foot ulcers is the most important step in preventing complications and misery.
The physical assessment of the extremity having a diabetic ulcer is divided into examination of the ulcer, assessment of the general condition of the extremity, assessment of the possibility of vascular (veins) insufficiency,[2] and assessment for the possibility of peripheral neuropathy (nerve damage).
The staging of diabetic foot wounds is based on the depth of soft tissue and bone involvement [3,4,5]. 
Measures to Prevent Diabetic Ulcers
The risk of complications in people with diabetes can be improved by routine preventive podiatric care, appropriate shoes and socks, and patient education [7]. Doctors and healthcare providers should screen all patients for altered sensation and evidence of reduced blood flow to the extremities known as peripheral vascular disease [6].
With the appropriate preventive medicine, 85% of diabetic foot ulcers can be prevented with the following measures:
Inspection of the feet daily to look for discoloration or flaking
Gentle soap and water cleansing; no scrubbing
Application of moisturizer
Meticulous nail trimming
Good fitting, supportive, and breathable socks that keep feet dry and allow good circulation
Inspection of footwear to ensure good support and fit
Minor wounds require prompt medical evaluation and treatment
Preventative podiatric surgery to correct high-risk foot deformities might be necessary.
Avoid hot soaks, heating pads, and irritating topical agents.
Don't walk barefoot because you might not feel something sharp that you step on if you have a neuropathy
A healthy diet with lean protein, fiber, and low in saturated fats. Minerals and vitamins like zinc, iron, copper and protein, are necessary to grow healthy tissue. 
A review of the published research by Matos et al suggested that exercise and physical activity are effective methods to prevent the complications of diabetic foot. The researchers found that patients involved in physical activity and exercise had a lower yearly incidence of ulcers than other patients. Other benefits of exercise were improved nerve velocity conduction, peripheral sensory function, and foot peak pressure distribution [8]
Blood Glucose Control
The most important preventative measure to reduce the chance of a foot ulcer or ulcer of any sort is to maintain healthy levels of glucose in the blood. This includes a healthy diet, low in simple sugars and other unhealthy carbohydrates.
A clinical trial performed by the Diabetes Control and Complications Trial Research Group found that intensive treatment of diabetes lowered the development and progression of long-term complications in insulin-dependent diabetes mellitus [9]. This trial found that uncontrolled hyperglycemia increased the risk of diabetic micro-vascular (small blood vessels like capillaries) complications and that good sugar control can reduce or even prevent the complications of diabetes, including foot ulcers, kidney disease, neuropathy (nerve disease), and retinopathy (eye disease).  Other measures that help prevent foot ulcers are cessation of cigarette smoking, control of high blood pressure, and reduction in cholesterol levels.
If there is an ulcer, gentle cleaning and drying is essential before removing any dying tissue (debridement). After debridement, you should apply a moist sodium chloride dressing or gel like Normlgel or IntraSite gel or a hydroactive paste like Duoderm. If the wound is weeping, then optimal coverage is a wet-to-damp dressing to collect the excess fluid and to protect the healthy skin. Sometimes, a semi-permeable dressing that prevents bacterial growth is a good choice. 
References
Rice JB, Desai U, Cummings AK, Birnbaum HG, Skornicki M, Parsons NB. Burden of diabetic foot ulcers for Medicare and private insurers. Diabetes Care. 2014. 37 (3):651-8. 
Gentile AT, Berman SS, Reinke KR, Demas CP, Ihnat DH, Hughes JD, et al. A regional pedal ischemia scoring system for decision analysis in patients with heel ulceration. Am J Surg. 1998 Aug. 176(2):109-14. 
Beckert S, Witte M, Wicke C, Konigsrainer A, Coerper S. A new wound-based severity score for diabetic foot ulcers: A prospective analysis of 1,000 patients. Diabetes Care. 2006 May. 29(5):988-92. 
Oyibo SO, Jude EB, Tarawneh I, Nguyen HC, Harkless LB, Boulton AJ. A comparison of two diabetic foot ulcer classification systems: the Wagner and the University of Texas wound classification systems. Diabetes Care. 2001 Jan. 24(1):84-8..
Robson MC, Hill DP, Woodske ME, Steed DL. Wound healing trajectories as predictors of effectiveness of therapeutic agents. Arch Surg. 2000 Jul. 135(7):773-7
Jirkovska A, Boucek P, Woskova V, Bartos V, Skibova J. Identification of patients at risk for diabetic foot: a comparison of standardized noninvasive testing with routine practice at community diabetes clinics. J Diabetes Complications. 2001 Mar-Apr. 15(2):63-8
Singh N, Armstrong DG, Lipsky BA. Preventing foot ulcers in patients with diabetes. JAMA. 2005 Jan 12. 293(2):217-28. 
Matos M, Mendes R, Silva AB, Sousa N. Physical activity and exercise on diabetic foot related outcomes: A systematic review. Diabetes Res Clin Pract. 2018 Feb 23. 139:81-90. 
The effect of intensive treatment of diabetes on the development and progression of long-term complications in insulin-dependent diabetes mellitus. The Diabetes Control and Complications Trial Research Group. N Engl J Med. 1993 Sep 30. 329(14):977-8z