Diabetic Socks: Taking Care of Your Feet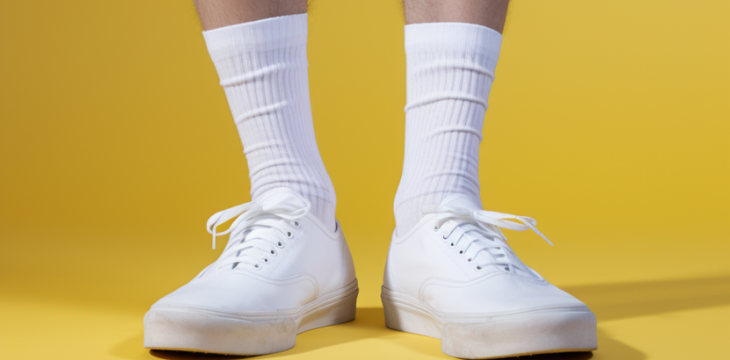 Living with diabetes requires meticulous attention to various aspects of health, and one crucial area deserving special consideration is foot health. Diabetes can lead to complications that affect the feet, making it vital to take proactive steps to prevent potential issues. One such measure is the use of diabetic socks.
Understanding Diabetic Socks
Diabetic socks are designed to offer advanced foot protection and support for individuals with diabetes. These socks come equipped with features that cater to the unique needs of people with diabetes, ensuring enhanced comfort, moisture management, and improved circulation. Unlike regular socks, diabetic socks are thoughtfully engineered to reduce the risk of foot injuries, infections, and ulcers.
The Significance of Diabetic Foot Care
Recognizing the impact of diabetes on foot health is crucial for those living with this condition. Diabetes can lead to peripheral neuropathy, a condition involving nerve damage that often results in a loss of sensation in the feet. This reduced sensation can make detecting injuries, blisters, or infections challenging, potentially leading to delayed treatment and complications.
Moreover, diabetes can adversely affect blood circulation, hampering the body's ability to deliver nutrients and oxygen effectively to the feet. This diminished blood flow can slow down the healing process and heighten the risk of infections.
Diabetic foot problems, if left unaddressed, can progress into severe conditions, such as diabetic foot ulcers, cellulitis, and even gangrene. Thus, incorporating proper foot care into daily routines is paramount for those managing diabetes.
How Diabetic Socks Differ from Regular Socks
While regular socks cover the feet, diabetic socks go beyond the standard features to address the specific concerns of diabetic individuals. Here are the key ways in which diabetic socks differ from regular socks:
Diabetic socks typically have non-binding tops designed to be looser and less constrictive around the leg. This feature helps prevent blood circulation restriction, which is particularly important for individuals with diabetes who may already have compromised blood flow to their extremities. By eliminating tightness around the leg, these socks reduce the risk of constriction and promote better circulation.
Seamless Construction
Seams in regular socks can cause friction and irritation, which can be particularly problematic for individuals with diabetes who may have reduced sensation in their feet. Diabetic socks are often seamless or have minimal seams to minimize the risk of rubbing against the skin, reducing the likelihood of blisters, sores, or ulcers.
Moisture-Wicking Properties
Diabetic individuals are more susceptible to foot infections, and moisture can exacerbate this risk. Diabetic socks are typically made from moisture-wicking materials that help to keep the feet dry by drawing moisture away from the skin. By managing moisture effectively, these socks reduce the likelihood of bacterial or fungal growth, keeping the feet healthier and less prone to infections.
Extra Cushioning and Padding
Diabetic socks often feature additional padding and cushioning in specific foot areas, such as the heel and the ball. This extra cushioning helps to reduce pressure points and minimize the risk of developing calluses, blisters, or ulcers. The padding also provides enhanced comfort, making it more conducive for individuals with diabetes who may have sensitive or neuropathic feet.
Breathable and Stretchable Materials
Diabetic socks are typically made from breathable and stretchable materials that allow proper air circulation around the feet. This feature helps to prevent excessive sweating, which can contribute to fungal growth or unpleasant odors. The stretchability of these socks allows for a more comfortable and secure fit, accommodating any swelling or changes in foot size that may occur throughout the day.
Diabetic socks are not a substitute for proper foot care, but they are crucial in maintaining healthy feet for individuals with diabetes. By wearing diabetic socks, individuals can benefit from the specialized features that promote circulation, minimize friction, and reduce the risk of foot complications. In the subsequent sections, we will delve into the key features to consider when choosing diabetic socks and explore the best options available for different needs and preferences.
Top Brands and Product Recommendations
Regarding diabetic socks, several reputable brands have established themselves as leaders in the industry. These brands prioritize quality, comfort, and functionality, offering various options to suit different preferences and requirements. Here are some top brands and their recommended products:
Diabetic Sock Club

: Known for their expertise in foot care,

Diabetic Sock Club

offers a variety of diabetic socks with features such as seamless design, moisture-wicking properties, and cushioning. Their products are designed to provide all-day comfort and support.

Orthofeet

: Orthofeet specializes in orthopedic footwear and diabetic socks. Their diabetic socks feature a non-binding top, cushioning, and a seamless design, catering to individuals with sensitive feet. They offer socks for both men and women in various styles and sizes.

SmartKnit

: SmartKnit diabetic socks are crafted with a seamless design, moisture-wicking properties, and extra padding in high-impact areas. These socks are ideal for individuals with sensitive skin or those prone to skin irritation.

Thorlos

: Thorlos offers diabetic socks that provide cushioning, moisture management, and arch support. Their socks come in different thickness levels, allowing individuals to choose the right level of cushioning based on their comfort needs.

Jobst

: Jobst is a well-known brand for compression garments, including diabetic socks. Their compression diabetic socks offer mild compression to improve blood circulation and reduce swelling. These socks are suitable for individuals with diabetes who also require compression therapy.
These brands and their product offerings are just a few examples of the many choices available in the market. It is essential to consider individual needs, preferences, and specific foot health concerns when selecting the best diabetic socks.
Diabetic Socks for Sensitive Skin
Individuals with sensitive skin or allergies require diabetic socks made from hypoallergenic materials. These socks are designed to minimize irritation, itching, and redness. Look for socks free from latex, dyes, and chemical additives that may cause allergic reactions. Socks made from bamboo or organic cotton are often a good choice for individuals with sensitive skin.
Diabetic Socks for Active Lifestyles
For individuals leading active lifestyles or engaging in physical activities, diabetic socks with additional features are available for support and protection. Look for socks with reinforced cushioning in high-impact areas, such as the heel and the football. Moisture-wicking properties are also essential to keep the feet dry during workouts. Some brands offer compression diabetic socks designed specifically for sports and exercise, enhancing circulation and aiding muscle recovery.
Diabetic Socks for Cold Weather
Cold weather can pose additional challenges for individuals with diabetes, as reduced blood circulation can make the feet more susceptible to the cold. Insulated and thermal diabetic socks are designed to keep the feet warm without compromising breathability. Look for socks made from wool or thermal fabrics that provide insulation and retain heat, ensuring optimal comfort and protection during colder months.
Diabetic Socks for Dressing Up
Diabetic individuals who must dress up for formal or professional occasions can still find stylish and comfortable options. Look for diabetic dress socks that blend seamlessly with formal attire while providing the necessary foot care features. These socks often have a subtle and sophisticated design, seamless construction, and non-binding tops to ensure a comfortable fit throughout the day.
Remember, the best diabetic socks for different needs may vary from person to person. It is essential to consider individual preferences and health conditions and consult with a healthcare professional if necessary. By choosing diabetic socks that address specific needs, individuals can enjoy optimal foot care and maintain their overall well-being.
Tips for Proper Diabetic Foot Care
Proper foot care is essential for individuals with diabetes to prevent potential complications and maintain overall health. Alongside wearing diabetic socks, there are several other essential practices and tips to ensure optimal foot care. By incorporating these tips into daily routines, individuals can minimize the risk of foot problems and promote overall well-being. Here are some valuable tips for proper diabetic foot care:
Daily Foot Inspection and Hygiene
Performing a daily foot inspection is crucial for individuals with diabetes. Carefully examine the feet, checking for any signs of redness, swelling, cuts, blisters, or sores. If abnormalities or concerns are detected, promptly consult a healthcare professional for proper assessment and treatment.
In addition to regular foot inspections, maintaining proper foot hygiene is essential. Wash the feet daily with lukewarm water and mild soap to dry them thoroughly, especially between the toes. Moisturize the feet with a diabetic-friendly foot cream or lotion, avoiding the areas between the toes to prevent excessive moisture buildup.
Choosing the Right Shoes to Complement Diabetic Socks
Proper footwear is a critical aspect of diabetic foot care. Selecting the right shoes can significantly impact foot health and reduce the risk of complications. When choosing shoes to complement diabetic socks, consider the following factors:
Size and Fit: Opt for shoes with ample room for the toes and a wide toe box. Shoes should fit well without causing pressure points or rubbing against the skin.
Material: Choose shoes made from breathable materials, such as leather or mesh, that allow air circulation. Avoid synthetic materials that can trap moisture and cause discomfort.
Support and Cushioning: Look for shoes with adequate arch support, cushioning, and shock absorption. This helps to distribute pressure evenly and reduces the risk of injuries.
Flexibility: Shoes should have a flexible sole that allows for natural movement of the feet. Stiff or rigid soles can contribute to foot discomfort and restrict proper foot function.
It is essential to try on shoes with the same type of socks that will be worn regularly, such as diabetic socks, to ensure the right fit and comfort.
Regular Foot Exercises and Stretches
Exercise and stretching are integral to maintaining proper foot health for individuals with diabetes. Regular foot exercises and stretches can help improve circulation, increase flexibility, and strengthen the muscles in the feet. Here are a few exercises and stretches to incorporate into a daily routine:
Toe curls: Sit with feet flat on the ground and curl the toes inward, then spread them apart as wide as possible. Repeat this exercise several times.
Ankle rotations: Sit with legs extended and rotate the ankles clockwise and then counterclockwise. Perform this exercise for both ankles.
Plantar fascia stretch:
Sit on a chair and cross one foot over the opposite knee.

Pull the toes back towards the shin until a stretch is felt in the foot's arch.

Hold for 15-30 seconds and repeat on the other foot.
Achilles tendon stretch: Stand facing a wall with one foot behind the other. Keep the back leg straight and the heel on the ground while slowly bending the front knee. Lean forward until a stretch is felt in the calf of the back leg. Hold for 15-30 seconds and switch legs.
It is essential to consult with a healthcare professional or a podiatrist before starting any new exercise routine to ensure it is appropriate for individual needs.
Visiting a Podiatrist and Professional Foot Care
Regular visits to a podiatrist are essential for individuals with diabetes to monitor foot health and receive professional care. A podiatrist specializes in foot health and can provide valuable guidance, perform comprehensive foot examinations, and address any issues promptly.
In addition to regular podiatrist visits, individuals may benefit from professional foot care treatments, such as chronic foot massages or pedicures, by trained professionals who understand the unique needs of diabetic individuals. These treatments can help improve circulation, alleviate foot discomfort, and ensure proper nail care, reducing the risk of infections or ingrown toenails.
By incorporating these tips into daily routines and seeking professional care when needed, individuals can take proactive measures to maintain optimal foot health and minimize the risk of complications associated with diabetes.