Can Diabetics Use a Foot Peel?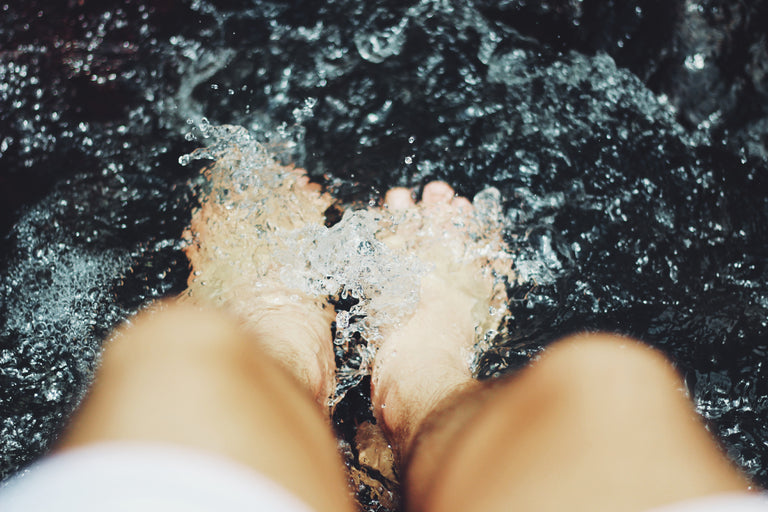 It's common knowledge that diabetes is often associated with skin problems. From ensuring your skin is dry to looking for sores, diabetes takes a toll on your feet' health. 
To combat dry and rough skin, a variety of top brands introduced foot peels. The innovative solution boasts exfoliating properties that help rid your feet off of peeling and cracking skin. However, the plethora of different chemicals included in the peel makes people with diabetes wonder whether they should use it or not. Here we discuss what foot peels are and if diabetic people can utilize them: 
Can Diabetics Use a Foot Peel at a Glance
Yes and no. Depending on the foot peel you choose, the foot peel can either soften your skin or worsen your skin condition. 
Checking the label to read about the ingredients employed allows you to make an informed decision.
What is Foot Peel? 
Foot peels, otherwise known as exfoliating socks, refer to state-of-the-art plastic socks boasting remarkable mixtures. These naturally break down your dead skin with time. In turn, it eliminates dead cells and calluses from your heel. 
Typically, you slip your feet in the sock and wait for an hour as your feet absorb the solution. Then you remove them and throw the socks away.   
What Does it Contain? 
Brand to brand, your foot peel may contain a plethora of contrasting ingredients. Typically, foot peels claim to utilize nothing but natural products that promise visible and positive results. 
Companies say their botanical solutions penetrate the cracked layers of dead skin. Subsequently, the outer layer starts peeling off to expose a soft layer underneath. Apart from this, your foot peel kit ingredients like salicylic acid, alcohol, and such.
Another ingredient commonly utilized in beauty products is alpha hydroxy acid (AHA). It is an effective and beneficial way to moisturize dry skin and eradicate dead skin cells. You can use these to give your skin a smooth and glowing look. However, it's vital the AHA concentration in your desired product remains below 10%. Anything higher may have adverse effects on your skin.
How Does it Work? 
Your foot peel kit includes a high-quality sock(s) lined with their mixture. Your first step should be soaking your feet in lukewarm water to ensure effective results.
Relax in the warm water for about sixty minutes; the damper your skin, the better it will absorb. Next comes taking the exfoliating sock out of its packaging and wearing them. With the help of scissors, make an opening on the top of the sock. After this, slip it on and secure a snug fit by applying the tape.
Now it's time to let the product effectively soak in your feet. Wait for at least an hour before you wash off the gel. Your skin may take somewhere between three to seven days to start peeling off. In fact, it's likely your dead cells will continue to shed for about two weeks. 
Why Do Diabetics Need an Exfoliator? 
Diabetes can lead to a variety of changes in your skin. From dermopathy to diabetic blisters, your skin condition may either require simply putting on an ointment or consuming heavy pills.
Moreover, diabetes can cause the skin of your foot to become super dry. It results in your skin peeling and cracking. This is because the nerves monitoring the production of oil and moisture are unable to perform adequately. 
Typically, diabetic patients must dry their feet properly after taking a bath. Next, take some plain petroleum jelly or a similar cream to apply a thin sheet over your feet. Plus, it's best to avoid oils and creams between your toes to ensure you don't develop an infection. 
Another way to combat this problem is by using exfoliating foot peels to remove layers of peeling dead skin cells effectively. However, exfoliators require careful inspection. Moreover, a doctor's supervision can be helpful too.
Why Can't Diabetics Use Foot Peels?
Most top brands fabricating foot peels claim to introduce revolutionary products using botanical ingredients that are gentle on the skin. But here's the thing; these products utilize stronger ingredients to ensure your foot starts peeling on its own. 
Among the most popular foot peels are Baby Foot, Kocostar Foot Therapy, and Boscia Baby Soft Foot Peel. Out of these three, the first comprises 17 different natural extracts, whereas the second says it includes 33 natural ingredients. The last one, on the flip side, uses fruit extracts. 
None of these brands disclosed that their products boast AHAs such as lactic acid, glycolic acid, and so on. While these are safe as long as the concentration is below 10%, foot peels seldom include what percentage their solution includes. Thus, chances are, the levels exceed the safe range to strip your dead skin effectively. Moreover, experts say that chemical ingredients removing dead skin can ultimately make your skin susceptible to damage by stripping vital outer layers offering protection.
Not to mention, consumers use foot peels without a doctor's supervision. It all means it's not clear whether foot peels are more beneficial than harmful or vice versa. However, smokers, diabetics, and anyone who's immunocompromised should avoid such kits. Those with eczema, cuts, open wounds, and other skin conditions should also steer clear these products. 
On the other hand, a couple of great brands manufacture foot peels targeted at diabetic. The revolutionary patented formulae safely remove dry, rough, and dead skin from peeling and cracked heels in their products. Therefore, it's best for diabetics to carefully inspect their desired foot peel to check whether they include safe products or not. Furthermore, it's always a good idea to discuss with your doctor before applying the product.  
A Guide to Taking Care of Your Feet 
Instead of using an exfoliator, there are several different ways you can enhance the look of your feet. Below are easy-to-follow steps to help you achieve that:
Nerve damage is part of diabetes. Therefore make sure you inspect your feet regularly for wounds, cracks, and sores. 
You'll likely lose your sense of temperature with time. Avoid checking the temperature with your feet. You may not be able to spot blisters appearing or feel them burning up.
Pamper yourself by purchasing shoes offering better depth in the toe area. Those boasting excellent top and bottom coverage without any seams are perfect for diabetic patients. 
At the same time, opt for seamless socks that feature padding. Please make sure they're soft and snuggly as well. A bonus point is buying one featuring a moisture-wicking material. 
A seemingly harmless cut can lead to an infection in diabetic patients. Not to mention, neuropathic patients are unable to detect injuries. For this reason, you must always cover your feet. 
The area between your toes is airtight; thus, excessive moisture can lead to infections in diabetic patients. Avoid this by always properly drying your feet after taking a bath.
Here's the thing; the smallest of callus can cause a huge problem if left untreated. Add a podiatrist to your monthly healthcare plan to treat these issues. 
The market is jam-packed with solutions targeted towards diabetic patients. Orthotic footwear is an excellent way of reducing pressure on your sensitive feet. 
While exercising is extremely beneficial for diabetic patients, it's also essential you follow one curated to meet your unique problems. Aerobic exercises may harm your feet, whereas walking or swimming can help improve blood flow. 
Everyone knows that the dangers of smoking are vast. For diabetics, their already impaired blood vessels are bound to constrict further if they don't stop.  
High blood sugar can further complicate your health condition. Thus, you must keep it in check.
Your doctor and diabetes healthcare professionals understand your health condition. Make sure you go for regular check-ups to stay up-to-date with your improvements. 
Skin Care Products for Diabetic People
Instead of using Baby Foot and Kocostar Foot Therapy to endanger yourself, you can choose one that matches your needs while ensuring safety. Here's what your skincare plan should include: 
A Cooling Cream 
Selecting a cream that boasts a blend of menthol, aloe, shea butter, and lavender helps eliminate any itch you may be experiencing in your lower legs. Plus, it'll smell wonderful!
A Skin Balm
Pamper your skin by purchasing a high-quality balm featuring nourishing seed oil and beeswax.
A Hand Cream
Protect your hand from cracks and peels by applying a cream to your hands. Grab one containing all the right products among shea butter, olive, hemp, and whatnot!
Daily Moisturizing Cream 
Soften your skin by using a high-quality moisturize daily. A blend of hemp, shea butter, alongside naturally anti-inflammatory ingredients, is a fantastic option.
Bath and Body Oil
Say goodbye to dry and rough skin and say hello to a glowing one by getting a bath and body oil. These are typically rich in nutrients to lock in moisture effectively. 
A Tea Tree Balm
Tea tree products are jam-packed with healthy products used to cure abrasions, blisters, and minor cuts. Add this antimicrobial balm to your list and watch as your skin turns smooth and beautiful. 
The Final Word
Part of fighting with diabetes is battling with cracking, peeling, and dry skin. More often than not, foot peels utilize healthy ingredients that can further worsen the skin. Avoid this by checking the ingredients and discuss them with the doctors.