Can a Person with Diabetes Eat Wild Rice?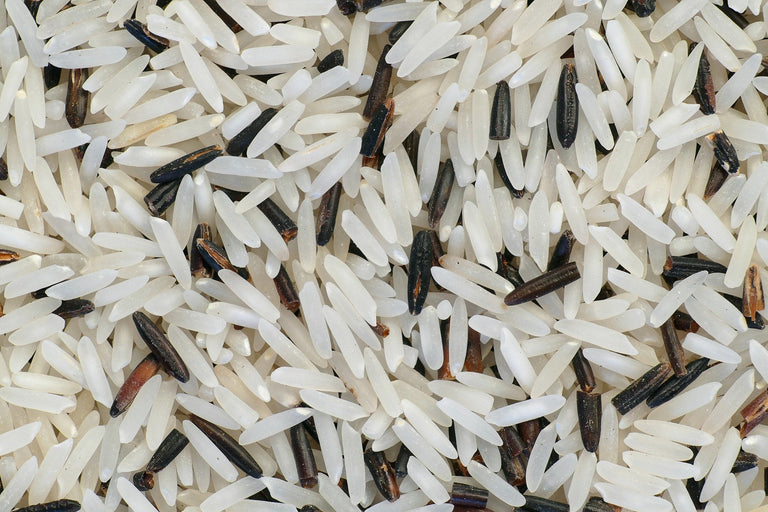 Do you think you are eating a nutritious diet? Do you wonder whether food containing high-carbohydrates like rice is a good pick? A well-balanced diet is essential for people with diabetes. 
Diabetes is a medical condition that causes the body to struggle to produce or use insulin. The result is your body does not store or use blood sugar or glucose effectively.
Glucose comes from food containing carbohydrates, so the question is whether you should eat rice or not being a diabetic?
If you have diabetes, you don't need to avoid carbs at all; instead, you need to consider the type and quantity of carbs you can eat. While different types of rice are available, you need to choose the healthier one for you.
This post will let you know in detail about the role of rice in the healthy diet for diabetes. Moreover, it will break down what type of rice is suitable for a person with diabetes.
Wild Rice and Diabetes
Rice is a staple food eaten worldwide with great interest. Some people call it starchy food. However, people with diabetes may think rice is harmful and unhealthy for them because they are concerned about keeping their blood sugar healthy. Here is the good news that all types of rice do not affect blood sugar in the same way. 
Wild rice is a whole grain that has gained popularity in recent years. It is nutritious and provides numerous health benefits. However, you may have concerns and wonder if wild rice can cause food poisoning. The answer is that well-cooked rice does not cause any problem, while uncooked rice incorporates Bacillus cereus spores. It is the bacteria that lead to foodborne illness. 
When you cook rice, spores can stay alive. If you keep rice at room temperature, the spores preserve and convert into bacteria. The bacteria can increase and produce toxins (poisons) that could lead to vomiting and diarrhea.
Wild Rice and Brown Rice
Wild rice and brown rice may look similar, but they are not the same. Wild rice is not even actual rice, but it is a water grass that grows wild in rivers and lakes. Cooked wild rice includes 30% fewer calories than brown rice and 40% more protein. However, both types of rice are gluten-free and contain high antioxidants, and are delicious alternatives to white rice.
Is Wild Rice better than Brown Rice for Diabetics?
If you intend to cut calories intake and increase protein, wild rice is the best pick for you. Wild rice holds fewer calories and boosts protein content in your body. Moreover, brown rice acts nearly in the same way as wild rice. Both types of rice can provide you with fiber, antioxidants, and nutrients like magnesium, manganese, and phosphorus.
Let's find out which rice is a better option for people with diabetes.
If you want to reduce the overall GI of your meal, you need to eat brown rice along with low GI foods, protein sources, and healthy fats. Brown rice comes with a medium GI score.

Wild rice and brown rice are both healthier for people with diabetes. These types of rice contain significant fiber content that assists in minimizing the glucose in the bloodstream. 

Brown rice has more vitamin B compared to wild rice. If you are on a meat-free diet, it will be the best pick for you. So you do not need to replace any one of them. If you are experiencing diabetes, both brown rice and wild rice are a healthy choice and can minimize your blood sugar level. 
How can Rice Affect Diabetes?
Having diabetes requires you to be attentive and concerned about your diet and exercise habits. Keep in mind to constantly check your blood sugar level to ensure it does not rise to an alarming level.
Rice contains carbohydrates in high amounts and could have a high GI score. Having diabetes may require you to skip eating rice, but it is not always the case. Rice can give rise to blood glucose levels in your body. Besides, eating excessive rice can increase insulin resistance and make it difficult to control your blood sugar level. 
You can still eat rice even if you have diabetes. The thing you need to care about is avoiding eating it too frequently or in large quantities. So, you can eat healthier types of rice while being diabetic.
Monitoring the carbohydrate count and glycemic index (GI) amount in food can help you control diabetes more easily. If you don't track your diet, diabetes can lead to severe complications, including kidney damage, foot infection, and cardiovascular disease.
Wild rice is a unique grain that has a mouthwatering taste. It has more protein than regular rice and contains essential nutrients and a desirable amount of antioxidants. Wild rice intake regularly can reduce the risk of type 2 diabetes occurrence.
Besides, brown rice is also a perfect pick, but ensures to eat in moderation as a diabetic patient. It contains high carbs, antioxidants, vitamins, fiber, and minerals that can help with blood sugar control and help you manage diabetes effectively. 
Rice and the Glycemic Index
Another way to know about the right food for a proper diet is to use Glycemic Index (GI). The GI is a scale that helps measure how rapidly the body converts the carbs into glucose from food and how speedily it affects the blood sugar levels.
Food high on the scale, including white bread and sugar beverages, changes speedily into glucose and amplifies the risk for a sugar spike. The food on the lower scale changes gradually into blood glucose that assists you in maintaining a stable glucose level. Most rice could have a high GI score, but brown rice and wild rice are low and medium in GI, respectively.
Nutritional Benefits of Wild Rice
Wild rice has the following nutritional benefits.
Dense Nutrients
Wild rice is rich in fiber with 3 grams per cooked cup since it counts as a whole grain. Researchers have reported a decreased risk of type 2 diabetes.
Antioxidants
Wild rice has antioxidants since it has a dark color. Wild rice has powerful antioxidants apigenin. So it also works well as an anti-cancer element. You can combine wild rice with other healthy food to make your diet vigorous. 
Healthy for Heart
Wild rice can help in minimizing cholesterol and combating the arterial plaque. Various research studies have reported positive results, but most of them are animal experiments. The grain contains a healthy amount of phytosterols that lower cholesterol levels in the body.
Besides, wild rice contains lipid-lowering properties; it is also the best source of dietary fiber. It is important to keep cholesterol levels low by intake of a sufficient diet. It is an excellent way to gain Alpha Lipoic Acid (ALA).
Can Wild Rice Lower Risk of Diabetes
A diet high in whole grains like wild rice is effective in minimizing the risk of type 2 diabetes. Whole grains have vitamins, fiber, minerals, and plant compounds. Interestingly, the studies suggest that entire grains are associated with a reduced risk of type 2 diabetes. At the same time, white rice can increase the risk of type 2 diabetes.
Researchers recommend that two servings of rice per day may minimize the risk of the diabetic condition. Moreover, not only wild rice but also brown rice are healthy for you if you have diabetes. You can replace white rice with brown and wild rice and other refined grains to prevent type 2 diabetes. However, brown rice may not often lead to an immediate increase in blood sugar levels.
Wild rice is gluten-free, lower in sugar, calories, and sodium. You can have it with a combination of any food but in moderation. Whole grains break down by bacteria in the large intestine, including wheat, starch, and raff nose, and cause gastric issues. In contrast, rice is a grain that does not lead to gastric problems.
Bottom Line
Having diabetes, you can include wild rice as a part of a healthy diet. But considering all the above concerns, you should also take care of these most important points. Make sure not to overeat rice and take it in moderation. Moreover, keep in mind that 1 cup of rice has 45g of carbs. You can also eat and divide the intake of rice along with other carbs throughout the day.
You need to pick the rice that is low in carbs along with a low GI score. However, you can discuss your diabetic diet plan with your dietitian to get promising results. 
Sources
Diabetes type 2 : Wild rice shown to lower blood sugar by reducing insulin resistance
Eating Rice When You Have Diabetes